Zygmund "Ski" Kowalewski isn't a typical 100 year-old man, the Alaska based retiree still drives himself everywhere he needs to go and flew planes well into his nineties. Ski is the kind of guy that even at 100, is still quick on the draw and likes for things to go the way that he wants them to go.
After getting everything setup and centered on Ski you could tell that he wasn't camera shy.
You could tell by the big smile on his face that he was enjoying reliving his time in the Navy with story after story about all of the things he was able accomplish during his twenty years of service. Born in Rockford, Illinois, Ski decided to join the Navy just a few months before the attack on Pearl Harbor to avoid being drafted into the Army. Upon entering the Navy volunteered to be an aviation gunner and was assigned to VP-74 on plane number 7 in Norfolk, Virginia. When asked if he was sure about volunteering for such a dangerous job Ski laughed and said, "That's what I want, we'll be getting an extra $20 a month in pay."
Before reporting to VP-47 Ski was allowed 10 days of leave. "I went on 10 days leave and when I came back I said 'well where's airplane number 7? ' They told me it flew into a mountain and killed everyone on board, so I really dodged a bullet on that one." Shortly after arriving to VP-47 Ski was reassigned to Torpedo Squadron 8, where he maintained the batteries for 14 torpedo bombers.
His squadron later embarked aboard USS Pyro, an ammunition ship that transported bombs and torpedoes to Hawaii during WWII. It wasn't long before Ski and his squadron were sent to Midway Island where they would engage in conflict with Japanese aircraft. His squadron was able to sink a Japanese aircraft carrier during the conflict, but Ski's aircraft was shot down in the Pacific Ocean. Although he sustained minor injuries Ski was able to swim away from the airplane and was recovered.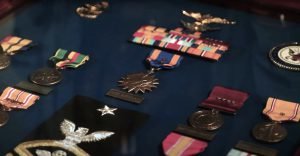 "I remember I leaped out of the cockpit with my seatbelt still on and it pulled me back in so I had to unlatch my seat belt, and I ran down the wing and swam away from the airplane because there were four 500 depth charges and if they had broken loose I was scared they were going to explode, so I was getting the heck away from that airplane."
Ski's eyes always seemed to light up while he was talking about his flying days and it was obvious he was at his happiest while he was in a cockpit flying planes. Ski said he wouldn't change a thing about his career in the Navy and once he started flying that's all he wanted to do.
"I had a hell of a career," said Ski. "There's nothing like it I'll tell you, it's very addictive and once you're a pilot boy I'll tell you, you want to be a pilot. That's all you'll want and you never change."
Upon his return from the war Ski made the decision to become an enlisted pilot, and he spent the remaining 10 years of his career piloting more than 25 different types of aircraft. After retiring from the Navy in 1960 as a Senior Chief Petty Officer, Ski was hired on by the Federal Aviation Administration to fly the Douglas DC-3 airplanes. That job took Ski all the way to Alaska, where he retired and currently resides.