The world of professional sports isn't all glitz and glamour. Sometimes you get stuck bouncing around teams for a few years, never totally making a name for yourself. Sometimes you're left undrafted or end up cut from a team you gave your heart and soul to. That is the reality for many players — including John Malecki. Malecki, a lineman, was left undrafted out of Pittsburgh in 2010 until he was signed by the Tennessee Titans. After that he bounced around the league, including a stint with his home team, the Pittsburgh Steelers, until officially leaving the NFL in 2014.
Since then, Malecki developed a passion for woodworking and started his own DIY woodworking YouTube channel. He now builds full time for clients, posts videos on his channel, and covers topics like tool reviews, challenge builds, and at-home makeovers.
Coffee or Die caught up with John Malecki last year when he delivered a custom-built table to Black Rifle Coffee Company headquarters in San Antonio, Texas, for our latest installment of 11 Questions & A Cup of Coffee. This interview has been edited for length and clarity.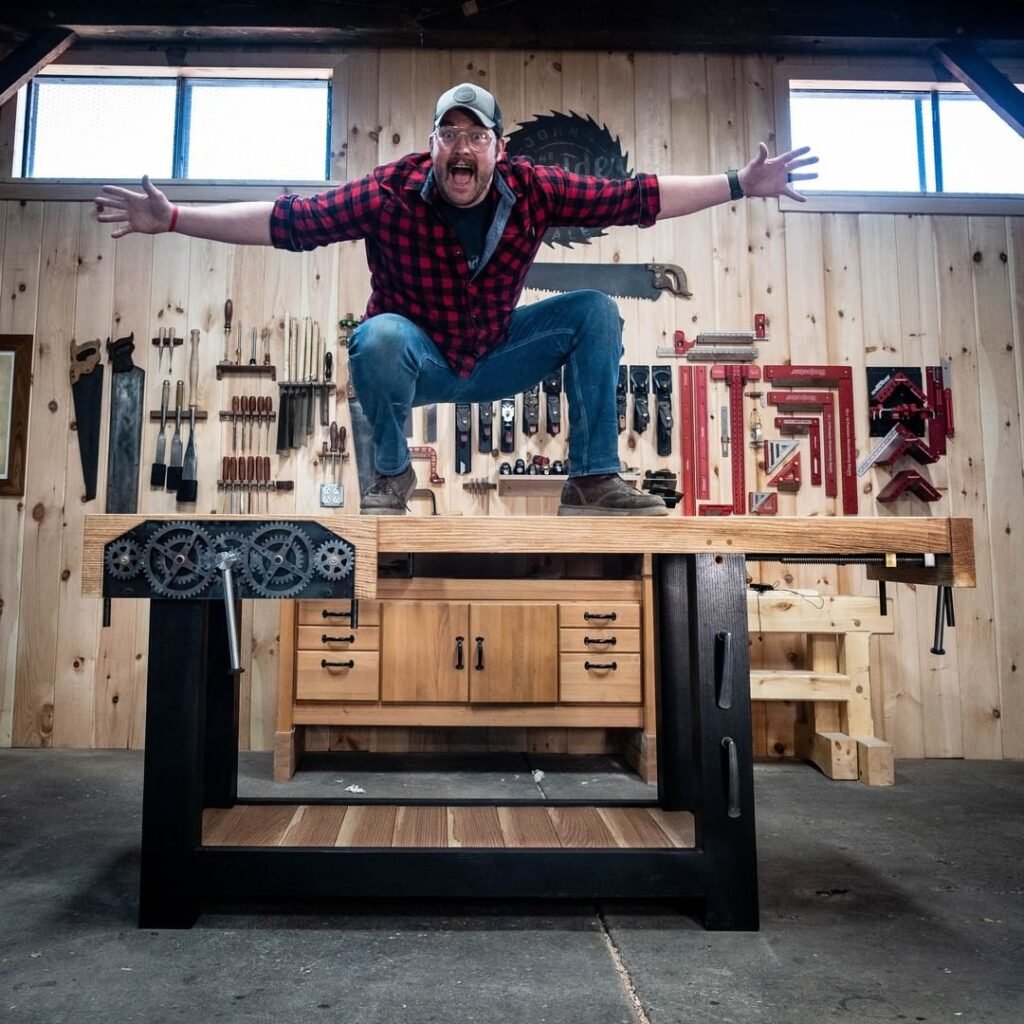 COD: How do you take your coffee?
JM: Black, always, nothing added.
COD: How do you make your coffee?
JM: So my fiancee's parents purchased us this super bougie coffee maker and because it's fast and efficient, it grinds and then spews out the coffee and has this foamy head. But if it's not that, it's a French press.
COD: What's the most bizarre or extreme place you've ever had or made a cup of coffee?
JM: So, man, I'm consistently at work in a wood/workshop kind of environment. It gets quite filthy and quite dirty. I've drank a lot of coffee that most people would be pouring out in that environment.
Bouncing around the NFL, you're snagging coffee anywhere. You don't know where it's coming from, and it's in gratuitous amounts because you're in a lot of long, boring meetings.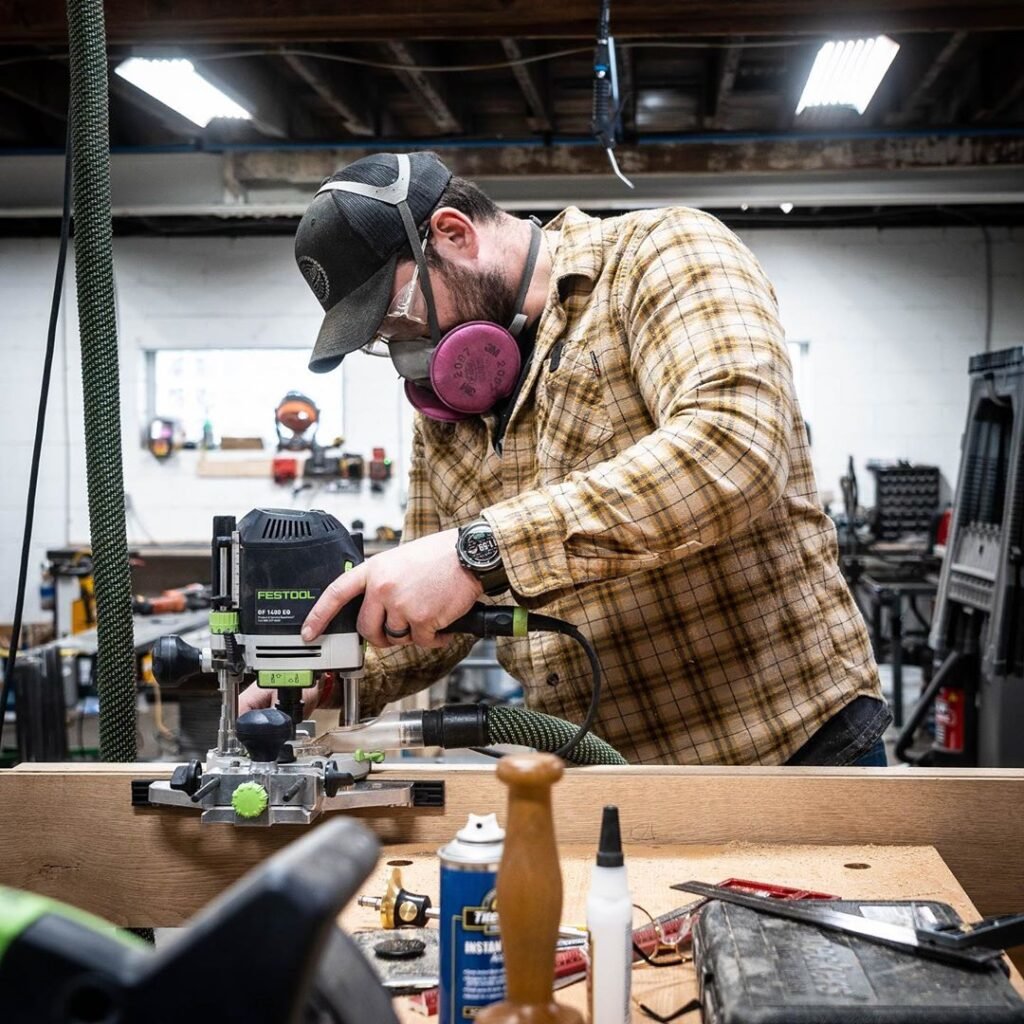 COD: This is kind of an add on question, but what's coffee culture like in the NFL for an NFL player?
JM: Yeah, I mean, like a lot of the guys that are fit definitely care about their intake of everything, but the linemen, there's no F's to give there, so most of us are pounding down black coffee. All those dudes are like tons of sugar and creamer makes it taste good in their minds. But it's just sitting in a burning kettle for hours at a time, and everyone's sharing it. It's never anything fancy or good, and you almost have no idea what it is or what it could be or how old it is or where it came from. There's no coffee culture.
COD: What's the hardest thing you've ever done — physically, mentally, or both?
JM: I guess I could say, mentally, the journey to the NFL for someone who's not a starter making a ton of cash, it takes a toll on you as a person. I bounced around to five different teams in three and a half years, I got cut and released 13 times. The ups and downs of going on a roster, getting cut, getting released, traveling to a new city — all the stuff involved with that, it can weigh on you heavily, mentally. The first cut kind of knocked me in the gut really good. I had a nine-hour drive home by myself from Tennessee where you really had to do some checking on looking at yourself in the mirror, like the accountability judgment type stuff. It was hard to get through that coming from a world where you're the man in college and you go in and be a nobody in the NFL.
That stuff was pretty hard, and then the transition out of the NFL was somewhat difficult. You think your life is just gonna be set, you did something cool, people are just going to want to be around you and throw you jobs and money, and that's not really how it is at all. You literally have zero experience in anything except sports, and you kind of have to pick yourself up and make the life you sort of want to. So getting through that aspect of my life, it was semi-difficult, living in a buddy's basement, starting this business and what not from there, and getting through that struggle.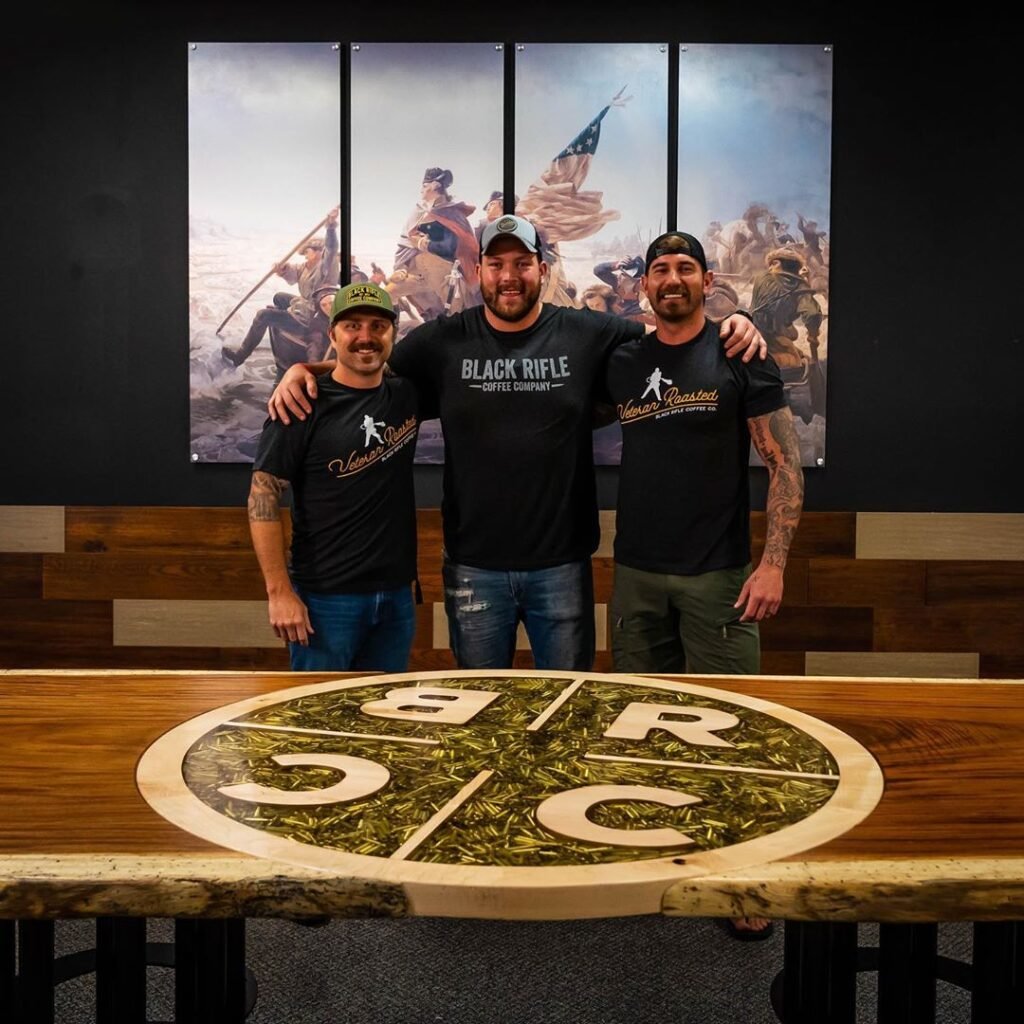 Transitioning out of something that you're at the highest level in any profession and then trying to jump into the real world, everything from your daily interactions with others to your skill set to your knowledge base — none of it is applicable. There's no environment in my life that I've ever been around that is anything close to what a locker room is like in college or the NFL. So when you go from being able to wear shorts and flip flops and a T-shirt to work every day to like having to shave or be a decent human, even small things like that build up, and you just feel so different from what the rest of the world is. You can definitely see how transitioning out of something like the special forces and the NFL can be quite comparable in having to deal with that.
COD: What motivates you to do what you do?
JM: I'm a pretty self-motivated person. I just hate failure. I feel like I've done a lot of things in my life up to this point — I'm pretty young, I'm 31 years old — that were cool but weren't quite there. I just got to sniff it a little bit, especially with the NFL stuff. So now I'm motivated internally by a desire to want and push what I'm personally capable of. I'm recently engaged, and she's extremely motivational in my aspects of life. She works for two law firms and is a realtor, so she's killin' it, and I'm over here like just this dude that glues wood together. So, I'm motivated to be better for her and our future family as well.
But motivation for me is something that I've always internalized. When I was playing football, especially in the NFL, I was alone a lot, and if you start relying on others to stay level headed and try to achieve your dreams, you can get let down, so I learned how to internalize a lot of that when I was building puzzles by myself on Christmas and I was living in a city that I knew absolutely nobody trying to make it in that life.
COD: What do you think is the most misunderstood thing about you or the work that you do?
JM: Most misunderstood thing about me is that a lot of people think that I have a ton of money because I played football, but I don't. Everything I have, I've worked really hard to build my professional business and the shop specifically. I have a lot of really high-end tools, and I work a lot in order to get that in order to build that for myself.
And then about me, a lot of people just think that I'm not approachable, they're like, "He's so big and scary." We get that a ton. Like, "Dude, I didn't think you'd be nice at all," and I'm like, "Why? Everything I project is positive and nice. What do you mean?" I get these two a lot. They both catch me off guard but are easily understood. You can see why someone would think that way.
COD: How do you define success?
JM: I don't quite put a definition on success. I think success is a personal bar, I guess. If it's something you're trying to reach, that's always unattainable. I think happiness is something a lot of people think you need to sacrifice in order to be successful, as well as quality of life.
When I first started my business, I was putting in 15-, 18-hour days, like I said living in a basement earlier, and I didn't feel like I was unsuccessful then, it was just a different grind. I'm not so much doing that now because I'm better at the business and what I'm doing, but I still don't feel quite as successful as I want to be in the future. Whether you're putting metrics on it as far as the amount of money you make or the amount of people you influence or the amount of whatever, the house you live in, I think it's a personal thing and for me, it's just always unattainable. So I'm always chasing it. It's the kind of person I am, it's just put it out there and run as hard as you can at it kind of thing.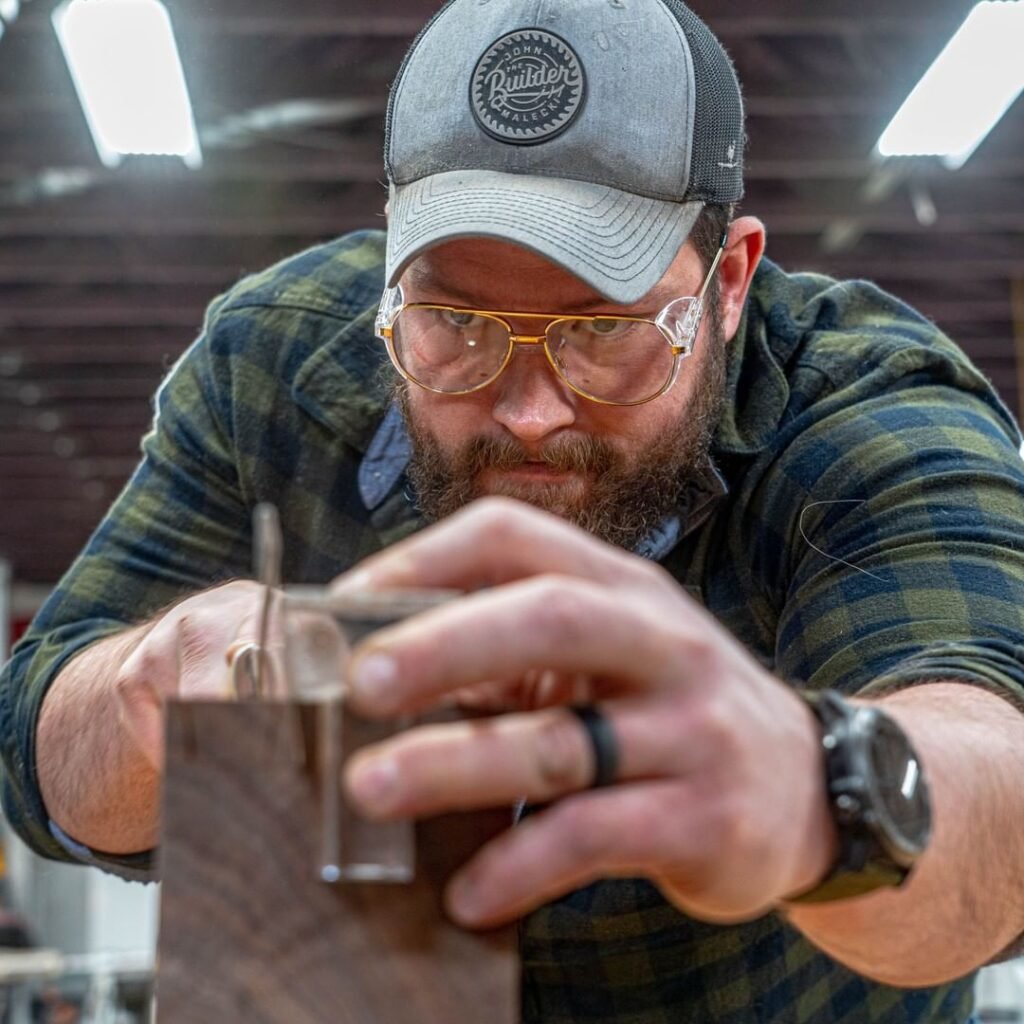 COD: Mountain view or ocean view?
JM: Mountain, always. I don't like the ocean. I mean, I like it, but I'm a little bit more of an outdoorsy guy. Growing up I liked hunting, fishing — mountains pertain to that lifestyle a little bit better than the ocean.
The weird thing about being a person who makes stuff is that for me, the type of home you build on the mountain is way cooler than the type of home you build on the ocean, as far as like getting into timber framing and the furniture and all the stuff I'm into as far as my work.
COD: If you could have any superpower, what would it be?
JM: See, I've always thought of this question and if anyones asked me if you could be a superhero, I've always picked Batman. But Batman has no superpowers, so it's like that's why I always wanted to be him because he doesn't have superpowers, so this question I actually don't have an answer for.
I guess if I was to have a superpower it would be like — I don't know, maybe being like Wolverine and not being able to essentially die even if he does. Spoiler alert. But, you know, being I guess indestructible, as I like to very often push myself physically to do things that most people would not want to do as far as picking things up or putting them down. And like moving stuff and — I don't know, I guess being invincible would be my superpower.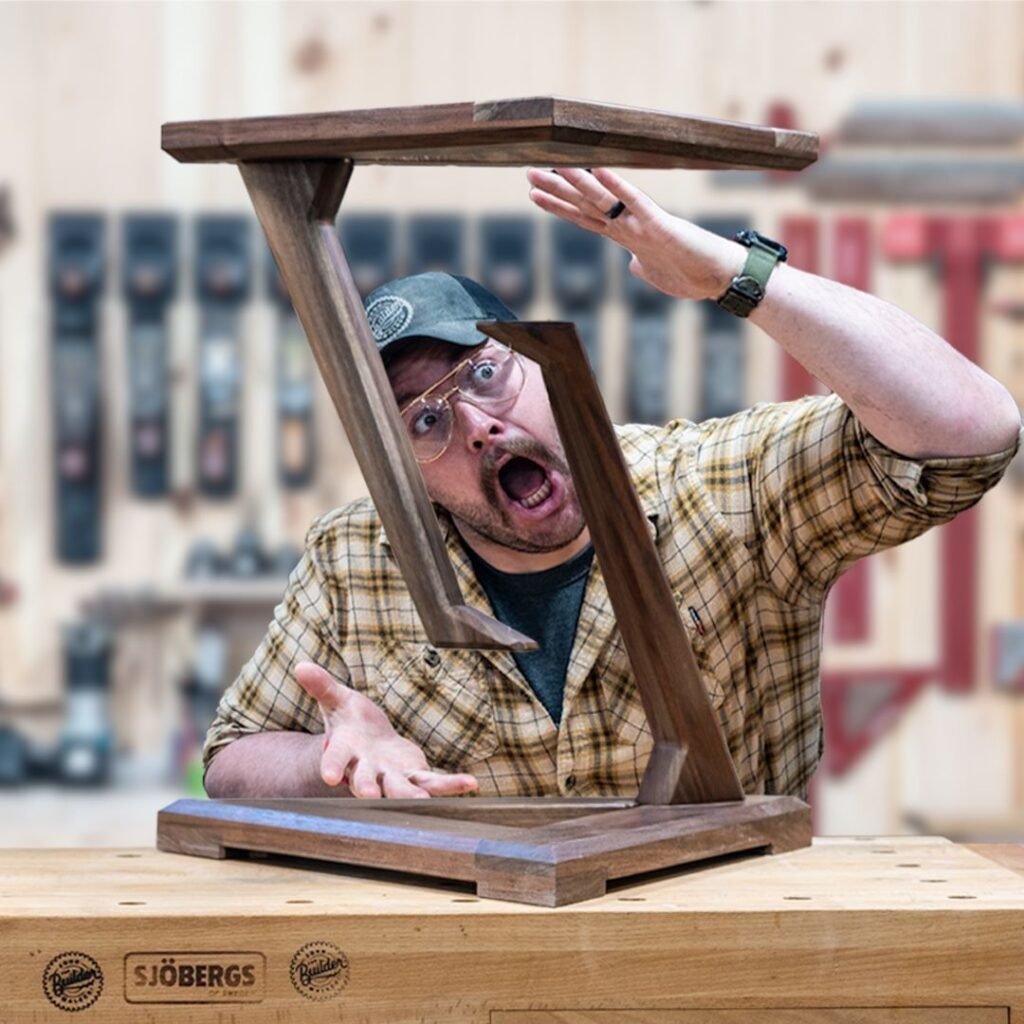 COD: What are your hobbies outside of what you're known for?
JM: I love to cook. I love smoking meat. I would have probably gotten into that field if I wasn't fortunate enough to get a scholarship to college. I would've probably went to culinary school and would've been cooking and tried to play the chef game. I just absolutely love that creative outlet. It's probably my biggest hobby that I get to put a lot of focus into because I have to eat to stay alive.
Outside of that, I still love sports. I try to get to as many games as I can. And then, if I can, hunting, fishing, shooting kind of stuff. When I can find the time or someone to do it with me so I'm not just by myself just thinking I'm cool doing this type of things.
COD: On a scale of 1 to 10, how confident are you in your ability to survive a post-apocalyptic world — 1 being you're dead on day one, 10 being you're the ruler of the new world order?
JM: Eight and three quarters.
COD: Eight and three quarters?
JM: Yes. I feel like I wouldn't want to be the ruler of the new world order, but I'd be right next in line, like right next to them whoever that person is.
COD: Why?
JM: I don't know. I don't have the full gambit of skill set in order to get me to be able to fight my way to the top guy, but I would definitely be the best teammate ever. You gotta remember, I'm a lineman at heats, so it's like I wanna make the quarterback look like this superstar but that doesn't mean I'm not good at what I'm supposed to be doing, I just am supposed to be doing something that supports someone else.
COD: I feel, too, like it's a people-want-to-be-friends-with-the-big-guy sort of scenario.
JM: Yeah. I'm also, like, a target, so if you're talking post-apocalyptic warfare, I'm quite wide, so I wouldn't be able to hide very easily.