If you've watched, read, or listened to anything made by Black Rifle Coffee Company, you can rest assured Logan Stark has had a hand in its creation. One of the company's OGs, Stark is the Editor in Chief of BRCC and oversees all content from Instagram stories to long-form YouTube videos, and everything in between.
Born in Michigan, Stark trained as an Infantry Assaultman with the 2nd Battalion, 5th Marines and later became a Scout/Sniper. After leaving the U.S. Marine Corps, he received a degree in professional writing from Michigan State and caught the eye of the media with his documentary film "For the 25," which is about his deployment to Sangin, Afghanistan, and the friends he lost there.
Stark is devoted to making the creative content at BRCC the most powerful it can be. "There is no greater benefit to living a life than having that creative thing drive you," he said in a video released by BRCC earlier this year. "I wanna make you laugh. I wanna make you cry. I wanna make you feel inspired."
He managed to trigger each of those emotions when Coffee or Die sat down with him for our ongoing series, 11 Questions & A Cup of Coffee — check it out!
COD: How do you make your coffee?
LS: I'm a purist. Nothing but paper, glass, and coffee. I do pour over — 99 percent of my days are a ChemEx, on a scale, 1:16 ratio, with a lighter roast. I do not like dark roast. Essentially, the longer you roast a coffee bean, the more carbon that you put into it, and I think it takes away the actual taste profile of coffee. So I'm a light roast guy, through a pour over, whether that's outdoors or in my home. And then my secondary go-to as far as on the road is the AeroPress. It's like espresso in a Tupperware.
COD: How do you take your coffee?
LS: Black, always. And I like to throw a little bit of MCT oil in there every once in a while, or ghee, if I want to give the metabolism an extra little boost.
COD: What's the most bizarre or extreme place you've ever had or made a cup of coffee?
LS: There's a picture of me making coffee in my GSI French press in a remote patrol base in Afghanistan. It was like the one thing that really kept me sane throughout my time in Afghanistan, is I would take that 15 minutes every morning, I would shut out everything that was going on, everything that had to be done that day, and I would just focus on the process of making that cup of coffee. And that was one thing that was never in short supply when I was deployed. It was like you had at least a hundred pounds of coffee to choose from at any given time. We just had oodles of it sent over to us.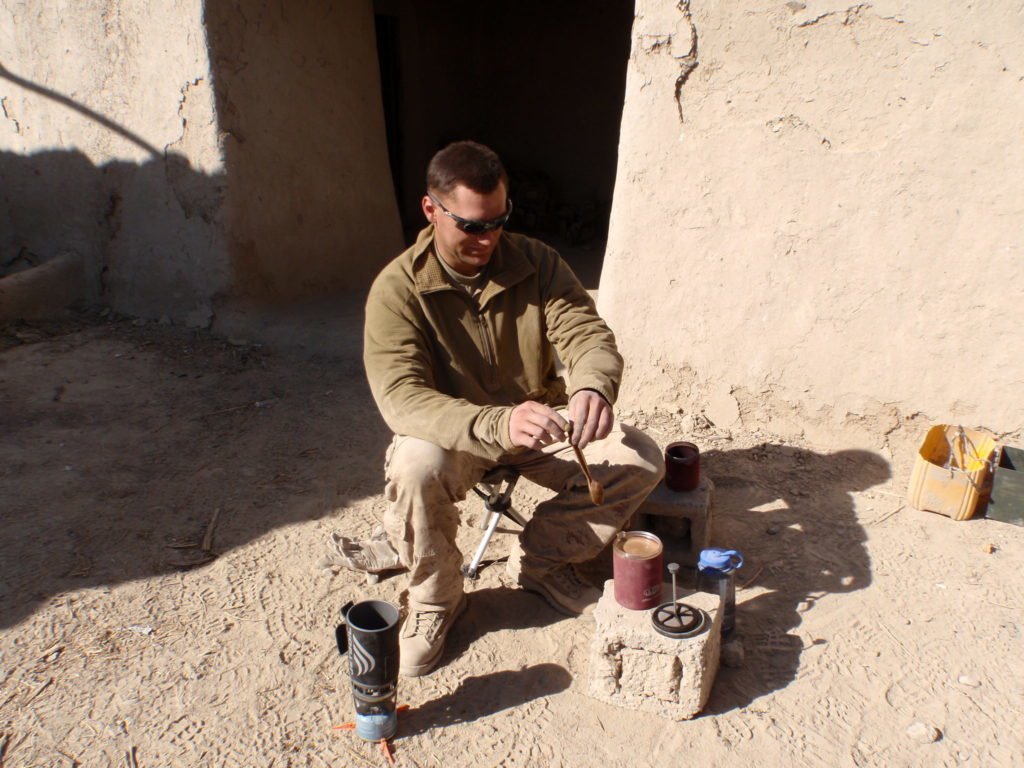 COD: What's the hardest thing you've ever done — physically, mentally, or both?
LS: You know, not to be a super Debbie Downer here, but the toughest thing I've ever done was bury my friends. Losing guys on deployment overseas, that never leaves, man. I can't think of a more difficult thing that I've ever done physically that would trump that. It's just a reality. It lives with me every day.
COD: What motivates you to do what you do?
LS: I think that exact thing. Having to live with the memory of those people that we lost, that's a tremendous weight and a tremendous driving force. I can't not live a good life. I owe it to those guys to live every single day to its maximum potential. That's what I do before I close my eyes and go to bed. It's like, am I living right by these dudes? Am I making up for the fact that they're no longer here and living a life they would have wanted me to live? Doing things that they would have wanted to do? Not really falling into a rut of not being happy with my situations or not doing exactly what I want to be doing every single day? And that's the most important driving force in my life, bar none.
COD: What do you think is the most misunderstood thing about you or the work you do?
LS: I think people get this concept from the outside that it's all fun and games and we're just kinda fucking around a little bit. But that is NOT the case. When it comes to the content team of Black Rifle Coffee, we work our ass off. I am all over the country the entire year. The pace, the OPTEMPO that we push, is fucking ridiculous. There is not one single day that is not a 12-hour day.
COD: How do you define success?
LS: I define success by happiness. If I'm happy, that's the biggest driving factor towards all that. If I'm making the decisions in my life to ensure that I am happy, that exudes out of me. That becomes sort of your aura, so to speak. If I'm happy, I'm inflicting happiness onto others, and I think that's the biggest driving force in creating a good environment that people want to be in. That's it. So it's not about the money — like, get your money situation to where that also makes you happy — but at the end of the day, you need to be able to be perfectly okay with your own headspace and where you're at in your life. I think happiness is the single No. 1 at the top of the checklist. If that one's not done, those other things I don't think really matter.
COD: Mountain view or ocean view?
LS: I gotta go mountains, even though I'm a Marine. I have this image in my head of what my perfect home would be and the view from that, and it's snow-capped mountains with a lake and pine trees and that air so fresh and crisp you can almost taste it. You could walk out your back door, you could go hunt, you could go shoot, you could go for a hike, you could go out with your animals and be self-sustaining in that.
COD: If you could have any superpower, what would it be?
LS: I would want to have the ability to release DMT into my brain any time I wanted. Where I just snap my fingers and the world's strongest hallucinogen is just automatically flowing through my brain. Is that a superpower? I don't think that's a superpower. Is there a hero that has that?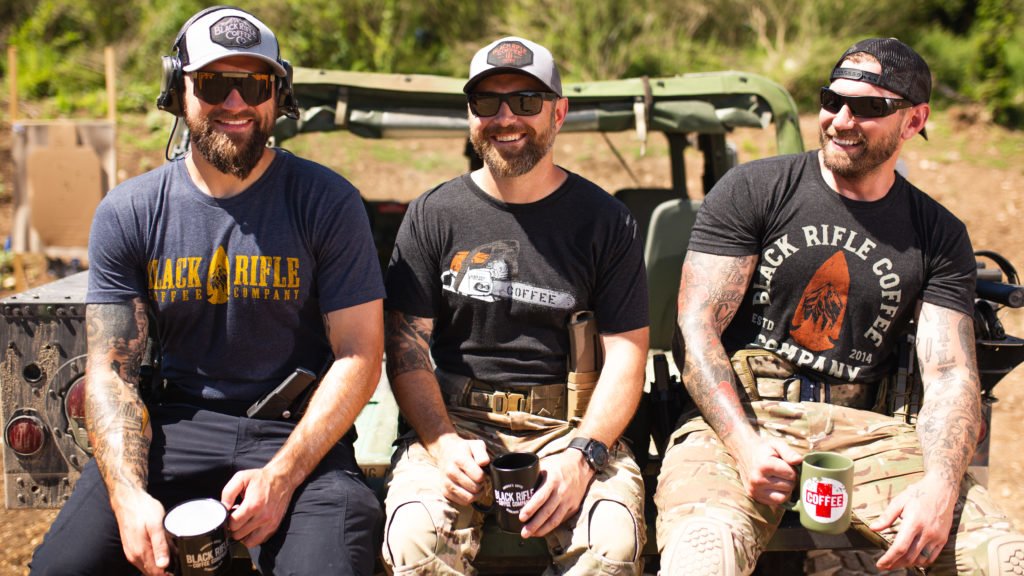 COD: What are your hobbies outside of what you're known for?
LS: I love weird shit. There's a couple things that I'm super obsessed with and I don't know why. I constantly have to check in and see if there's new information coming out about them. One of those things is Egypt and the pyramids. I am so incredibly fascinated with the fact that nobody knows how they were built. The most successful architects in today's day and age are like, "Couldn't do it. Couldn't recreate it. I don't know how they did it." And then the mythology behind it, like, "Oh, it was aliens." Well, I don't think it was aliens, but they definitely were doing stuff and they had knowledge that we can't comprehend at this point. How they got that done just baffles us. Trying to just put more information in my own brain about that is extremely rewarding for me for some reason.
That and just trying to pursue my perception and awareness of life in general. I dabble in a lot of different things, and the idea of being able to open your consciousness to new and different things just through what you put in your body is and will be one of my life's great pursuits.
COD: On a scale of 1 to 10, how confident are you in your ability to survive in a post-apocalyptic world, one being you're dead on day one, 10 you're ruler of the new world order?
LS: Yup, nine. I would immediately blind myself, and I would learn echolocation and basically be like Denzel Washington in "Book of Eli."
COD: Do you have a go-to place in mind, when things start to really go to hell?
LS: No. You can't have that because if it actually happened and it went down in a super shitty way, you more than likely wouldn't be able to access it and it would be too much chaos. I don't even think you can line that up. You have to be able to survive anywhere.