Marty Skovlund Jr. is a storyteller. Dedicated to finding and telling interesting tales from around the world, Skovlund finds himself delving through countless different mediums including photography, filmmaking, writing, and reporting.
In addition to serving at the helm of Coffee or Die Magazine, Skovlund has penned and co-written numerous books, including Violence of Action: The Untold Stories of the 75th Ranger Regiment in the War on Terror, and is currently writing his next book Send Me: The Legend of Shannon Kent with Shannon's widower Joe Kent. As a US Army Ranger veteran, Skovlund has made a career of telling the stories of his fellow service members and veterans.
Skovlund recently sat down for the latest installment of 11 Questions & A Cup of Coffee.
COD: How do you make your coffee?
MSJ: It depends on whether I'm at home or on the road. If I'm at home I love using the Chemex. I hand grind. I don't use a scale. I've kind of figured out the ratio that I like for the coffee that I like. And I use coffee, I have a coffee club membership so I have the Silencer Smooth that I usually use but occasionally I like to go to the local coffee shops and buy one of their local roasts but yeah, it's a Chemex at home. On the road, though I mean I'll slum it for sure and get hotel coffee, gas station coffee. Sometimes I have the travel pour over with me and I'll make it while I'm out on the road. But if I can I do like going to local coffee shops and you know, seeing what's out there.
COD: How do you take your coffee?
MSJ: I drink my coffee black. My first experiences with coffee back in 8th or 9th grade I think were in the outdoors making coffee in a percolator, in a camping percolator and I was just kind of always told this is how you drink coffee. You drink it strong, you drink it black. And that's how it's enjoyed.
I think that my coffee tastes have definitely refined over the years but I've never been able to wrap my head around putting sugar or milk into my coffee.
COD: What's the most bizarre or extreme place you've ever had or made a cup of coffee?
MSJ: I think the most bizarre place — I don't know that there's many places that I've been that are bizarre like the extreme places are probably…some of my favorite memories from being in the military were doing a coffee hour on my fifth deployment in Afghanistan and everyone that was kind of in our hooch, we'd get together for an hour every day and just a regular percolator coffee. You know, brew it up and sit there and talk about anything but work or but the military and that was pretty awesome, that was in Afghanistan. I've drunken coffee all over the world, made it all over the world and I think that's kind of the fun of coffee or the experience of coffee is that it's not so much literally drinking it but its who you're drinking it with, where you're drinking it, what are the circumstances, what are the memories that are created around a cup of coffee.
COD: What's the hardest thing you've ever done, physically, mentally, or both?
MSJ: I've done, I think, enough physically hard things in my life that I don't know that… well, I feel that if something is hard physically it's hard physically and I think that I've definitely pushed my body to its limits on many different occasions and, you know, there's nothing that's really gonna stand out as more hard than… it's all hard, it all sucks, right? But I think mentally, one of the hardest things I've done is probably the process of watching my dad die and it was a weird thing where he was diagnosed with ALS and ALS is one of those things that there's no known cure for so there's no happy ending for that so you knew that he was dying and what does that to your body, your body basically deteriorates on itself and having to watch that for about a year and a half from the time that he knew something was wrong until we buried him. That was brutal mentally, not just because you're losing your dad but also the self-introspection you do like "am I using my time appropriately with him?" "Am I over by his side enough or not enough or am I doing enough to be a good son?" Or "am I making him proud in his last dying days?" You go through all those questions and I felt that that was very very difficult
And I would say actually one of the physically hardest things I've done was the day my daughter was born. I was an idiot and the day before we went into for my wife to have our daughter I ate a big bowl of green grapes and green grapes fuck my stomach up and so I'm in there helping my wife deliver the baby and it's already nerve-wracking because like I want the baby to be okay and I want my wife to be okay but also I've got to shit so bad right now but I don't wanna rip ass in front of all the nurses and doctors and it was an excruciating day honestly and I feel bad being like I'm the one in pain when my wife is pushing a kid out, you know but it was… I was in rough shape like it was hard. Yeah.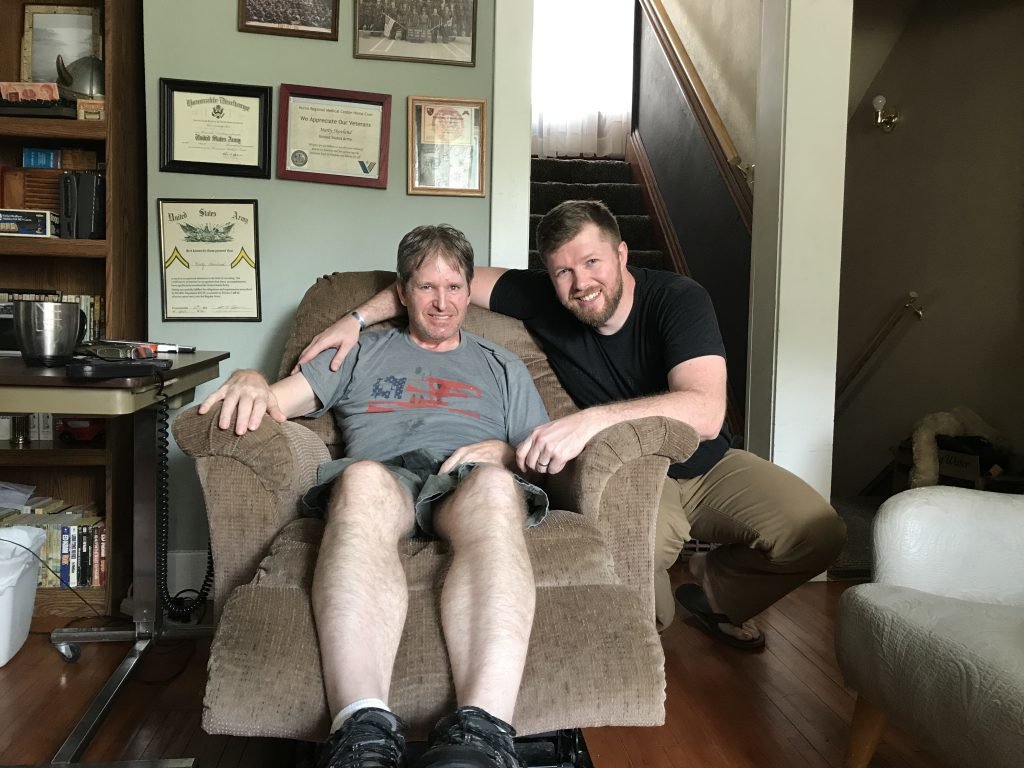 COD: What motivates you to do what you do?
MSJ: I think I'm motivated by a lot of different things. You know, one of them is just if I'm not good at what I do and I'm not getting better at what I do then my family suffers. Me being good at what I do directly translates to food on the table, roof over the head, that sort of thing. So that's very motivating. Another thing is I think I've always kind of had a chip on my shoulder about proving that I'm good at stuff and could be potentially great at some things and so I'm constantly trying to prove that and also that there's a lot of things in my past that I was not necessarily good at or fell short of my potential and so I'm constantly trying to push my own boundaries and trying to be better than I was the day before and I think that that's, I think that that's a pretty motivating thing.
COD: What do you think is the most misunderstood thing about you or the work that you do?
MSJ: I think that you know, especially with a lot of the work that I do in journalism these days and you know kind of telling people stories, its… I think people have a very negative view about journalists these days and some of it is warranted but a lot of it isn't and I don't think people realize how much work it is and sometimes the danger you put yourself into in order to be able to tell a story and so I think that's a bit misunderstood. But as it specifically pertains to me, I think sometimes I worry that it looks like I'm constantly on vacation and although I do get to go to some really rad places and meet really awesome people it's a lot of work and especially a lot of the times what I'm doing I'm like a one-man-band out there doing still photography, videos, interviews, reporting, writing, downloading my own footage, editing, like all the stuff and it can be a lot of work. So I don't know if that's misunderstood or if it's underestimated but like it's a cool job but you definitely earn it.
COD: How do you define success?
MSJ: I think success for me is getting to that point where what I'm good at, what people pay me to do, and what has meaning or impact, you know, where those three things meet, and bleed over, I think that's success when I can do that. And I think that's like the career goal right? But there's also more like, "Hey, I wanna make the New York Times best-seller list one day," "I want to build my wife's dream house someday," and some of those things are tied to monetary goals, and I don't think money makes you happy but I don't want my family to have to worry about money, I don't want, if someone in my family gets sick again, like them to have to worry about them not being able to afford medicine for… you know what I mean? Like it's…I think that that's like being in a comfortable place financially, having career success, and being able to not sacrifice happiness to achieve either of those things.
COD: Mountain view or ocean view?
MSJ: I think for mountains or ocean I would say that I appreciate both mountains and ocean, I appreciate nature, I appreciate how beautiful this world that we live in is, you know? But if I had to pick one or the other I think that it'd probably be mountains. But if I could have the best of both worlds and I could have a mountain view and an ocean view I'm for sure gonna go for that.
COD: If you could have any superpower what would it be?
MSJ: I think the notion of having a superpower is sometimes overestimated. If it were in reality that you could have a superpower I think that it would create just as much burden on you as it does happiness or ability to do something. I think I naturally kind of gravitate to the ability to manipulate time, time or space. I think that that would be cool to… there's some days where I wish I had a few more hours or moments that I'm really enjoying and I just want to slow time down and linger in that moment for longer and I think the ability to do that would be awesome. But I think it would also if you actually had that ability come with just this nearly unbearable burden, I think.
COD: What are your hobbies outside of what you're known for?
MSJ: I think I'm really fortunate that I figured out a way to get people to pay me to do my hobbies. I like writing, I like taking pictures, I like filmmaking. I really like doing that stuff. I think that you know, I don't think that everybody knows that I like to hike, I'm a little bit of an outdoorsman, I definitely wish that I could do it more. I'm not outside enough and I wish I could be outside more but yeah, I definitely like being outside, I like going to the movies, I actually… I've turned into a little bit of like a food person, like I pride myself in every new city I go to or every new place that I go to that I'm able to find like the really great restaurant that's not the obvious choice. That's kind of fun for me.
COD: On a scale of 1 to 10, how confident are you in your ability to survive a post-apocalyptic world, 1 being you're dead on day one, 10 being you're the ruler of the new world order?
MSJ: So I think that I am somebody that is, despite my background like very comfortable outside, comfortable hunting, was in the military, I've been on deployments, all this other stuff, I think like you'd think, "Oh he's probably at least above average," but I don't know, I feel like I'm that guy that has dumb stuff happen to me and I'm not even gonna get killed by the thing causing the apocalypse, it's gonna be like a totally normal thing that happens to me, where I fucking twist my ankle going down a set of stairs and then just like dying of starvation in the stairwell. It'll be something so boring and mundane that gets me but, you know, I think that I'm gonna make it outside of the first ten minutes, I think, I think potentially I'd, depending on where I'm at when shit starts to go down, that maybe I could last a couple of days but I don't know. I'd put myself at a five or six just knowing how fucking clumsy I am.