It's important to understand that your odds of being attacked by a ninja are low, but they're never zero. Our nation's most elite flying unit, the 160th Special Operations Aviation Regiment, recently learned this lesson the hard way.
A man armed with a sword and dressed as a ninja — which is to say, definitely a real ninja — attacked soldiers of the Army's 160th SOAR last month while they were participating in a training exercise at Inyokern Airport, about 100 miles north of Los Angeles, on Sept. 18.
According to what appears to be a military incident report leaked to Reddit, the ninja assault occurred when every ninja assault occurs: at night. Between 1 and 2 a.m., an unnamed staff sergeant was outside of a building at the airport when a man dressed in full ninja garb approached him and asked, "Do you know who I am?"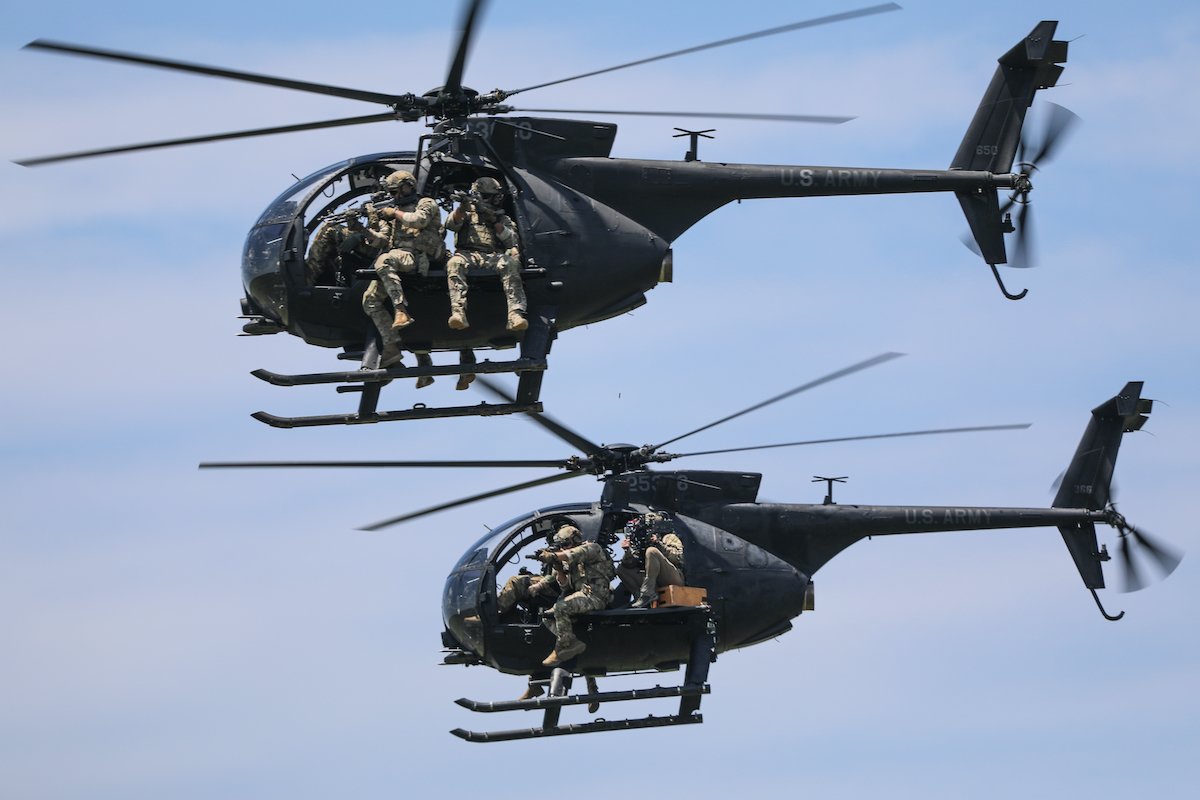 The soldier replied that he did not know who the ninja was, and the ninja then asked, "Do you know where my family is?" When the soldier again said no, the ninja began to slash at him with a sword, striking him in the leg and knee before the soldier retreated back into the admin building, where he locked all of the doors and called 911.
The ninja continued his assault by punching at doors and windows of the building before briefly disappearing, according to the document. He then reappeared with a large piece of asphalt that he threw through a window, striking a 160th captain.
Both service members required stitches for their injuries from the assault and are now cleared to return to duty.
The assault raises a litany of questions, the least of which is what could have prompted this attack in the first place. Traditionally, the United States government has maintained a neutral stance in the shadow wars conducted by clans of ancient feudal assassins, and the possibility that this was a false flag operation by a ronin class of samurai should not be ruled out.
And then there is that most telling detail: "Do you know who I am?" This question — as we all know — is never asked by anyone who isn't somehow very awesome and probably very famous. Perhaps, then, this ninja is a warrior of remarkable skill and renown. The legendary assassin also asked about the whereabouts of his family, leading many experts to speculate that this particular ninja was most likely spurred from a peaceful retirement by the kidnapping of his family and set off on a globe-trotting rescue mission during which members of ISIS — the actual captors of his missing wife and children — eventually tricked him into believing that American military forces were behind the kidnapping of his family.
None of this information is confirmed, however, and it is still highly likely that this was just a local sword guy on drugs.
Read Next: Florida Seeks Death Penalty for Marine Vet Charged With Massacring Family