The 2020 wildfire season in California and on the rest of the West Coast has burdened firefighters for months as they continue efforts to extinguish the fires. Wildfires have been raging throughout California since as early as June, with a couple of months to go before the fire season is considered over. According to Cal Fire's incident map, more than 3.6 million acres have burned as a result of approximately 8,000 incidents of wildfire.
Since the wildfires started in California, 26 fatalities have been confirmed with several more people still missing. The rampant fires have also destroyed or damaged 7,630 structures. Among the fatalities are three firefighters.
Adjutant Gen. David Baldwin of the California National Guard explained to Coffee or Die Magazine that the fire season used to end around November but now continues for most of the year. Cal Fire backs that up, stating on its website, "the fire season in California and across the West is starting earlier and ending later each year." Daring rescues have taken place as firefighters continue their prevention and suppression activities in an attempt to curb the spread of the wildfires throughout the state.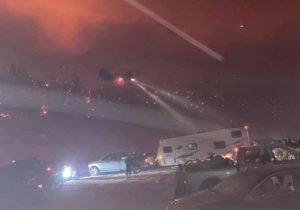 Cal Fire attributes the change in the fire season timeline to warmer temperatures in the spring and summer, reduced overall ice and snow on the ground, and snow melting earlier in the year. These factors create "longer and more intense dry seasons that increase moisture stress on vegetation and make forests more susceptible to severe wildfire," contributing to the extension of the fire season by 75 days across the Sierras.
Cal Fire lists 26 active wildfires burning, nine of which are under Cal Fire's Incident Command, with the remainder under the command of partner agencies. The five largest active wildfires listed under Cal Fire's command are:



August Complex with 878,470 acres burned; 45% contained




SCU Lightning Complex with 396,624 acres burned; 98% contained




LNU Lightning Complex with 363, 220 acres burned; 98% contained




North Complex with 306,135 acres burned; 78% contained




Creek Fire with 304,604 acres burned; 39% contained



Three out of the current top five wildfires are 75% or more contained, indicating an end in sight for these wildfires. As the combined agency response of local, state, and federal firefighter personnel achieves 100% containment of individual wildfires, they will be able to transfer resources to active wildfires in order to extinguish them.
Two wildfires, the Zogg and Glass fires, started on Sunday, according to the Cal Fire incident reports. Firefighters are working rapidly to contain preexisting wildfires as more pop up within the state, with human or natural causes. Cal Fire lists 229 incidents of wildfires in its 2020 archives as 100% contained. Of these, 196 were under Cal Fire's incident command, while the other 33 were under partner agencies' commands in different areas of California.