Whether or not you enjoy the grandeur and crowds of the annual Shooting Hunting Outdoor Trade (SHOT) Show, everyone is interested in the new products on display. SHOT Show is a vast sea of manufacturers covering every corner of the firearms industry, from tactical to hunting and everything in between. No matter what your interests are, there's something for everyone. There were so many products that stood out as I walked the floor — here are the highlights.
Kimber K6s DASA 4-inch Combat & Rapide Black Ice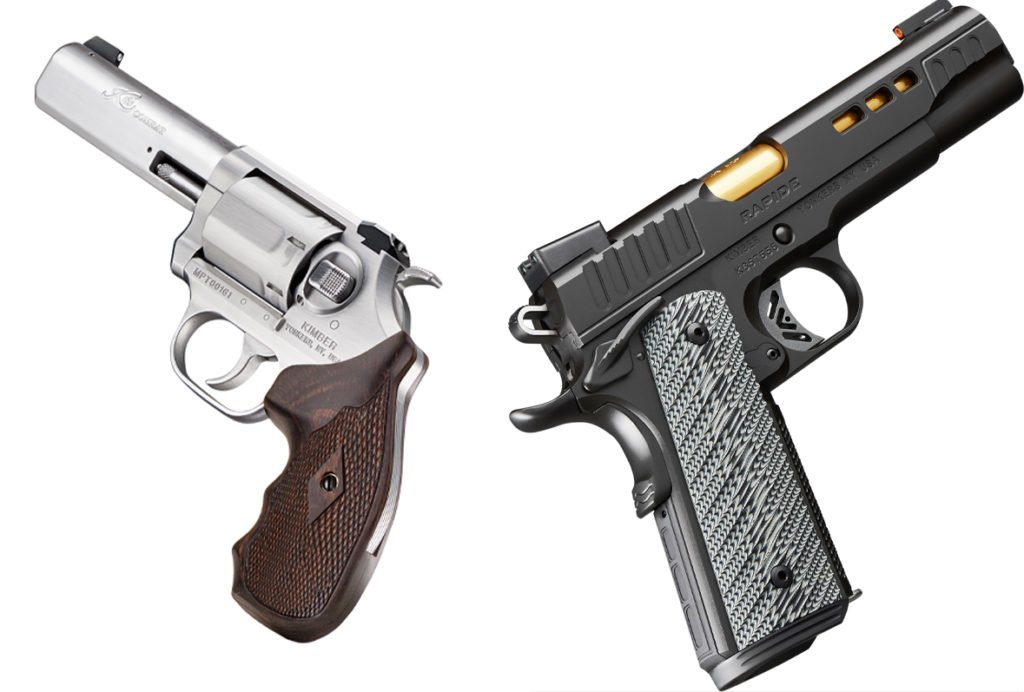 Kimber's K6s (DASA) is the next evolution of the Kimber revolver product line. The DASA takes the acclaimed K6s system and outfits it with a double- and single-action trigger mechanism. The platform maintains the benefits of the original K6s — such as the outstanding double-action trigger pull, compact envelope, and six-shot capacity — but with the added advantage of a single-action trigger. For 2020, Kimber has literally expanded the DASA by releasing a 4-inch version. The 4-inch model features an extended combat grip with finger grooves for better control and white-dot sights.
The additional sight radius combined with the pure shootability of the platform is sure to make even the strongest skeptic think twice. The stainless steel frame weighs 25.5 ounces, which allows it to soak up recoil without being too beefy. Chambered in .357 Magnum, the six-round wheel gun has some serious fight in it. MSRP: $989
While revolvers are fairly new to Kimber's inventory, they are one of the most respected names in 1911s, a reputation that's been built on quality and innovation. When Kimber announced the release of the Rapide line of 1911s, they caught my attention. The Rapide (Black Ice) is offered in .45 ACP, 9mm, and 10mm. This pistol brings performance-enhancing features such as stepped cocking serrations and slide-lightening cuts to help deliver a faster lock time. A beautiful two-tone KimPro finish and DLC-coated barrel looks good and protects. A flush fitting magwell, match-grade trigger that breaks at 4 to 5 pounds, and TruGlo TFX Pro Day/Night Sights all contribute to performance.
The new Black Ice model comes with Kimber StiplexTM front-strap stippling and black G10 grips for extra gripping confidence. The pistol ships with one eight-round Tac Magazine. MSRP: $1,490
Springfield XD-M Elite 4.5-inch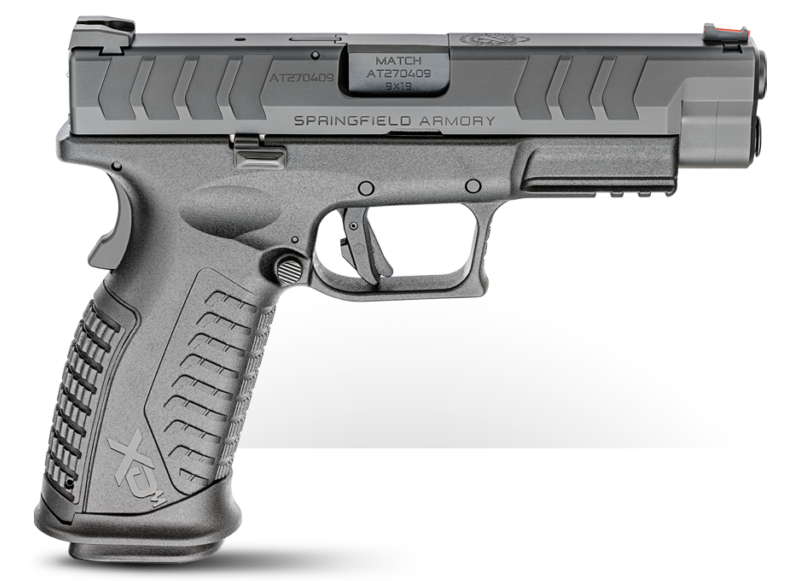 Springfield Armory has made some major improvements to their XD line with their new Elite series. Springfield states that this line "represents the pinnacle of performance in factory striker-fired pistols." Out of this series, the model that stood out to me was the XD-M Elite 4.5-inch. I had a chance to run this duty-sized pistol since SHOT Show, and it is a stark difference from the current line of XD's. The Springfield XD-M Elite 4.5-inch features a standard-length slide and 4.5-inch, hammer-forged barrel. A flared and extended magwell system offers fast reloads and mates up with an extended 20+1 magazine capacity.
It also has a unique site setup. The U-Dot Tactical Rack rear sight has a U-shaped, white-outline notch, and the front sight has a red fiber-optic insert. The rear sight is adjustable for windage, and the front sight is dovetailed into the slide. The slide has large serrations at the rear and front to improve manipulations. In addition, the slide is contoured, angled, and streamlined to assist the shooter's grasp when racking the slide.
Other features include an ambidextrous slide and magazine release, a loaded chamber indicator on top of the slide, a cocking indicator on the rear of the slide, and a three-slot frame rail. The polymer frame is black, and the slide has a matte-black Melonite finish. Throw in the pistol's META (match enhanced trigger assembly) trigger, which is very well designed, and you have a solid duty gun. MSRP: $559
Mossberg MC2c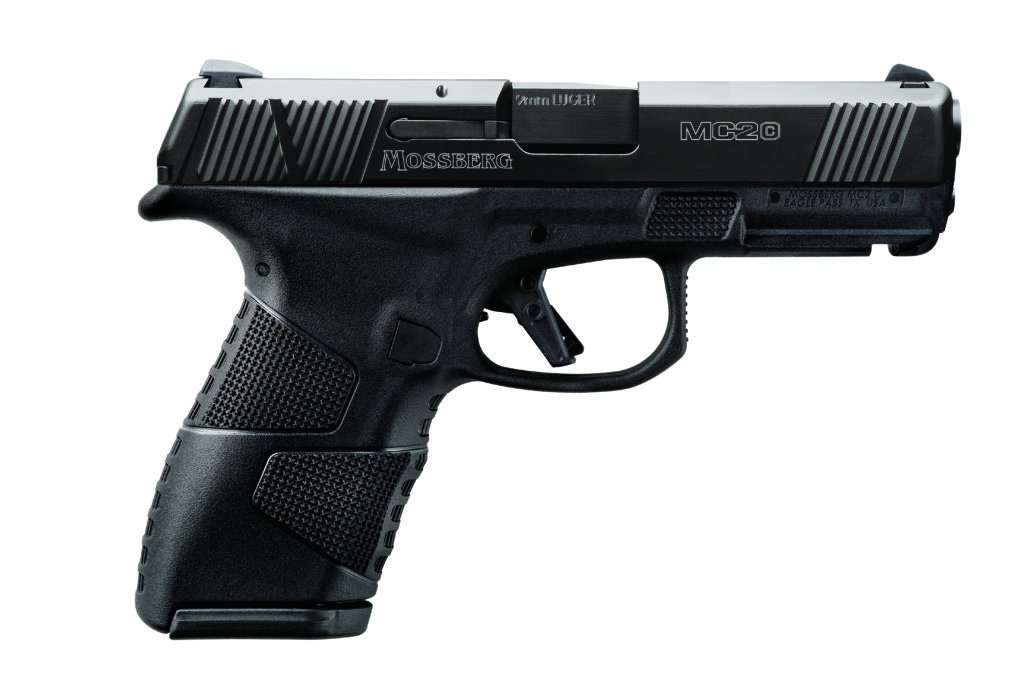 Last year, Mossberg made the firearms world do a double take with the release of their first handgun in 100 years, the MC1sc. It was well received and has continued to perform well across the spectrum. They have now doubled down on that success with the release of the MC2c. The new pistol has the same DNA at the MC1sc but in a larger design. The MC2c is a feature-rich compact shooter that features a double-stack magazine and a host of ergonomic and performance features. Like last year's release, the new model is chambered in 9mm. However, overall capacity has been increased to as high as 15+1 with the extended magazine option. Standard capacity is 13+1, which makes it a serious player in the concealed carry market.
It also features angled serrations for positive slide manipulation and the Mossberg STS (Safe Takedown System). The sights are dovetail mounted and come standard in a low-profile, snag-free, white 3-Dot configuration. TRUGLO Tritium Pro Night Sights are available as a factory upgrade. It is also compatible with SIG Sauer #8 sights should the user opt for something different. The frame is made of glass-reinforced polymer and has Mossberg's signature aggressive texturing. It provides a very solid grip surface without destroying our hands. This is especially noticeable on the front- and backstraps. It has a very comfortable palm swell, as well as an oversized trigger guard to support shooting with gloves on.
The grip of the MC2c was designed to be incredibly narrow for its capacity and is the result of using slim-profile double-stack steel magazines. The trigger is a flat profile with an integrated blade safety, a short, tactile reset, and reduced overtravel. It features a crisp, clean break and smooth take-up. All models have a reversible magazine release behind the trigger guard and a front rail to mount a light or laser. MSRP: $490-$595
Glock 44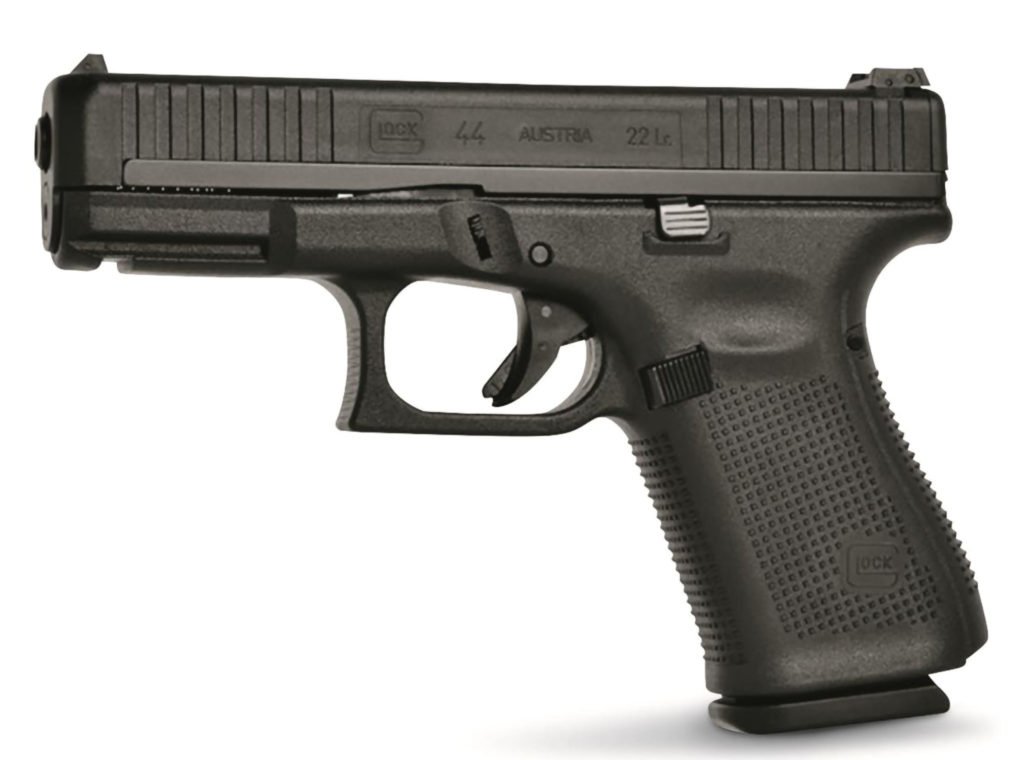 There are few firearms manufacturers that can match the brand recognition of Glock, and they are always working to bring shooters something new. This year is no different with the introduction of the Glock 44 chambered in .22LR. The new G44 features an innovative hybrid steel-polymer slide and the ability to adapt to any user's hands via backstraps supplied with the pistol. The G44 is Glock's first rimfire handgun, and it's almost identical in size to the popular G19 with a 4.02-inch barrel and overall length of 7.28 inches.
The G44 is the ideal pistol to start or enhance your shooting experience. "The G44 was thoroughly tested with a wide variety of ammunition to ensure maximum performance and redefine what small can do," Glock said in a statement. The G44 is a compact pistol that comes standard with the GLOCK Marksman Barrel (GMB) for increased accuracy and precision. The G44 features adjustable rear sights and two load-assist magazines. While some people may get opinionated on the internet with snarky comments, think about how much fun it would be to add a threaded barrel and suppressor! MSRP: $430
TETRA Range AlphaShield
This is the first I've heard of this company, and I'm so glad I did. Gunfire is unforgiving, and the quest for comfortable and effective hearing protection has been going on for decades. TETRA has analyzed the most critical sounds for competitive and recreational shooting, and they've programmed those sounds into their small hearing protection devices. Using their proprietary Specialized Target Optimization technology, range commands, instructors, students, and voices of shooting partners are clear. Surrounding environmental sounds are natural while maintaining appropriate hearing protection for the shooter. Their AlphaShield is a small, comfortable, one-size-fits-all solution that doesn't require an ear impression. Lightweight and effective, the TETRA Range AlphaShield is a great option in the hearing protection market. MSRP: $699
Federal Practice & Defend Ammunition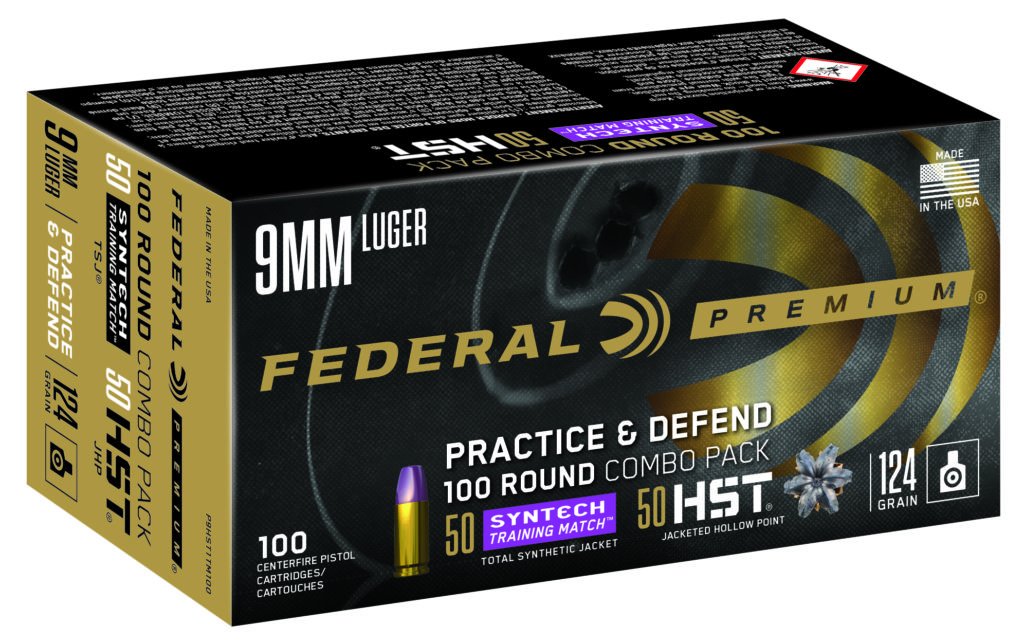 A challenge I face when teaching a firearms class is getting students to train with their defensive ammunition. More than a lack of understanding, it usually comes down to cost. Burning through defensive rounds isn't cheap. Federal understands this, and they've created a solution with their new Practice & Defend Ammo Packs. Here, they pair the self-defense load with the industry's most complete training ammunition for a combination like no other. Federal's Practice & Defend packs include 50 HST Personal Defense loads and 50 Syntech Training Match rounds. The two rounds produce identical velocities, trajectories, and point of impact for the most realistic training and utmost protection. This gives us practice ammo that runs like our defensive ammo all in one box. Additionally, the practice loads' Total Synthetic Jacket is easier on the barrel and minimizes splash-back against hard targets. On the defensive side, the well-respected HST is a reliable self-defense round. Together they offer the shooter the best of both worlds — training ammo and defensive ammo that is ballistically matched. MSRP: $60.99-$73.99
KADRI Clothing Valkyrie Field Pant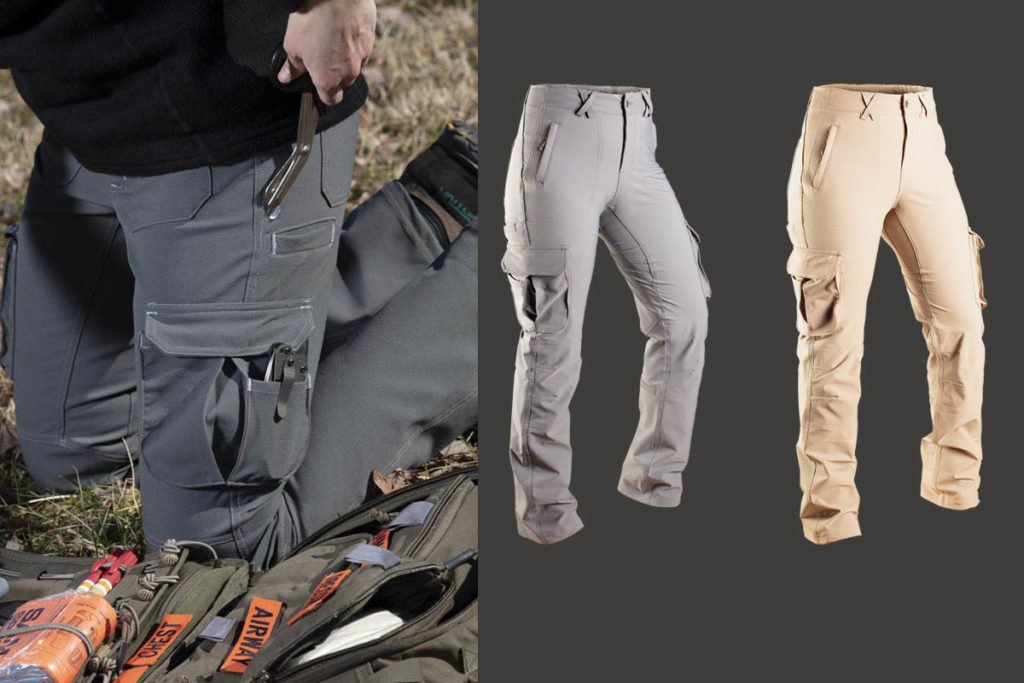 This is by far one of my favorite finds. It's often difficult for women to find a good pair of pants in which to train, shoot, hike, or just be comfortable outdoors. Depending on the manufacturer, sizing is all over the place, and finding a pair that stays in place when you're moving, running, or bending is a nightmare. Pockets that are deep enough to hold more than a tube of lipstick is another main issue.
There have been some great attempts from reputable companies, but these Valkyrie pants are in a league of their own. KADRI is a U.S.-based company that is owned by two female SOF veterans who understand better than anyone the needs of women in physically demanding occupations. One unique feature is the KADRI Waist-Hip Variation Representation Matrix, which is an exclusive sizing system designed for women by women. This size chart is not determined by the standard set ratios; instead, there are three points of measurement — waist, hip, and inseam. This gives the end user the option to choose a hip size up to two sizes larger than the waist, specifically fit to anyone's unique body type. The matrix allows for 72 different sizing combinations! Can I get an AMEN from all the fuller bootied women in the back?!
Sizing isn't the only thing that sets the Valkyrie Field Pant apart. They have stretch and durability, are lightweight, contain 11 functional pockets, and still remain figure flattering. While at SHOT, I had the pleasure of meeting Katheryn Basso, one of the veterans behind KADRI. This new company and the warrior women leading it are about to rise. MSRP: $220