Tension is tantamount to a thriller's literary success, and three questions elicit immediate suspense about 2034: A Novel of the Next World War by Elliot Ackerman and Admiral James Stavridis — which the publisher calls a "geopolitical thriller":
1. Why would a Marine veteran of Iraq and Afghanistan and a former Supreme Allied Commander of NATO want to dive into the waters of a formulaic fiction genre? Evidently the two Department of the Navy guys just wanna have fun — by creating a plot that keeps on gripping. Part of the pleasure of reading 2034 is trying to guess who wrote what part, including the intertwining twists.
2. Elliot Ackerman's second novel (Dark at the Crossing) was a finalist for a National Book Award in 2017. Stavridis has written nonfiction. Do the pedigreed coauthors offer something that stands out from the fleet of prolific authors on bestseller lists? Definitely. The cowriters' military expertise allows the action to read like nonfiction.
Also, 2034 develops dimensional characters, an uncharacteristic trait of many thrillers. There's no super-heroic guy who never sleeps or eats or hurts, and no stock enemies from secretive Big Corporations or liberal Big Government.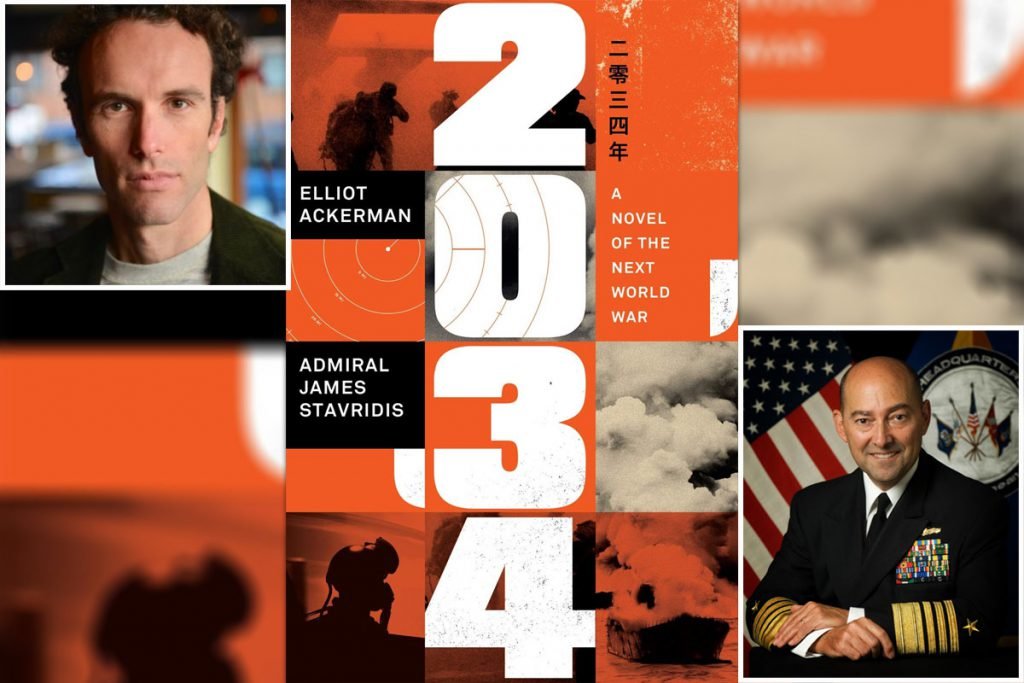 And there's no obvious opening for an action sequel.
3. Do the authors, each with a national platform for his editorial opinion (Ackerman in The New York Times, Stavridis in TIME), put politics into the plot? Not party politics, unless you count references to a "one-term Pence presidency" and the USS Michelle Obama attack submarine.
More existential, 2034 explores what happens geopolitically when national arrogance abounds and triumphant technology fails. The premise is scary, the situation is catastrophic, and the scenario feels real. 2034 has style plus substance.
In the year 2034, the unnamed female Commander in Chief "is the first American president who was unaffiliated with a political party" after Vladimir Putin, still ruling Russia, "crippled America's political system."
In the South China Sea, three US destroyers under Commodore Sarah Hunt's command are on a euphemistically described "freedom of navigation control" tour, and China decides to give the United States more than a bit of comeuppance.
The communists destroy the ships and initiate a plan in which "Chinese cyber dominance of the American forces" will take the wind out of US sails. Not to start "a needless war," they say, but to give China the respect it is entitled to (to paraphrase Joan Crawford in Mommie Dearest).
Without spoilers, what happens next?
The US decides to retaliate, and one zing leads to another. Within four months the economy collapses, cities disintegrate, millions are killed, and there's a "radiation-induced pandemic."
Who cares besides China and the US? India, Russia, and Iran see opportunities. India wants to "halt the cycle of violence," Russia welcomes the disruption, and Iran finds an unexpected role.
Each nation is represented in the ethnically diverse Ackerman-Stavridis cast. Besides Sarah Hunt:
– Adm. Lin Chang of China's defense ministry has dual citizenship and a doctorate. He dreams up lesson plans he might use someday if he returns to the Naval War College in Newport. But his ties to comrades who survive in Chinese politics only because they "never sign their names to anything" are problematic.
– Qassem Farshad is a former Iranian Army brigadier who can testify that "intelligence work was often done with fists." He wants to use his hands differently, in solitude in his garden. Earlier conflict has taken "everything from him, from his father and eventually his mother." Is he obligated to give a new war "his last measure of peace"?
– Maj. Chris "Wedge" Mitchell, USMC, is a fourth-generation pilot who longs to "fly the way they used to fly, before pilots became technicians." His wish is fulfilled when he commands a wing of the storied Death Rattlers.

Sandeep "Sandy" Chowdury is a National Security Council adviser at the White House. His position allows his being privy to top secrets and, as a novelistic device, allows his character to be present in settings that include the New Delhi home of his estranged uncle, a retired Indian Navy admiral with international ties.
As a security expert, Chowdury believes in the use of force. But "inherent in all wars, he knew, was a miscalculation . . . When a war starts both sides believe they will win." Both sides now? They're hurting.
Allowing Chowdury and others time to think is one of the devices that gives the novel substance in addition to style. The thought-filled segments remind an Ackerman fan of the writer's previous book. Last year's Red Dress in Black and White, which skirts onto the edge of the "suspense" category, is a thematic prelude to 2034.
Each 2034 peek into personality, whether pique or pursuit, helps distinguish the thriller from countless others. The personal reflections convey a human apprehension about a frightening future and provide a reader with relief amid chaos.
When Chowdury departs Delhi for a return to the United States, he is afraid he will find the presence of a "deeper wound" in the displaced-person camps there, an injury more serious than "the loss of life, as tragic as it had been."
His concern is for the fragile concept of America, the idea behind democracy. He packs his bag with a hope "that the spirit of that nation had yet to abandon the place."
---
2034: A Novel of the Next World War by Elliot Ackerman and Admiral James Stavridis, Penguin Press, 320 pages, $27