Jack "Jackie" Robinson, second lieutenant in the US Army assigned to the 761st Tank Battalion, took a seat aboard a civilian bus en route to Belton, a Texas town near Camp Hood. The bus driver told Robinson to move to the back of the bus, a demand he expected African Americans to follow. Robinson refused to leave his seat.
"I was aware of the fact that recently Joe Louis and Ray Robinson had refused to move to the backs of buses in the South," Robinson recalled in the book I Never Had It Made: An Autobiography of Jackie Robinson. "The resulting publicity had caused the Army to put out regulations barring racial discrimination on any vehicle operating on an Army post. Knowing about these regulations, I had no intention of being intimidated into moving to the back of the bus."
The famous bus incident on July 6, 1944, resulted in Robinson's transfer to another battalion and subsequent court-martial, then ultimately his acquittal. The tankers who made up the African American 761st Tank Battalion would storm across Europe without Robinson, who didn't participate in combat operations in France. He went on to break the Major League Baseball color barrier in 1947 wearing No. 42 with the Brooklyn Dodgers.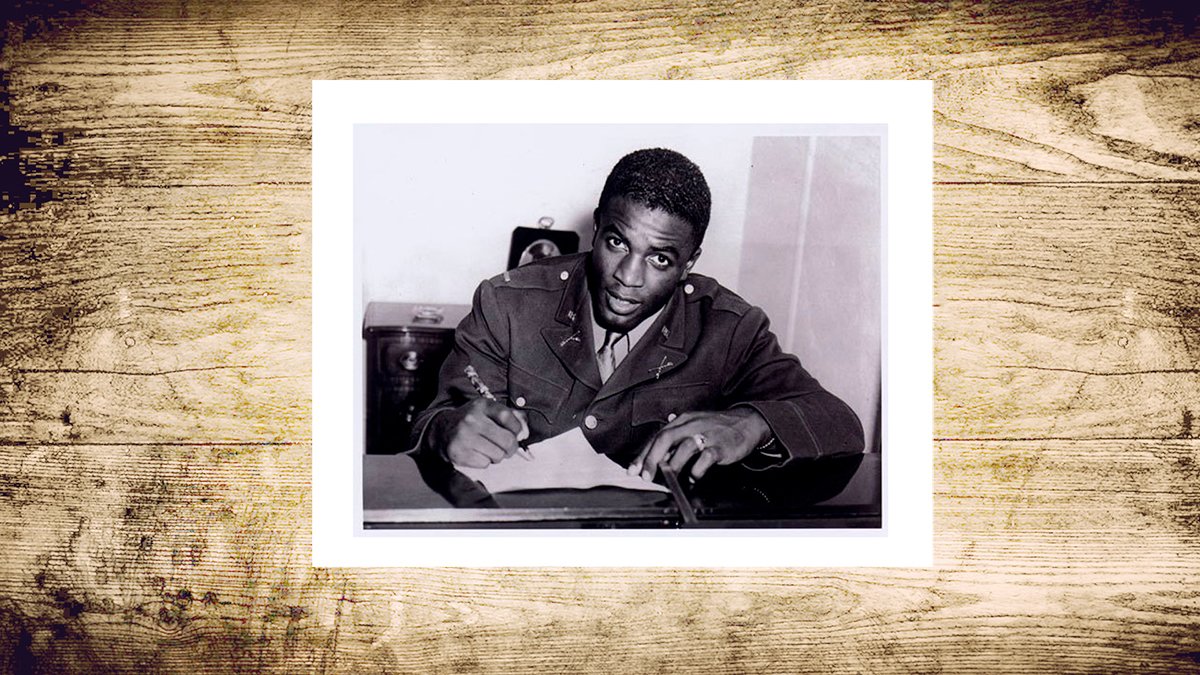 Staff Sgt. Ruben Rivers had his sights on Europe. The "Black Panthers" of the 761st Tank Battalion trained at Camp Claiborne in Louisiana and Camp Hood in Texas.
"They trained for almost two years at a time when armor crewmen were getting as little as three months of training because of the pressures of the war," Wayne D. Robinson, the historian for the 761st Tank Battalion association, said. "Because they were African Americans, the Army didn't quite know what to do with them."
Their motto was to "come out fighting," and that's what was expected of them, and what they expected of themselves.
The segregated unit arrived at Omaha Beach on Oct. 10, 1944, as the best-trained tankers in the US Army. "I would never have asked for you if you weren't good," 3rd Army's Gen. George Patton told them. "I don't care what color you are so long as you go up there and kill those Kraut sons of bitches. Everyone has their eyes on you and is expecting great things from you. Most of all, your race is looking forward to you. Don't let them down, and, damn you, don't let me down."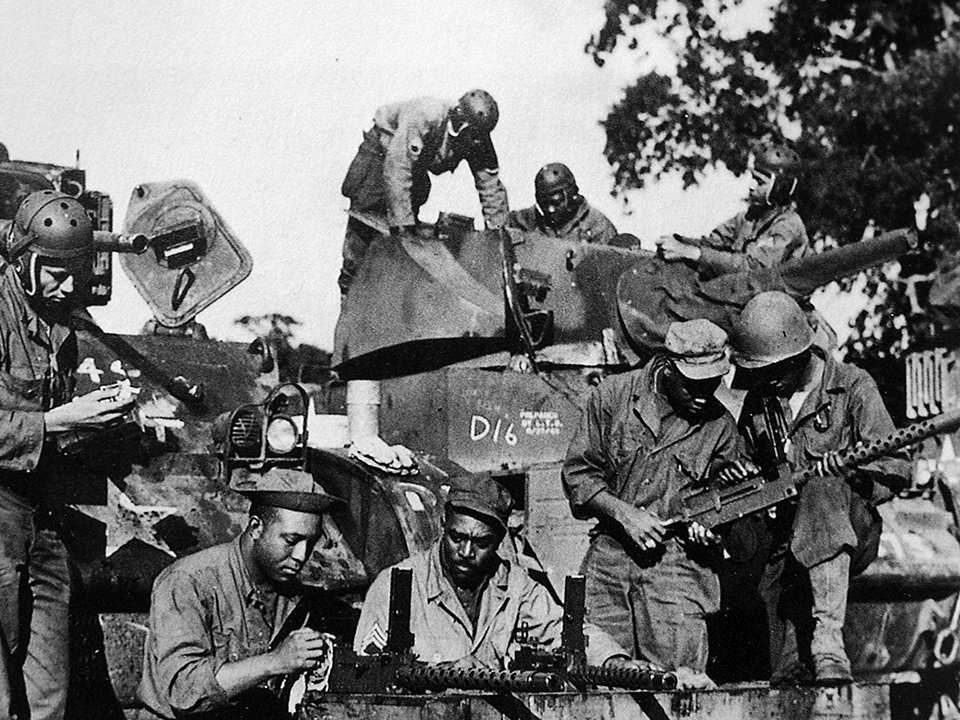 In the fall of 1944, Patton chose the Black Panthers for his Saar campaign in the Allied drive to the Siegfried Line, a line of tank traps nicknamed "dragon's teeth." Rivers was serving as a tank platoon sergeant when he received the battalion's first Silver Star for actions between Nov. 8 and Nov. 9. Near the town of Vic-sur-Seille in northeastern France, Rivers and soldiers from the 104th Infantry Regiment moved to strike German positions. Along a narrow road into the town, the Germans had improvised a roadblock using a felled tree and several land mines to stop the tanks in their tracks.
Then the ambush commenced, and they were caught in the kill zone. The Germans fired their rifles and lobbed in mortar rounds onto their position. Rivers, without asking for orders, climbed out of his Sherman tank holding a cable and wrapped it around the tree. Rivers then repositioned his tank to clear the road, and the force marched through to clear the town.
The Black Panthers were involved in intense combat, and not more than a week later Rivers would be recommended for the Medal of Honor for actions between Nov. 15 and Nov. 19. While assaulting the tiny town of Guebling, Rivers' tank ran over a land mine. He had a bloody leg wound that ran from his knee to his hip. A medic patched his wound and recommended that he be evacuated. He climbed into another tank instead.
"I was about 25 yards from him in my tank," remembered 761st veteran Staff Sgt. Floyd Dade Jr. "As we were battling, Sergeant Rivers got hit. When the Germans opened up on us, we were fighting each other like hell. [The company commander] told Rivers, 'We are outnumbered. There are five tanks out there. Back out.' He said, 'No, I see them. I'm going to engage them.'"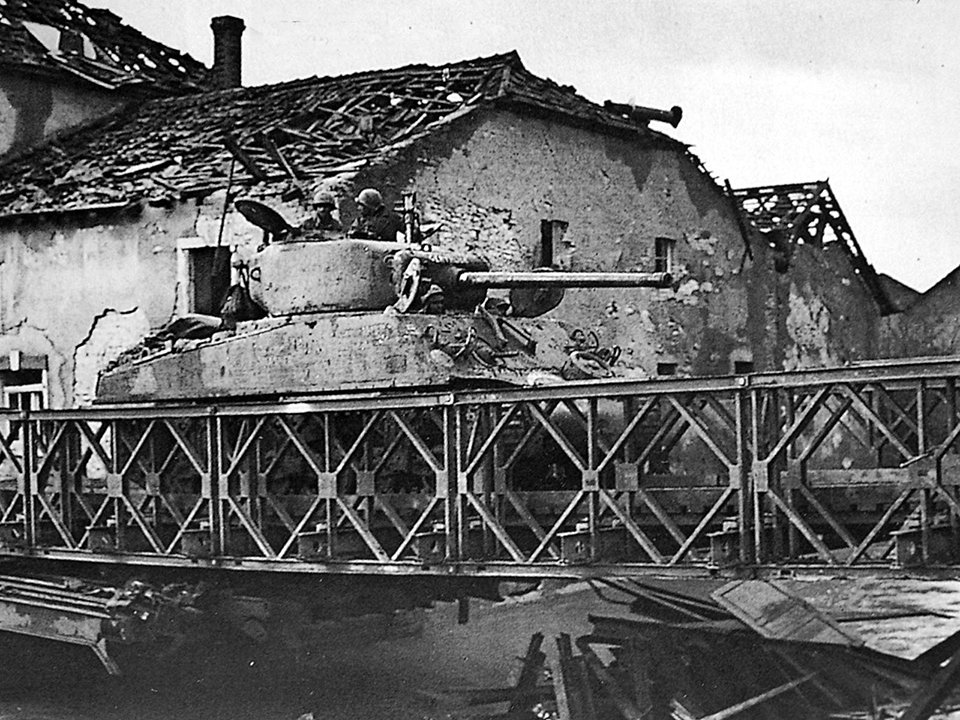 Rivers moved within 200 yards of the Germans and attacked. The next shot was the one that killed Rivers and wounded others in his tank. No African American soldier would receive the Medal of Honor during or immediately after World War II. In 1997, more than 50 years after Rivers' battlefield heroism, he was posthumously awarded the Medal of Honor under the administration of President Bill Clinton, when the citations of those who were denied the honor because of their race were reviewed.
The first African American armored unit to see combat action developed a reputation summed up perfectly by President Jimmy Carter in their Presidential Unit Citation:
"The men of the 761st Tank Battalion, while serving as a separate battalion with the 26th, 71st, 79th, 87th, 95th and 103d Infantry Divisions, the 17th Airborne Division, and 3d, 7th, and 9th Armies in 183 continuous days in battle, fought major engagements in six European countries, participated in four major allied campaigns, and on 6 May 1945, as the easternmost American soldiers in Austria, ended their combat missions by joining with the First Ukrainian Army (Russian) at the Enn River, Steyr, Austria."
The veterans of the Black Panthers took pride in their service despite the discrimination they faced.
"Not for God and country but for me and my people," said Capt. John D. Long, who participated in the capture of the French town Morville-lès-Vic on Nov. 7, 1944. "This was my motivation pure and simple when I entered the army. I swore to myself there would never be a headline saying my men and I chickened. A soldier, in time of war, is supposed to accept the idea of dying. That's what he's there for; live with it and forget it. I expected to get killed, but whatever happened I was determined to die an officer and a gentleman. […] The town of Morville-les-Vic was supposed to be a snap but it was an inferno; my men were tigers, they fought like seasoned veterans. We got our lumps but we took that fucking town."
Read Next: A Complete List of Every Black Medal of Honor Recipient in U.S. History