There is a famous phrase in American literature that goes like this: "Every love story is a ghost story." The late, great author and tortured genius David Foster Wallace penned the poetic sentence in a letter to a friend in 1986, and Wallace biographer D. T. Max later lifted the deliciously ambiguous idiom for his 2013 bestseller about Wallace's life.
Like all good poetry, Wallace's turn of phrase invites the reader to inject meaning where questions arise. And so on this sacred day in American history, Coffee or Die would like to endorse the notion that every love story is a ghost story, and for every ghost conjured on this fateful day 19 years ago, our hope is that their love stories are the lives and legacies we carry forward with that forever promise to never forget.
There are a handful of stories about 9/11 that Coffee or Die's editors coalesced around this year as works we believe essential to that national promise. These are the magazine features whose merit and resonance in our national consciousness is as immutable as the historical happenings from which they sprang.
Our list is short, but the stories aren't. So without further ado, here are your three classic, must-read features about 9/11.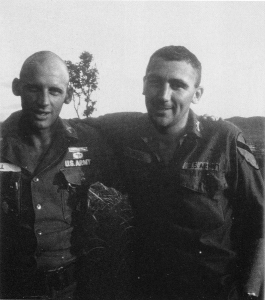 The Real Heroes Are Dead: A Love Story
James B. Stewart's masterfully reported narrative from the Feb. 4, 2002, issue of The New Yorker is, undoubtedly, the greatest story I have ever read or expect to read in my life about 9/11. If you read only one article from this list, I hope you will make it this rich and layered tale of Rick Rescorla's extraordinary life and the magical love he found while jogging in New Jersey just a few short years before destiny finally confronted him in the south tower of the World Trade Centers. Rick Rescorla's service and fidelity to the United States and his countrymen is almost unfathomable in its rarefied virtue.
I discovered this story last year when a friend of mine — an old Army dog and Associated Press reporter from California's Antelope Valley — posted it on Facebook with a much shorter but similarly gushing endorsement. Reading it was transcendent. I genuinely believe it changed my life in that it moved the needle in my head regarding what we talk about when we talk about literary mastery. If I ever write something even half as good as The Real Heroes Are Dead, I can probably die fulfilled.
Standout passage: Susan tried to compose herself. She called Rick's old friend Mervyn Sullivan, in Cornwall. He'd been watching TV that afternoon when a news flash interrupted the program. "Do you know what's happening?" she asked. He told her he'd been watching CNN for the last twenty minutes. "Rick is in there," she said. "He just phoned me and said he has to stay in there and do what he can. It's so dangerous." Susan started to cry, and Sullivan tried to comfort her, saying that Rick was doing what he had to do. But then his Cornish reserve failed him, and he started crying, too.
In the September 2003 issue of Esquire Magazine, Tom Junod tackled a deeply controversial and difficult subject: The untold history of the 9/11 victims who left this world by jumping from the towers and how their stories affected those they left behind. Junod begins by putting readers in the shoes of Associated Press photographer Richard Drew, the man who captured the most iconic "Falling Man" photo that ran in newspapers all over the world the day after 9/11.
The story opens with this read-in: "Do you remember this photograph? In the United States, people have taken pains to banish it from the record of September 11, 2001. The story behind it, though, and the search for the man pictured in it, are our most intimate connection to the horror of that day."
The topic in less capable hands might have come off as insensitive or exploitative, but Junod manages to investigate the photo's history with a sensitivity and thoroughness that asks readers to turn the camera lens inward and look at what our response to the image can tell us.
Standout passage: [Drew] was fifty-four years old. He wore glasses. He was sparse in the scalp, gray in the beard, hard in the head. In a lifetime of taking pictures, he has found a way to be both mild-mannered and brusque, patient and very, very quick. He was doing what he always does at fashion shows—"staking out real estate"—when a CNN cameraman with an earpiece said that a plane had crashed into the North Tower, and Drew's editor rang his cell phone. He packed his equipment into a bag and gambled on taking the subway downtown. Although it was still running, he was the only one on it. He got out at the Chambers Street station and saw that both towers had been turned into smokestacks. Staking out his real estate, he walked west, to where ambulances were gathering, because rescue workers "usually won't throw you out." Then he heard people gasping. People on the ground were gasping because people in the building were jumping. He started shooting pictures through a 200mm lens. He was standing between a cop and an emergency technician, and each time one of them cried, "There goes another," his camera found a falling body and followed it down for a nine- or twelve-shot sequence. He shot ten or fifteen of them before he heard the rumbling of the South Tower and witnessed, through the winnowing exclusivity of his lens, its collapse. He was engulfed in a mobile ruin, but he grabbed a mask from an ambulance and photographed the top of the North Tower "exploding like a mushroom" and raining debris. He discovered that there is such a thing as being too close, and, deciding that he had fulfilled his professional obligations, Richard Drew joined the throng of ashen humanity heading north, walking until he reached his office at Rockefeller Center.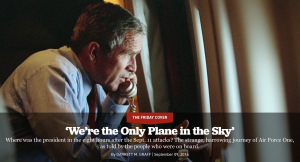 'We're the Only Plane in the Sky'
In 2016, Politico Magazine's Garrett M. Graff considered the question: Where was the president in the eight hours after the Sept. 11 attacks? He set out to answer that question in intimate detail by essentially placing readers inside the president's inner circle on one of the most chaotic days in American history. Graff's exhaustive reporting allows readers an unprecedented view of events in a uniquely structured chronological account. He describes the methods that produced the work and their outcome in the opening paragraphs of the piece:
"This oral history, based on more than 40 hours of original interviews with more than two dozen of the passengers, crew and press aboard—including many who have never spoken publicly about what they witnessed that day—traces the story of how an untested president, a sidearm-carrying general, top aides, the Secret Service and the Cipro-wielding White House physician, as well as five reporters, four radio operators, three pilots, two congressmen and a stenographer responded to 9/11."
Standout passage: Rep. Adam Putnam: [Rep. Dan Miller and I] went up to the president's cabin and he gave us a briefing. He told us that "One way or another" all but a couple planes were accounted for. That was his phrase "one way or another." He told us Air Force One was headed to Barksdale and was going to drop us off there. When we left the cabin, I turned to Dan and said, "Didn't you think that was an odd phrase?" He didn't notice it. I said "'One way or another,' that sounds like that there's more to it than that." I said, "Do you think there's any way we shot them down?" We were left hanging.
Lt. Gen. Tom Keck, commander, Barksdale Air Force Base, Shreveport, La.: I was the commander of the 8th Air Force. We were in the midst of this big annual exercise called GLOBAL GUARDIAN. They loaded all the bombers, put the submarines out to sea, put the ICBMs at nearly 100 percent. It was routine, you did it every year. A captain tapped me on the shoulder and said, "Sir, we just had an aircraft hit the World Trade Center." I started to correct him, saying, "When you have an exercise input you have to start by saying, 'I have an exercise input.' That way it doesn't get confused with the real world." Then he just pointed me to the TV screens in the command center. You could see smoke pouring out of the building. Like everyone else in aviation that day, I thought, "How in a clear-and-a-million day could someone hit the World Trade Center?"