The Hoyt Sherman Place has been an icon in Des Moines, Iowa, for more than 140 years. Filled with eclectic paintings and sculptures, the structure once hosted some of America's most powerful and influential people, including former presidents Ulysses S. Grant and William McKinley, as well as General William Tecumseh Sherman, whose brother is the namesake. Today, it's a music and theater venue.
Last November, on an overcast and snowy evening, I visited the Hoyt Sherman to interview Aaron Lewis, who was taking the stage that night. The world-renowned musician rose to stardom in the early 2000s with the rock band Staind. However, Lewis' current pursuit in the country music genre signifies a path most fans didn't expect. The journey has brought his career full circle, reconnecting him to childhood memories and his roots. This unique musical dichotomy embodies who he is, was, and always will be — the ultimate outsider who is still trying to make it.
At 6:30 on the dot — just as expected — Pete Ricci, Lewis' tour manager, found me in the lobby and took me to Lewis' tour bus. I walked inside from the bitter cold and was immediately pursued by a small dog who jumped on my lap as I sat down. With a cigarette in one hand and a cup of coffee in the other, Lewis looked at me and said, "That's Levi. He must like you." I laughed and shook his hand while introducing myself. He took a sip of his coffee, sat down across from me, and said, "I'm ready."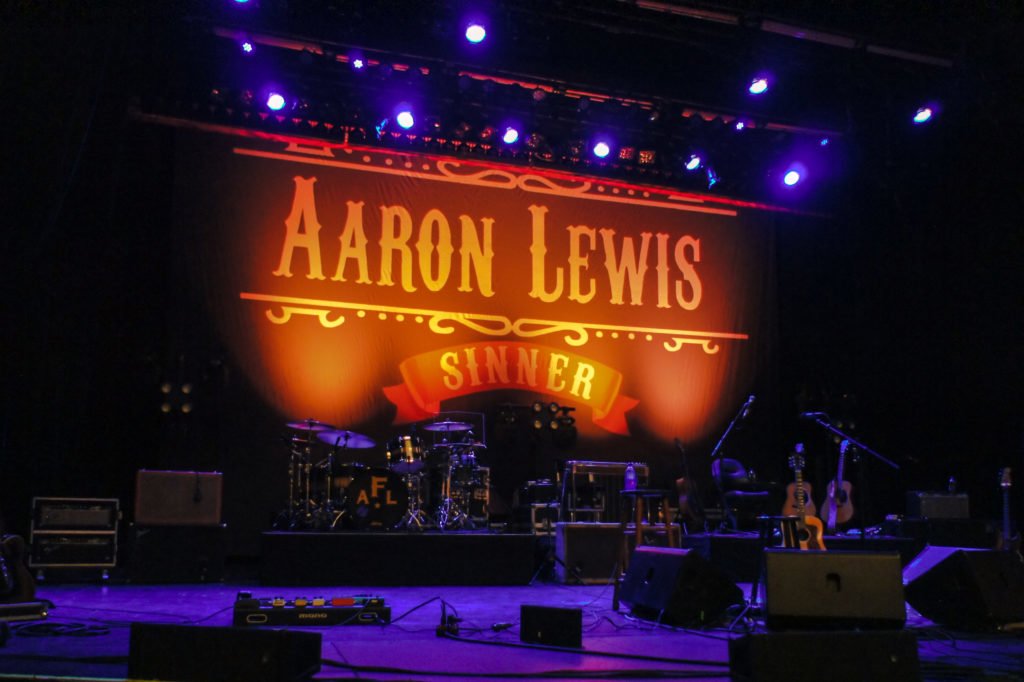 At that moment, I was taken back to my youth — the endless nights as a teenager memorizing his harrowing and cryptic vocals. His two-decade career with Staind spawned seven studio albums — including the five-times-platinum "Break the Cycle" — with over 10 million units sold and worldwide tours but that was only the beginning for Lewis. In recent years, Lewis' path has taken him in a different direction. A serendipitous voyage back to his first music listening experience: country music.
Lewis began to reveal how he transformed from a rockstar into a country musician whose second country album, 2016's "Sinner," debuted at No. 1 on the Top Country albums chart and fourth on the famous Billboard 200. Growing up, Lewis spend a lot of time with this grandfather, a man who had a deep love for the foundations of old-fashioned country music — artists like Merle Haggard, Johnny Cash, Willie Nelson, and Hank Williams Jr.
"Growing up I didn't dig it at all," Lewis said. "It was a forced listening for sure. I ran as far away from that style and type of music as I possibly could and ended up in a rock band. But it's kind of a funny story with what rekindled it.
"I was on Kid Rock's bus one night back in 1998. […] It was one of those nights where we stayed up all night drinking and using substances," he continued. "The whole time he is playing this old country music, and in my head it's replaying the soundtrack of my childhood. It was the first time I had let any of that style of music, that twang, come back into my life or listening choices."
That late night alongside Kid Rock was life changing with respect to Lewis' future. It was the start of something new, a transformation that would lay dormant as he ascended to the top of the rock industry with Staind. It erupted full flame years later.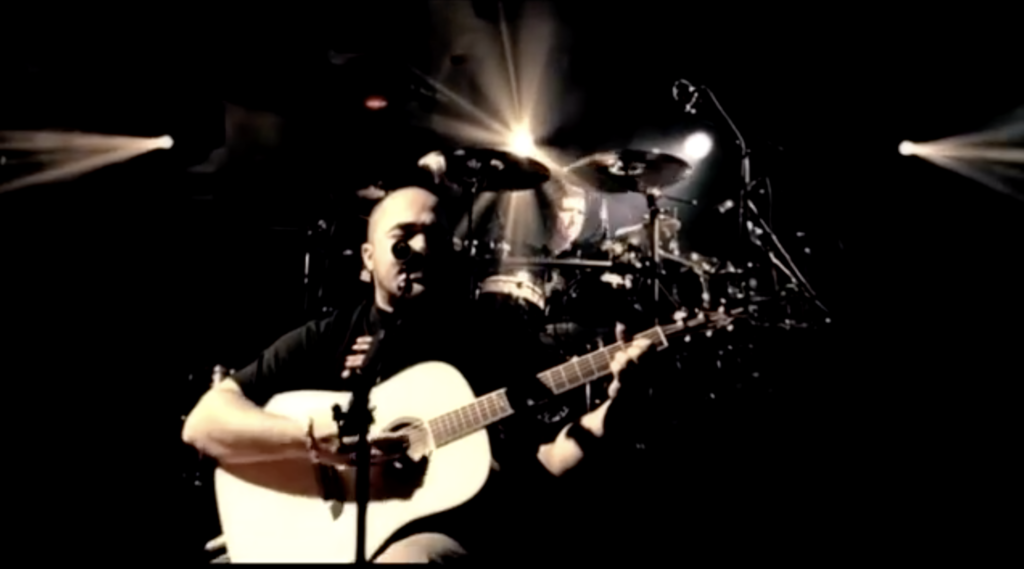 "When I got to the end of my record contract with Staind I was good with that," Lewis said. "I needed to put that away for a bit and reinvent what I was doing, something that wasn't going to get compared. So the music of my childhood is where that manifested itself."
There are endless stories of musicians who tried to transform themselves and failed, but Lewis' isn't one of them. His past creations have topped the charts, and his country music has received critical acclaim and best-selling status. Despite that, Lewis still feels out of place. He considers himself an outsider, a man who doesn't fit in the country-music box.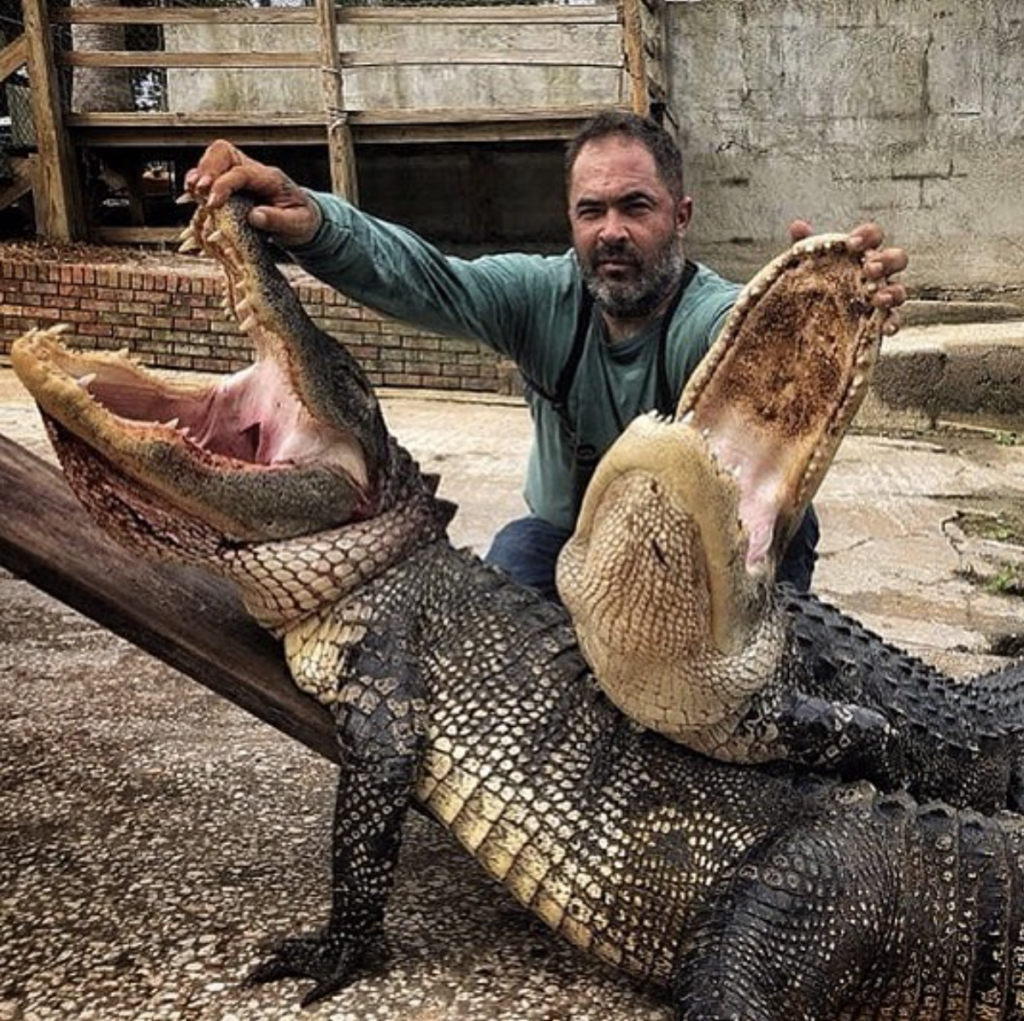 Part of the reason is that today's country music hardly resembles the pillars upon which it was built. It is often conflated with pop culture crossovers in order to appeal to a wider audience and generate more revenue, something that frustrates Lewis. On the business side, Lewis said the conglomeration of radio stations led to the Top 40 industry taking over country radio.
"When [Taylor Swift] came out as a cute little country girl and got airtime on Top 40 radio, all of a sudden [country music] had an audience of hundreds of millions of people across the world," Lewis said. "It set up a model to strive for. […] Do I get it from the competitive road of radio and advertising? To an extent, but I am also able to see the short-sightedness of it. When you handle the country genre like Top 40, you are alienating a majority of your listeners."
'Most creatives are the walking wounded. We would do just about anything to be seen and heard.'
It's a conflict that Lewis has never shied away from, even putting it into a hit single from the album "Sinner."
"Life's not all sunshine and roses. I mentioned that in 'That Ain't Country,'" Lewis said. "Most stuff on country radio these days are tales of good times and happy endings. But guess what? Life isn't like that. Life is a struggle from the time you realize it is a struggle. But if life wasn't a struggle, those happy moments wouldn't stand out so much."
Lewis' comments on struggle hit on something he has spoken about over the years. When comparing what he wrote while in Staind to what he is putting out now, there are similar themes. His lyrics are brooding, introspective, and explore the scope of the human experience. It's curious how a man who has accomplished so much routinely speaks from such a dark place.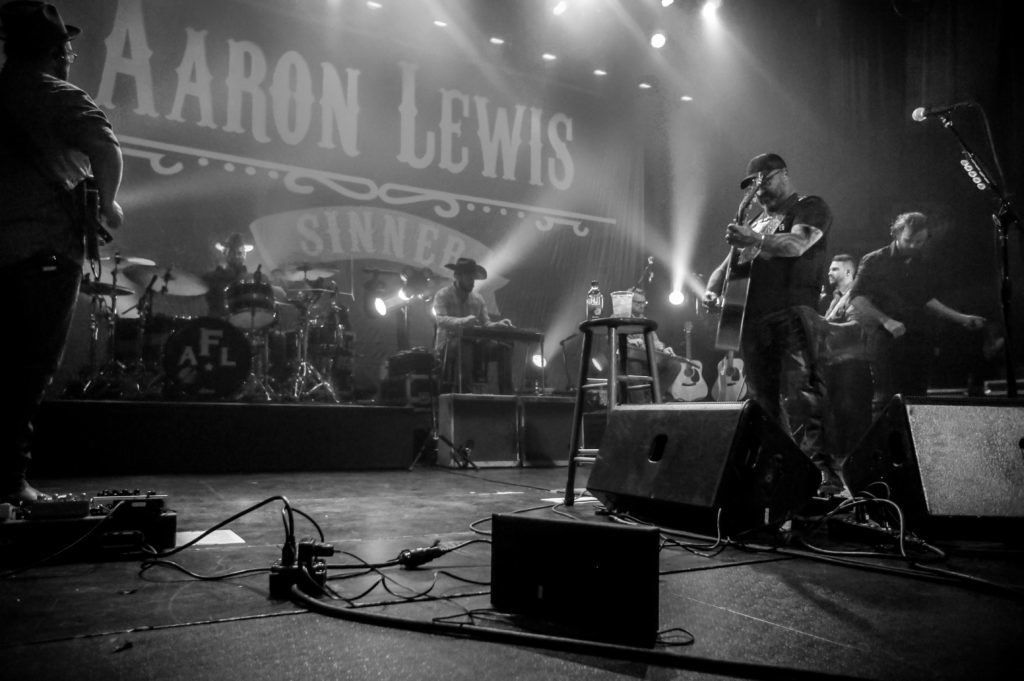 "I just can't help but be a bit dark with my writing. That's just the vein of creativity I have that is evoked by music," Lewis said. "I'm never really inspired to write about happiness. I have a couple of times completely by accident and been really weirded out by recording it, as weird as that sounds."
He continued: "I tend to tap into the darker side of myself for writing purposes. The things that I can't say in life and normal conversation are what I tend to express in songs. We can all be socially challenged sometimes when trying to say what is on our mind the right way — to truly express it to the person sitting in front of you in the manner you are trying to. To say it in a manner they won't take the wrong way for any multitude of reasons. I'm not affected by those limits in the writing process."
After accepting a cup of coffee and a cigarette from Lewis, the conversation veered into the acceptability of the aforementioned lyrical topics — how it may be okay in one genre but considered taboo in another. I relayed how my parents were conflicted about the music I listened to as a teenager: Marilyn Manson, Slipknot, Limp Bizkit, Korn, and a handful of others. These bands were contemporaries of Lewis and Staind. My stepmother was convinced that this music made me rebellious and was the work of the devil.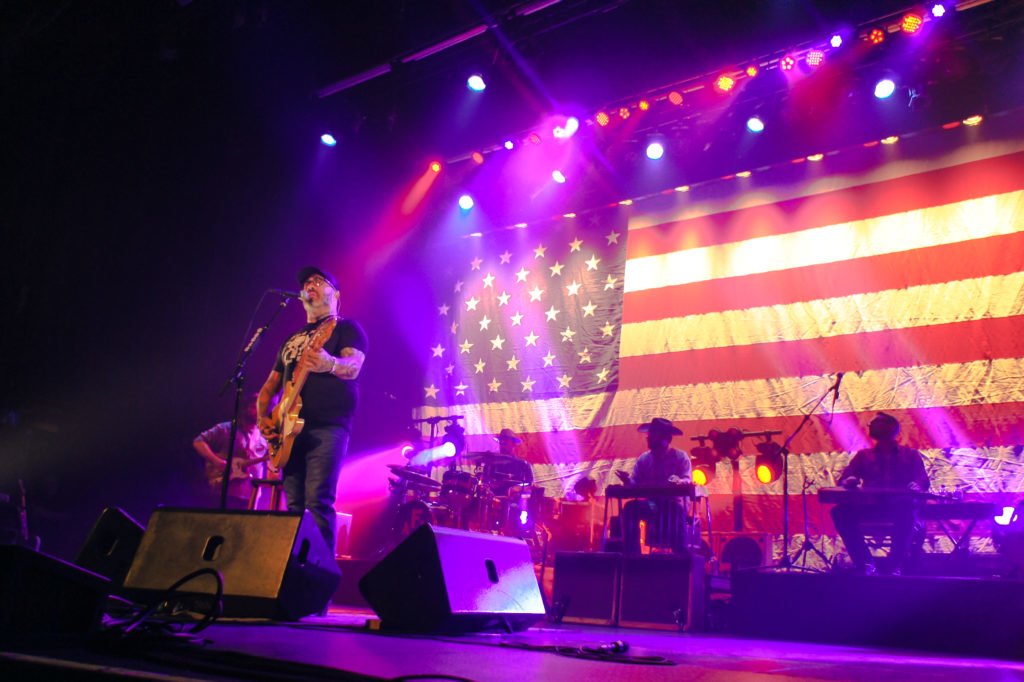 "That was a way for parents to define how this music could have such an effect on their children," Lewis said. "As a parent, to wrap your head around the fact that your child is finding solace in something like that — that can be a tough thing to define. To someone who is super religious, well, it must be the devil for it to have that much of a hold and an impact — but that's just the magic of music."
But as magical as music can be, it still takes a toll on someone who makes it their career. Life on the road can present a troublesome and extreme burden. The sacrifices made by artists like Lewis aren't often recognized by listeners beyond what they hear in a song. Fans aren't necessarily attached to the plight of their favorite artists, just what they produce.
Lewis mentioned that the Thanksgiving holiday prior to our meeting was one of the only breaks he'd had from touring since February. There is certainly a cost to being in the limelight. But what exact price has he paid — and has it been worth it?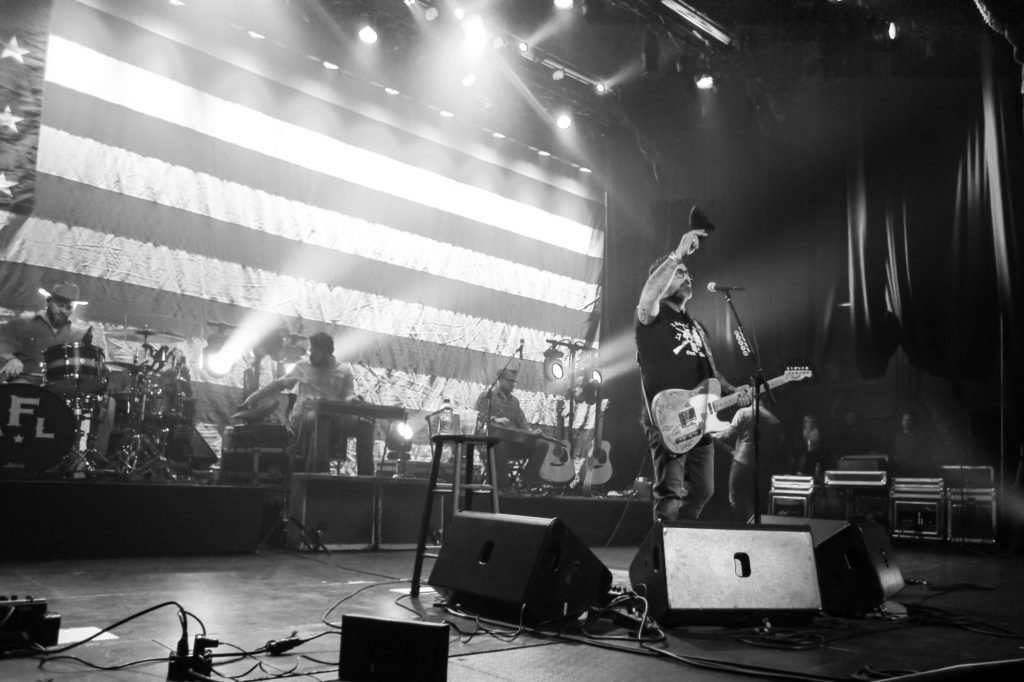 "As crazy as it might sound coming from my mouth, I still feel I am only as good as the next song that comes out," Lewis said. "I still have a really, really hard time stopping and smelling the roses. I still feel at times that maybe one day I will make it — it's really fucked up.
"Most creatives are the walking wounded. We would do just about anything to be seen and heard. We are so broken on the inside that we will wager anything to feel that connection and acceptance. This ride that I've been on, this 'dream come true' that everybody calls it, that I'm living my dreams — yeah, okay, maybe. But it's also cost me everything that has ever meant anything to me."
After letting that sentiment sink in, I took one more drag of my cigarette and one last sip of coffee before asking what advice Lewis would give an aspiring musician.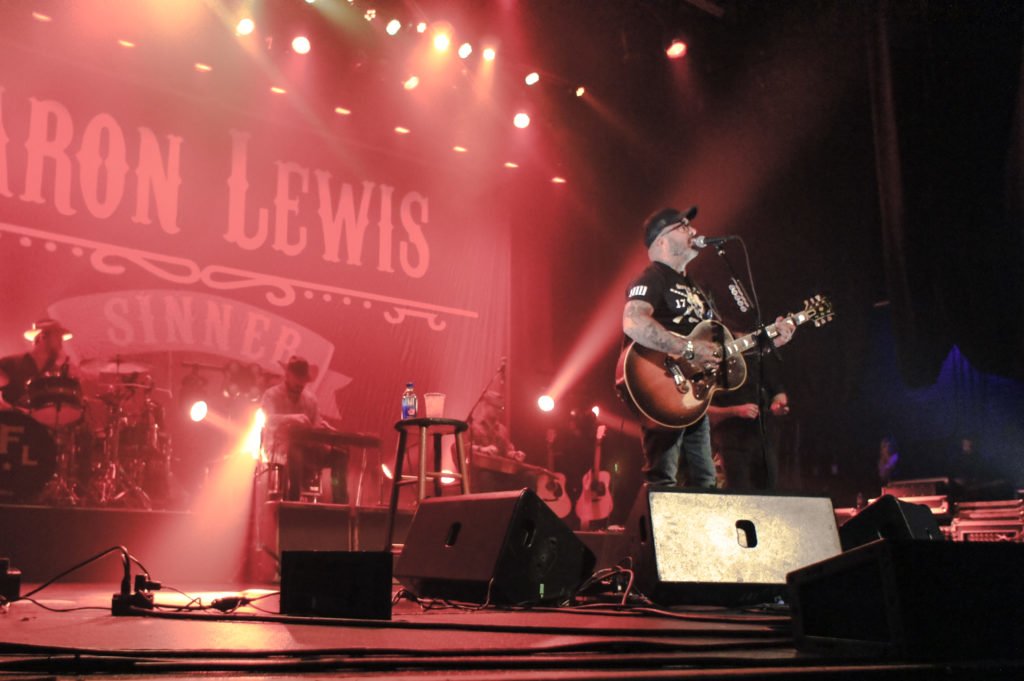 "Be careful what you wish for. There is a cost to everything," he said. "There is a lot of truth to that old story about Robert Johnson meeting the devil at the crossroads and selling his soul. That is kind of what you are doing when you sign a record deal. The longer you survive having a record deal, the more your soul fades and pretty soon there is nothing left — because your feet never touched the ground and you never slowed down enough to see it all go away. So be careful what you wish for."
With those cautionary words, I turned off my recorder. Lewis was set to take the stage in an hour, so after a final handshake, I prepared to head back into the venue.
"Enjoy the show, Chris," Lewis said as I made my way off the tour bus.
Over the next few hours, Lewis and his bandmates performed a memorable set for the sold-out crowd at the Hoyt Sherman. The set list included most of his recent country efforts, but he also threw in several Staind hits. Lewis played a few new songs from his upcoming album, "State I'm In," including "The Party is Over," "God and Guns," and "Keeps on Working," the latter of which he joked would make him some more friends in Nashville. "State I'm In" is slated for release on April 12, 2019.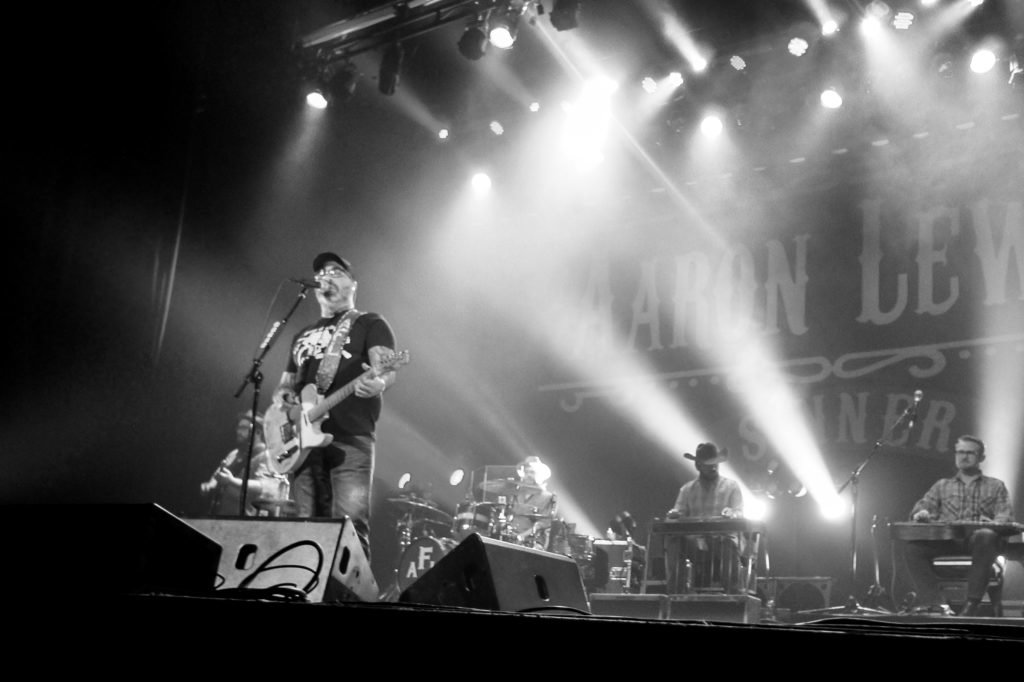 Lewis' musical transformation is a testament to the idea that life isn't about the destination — it's about the journey. And while his solo country music career appears to have solid footing, he's made headlines recently for walking off stage when the audience was being unruly. He also mentioned during a live performance earlier this month that Staind might be making a comeback. "I might be lying, but I might not. There might even be live shows this year. I can't say for sure. You never know."
Lewis shows no signs of slowing down, but he also appears to be living in constant conflict. As I left the Hoyt Sherman, I replayed the night's events in my mind and wondered when, if ever, Aaron Lewis would feel that he had made it.