The commander of a California-based Marine Corps unit that suffered the deaths of nine members during an amphibious assault vehicle training mishap July 30 has been removed from his post.
Lt. Gen. Karsten Heckl, commanding general of I Marine Expeditionary Force, relieved Lt. Col. Michael J. Regner, commanding officer of Battalion Landing Team 1st Battalion 4th Marines, due to a loss of confidence in Regner's ability to command as a result of the accident, according to an official announcement.
"Although the Command Investigation has compiled a substantial amount of information and data which formed the basis for Heckl's decision, it is still ongoing as the Marine Corps continues to investigate, assess all relevant information, and take appropriate actions," I MEF officials said in the release.
A Battalion Landing Team provides a battalion of Marine infantry forces, reinforced with additional ground combat units and weapon systems, to form the Ground Combat Element of a Marine Expeditionary Unit. BLT 1/4 was attached to the 15th Marine Expeditionary Unit.
The deadly mishap occurred during a shore-to-ship maneuver about a mile off the coast of San Clemente Island. The AAV had been packed with 16 service members when it began taking on water around 5:45 p.m. The AAV was among a group of 13 AAVs returning to the amphibious ship USS Somerset. Service members on two other AAVs and those on a safety boat accompanying the vehicles rendered immediate aid, rescuing eight of the imperiled Marines, one of whom later died.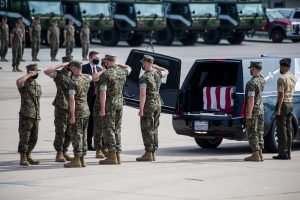 The remains of the seven Marines and one sailor who perished were recovered a week after the mishap following an extensive Navy search-and-salvage operation.
According to his official biography, Regner is from Charleston, South Carolina, and earned his commission after graduating from The Citadel in May 2002. An infantry officer, he has held command positions at the platoon and company levels with multiple combat deployments, including Afghanistan's Helmand Province and Fallujah, Iraq.
He has served as an infantry subject matter expert with the Marine Corps Warfighting Laboratory and as a war planner focused on Iran with Marine Corps Forces Central Command, as well as a strategic war planner in the Levant Plans Branch focused on the Defeat-ISIS Coalition and strategic planning for Iraq, Syria, Lebanon, Jordan, Egypt, Israel, and Turkey.
Regner is a graduate of the Infantry Officer Course, Weapons Tactics Instructor Course – Ground Division, the Expeditionary Warfare School, the Fire Support Coordinator Course, the Marine Corps Command and Staff College – College of Distance Education, the School of Advanced Warfighting, and the Joint Professional Military Education II Course. He has earned master's degrees from Capella University and the Marine Corps University.
His personal decorations include the Defense Meritorious Service Medal, Meritorious Service Medal, two Navy and Marine Corps Commendation Medals, two Navy Achievement Medals, and two Combat Action Ribbons.