The remains of seven Marines and one sailor who were killed in a training mishap near Camp Pendleton July 30 and recovered Aug. 7 were boarded onto a C-17 Globemaster at Marine Corps Air Station Miramar and transferred to Dover Air Force Base, Delaware, Wednesday.
The eight members of Camp Pendleton's 1st Battalion, 4th Marine Regiment, were serving on the 15th Marine Expeditionary Unit's Battalion Landing Team when their assault amphibious vehicle sank off the coast of San Clemente Island during a shore-to-ship movement.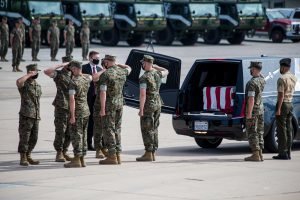 Six pallbearers of Marines and sailors escorted each casket aboard a US Air Force C-17 Globemaster III bound for Dover AFB, where the service members' remains will be prepared for burial before being released to their families for final arrangements.
Transferred were:
Cpl. Wesley A. Rodd, 22, of Harris, Texas
Rodd and his wife, Jamie, had recently become the proud parents of a baby boy. A GoFundMe page has been set up to help Jamie.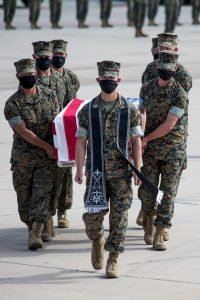 ​Cpl. Cesar A. Villanueva, 21, of Riverside, California
Villanueva's family told CBS Los Angeles the Marine had married less than a month ago. They said he had an infectious smile that beamed even brighter when he was around his wife.
Navy Hospital Corpsman 3rd Class Christopher Gnem, 22, of Stockton, California
Gnem was posthumously advanced to the rank of petty officer third class and posthumously awarded his enlisted Fleet Marine Force Warfare Specialist qualification, having met the criteria set by the Navy for both before his death.
Stars and Stripes reported that Gnem's girlfriend said they had been planning to marry.
"I lost the love of my life. The most purest and sweetest soul I've ever met. My absolute best friend in the whole world and my reason to live," wrote Savannah Henne in a Facebook post calling Gnem her "soulmate."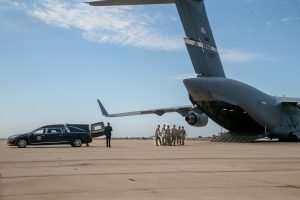 Lance Cpl. Chase D. Sweetwood, 18, of Portland, Oregon
A family member told Stars and Stripes Sweetwood died the day before his 19th birthday.
Lance Cpl. Marco A. Barranco, 21, of Montebello, California
Barranco's mother Lupita Garcia told CBS Los Angeles that her son was inspired to serve his country because of the opportunities it gave his immigrant parents and family.
"He wanted to be a soldier since he was very young," she said. "He always said Marines, and that's what his mind was set on. […] He was very grateful. He wanted to be part of this great nation, and he wanted to protect it. And I know he would do it again."
Barranco's loved ones set up a GoFundMe to help the family with funeral services. He leaves behind two sisters, a niece and an unborn nephew, and both of his parents.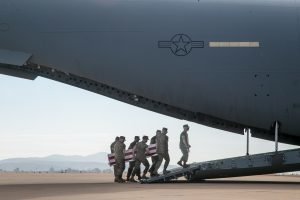 Pfc. Bryan J. Baltierra, 18, of Corona, California
Baltierra died one year after being sworn into the Marine Corps. His mother described the Marine in a statement: "My one and only son, who radiated positivity and expressed his wonderful smile to everyone he met."
Supporters have also set up a GoFundMe to help Baltierra pay for funeral expenses. Baltierra leaves behind his mother, father, two older sisters, and one younger sister.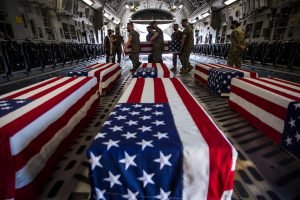 Pfc. Evan A. Bath, 19, of Oak Creek, Wisconsin
Bath's aunt set up a GoFundMe for the Marine. On the page, she said, "Evan's dream in life was to join the Marines and serve his country. […] He was an avid student of history and enjoyed playing and designing strategy games, particularly those related to military science. There is nothing that Evan liked better than a schedule, and the feeling of satisfaction that came from checking a task off of his endless to-do list. Evan had a great sense of humor and a smile that he shared freely. He always had a kind word or a helping hand for people who needed either. He loved God, his country, his family, and his friends."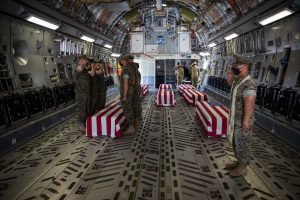 Pfc. Jack Ryan Ostrovsky, 20, of Bend, Oregon
Ostrovsky's friend Zach Saltos told the Bend Bulletin, "I found Jack to be a caring individual who loved his country and was passionate about those who served in the Armed Forces."
Saltos has launched a petition to rename the trail to the top of Pilot Butte in Ostrovsky's honor. On Memorial Day last year — a week before he enlisted — Ostrovsky hiked up Pilot Butte laden with heavy gear to honor fallen soldiers.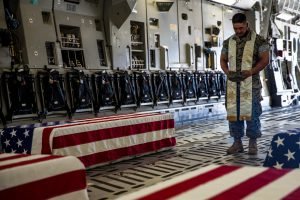 The remains of Lance Cpl. Guillermo S. Perez, 19, of New Braunfels, Texas, who also died in the AAV mishap July 30, were transferred to Dover AFB Aug. 5.
Perez's friend David Latigo told NBC News 4 San Antonio that Perez "was truly an amazing person who impacted a lot of lives. […] He was honestly sent to earth to make people laugh. He was always in good spirit no matter what was going on."
Latigo remembered Perez for his quick wit, infectious smile, and his affinity for Whataburger.
Marine Commandant General David H. Berger suspended all waterborne AAV operations while the cause of the July 30 incident is under investigation.