A sheriff's deputy in California's San Luis Obispo County was shot in the face while attempting to pursue an active shooter Wednesday. The gunman has been identified as 26-year-old Mason James Lira.
According to a press release from the sheriff's department, at approximately 3:45 AM Wednesday, officers on duty observed Lira outside the Paso Robles Police Department with a firearm. Shortly after, the suspect opened fire on the police department, and the officers called for assistance from the sheriff's department and the California Highway Patrol.
Lira fired on patrol cars as they pulled into the area. Two sheriff's deputies arrived at the scene at approximately 4 AM. They then searched downtown after the suspect appeared to have fled the area of the police department. The deputies came under fire while searching for the suspect, and one of the deputies sustained a gunshot wound to his face. The second deputy returned fire and moved his partner to safety.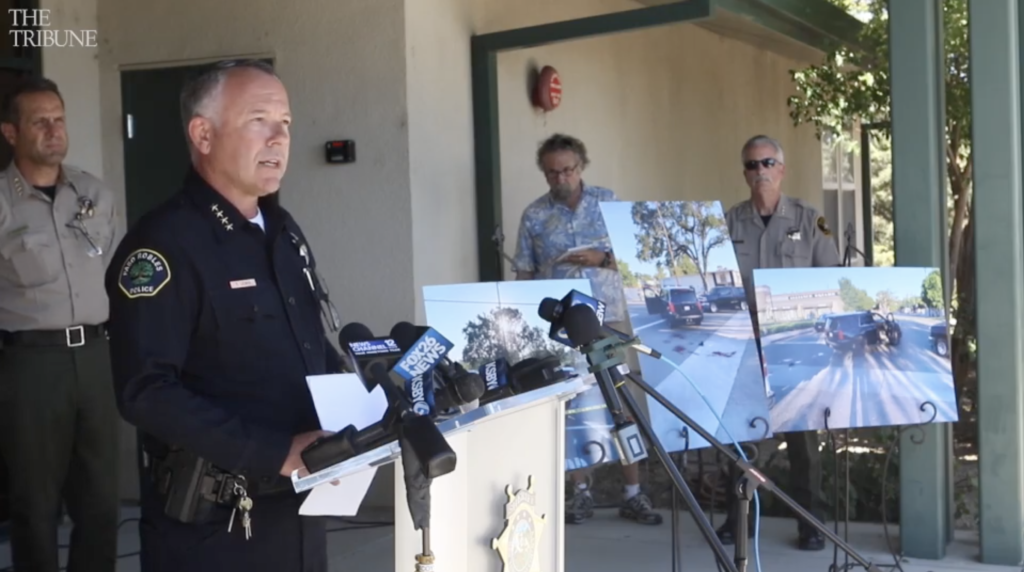 Other officers arrived to assist the deputies, and Paso Robles Fire Department firefighters pulled the deputy away from danger, initiated treatment, then transported him to a local hospital. The deputy was transferred to a trauma center and is listed in critical but stable condition at the time of publication.
Officers failed to located the gunman following a comprehensive search of the downtown area. At 7 AM, they received reports of "one down" at the Paso Robles train station where a 58-year-old male was found dead. It was ruled a homicide.
The homicide at the train station is under investigation by the Paso Robles Police Department. The SLO County Sheriff's Department is investigating the shooting of the deputy. Lira is considered armed and dangerous; the police and sheriff's departments are requesting the public's assistance with any information leading to his arrest.
Attacks against police officers have increased across the U.S. in the weeks following the death of George Floyd. Widespread civil unrest ignited after the 46-year-old black man died on May 25 in Minneapolis while in police custody. The increased violence toward police includes shootings, large fireworks being fired at them, rocks being thrown at them, vehicles running them over, and various other dangerous attacks. Several officers have been killed in the line of duty, and hundreds have been injured.