If you were to peruse the Black Rifle Coffee facility in Salt Lake City, you might run into a man named Mohammad Wali Tasleem. You might see him inspecting equipment, changing lights, patching drywall, painting, or a number of other tasks essential for daily operations to continue. What you might not know is that Wali has a history saturated in violence.
Before moving to the United States, Wali was an Afghan commando. Many of his family members were killed by the Russians, and as the United States went to war with the Taliban, he signed up for the Afghan Army. While he found much success in the military working alongside his American counterparts, his days were consumed with fighting. After all, Wali was not deploying to a foreign country and returning when his time was up — he was fighting on his homeland.
"Almost every night we were going out on missions," Wali told Coffee or Die. "If we didn't have a mission, we were training and training. We did a lot — I remember, one month we did 28 missions. For 13 years it was like this."
After many attempts on his life and the lives of his family members, Wali moved to the United States with his wife and children. He eventually reconnected with veterans who he served with in Afghanistan, Jeff Kirkham and Evan Hafer, and those veterans happened to own a coffee company. "I'm lucky to find my old friends and work with them," Wali said. "I work at Black Rifle Coffee Company, but I don't feel like I work for a business, with Evan, Jeff, Mat — I feel like I work for my own business. Everyone respects everyone, and honestly, it makes me very happy."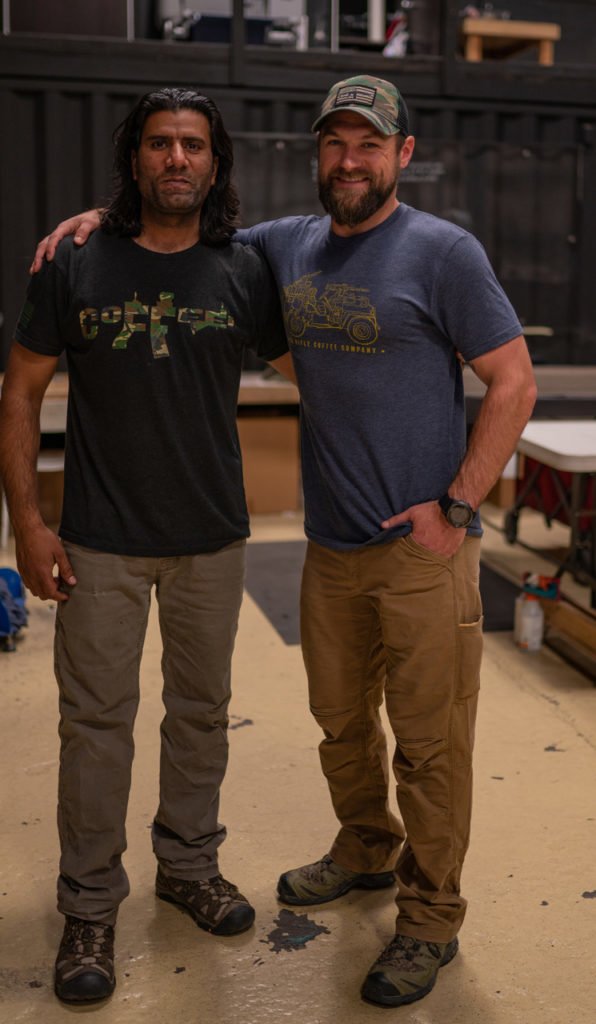 Wali now works as the facilities manager at the Black Rifle Coffee Company roasting plant in Salt Lake City, but he has also become a community leader. "I work in BRCC, but I also take care of the families of the Afghan community here," Wali said. "I am the president for the Afghan community in Utah." And as he serves in this leadership position, he also strives to continue his education, starting with improving his English skills.
When they first moved to the U.S., Wali and his family lived in public housing in Virginia. Life there was a struggle, but they have found major positive change in their new living situation. "I live in an awesome neighborhood. We love [the people there], we respect our neighbors and they respect us. Very good neighborhood, the kids are very nice with my kids," he said.

Wali also expressed satisfaction with the school his children attend, which is an important factor for the growing family. Since moving to the United States, the Tasleems have had another child, now almost 2 years old, and are currently expecting their seventh. The children are involved in sports and other school activities, and as they grow older they have begun to learn more details about their father's past. He remains open and honest with them, but he keeps an eye to the future — Wali expressed great interest in the opportunities that will be available to his children as citizens living in the U.S., from a future in the military to academics and science.
Wali had a long journey before he found comfort in the heart of the United States. "If you move with a big family to [another] country, it's very hard at the start," he said. "But my life is better now than it used to be. A happy life, wife, kids — I'm happy. Black Rifle Coffee, community responsibilities. It's a new life."