Without fanfare, a convoy of buses rolled through the gate at Fort Lee, Virginia, early Friday, marking the end of a long journey for the 221 passengers. The buses carried Operation Allies Refuge's first wave of Afghan refugees, mostly interpreters and other contractors who worked beside American military service members in Afghanistan, along with their families. The Associated Press reported that the group included more than 70 children.
"Today is an important milestone as we continue to fulfill our promise to the thousands of Afghan nationals who served shoulder-to-shoulder with American troops and diplomats over the last 20 years in Afghanistan," President Joe Biden said in a written statement.
According to the White House, this is only the first installment of Operation Allies Refuge, which will eventually settle thousands of Afghans in the US. The group that arrived at Fort Lee are the first to arrive in the US and are furthest along the paperwork trail that will allow them to stay. Friday's group of Afghan refugees arrived having passed background checks and were preapproved for Special Immigrant Visas.
When family members are counted, approximately 50,000 applicants are still in the middle of the approval process in Afghanistan, experts said, according to The Wall Street Journal.
As the US has withdrawn forces, there has been a public outcry among veterans on the need to evacuate Afghans who worked with Americans during the 20-year war. Taliban forces continue to regain power in parts of Afghanistan following American withdrawal, and those who are seen as American collaborators have already been targeted for retribution.
"These brave men and women, at great risk to themselves and their families, served alongside U.S. and coalition forces and diplomats to support our operations and prevent Afghanistan from becoming a safe haven for terrorism that threatens our homeland," Secretary of Defense Lloyd Austin said in a press release. "We have spoken many times about the moral obligation we have to help those who have helped us, and we are fully committed to working closely with our interagency partners to meet that obligation."
According to The New York Times, more groups of Afghans will be arriving every three days until approximately 2,500 are processed through Fort Lee.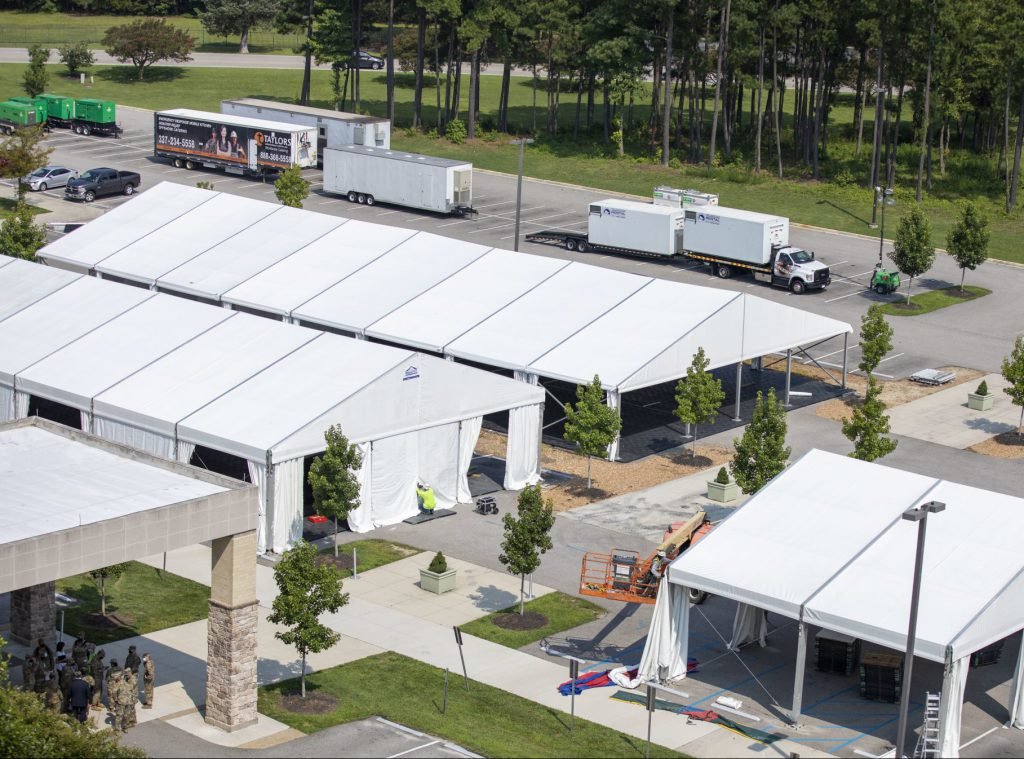 Before the Afghan refugees arrived, Secretary of State Antony Blinken said Thursday that negotiations were in progress with multiple countries to house up to 35,000 Afghans. The Wall Street Journal reported that, in particular, the US military was looking to build new facilities at Camp As Sayliyah in Qatar and Camp Buehring in Kuwait to house Afghans for at least 18 months as their visas are processed.
In Congress, the Averting Loss of Life and Injury by Expediting SIVs (ALLIES) Act has drawn bipartisan support and passed earlier this month, raising the visa cap for Afghan applicants and waiving some paperwork requirements.
"For twenty years, Afghan interpreters, guides, and other partners have served alongside U.S. forces, helping us complete our mission," Rep. Jason Crow, the bill's author, said, according to a press release. "I may not be here today were it not for the bravery and sacrifice of the Afghan men and women who worked with me during my service. As we withdraw from Afghanistan, we must honor our promises and protect those that protected us."
Read Next: