To see the real Afghanistan, you'd need to get out on the streets, preferably with a fully automatic weapon and an armored vehicle. But the Afghanistan I remember from my days in the Army was worth seeing, full of good people in a tough situation. I spent most of my time there out on the streets, talking with locals and trying to figure out what the US could do better. Those conversations were always accompanied with chai tea. Lots of chai.
The news is telling you what is going on in Afghanistan right now, but the reality is that it's a landlocked country with vast expanses of absolutely nothing. It doesn't have the infrastructure or resources of other countries. You'll find rogue farmers from time to time, and they will surely have chai. You'll find big cities with tons of popcorn vendors. The country also has tens of thousands of amputees from Russian bombs left behind from the Soviet-Afghan War in the 1980s. I mention the amputee thing because I went back to Afghanistan in 2017 as an amputee, after losing my leg in 2011 in Paktika province.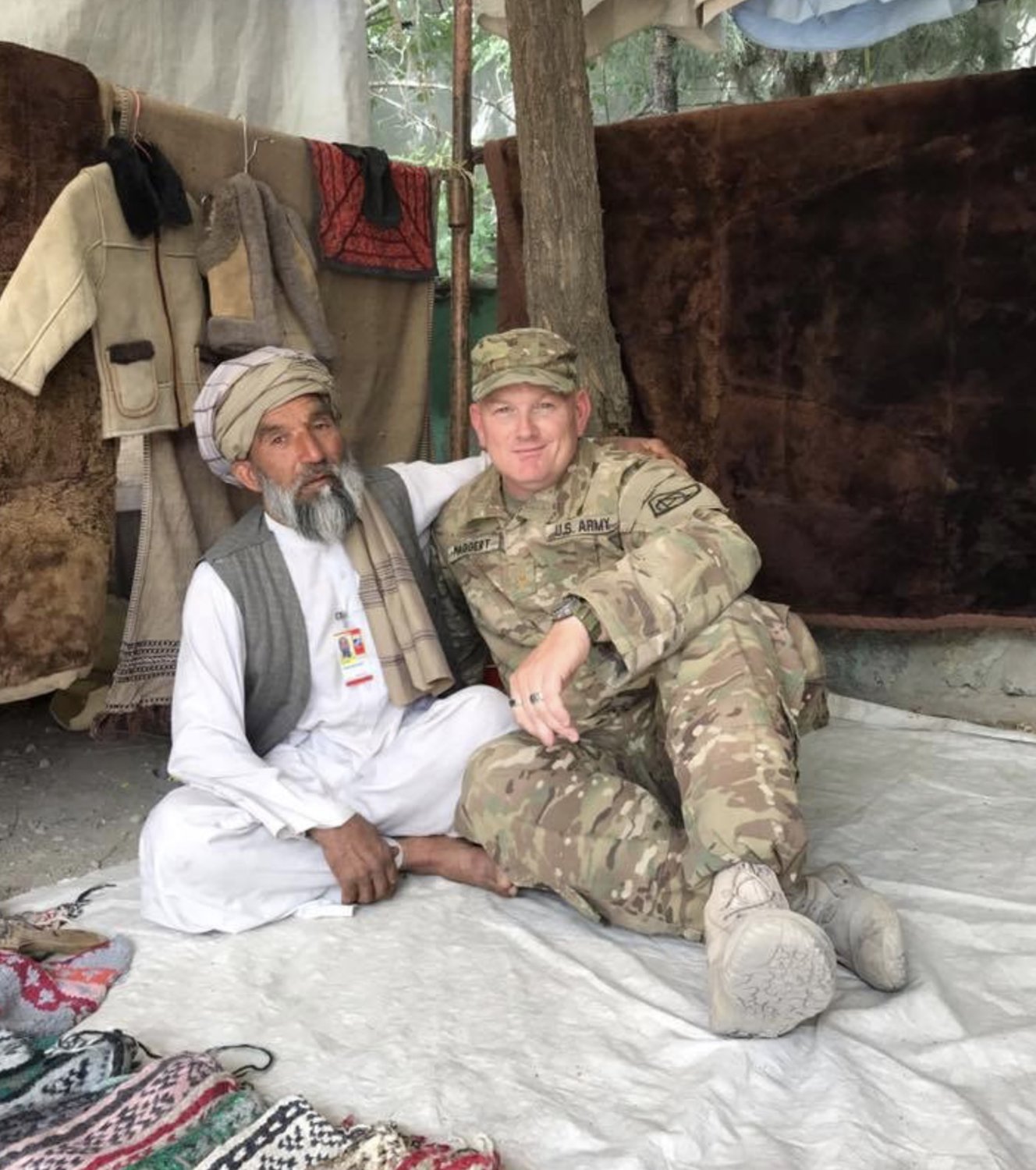 During that later deployment, on the morning of May 31, 2017, just ahead of my position, a truck bomb exploded in a busy Kabul intersection near the German embassy, killing more than 150 and injuring hundreds more, mainly civilians. The majority were mothers walking their kids to school. I couldn't believe my eyes: backpacks and books and little bodies everywhere. It broke my heart that the Taliban militants would prey on innocent lives.
I bet if those Taliban bastards had one of these chai-spiced cookies, they might have said, "You know, not today, team Taliban, not today. Today is a good day to make friends."
For the past 20 years, that is what we tried to do in Afghanistan — bridge a country, make friends, and make their world a little better.
So, here is what I hope you'll do: Make these cookies to share with friends and make more friends by extending your hand with an Afghan smoked chai-spiced cookie. Sitting down over a cup of chai is a great way to put down your differences and have a good ol' conversation, where you don't talk about politics and religion; you talk about family and friends.
In Afghanistan, parents still want a better life for their kids. And sitting down to break bread, drink chai, and eat cookies can still be an event that warms the heart. To my friends who have served in Afghanistan, thanks for everything you have done. You've made a mark on many lives. To the Afghan people, we tried like hell, and I'll never forget your generosity and friendship.
The Recipe
Like the Taliban, these cookies are best smoked.
Smoke the flour for 1 to 2 hours over your favorite wood. Using ground espresso in the batter adds another dimension of goodness. The flavor lasts, maybe not 20 years, but it will stick with you. Makes about 3 dozen.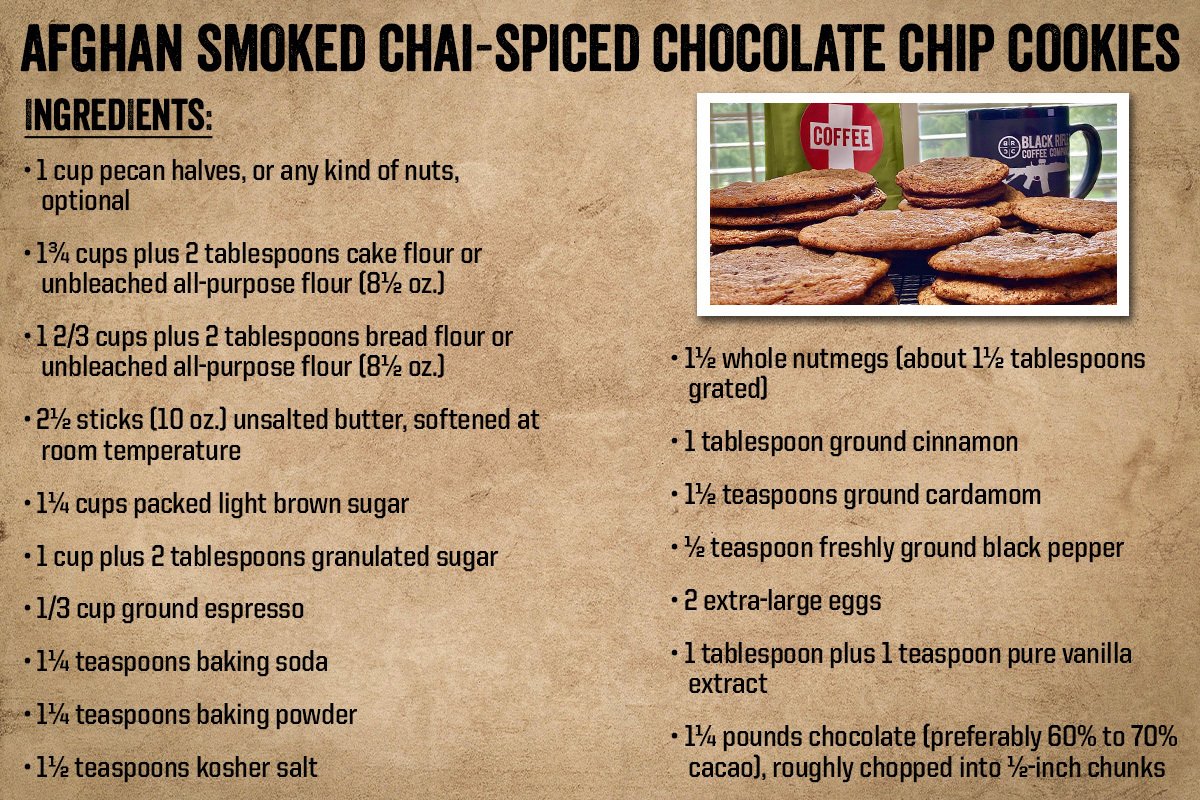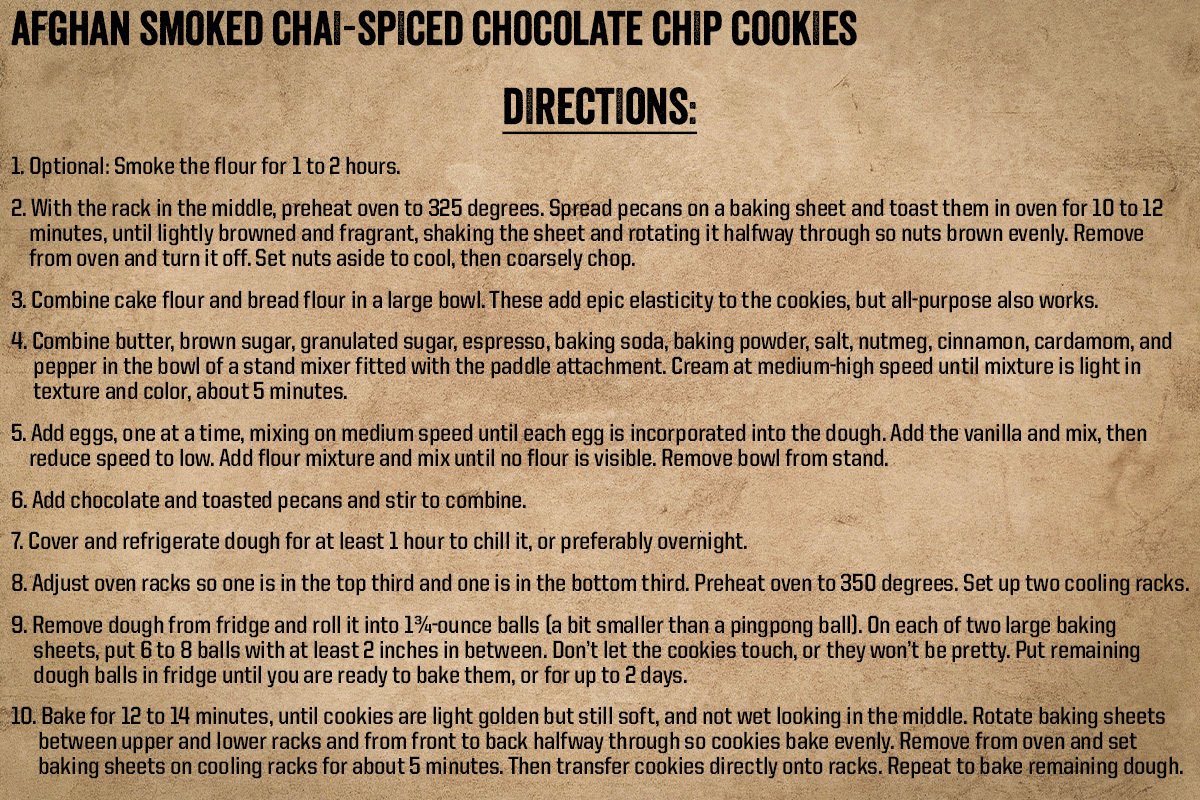 Read Next: