A generation of Afghans who answered America's call for help are running for their lives in their home country with no sign of rescue.
Ahmad Srosh, known as "Rock," who served as an interpreter alongside American service members for six years, sees the images of Taliban victory on TV.
He is safe in America. His family — his parents and sisters — are not.
"[The Taliban are] taking over, and they know we are their enemy," Srosh told Coffee or Die Magazine. "As soon as they catch those people that help Americans and help and fight for democracy, freedom, for liberty, for human rights, for women's rights, for kids' rights — they don't want those types of people. As soon as they catch them, they kill them.
"[The Taliban are] not people. They're not humans. They're zombies."
Though Taliban media and diplomatic representatives are claiming the militia force is not targeting individuals, there is word leaking out of Afghanistan that the threats are very real. A former Afghan general, Farid Ahmadi, told Coffee or Die that the Taliban is committing war crimes as they roll across the country. Coffee or Die also obtained a text message obtained said to be spreading in Kabul that threatens the families of Afghan commandos and helicopter pilots.
As an interpreter, Srosh had to flee Afghanistan to avoid reprisals in 2015, but his entire family is known for their resistance to the Taliban that has spanned generations. Now, they'll be hunted, he said.
Srosh has tried to get his family visas and passports so they can flee the country, but he has been unsuccessful. He most recently urged them to flee from Mazar-i-Sharif to Kabul, where he arranged an apartment for them. In Kabul, he said, no one knows who they are.
Mazar had fallen to the Taliban by the afternoon of Saturday, Aug. 14.
Srosh knows about Taliban reprisals firsthand. After his time as an interpreter, the Taliban came to his house to find him. When he wasn't there, they killed Srosh's brother instead. And now that the US is engaged in peace talks with the Taliban that might result in them returning to power, he's wondering what the point of it all was.
"Afghanistan is the most corrupt country, so everybody wants money," Srosh said. US Marine Jason Gaal, who became friends with Srosh in Afghanistan, started a GoFundMe campaign to raise money for Srosh's family's travel and visa costs. As of Saturday morning, the fund had raised more than $6,000 of a $15,000 goal.
"I'm trying my best to get them out as soon as possible," Srosh said.
Only two of the 15 members of Srosh's family have passports, Gaal wrote on the site.
"The Taliban is taking more and more cities," Srosh said. "It's going to be getting worse. Probably next month, they're going to take Kabul. Next two months, one month, or maybe next week. They're taking so fast. They're like zombies coming from nowhere."
"That's the picture I see," Srosh said. "I'm so sad. I worry about my family. My family is my first priority. My mom, my dad, they raised me and I need to bring them to a safe place. If something happens to them, it's not going to be a good life for me."
American James Garafalo has been working since 2018 to help his interpreter, nicknamed "Rambo," leave Afghanistan.
"He had done more for America than most people living here had done, in my opinion," Garafalo, who deployed to Nangarhar, Afghanistan, in 2017 and 2018, told Coffee or Die.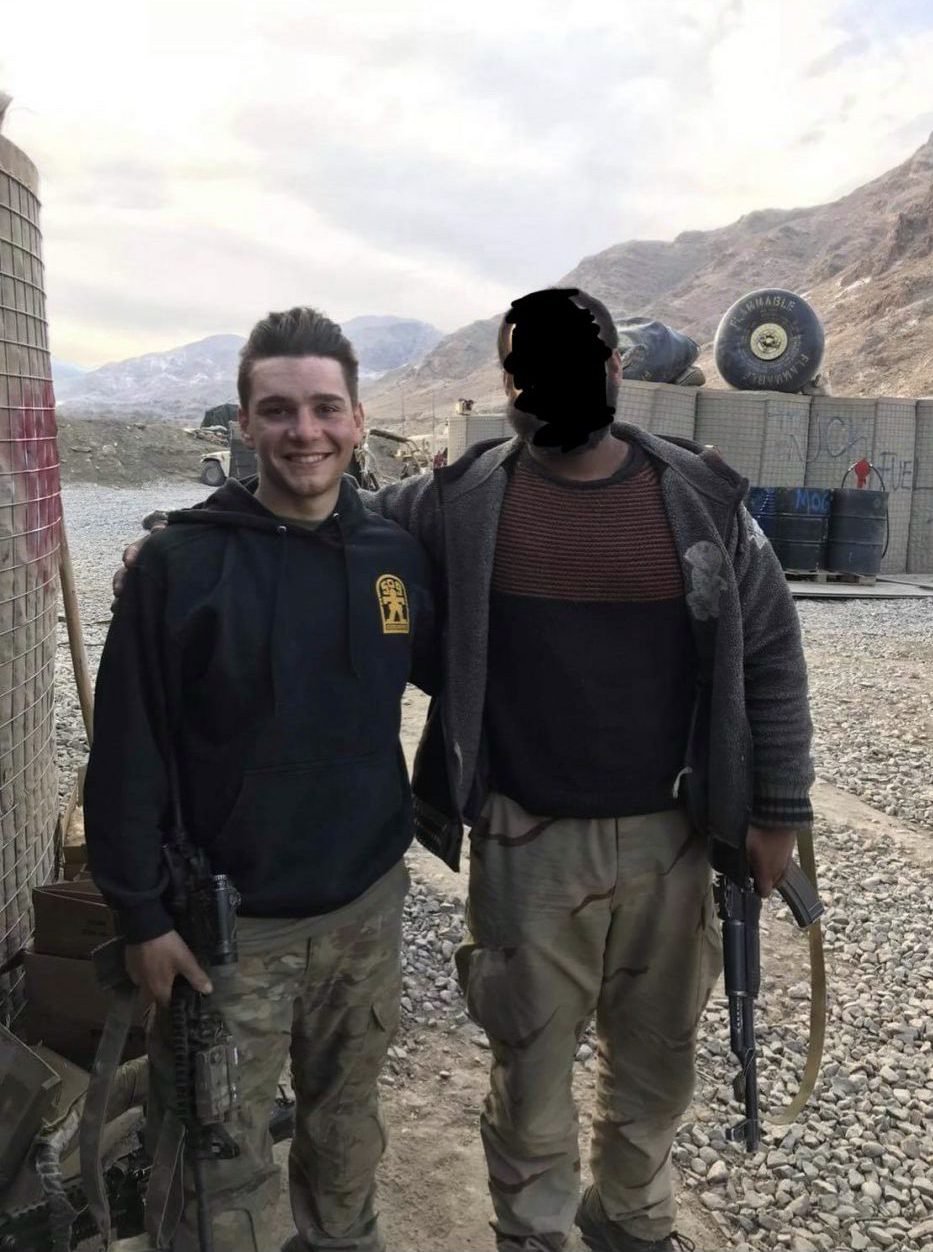 "I know he's legitimately scared," Garafalo said. "Years ago, I posted a picture on Facebook, and I tagged him in it. He immediately told me to take it down." Rambo didn't want it known that he was working with Americans, he told Garafalo. "I felt dumb," Garafalo said. "Basically everything he does is a secret."
Rambo has been fighting to get out of Afghanistan for years, but the chaos of this week represents yet another setback.
"If the embassy gets evacuated, I don't know who is going to be there to help him," Garafalo said.
Nolan Coburn is an American with ties to Afghanistan through the academic world, not through the military. Coburn is a professor of anthropology at Bennington College who has been conducting on-the-ground research in Afghanistan for the past 15 years. He spent five years living independently in a village outside the US airfield at Bagram and then worked for several NGOs.
He still speaks regularly to friends and colleagues there, all of whom are fearful of what comes next.
"I think some, frankly, are just in shock at the moment, because I think right now the report is 17 provincial capitals have fallen in the last week," Coburn told Coffee or Die. "I think that's faster than most people saw this coming."
Several now think fleeing is their only chance.
"I think the ones that feel they really wouldn't survive under the Taliban regime, a lot of those ones are trying to get out now, even if that means taking a taxi through Jalalabad to Pakistan and sort of risking it to run that way," Coburn said, adding that those who stay behind may end up hiding in rural homes, never venturing outside. "The Taliban have claimed they're not going to issue reprisals, but they already have gone door to door in Spin Boldak and executed some members of the ANP, I believe it was. So there's not a lot of faith in that."
Coburn knows one contact who applied for a visa that grants refugee status to certain Afghan nationals and their eligible family members, but the website says that the wait time for a visa is 12-14 months.
"Kabul's not going to last that long."
Read Next: Afghanistan Live Updates: Taliban Rapidly Capture Cities, US Prepares for Evacuation