A cheating scandal involving some 249 cadets has rocked the US Air Force Academy, spurring the superintendent to order a review of the 66-year-old institution's honor system.
In a Friday press release, academy officials said those cadets had exploited the extraordinary remote learning protocols put in place during the COVID-19 pandemic to cheat in myriad ways — including improperly collaborating with other cadets during graded exams and the use of "unauthorized online tutoring websites to receive solutions to exam questions in real time."
Apart from highlighting potential shortcomings in the institution's honor system, the widespread cheating outbreak also underscores the inherent pitfalls of the remote, online learning protocols the academy hurriedly established at the outset of the pandemic last March. Lt. Gen. Richard Clark, the academy's superintendent, has ordered a review of the institution's honor system, as well as its remote learning programs.
"The Honor Code is not only foundational to the Air Force Academy, but it serves as a guide for cadets to live an honorable life, whether serving in uniform or not," Clark said in Friday's release. "Honor serves as one of my fundamental institutional priorities for developing leaders of character."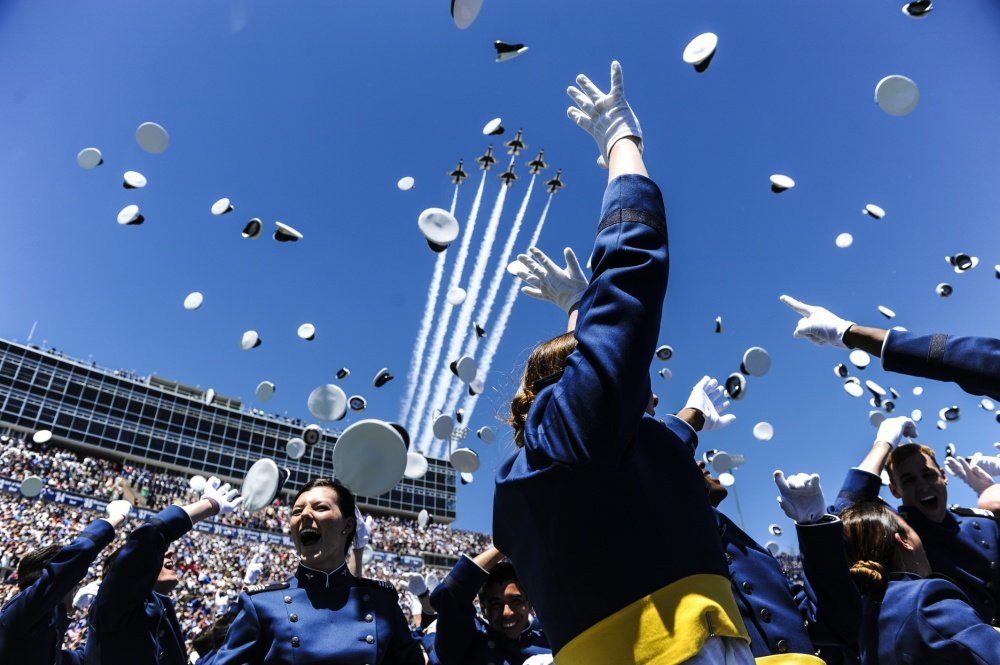 A similar cheating scandal at the US Military Academy came to light in December. Marking one of the worst cheating incidents in West Point's 218-year history, more than 70 cadets cheated on a math exam administered via remote learning.
The Air Force Academy's recent rash of cheating, however, is not associated with a single exam. Rather, it includes a broad swath of cheating over the course of the institution's transition to remote learning.
Due to COVID-19 concerns, the Air Force Academy's class of 2020 graduated about one month early, while the lower three classes were released "to their home or an alternate location of their choosing," the academy announced on its website in March.
During an eight-day period, those 3,000 cadets composing the lower three classes transitioned to online studies — something that had never happened before in the academy's history. Shortly after those measures were put in place, two cadets from the class of 2020 — who were due to graduate in June — committed suicide in the span of one week in March.
Some graduates said that remote learning is no excuse for such a widespread breakdown in the academy's honor code, raising the possibility that a broader culture problem may be to blame.
"These scandals certainly hurt as a grad and raise legitimate questions. But I can't help but wonder what was going on there last spring," said Bret Smith, a 1991 Air Force Academy graduate.
"Following the lockdown, there were suicides, leadership turnover, […] and unprecedented morale problems," Smith said. "The cadets that were sent home were expected to complete curriculum via platforms and technology that they had never used before — in the middle of the semester. All while losing the support and companionship of their friends and peers."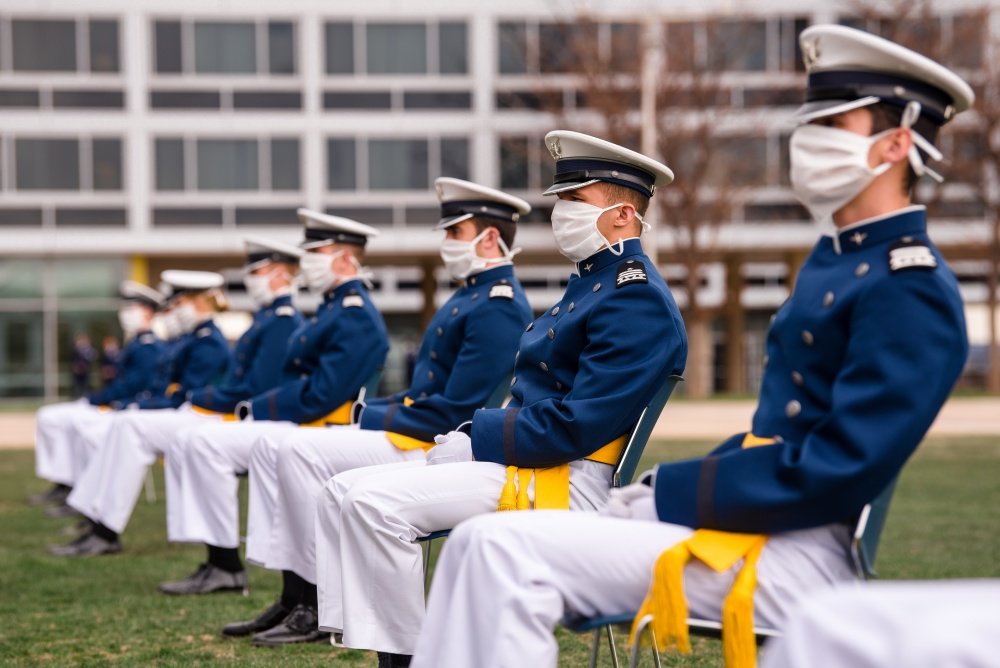 Located in Colorado Springs, Colorado, the US Air Force Academy produces officers for both the Air Force and the Space Force. The Air Force Academy, like all US service academies, holds its cadets to stricter ethical standards than most civilian universities. All incoming cadets are administered an honor oath, which states: "We will not lie, steal or cheat, nor tolerate among us anyone who does."
That honor code applies to all unethical behavior — even beyond the bounds of the academic environment.
Cheating is grounds for automatic dismissal from the academy. However, depending on the individual circumstances of each case, some cadets can be placed on "honor probation" and be allowed to stay enrolled so long as they complete a rehabilitation program.
"Remediation is a consequence and not an act of leniency. If earned, remediation provides an opportunity to reset the moral compass and deepen a cadet's understanding of and respect for the Honor Code," Clark said in Friday's release. "Developing leaders of character is not without life lessons and learning from these mistakes."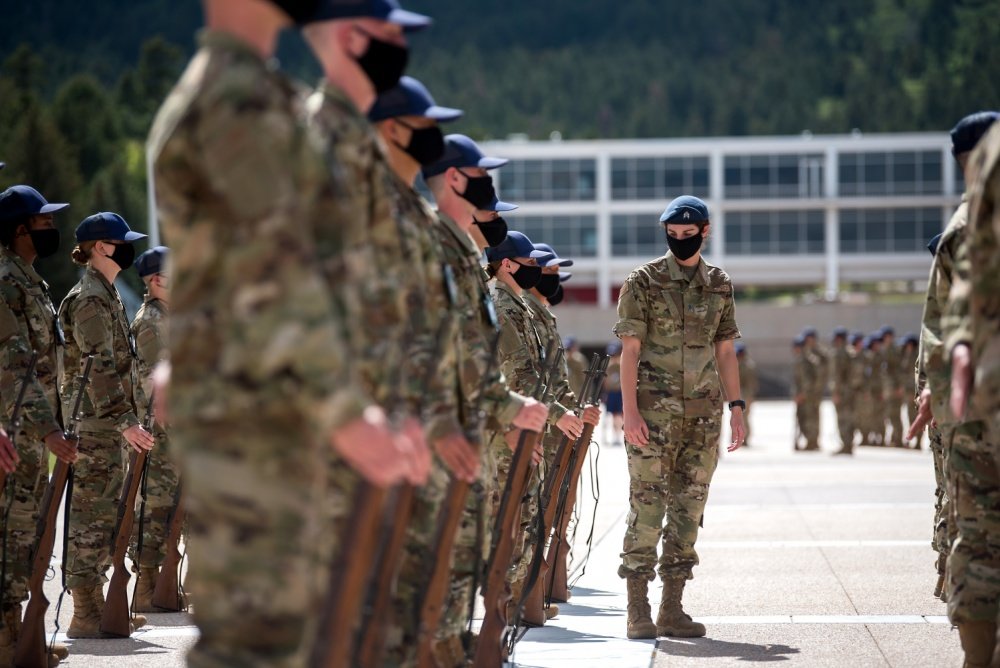 All of the US service academies — including West Point, the Naval Academy, the Air Force Academy, the Coast Guard Academy, and the Merchant Marine Academy — administer honor codes to their incoming cadets.
The honor codes at these institutions are considered sacrosanct, and part of what sets service academies apart from civilian universities. Pledging fidelity to each institution's honor code is intended to mark the incremental transition from civilian to military life — and the adoption of a higher ethical benchmark, which US military officers are expected to uphold in their professional and personal lives. Ultimately, service academies are intended to develop military leaders of irreproachable character, in addition to providing world-class educations.
Most of the Air Force Academy cadets implicated in the recent cheating scandal have already been placed on six-month probation; so far only two have been dismissed. A handful of cases are still under review. No cadets in the recently graduated class of 2020 were implicated — although the cheating reportedly involved members of the classes of 2021, 2022, and 2023.
"Findings and recommendations are great, but they don't equal progress until action is taken that results in enduring positive change," Clark said in the academy's Friday release.