COLORADO SPRINGS, Colo. — On Marcus Ross' first skydive, he didn't have the advantage of watching his Air Force Academy classmates go through their pre-jump routines: Stand in the door, jump, arch. When his 13-jumper class took off for their first jump from 4,500 feet, he would be the first man out.
That meant all of his classmates were watching him.
"That's a real big gut check when they hear the call sign, 'Stand in the door,' and you stand in the door, and you look out there for the first time," Tech Sgt. Paul Willis, an instructor with the 98th Flying Training Squadron, said. "You think, 'Do I trust my training? Do I trust the system at large? Do I trust my instructor? Do I trust it all? And do I trust myself to do this and live?'"
Ross passed that first gut check, leading the pack out the door.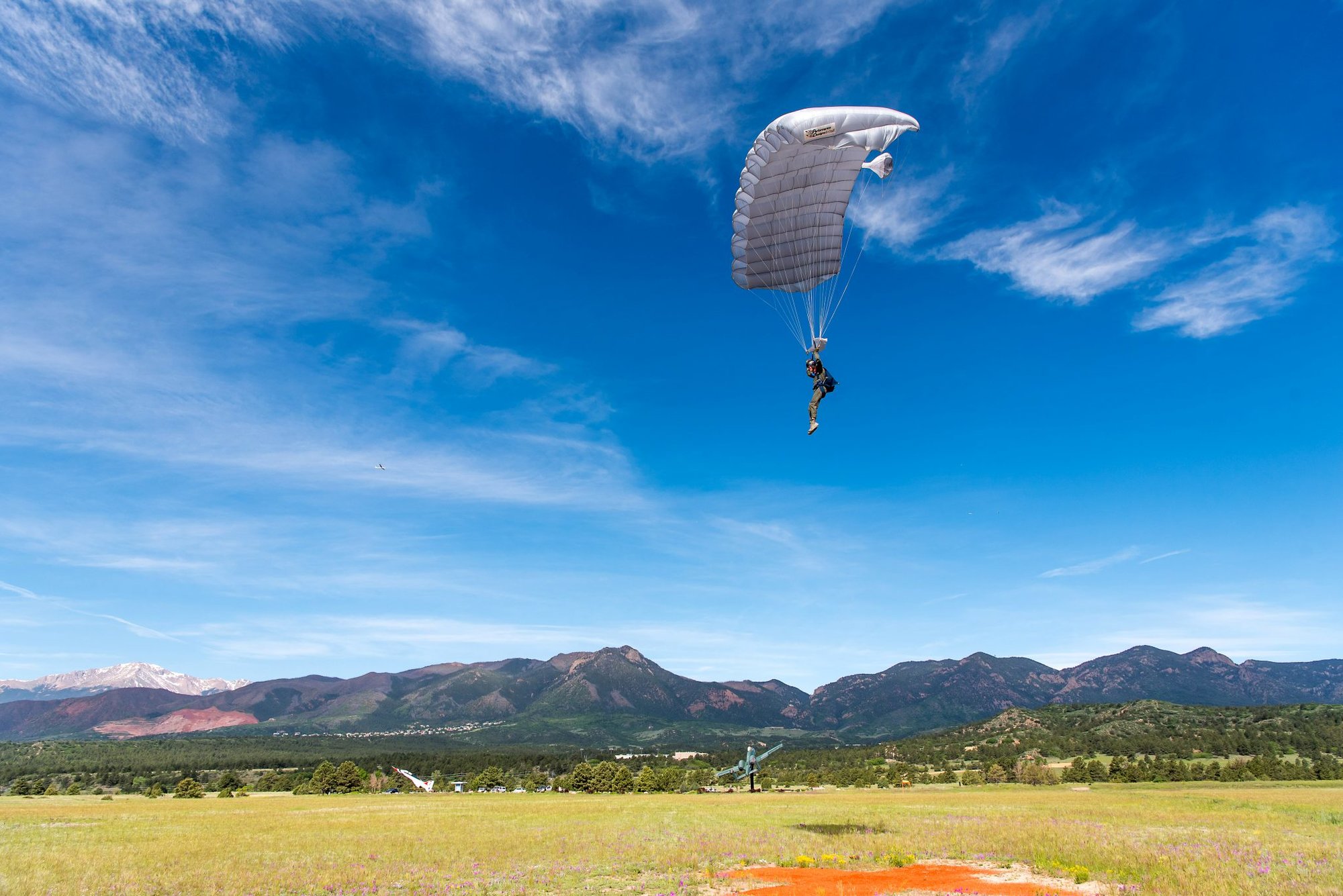 "It's a little bit of a pride thing, you know?" said Ross, now a second lieutenant and an instructor for the Air Force Academy's unique jump training program. "I don't want to be the one to just sit in here, and everybody say something like, 'Oh, he didn't jump. He was kind of scared.'"
The jump program is one of several unique chances for cadets at the academy to get an early-career taste of both the leadership demands and outright thrills of flight operations. The academy's jump course, known as Airmanship 490, qualifies about 400 cadets each year as military parachutists. Other cadets spend hours learning to "fall" much more slowly, piloting gliders to earth. Others can learn to fly T-51s and T-41s, small prop trainers, or take a course on remotely piloted aircraft, or drones.
Justin Blasius was the second jumper in line in his jump class's first skydive. As he watched his classmate exit the plane, he realized that going second had its own challenges. Even after all the ground training, Blasius was shocked at how fast the real thing was.
"I watched somebody just disappear," Blasius said. "That's scary. But then you [tell yourself], 'All right, I can step to the door, and not only that; in 10 seconds, I can do what needs to be done.'
"That's kind of the pivotal moment of the course is the first time they stand in the door and decide to make that jump," he said. "They're putting it all on the line."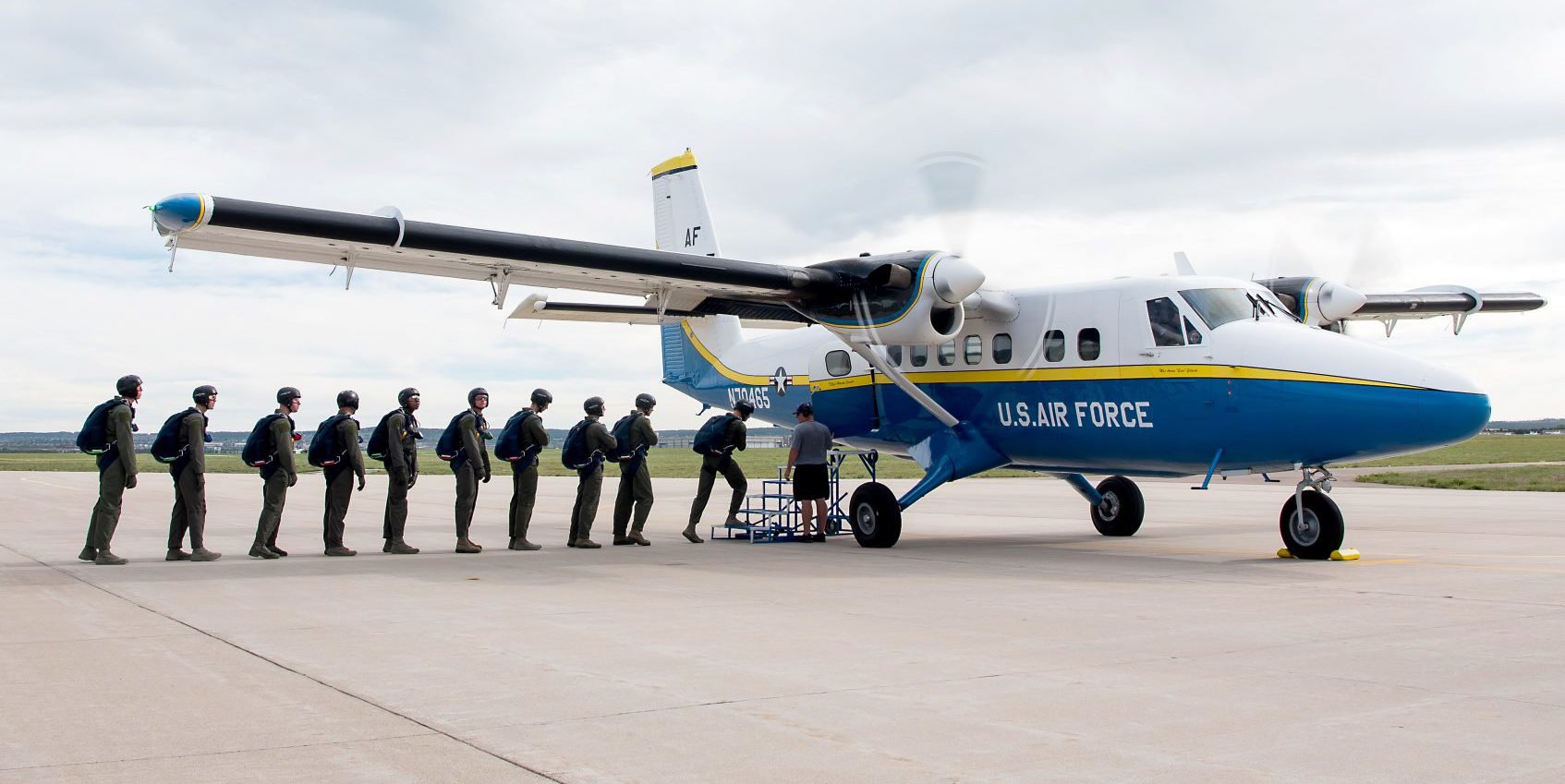 Blasius, like Ross, is now an instructor at the academy for Airmanship 490. Open to freshmen and sophomore cadets, the leadership course puts cadets through 40 hours of ground training followed by five solo free-fall jumps, Willis said.
After their five jumps, cadets graduate with basic airborne jump wings — the same ones awarded to graduates of the Army's Airborne school in Fort Benning (though the Air Force Academy jumps are all performed as free-fall jumps, the course is not a military free fall or High Altitude Low Opening qualification course).
Approximately 700 cadets a year sign up for the course, which is taught by upperclass cadets and some recent academy graduates, like Ross and Blasius, who are now both second lieutenants awaiting orders to flight school.
"It's developmental for them because they're about to be officers; they're about to be in an operational leadership position," Willis said. "They're teaching their underclassmen how to jump, and the underclassmen are learning."
The cadets jump in groups of four or five from a de Havilland DHC-6 Twin Otter and descend to the drop zone at the academy's airfield, just north of Colorado Springs. They fly with a view of Pikes Peak and the Colorado Front Range — though the view comes at a cost: With a drop zone nearly 7,000 feet above sea level, the cadets have less time to fall before opening their parachute than they would in drop zones at lower altitudes.
Top jumpers in the program can join the Wings of Blue parachute team, which travels across the United States to air shows, sporting events, and other venues to represent its military branch in precision parachuting.
"They're always trying to get to that next license so they get to do more challenging venues," Willis said. "There are usually more eyes on those venues, too." This year, the team aims to get qualified to jump into Arrowhead Stadium in Kansas City, Missouri — home of the Kansas City Chiefs — for Monday Night Football.
"We are the best collegiate team, and this includes West Point," Ross said.
Lauren Bogue arrived at the AFA from an Air Force — and now Space Force — family. Her father, Lt. Col. Eric Bogue, worked in the Air Force's Space Command, including on assignments in Colorado Springs, before transferring to the Space Force.
"I knew what [the academy] was," she said. "I knew what it was about."
She considers herself lucky that she landed in the academy's soaring course. As a junior, she is now in charge of teaching the underclassmen.
She described soaring as "the closest you can get to an actual bird."
"I just fell in love with it," Bogue said. "It was so fun."
Now, she has aspirations of flying fighter jets in the Air Force.
The US Air Force Academy's TG-16A glider doesn't have an engine or propellers. "It's all carbon fiber, plastic, and glass," Cadet Parker Garrison said.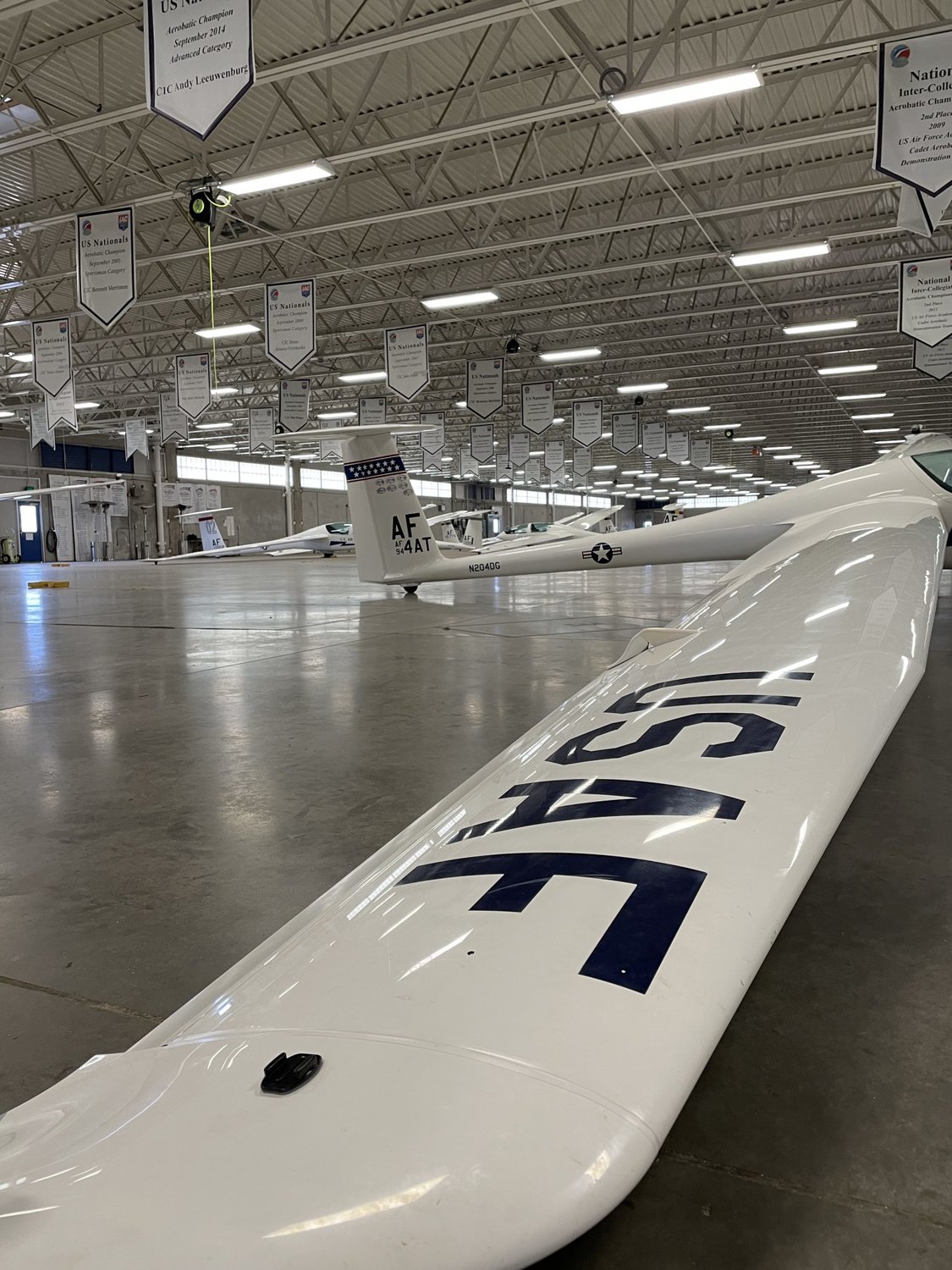 Cadets who enter the glider program are towed to altitudes up to 3,000 feet; from there, they slowly soar back to earth. With a 40:1 glide slope, they move forward 40 feet for every foot they descend. If conditions are right, expert pilots can fly for as long as six hours, but most academy flights last about 30 minutes.
Like in the parachuting program, those in the glider program learn from upperclass cadets who learned to fly the gliders merely months prior, making them the youngest instructor pilots in the Air Force.
Cadets who enroll in the gliding class get up in the air within the first day of instruction.
"They're never considered a passenger; they're allowed to fly on every single flight," Garrison said. "The only restriction is that we have to show them something before they're allowed to do it."
The gliders are pulled into the air by tow planes. Once at altitude, they unhook, and the pilots are on their own all the way through landing.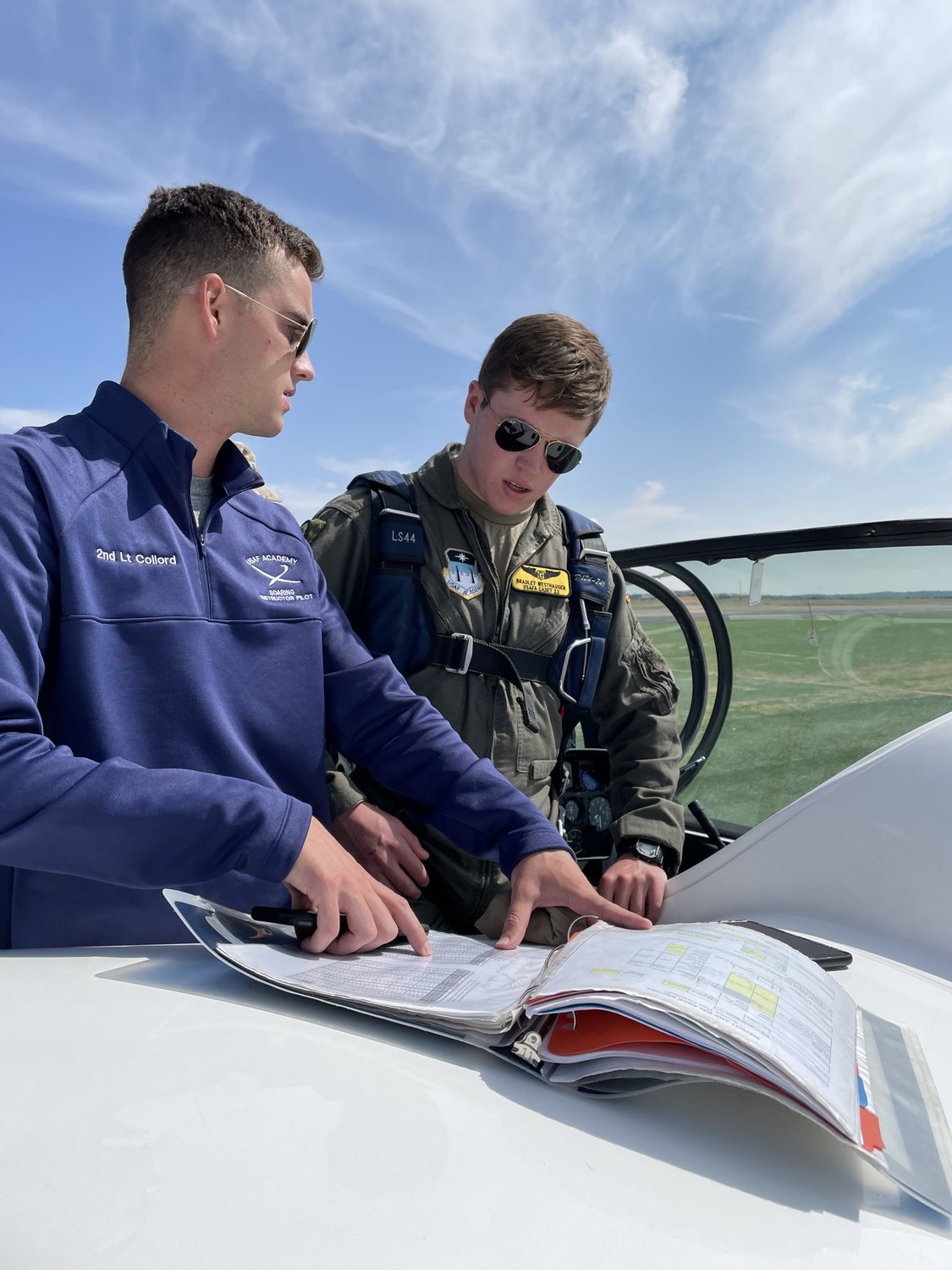 The gliders have been flying at the academy for decades and were the first taste of flight for generations of academy grads. The academy is one of only two bases that have gliders.
"Here, we use it as an airmanship exposure," Garrison said. "It's very low cost. Soaring is essentially the purest form of flight; there is not a lot of extra stuff. You just have to go up there and experience flying."
Read Next: 'We Kicked Ass': JSOC Legend Says' Black Hawk Down' Mission Was Not a Failure