The US Air Force celebrated its 74th birthday Saturday, Sept. 18.
That makes 74 years of flying legendary planes, from the P-51 Mustang to the F-15 Eagle to the SR-71 Blackbird to the MH-53 to the C-17 Globemaster III — the latest USAF airframe to etch its name in history.
In 2021, there is no shortage of great ways to wish a happy birthday to the world's finest air force, but several American politicians and brands seem to have ordered their Air Force birthday wishes on Wish. Check out these epic fails and examples of how not to celebrate the US Air Force.
Heroes Thanking Heroes did some American hero thanking with a photo of some non-American aircraft. That's okay, though. At least it spelled Air Force correctly. Oh, wait …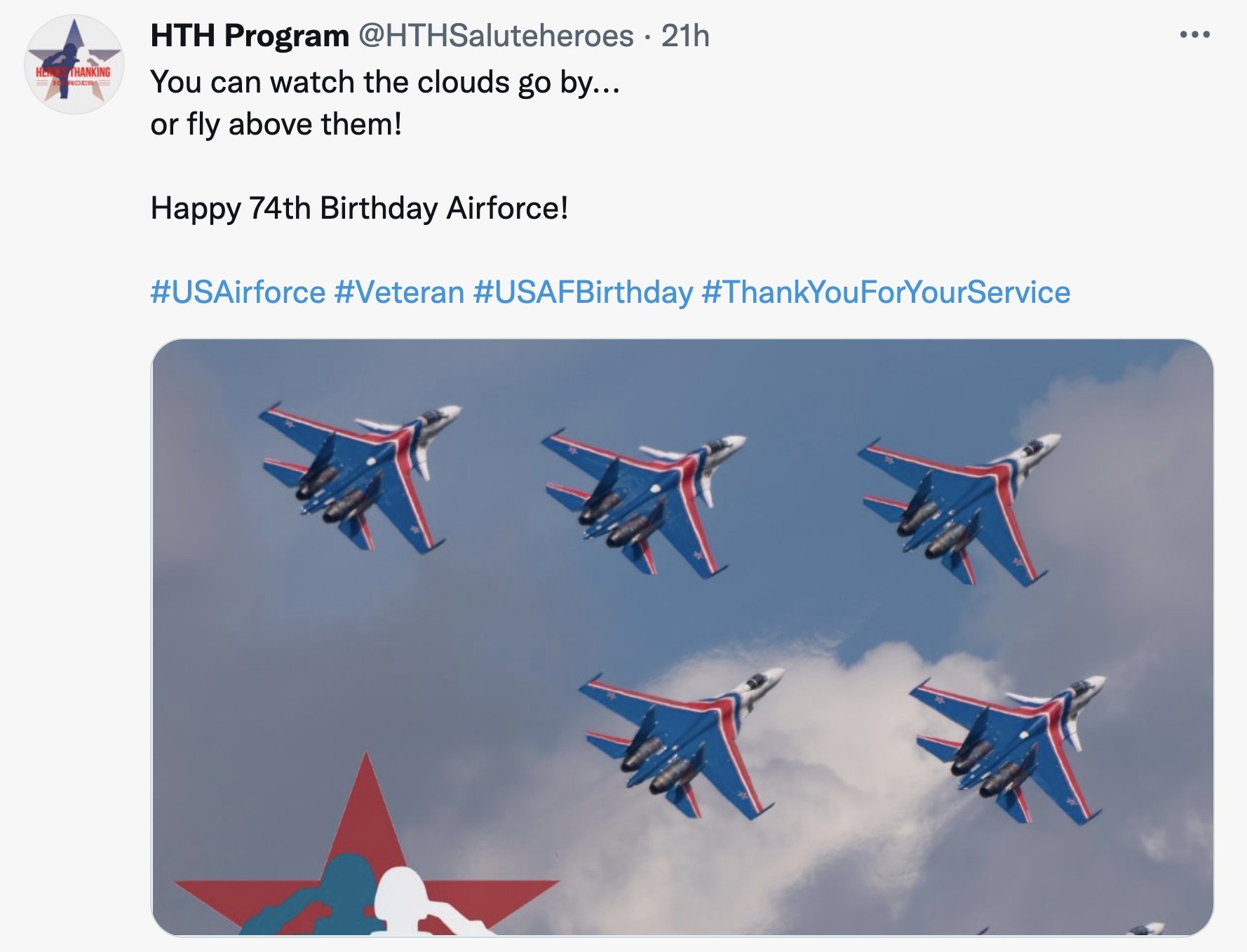 Crawford Garage Doors took a ride into the Danger Zone Saturday when it tweeted this stellar tribute to the iconic (checks notes) Navy F-14 Tomcat. At least the graphic-design game is on point, though. The fonts and color choices for the text scream, "We spent a lot of time and attention making your birthday special!" You might say Crawford Garage Doors' social media team is writing checks its brand can't cash. This one definitely belongs on a "Pinterest Fails" board for military memes.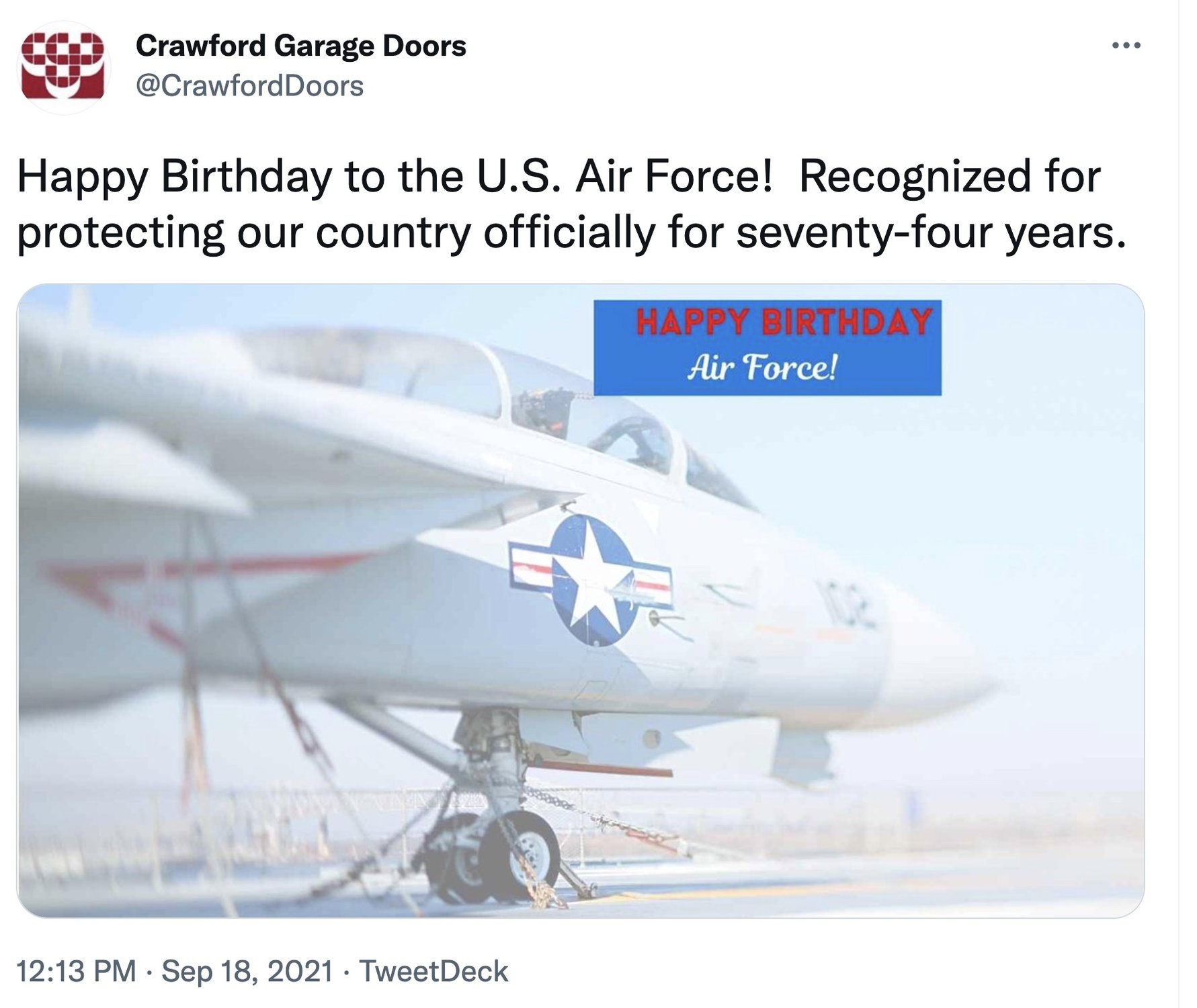 Former NFL player and Army veteran Jake Bequette is running for a US Senate seat in Arkansas. On Saturday, Bequette let his followers know that he's got mad love for the Air Force … and also that he doesn't know the F/A-18 Hornet is a Navy and Marine Corps aircraft, apparently.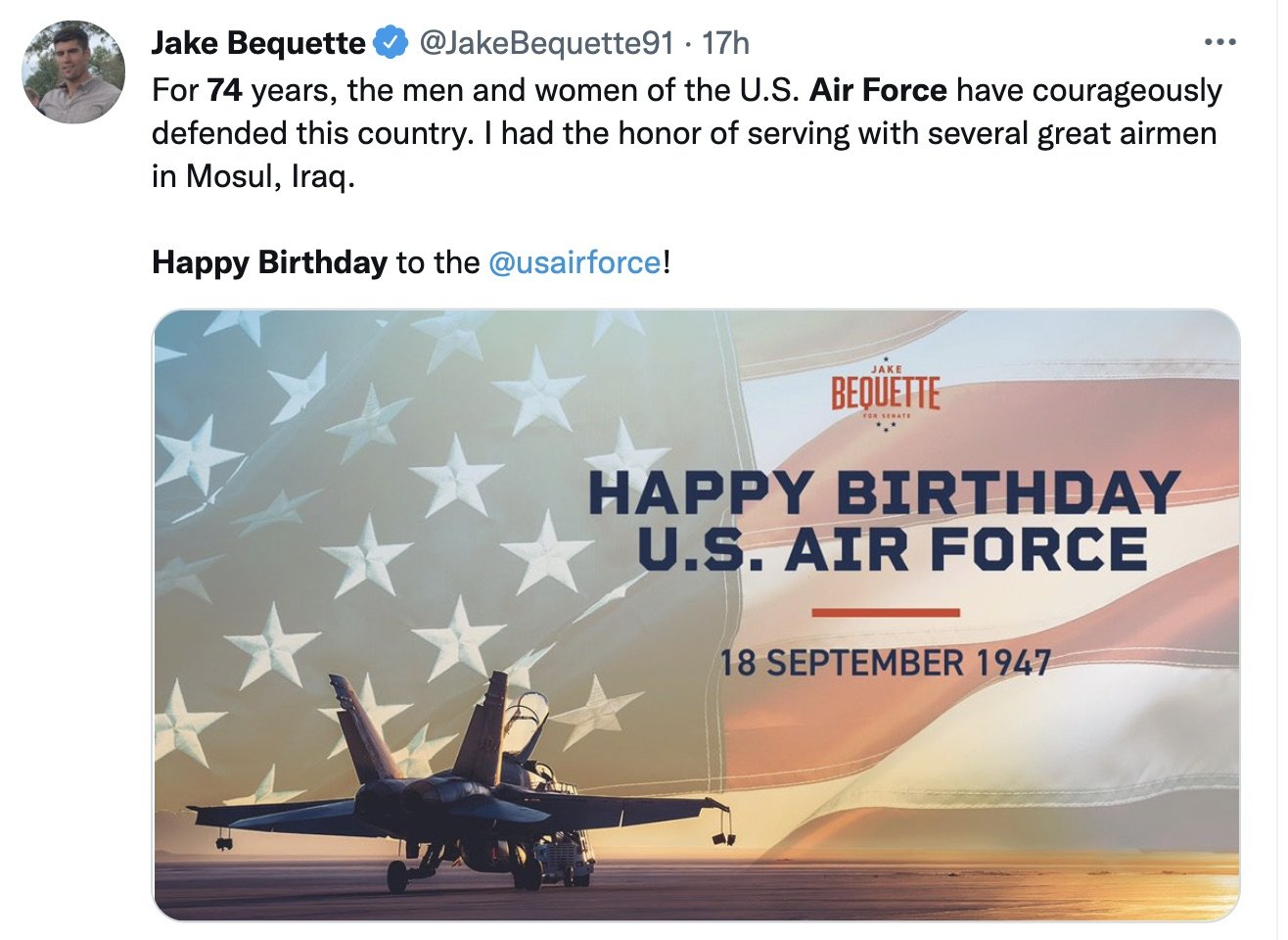 We're not sure exactly what aircraft these are or their country of origin (these guys, maybe?), but we're certain Tri Tool Technologies needed to try harder and aim higher when they went looking for a photo to accompany their salute to the US Air Force on its special day. We were going to at least give them points for symmetry, but then we noticed the missing left bomb on the lead jet. It seems like there's a story there, but it might be the kind the pilot doesn't want to talk about.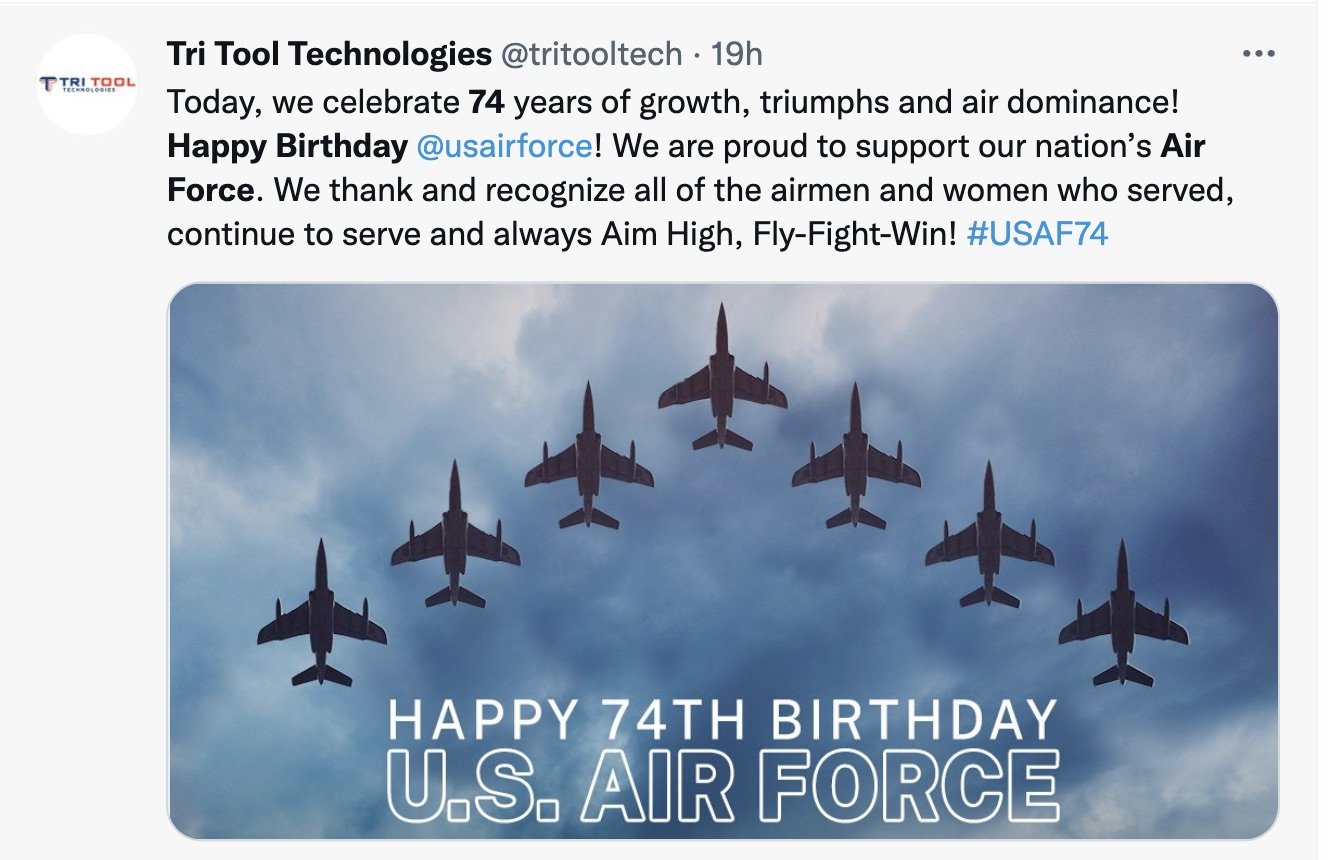 Another politician, another non-American fighter jet. California Assemblyman Steven Choi wished a happy birthday and thanked "our brave airmen and airwomen" in his post. This one is easy pickings for any red-pill conspiracists looking to turn a social-media-intern fail into an exhilarating piece of fan fiction for an alt-right blog about foreign interests controlling California politicians. *whispers* Hail Hydra.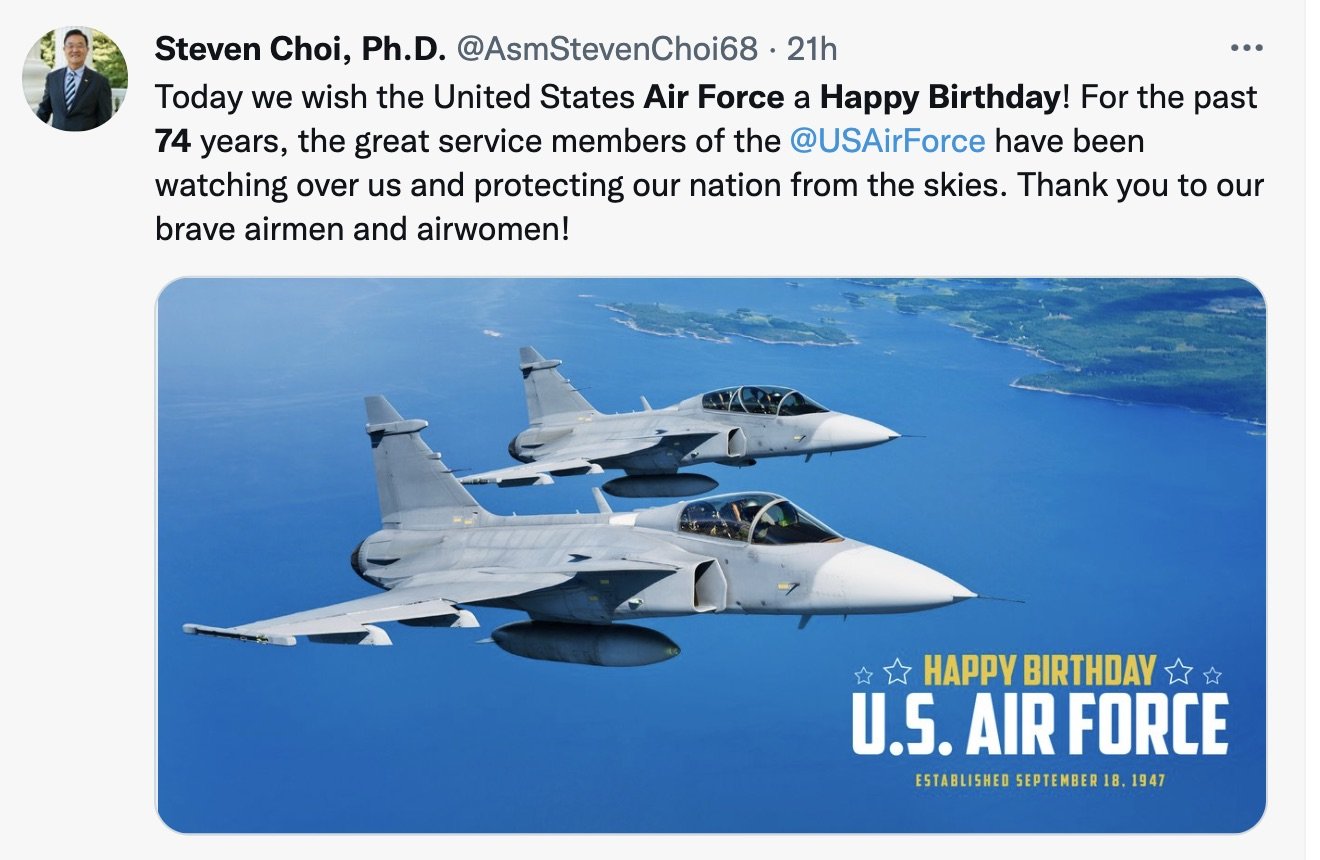 Since this is from the Marine Federal Credit Union, it could be an intentional bit of trolling, but this post of Aermacchi MB-339s from the Frecce Tricolori — the Italian version of the Thunderbirds — is only casting Italian shade and putting zero bombs on target for the birthday of America's Air Force. We're pretty Switzerland on Italy, personally, but US Air Force members are probably feeling like Vinnie Jones in EuroTrip right about now.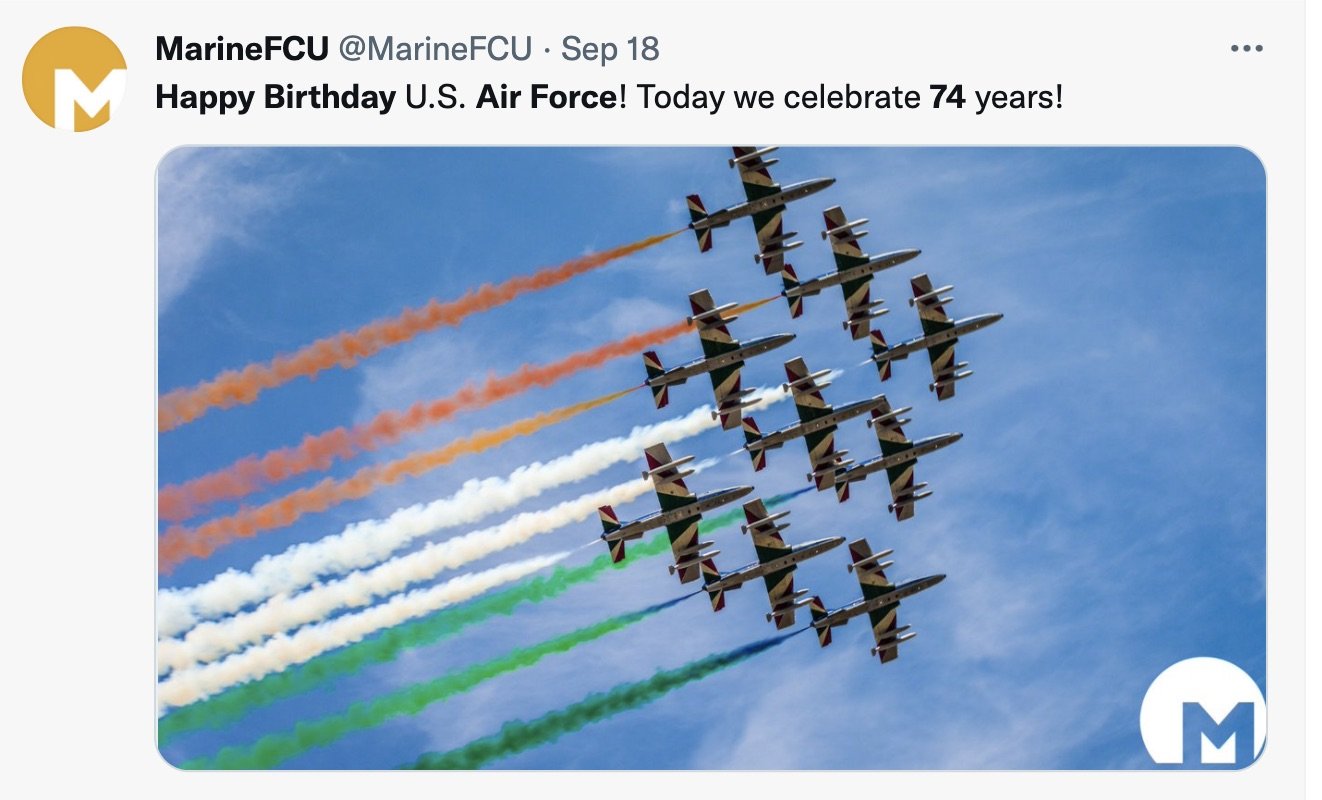 The 88th Force Support Squadron is a US Air Force unit at Wright-Patterson Air Force Base. And the aircraft in the unit's happy birthday tweet are Navy F/A-18 Hornets. Awk-ward. You could say this is kind of the social-media equivalent of giving your girlfriend a piece of lingerie for her birthday that belongs to the stripper you're cheating with on the side. But as long as nobody notices and puts you on blast, everything should be fine …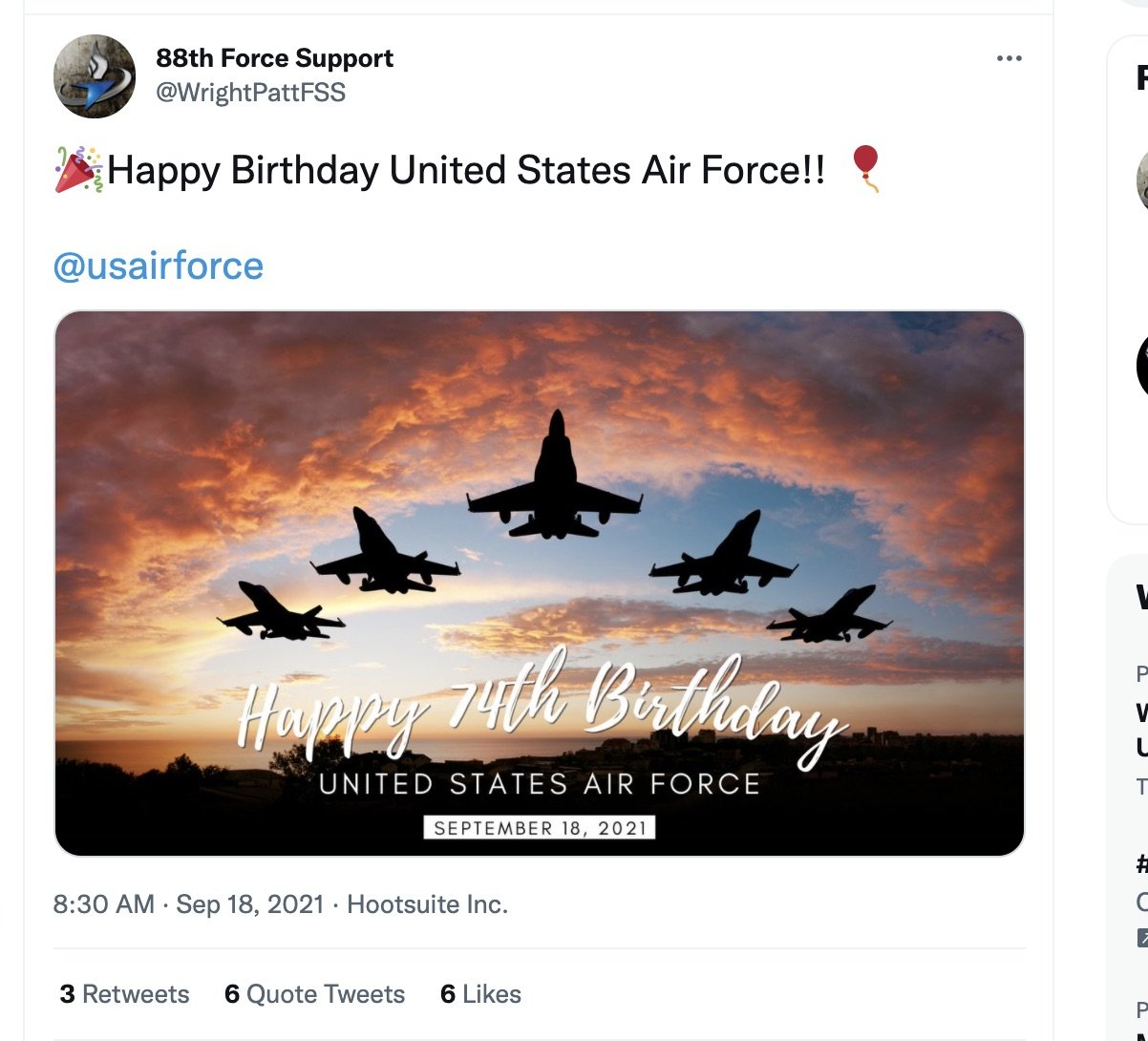 It appears Memories of Honor was aiming high when the nonprofit developed its Air Force birthday post. Unfortunately, the image appears to show some other country's jet fighter hitting the brakes, Maverick-style, so the organization's social cred can fly right by.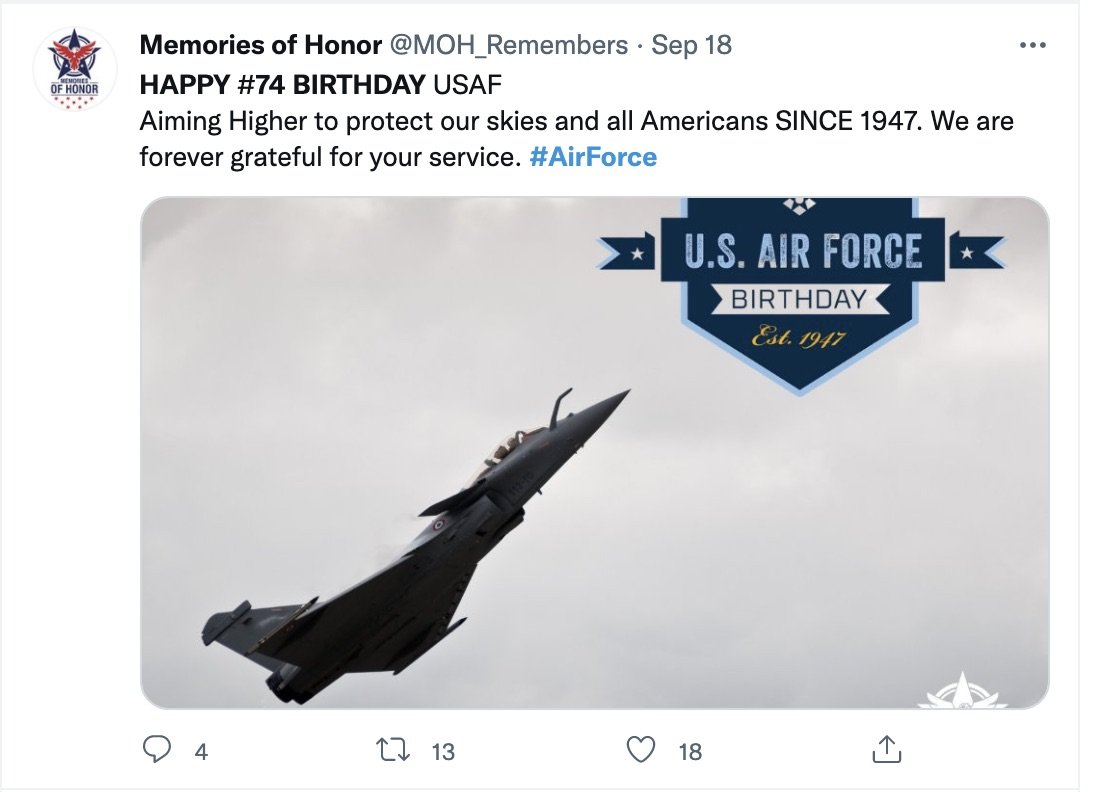 As for The Dude, we just respect his troll game here. Is that a Russian sub? We may need to eat another red pill before we can fully unpack this one. In the meantime, do your own research!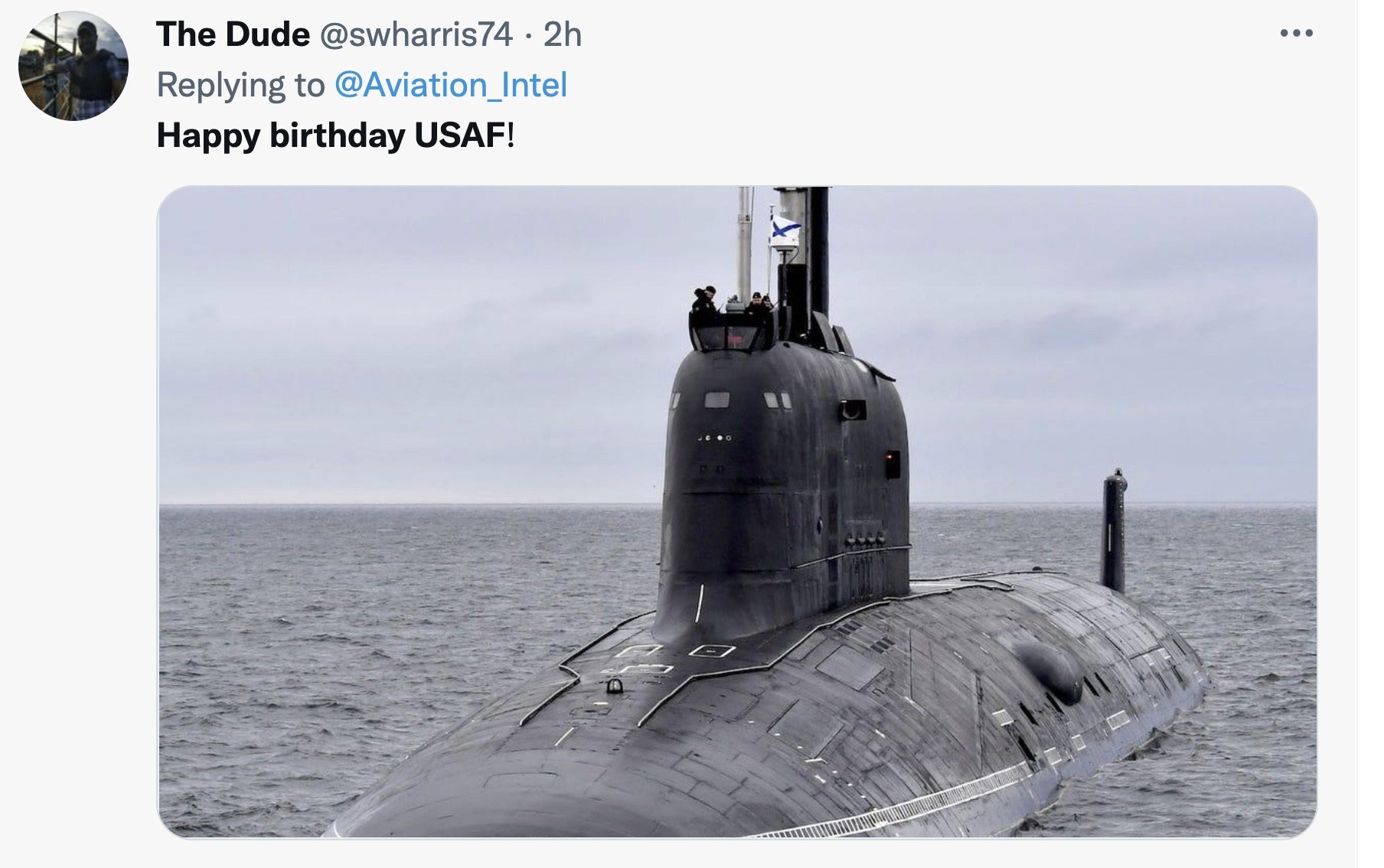 Read Next: 12 Children and a Flooded Cave: New Documentary Captures Harrowing Rescue in Thailand