On March 17, 1966, the space capsule carrying Neil Armstrong and David Scott, two NASA astronauts on the Gemini 8 mission, landed in the Pacific Ocean, marking the end of a historic spaceflight.
Armstrong and Scott had just performed the first docking of two spacecraft in orbit. Yet it had been a harrowing maneuver that nearly ended in disaster.
After docking with the Agena Target Vehicle while in orbit, the Gemini 8 capsule entered into a violent spin. Fighting to stay conscious amid mounting G-forces, Armstrong disengaged from the Agena and brought the capsule back under control.
A later investigation credited Armstrong's extraordinary piloting skills, as well as his coolness under pressure, with averting a potential catastrophe. Nevertheless, the two NASA astronauts had to abort the rest of their mission and return to Earth earlier than planned. The Gemini 8 landing was meant to be in the Atlantic Ocean, but NASA Mission Control opted for a secondary emergency landing site in the Pacific Ocean, about 500 miles east of Okinawa.
When Gemini 8 reentered the atmosphere, three Air Force pararescue jumpers, or PJs, from the 33rd Aerospace Rescue and Recovery Squadron were already flying over the Pacific Ocean in their C-54 plane. The team had been on standby until the call came in, alerting team leader Staff Sgt. Larry Huyett and the other PJs of their recovery mission.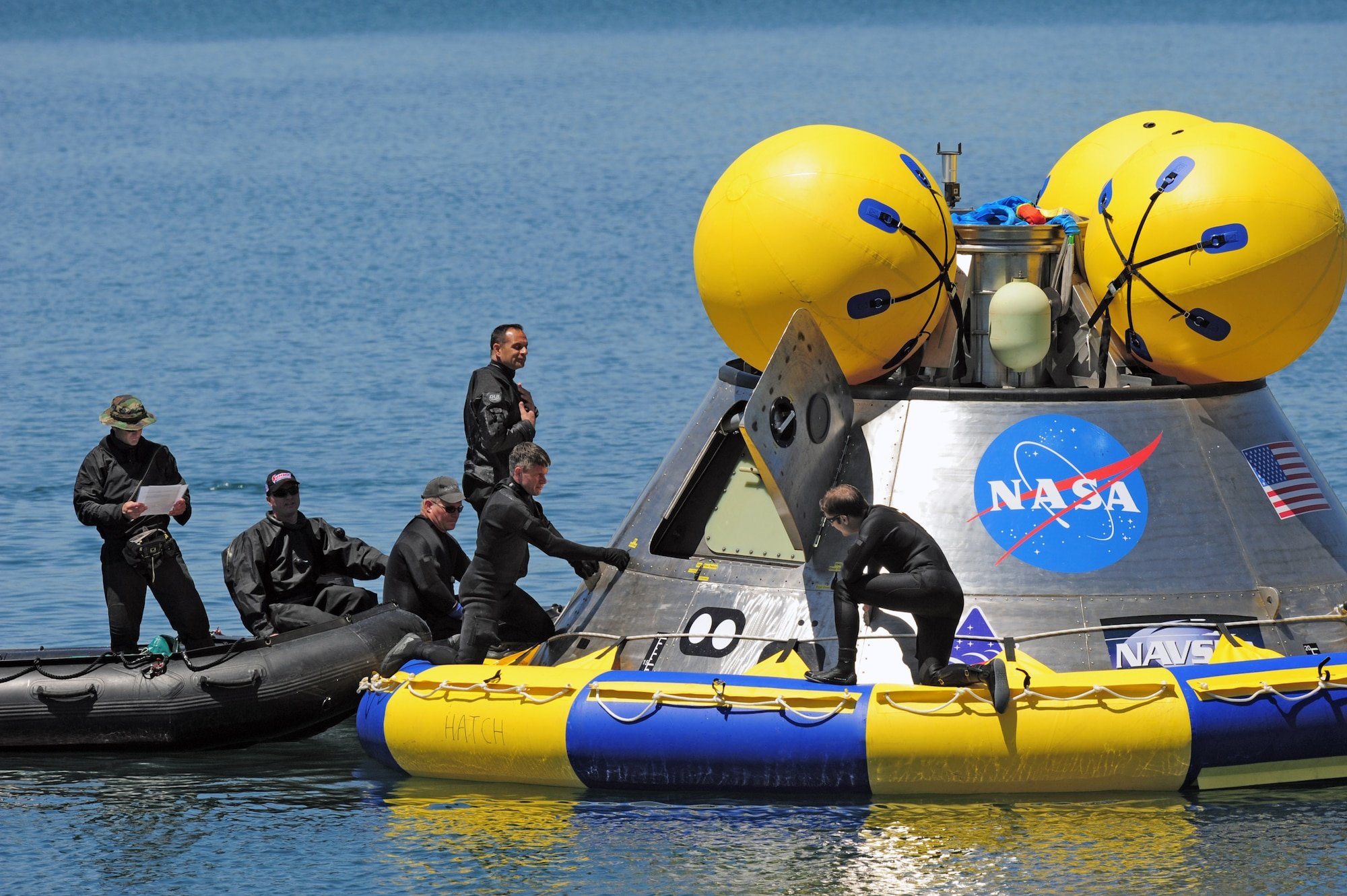 The C-54 pilot descended to an altitude of roughly 1,000 feet, and then the PJs parachuted into the ocean. The aircraft circled around and came in again, even lower this time, to drop off a flotation collar and rescue raft. The PJs scrambled aboard their boat and raced to reach the floating capsule and open its hatches.
"We're very glad to see you," the two astronauts told the pararescue jumpers. After a brief introduction, Huyett remembers laughing and later recalled, "I don't know who else they expected to see out there."
While the rescue didn't take very long, it took more than three hours for the USS Leonard F. Mason, a Navy destroyer, to recover the astronauts and their PJ crew — all of whom had become seasick by then. When the destroyer returned to port within a restricted US military harbor, a crowd of service members and their families stood underneath a banner that read, "Welcome Astronauts to Okinawa."
The astronauts shook hands and hugged the pararescue team that retrieved them. Mission success.
"Pararescue is actually the dedicated recovery asset for NASA and space shuttle missions," Air Force PJ and Senior Master Sgt. Aaron Love told the Late Night History podcast. "Any time any manned or high-value asset from NASA makes reentry, there is a team on call ready to go get them. We are the No. 1 recovery asset, the force of choice for NASA space shuttle manned missions."
Read Next: How 'Charlie the PJ' Became the Official Mascot of US Air Force Pararescue