When NASA astronaut Michael Hopkins arrives at the International Space Station this week, he plans on making one small change to his professional title, which will mark one giant leap for America's newest military branch.
An Air Force colonel and commander of SpaceX's Crew-1 mission, which launched into orbit Sunday, Hopkins, 51, is scheduled to transfer to the Space Force in a ceremony aboard the International Space Station. In so doing, Hopkins will become the Space Force's first astronaut. The in-orbit, interservice transfer is meant to highlight more than 60 years of cooperation between NASA and the Department of Defense, officials say.
"If all goes well, we're looking to swear [Hopkins] into the Space Force from the International Space Station," Gen. John Raymond, chief of space operations of the US Space Force, told Space News on Oct. 28.
Aboard a SpaceX Dragon capsule named Resilience, Sunday's launch was the first step of a 27-hour trip to the International Space Station for Hopkins and his three fellow crew members. It also marked the second manned flight for SpaceX's Dragon capsule, which NASA officially certified on Nov. 10 for manned spaceflight missions. After a successful test mission over the summer, Sunday's launch signals the beginning of regular manned flights aboard the groundbreaking spacecraft, which was developed and built by Elon Musk's Space Exploration Technology Corp., the company better known as SpaceX.
The other three crew members on Sunday's launch were two NASA astronauts, Navy Cmdr. Victor Glover and civilian physicist Shannon Walker, as well as Japanese astronaut Soichi Noguchi.
Sunday's launch marks "the beginning of a new era in human space flight," Gwynne Shotwell, SpaceX president and chief operating officer, said during a press conference, adding that the commercial spaceflight company plans on launching seven Dragon capsules over the next 15 months, including three cargo missions.
A Missouri native, Hopkins was selected by NASA as an astronaut in 2009. He has spent 28 years in the Air Force and was reportedly nominated in June to transfer to the Space Force. Hopkins previously flew to the International Space Station in 2013 aboard a Russian Soyuz spacecraft, spending 166 days in space.
On May 30, NASA astronauts and US military veterans Douglas Hurley and Robert Behnken launched into space aboard a SpaceX Dragon spacecraft, which was propelled into orbit by the company's Falcon 9 rocket.
Known as the Demo-2 test flight, the mission was essentially an in-orbit shakedown of the SpaceX Dragon spacecraft to fully certify it for operational, manned spaceflights. May's launch was the first-ever launch of a space crew aboard a commercial spacecraft, and it marked America's return to active spaceflight operations after a nine-year hiatus following the last space shuttle flight in 2011.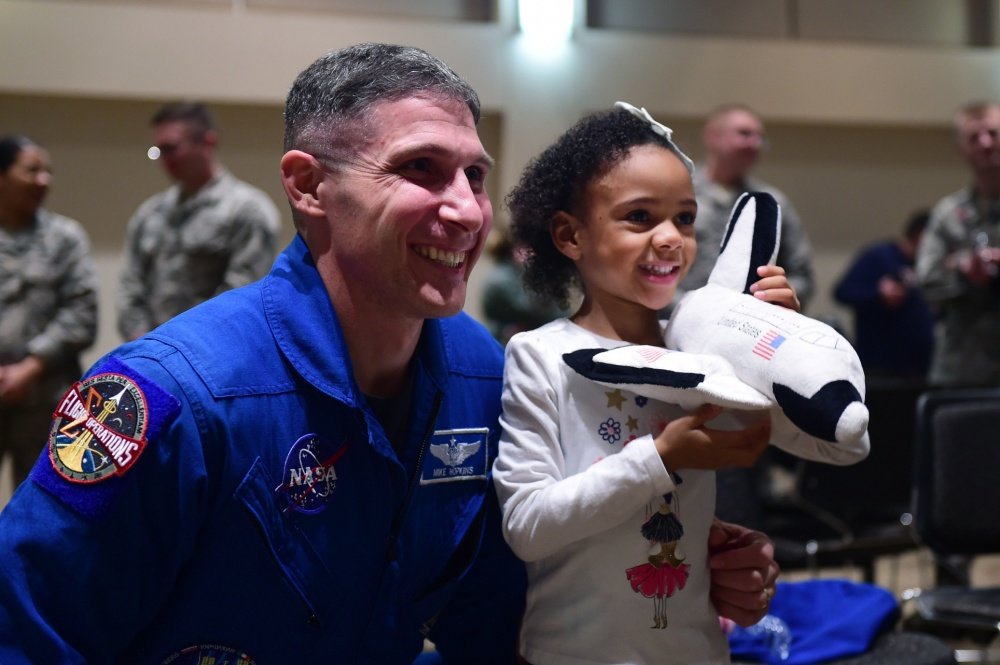 The Space Force, which is the US military's first new branch in more than 70 years, falls under the purview of the Department of the Air Force — a relationship roughly analogous to that of the Marine Corps' falling under the Department of the Navy.
When the Space Force was officially created on Dec. 20, 2019, some 16,000 military and civilian personnel from Air Force Space Command were put under the new branch's authority. However, those personnel officially remained members of the Air Force. The Space Force's ranks swelled from two to 88 in April when 86 Air Force Academy cadets graduated to become second lieutenants in the upstart military branch. In September, more than 2,400 Air Force personnel were scheduled to begin shifting over to the Space Force.
The force now numbers more than 2,000 men and women. Recently, the first Space Force recruits began basic military training. At full strength the Space Force is expected to have about 16,000 people in its ranks. The Space Force's personnel are currently spread out among some 175 different facilities worldwide, officials say.
The recent creation of the Space Force reflects a new era of warfare. With America's adversaries, such as China and Russia, developing their own novel military capacities in space, US military leaders say it's important to field a military branch solely devoted to waging war in this contested domain.
"Increasingly, free and open access to space is under threat. Though the United States will not be the aggressor in space, we will, we must, build a Space Force to defend our space interests," Secretary of the Air Force Barbara Barrett said Oct. 28 during a virtual address at Space Symposium 365.