This article was originally published March 10, 2021, on Sandboxx News. Follow Sandboxx News on Instagram.
By Alex Hollings
The U.S. Air Force has successfully tested a new loadout for the F-15E Strike Eagle that allows the highly capable multirole fighter to carry a whopping 15 JDAMs at once, though it won't be able to leverage them all in a single sortie.
Entering service more than a decade after the F-15 Eagle it's based on, the F-15E is a multi-role fighter that specializes in high-speed interdiction and ground attack operations. That means the Strike Eagle uses the same brute force, high speed, and maneuverability that's made the Eagle the world's undisputed air-to-air champ for strike missions against targets on the ground.
In keeping with the F-15E's ground attack specialty, Strike Eagles have come to rely on JDAMs, or Joint Direct Attack Munitions, for delivering ordnance with pinpoint accuracy during their bombing runs. JDAMs are, in their simplest form, dumb bombs with a smart guidance system added to them.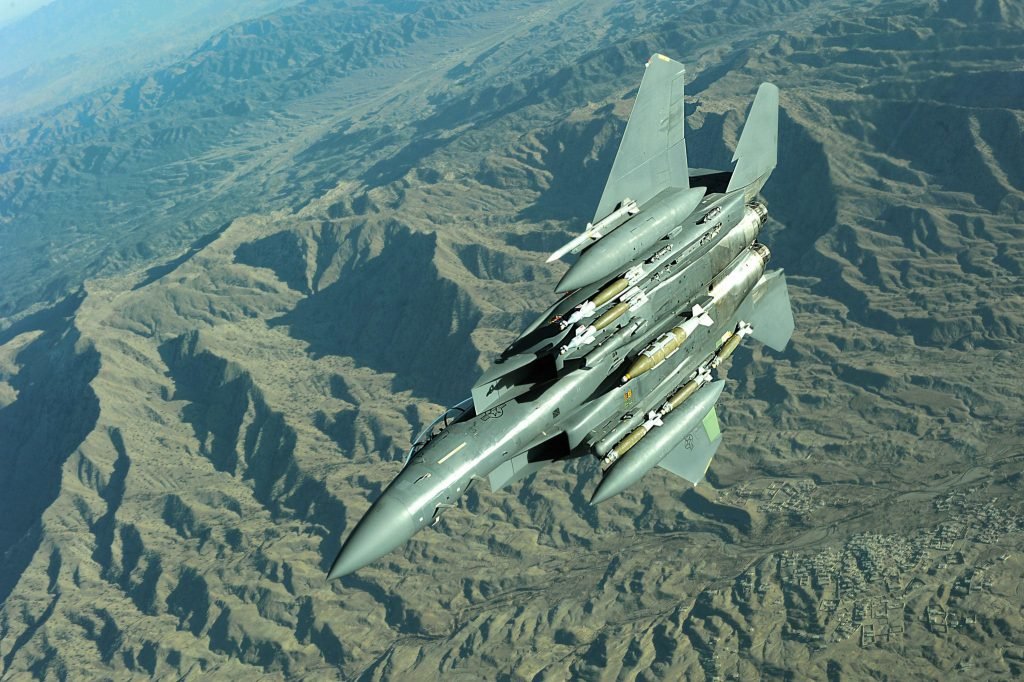 Each JDAM's guidance system includes a GPS receiver and aerodynamic control surfaces to guide the bomb's descent. With the guidance kit installed and GPS working properly (i.e. isn't being jammed by the opponent), JDAMs ranging in weight from 500 to 2,000 pounds can hit their targets within less than five meters at distances as great as 15 nautical miles. Of the 400,000 or so JDAMs Boeing has built, around 30,000 have also added laser targeting capabilities, giving pilots even more options when engaging ground targets.
The Air Force's inventory of F-15E Strike Eagles can be fitted with nine of these broadly capable weapons currently, but the 85th Test and Evaluation Squadron has now confirmed that F-15Es can manage a whopping six more.
"Currently the F-15E is authorized to carry a max of nine JDAMs, but the success of this test expands that to 15 JDAMs," said Maj. Andrew Swanson, F-15E Weapons System Officer, 85th TES.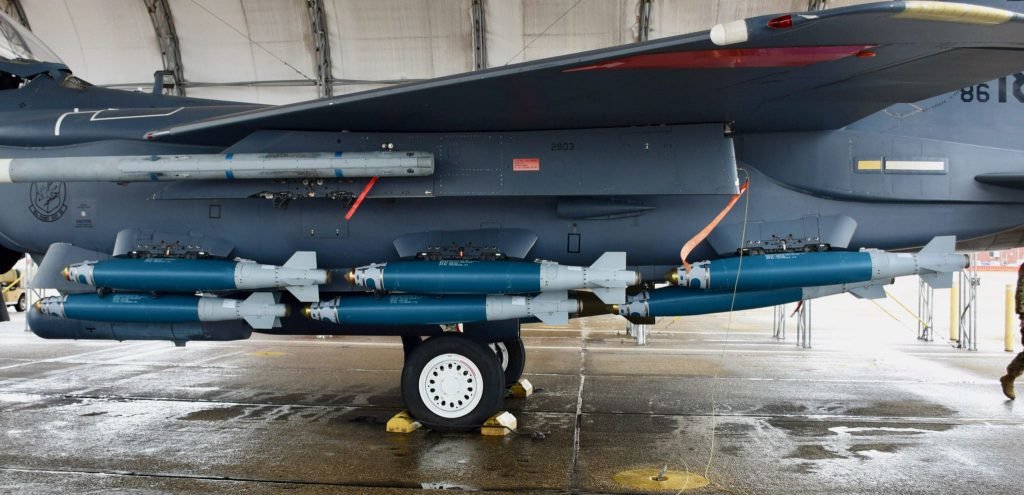 Unfortunately, as much as we here at Sandboxx News love shouting "bomb truck" into the air while we spin in our office chairs, the six additional JDAMs these Strike Eagles can carry can't actually be leveraged in a single combat sortie. Instead, the goal is to use each F-15E to carry those additional missiles to austere landing strips where they can be used to rapidly re-arm the jet they came from, or to re-arm other fighters in the area.
"The Strike Eagle can now carry enough JDAMs for an active combat mission, land at a remote location, and reload itself and/or another aircraft – such as an F-35 or F-22 – for additional combat sorties," said Lt. Col. Jacob Lindaman, commander, 85th TES.
The F-15E has already been carrying up to three JDAMs beneath each of the jet's two "Fast Pack" conformal fuel tanks, as well as two more that can be carried in place of external fuel tanks, and one more on the fighter's centerline. The 85th Test and Evaluation Squadron was able to successfully mount three more JDAMs on upper hardpoints on each "Fast Pack," but it doesn't appear as though the weapons can actually be deployed from this position.
Despite not being able to drop these additional bombs, this is still an important development as the U.S. military pivots back toward an era of great power competition. Right now, in order to re-arm F-15Es on austere airstrips, the U.S. Air Force has to dedicate two C-130s to the job. One would carry bombs and JDAM kits for assembly, the other would carry the personnel required for the job. By carrying that extra firepower on the F-15Es themselves, they can eliminate the need for the second C-130. Fighter aircraft are also more survivable in lightly contested airspace than the large and comparatively slow C-130, reducing the inherent risk involved in re-arming aircraft while forward deployed.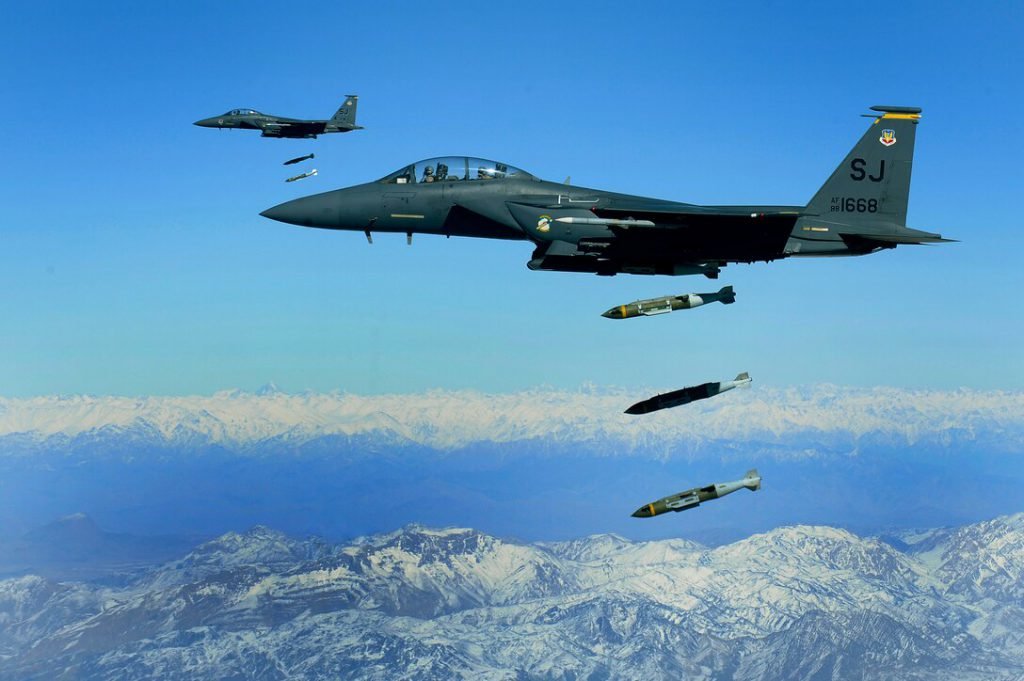 This concept isn't unique to the F-15E. The Air Force and Marine Corps have both been experimenting with the idea of re-arming F-35s from austere airstrips with an eye toward the potential for island-hopping campaigns in the Pacific.
China's massive area denial bubble, created by their hypersonic anti-ship missiles, extends nearly a thousand miles from its shores, but America's carrier-aircraft offer a combat radius of only 500-750 miles. In order to extend their range, the Navy has been exploring aerial refueling supported by drones, and both branches have tested landing F-35s on dirt airstrips as they might need to if their carriers can't close the distance between them for fear of being sunk.
In those circumstances, heavy-lift helicopters have also been tested as a means of getting the resources to these aircraft where they need them, but F-35s could also be re-armed thanks to JDAMs flown in beneath the wings of a Strike Eagle.
Jamming 15 JDAMs under the wings of an F-15E might sound like putting a hat on a hat, but it might be the capability that gets America's jets back into the fight faster in the event of a conflict in the Pacific. When every second counts, it never hurts to have an extra six JDAMs hanging off your belt.
Read Next: Wolverines! Air Force Adds AT-6 Light Attack Aircraft to Its Fleet