Today is the anniversary of when the U.S. Army Air Corps transitioned into the U.S. Air Force 72 years ago on Sept. 18, 1947. The recent video of Medal of Honor recipient John Chapman, a combat controller who risked his life to save his teammates on a mountainside in Afghanistan, proves that the Air Force has no shortage of badasses.
From test pilots to combat aces to aircrew to air commandos — and even an NFL Hall of Famer — these airmen are legends in their field.
Alcide S. "Bull" Benini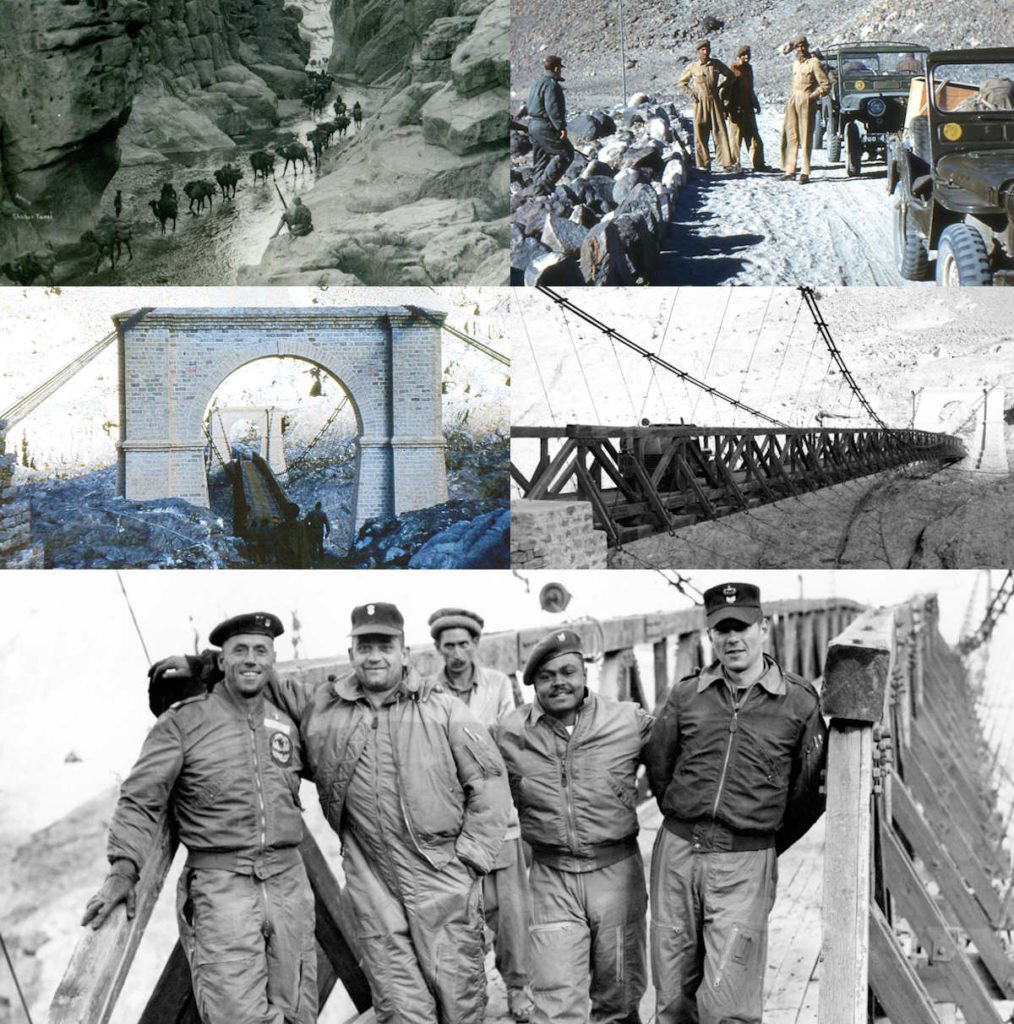 His name may not be familiar to most, but every wannabe combat controller (CCT) who goes through the pipeline is made keenly aware of the namesake that crests the Benini Heritage Center and Museum at Pope Field, North Carolina. Alcide S. "Bull" Benini was born in Italy, emigrated with his family to Pennsylvania in 1929, and became the caregiver for his younger siblings at age 13 when his father passed away from the infamous Black Lung disease that so many who worked in the coal mines suffered from. Benini initially joined the U.S. Army and served in the infantry as a radioman.
Benini fought in the Luzon, Bataan, and for six weeks in the Philippines until his unit became surrounded and was captured by the Japanese. He was forced to trek 65 miles during the Bataan Death March and was loaded onto a "hell ship" for two months and 20 days. "Hell ships" were known to be just as bad as the prisoner of war (POW) camps, except they were more confined, diseases spread faster, and they were frequently attacked by Allied submarines and aircraft. "We would drop a rope down there, tie [dead] bodies to the end of it, and haul them onto the deck," Bennini said. The only time the approximately 600 POWs saw daylight was during these sea burials.
For the next three and a half years Bennini worked in lead and zinc mines. He described the conditions as so intense that prisoners would allow mine cars to roll over their toes so they "didn't have to work for a while." Following the 1945 liberation of the camps and a stint in the hospital for recovery, Benini volunteered for and earned his jump wings at Airborne school, joining the U.S. Army Pathfinders of the 82nd Airborne Division. His proficiency in Italian and Spanish coupled with his wartime experience earned him the distinction of serving on the initial cadre of the U.S. Army Special Forces Qualification Course.
On April 8, 1953, Benini became the first CCT when the Air Force assumed the role as pathfinders. He started up new teams, pioneered tactics proven as forward air controllers, deployed in support of crises in Lebanon and Congo, and participated in Operation Road Grader, a previously classified mission in Kashmir, Pakistan, in 1960. Benini and four others jumped onto what retired CCT William Fitzgerald described as a "rock pile" next to the Indus River. "There weren't any maps or photos of it," he recalled. "We were a few hundred feet from landing before we got to see what it looked like. It was a field of rocks! We were lucky that nobody broke any bones, no medics, no nothing, just a lot of rocks."
The Pakistani locals were astonished they arrived via plane. "Buck Evans pretty much jumped Hollywood [no gear], Benini had a Griswald Container, with a shotgun, Charlie Drew had a Griswald Bag with a fishing pole and I had a GP bag full of shotgun shells (you can't believe how heavy that sucker was)," Fitzgerald wrote. "The Air Attaché arranged to have booze dropped to us upon request (every other day if memory serves me right)."
The group used shotguns to hunt partridge for their meals. The real purpose of their mission was to airlift equipment to build a road (the Pakistanis corrected its intention for a runway) without the Indian government knowing about the action in the disputed territory. Six C-130s flew 55 sorties and airdropped 600 tons of cement and 64 tons of heavy construction equipment. Benini was the first air commando in Combat Control, serving for a total of 30 years. He died in 2015.
Wingmen Eric "Fish" Solomonson & John "Karl" Marks
It would be a disservice to have a list of badass Air Force members without spotlighting the most recognized Close Air Support (CAS) aircraft in the arsenal: the A-10 Warthog. On Feb. 25, 1991, during the first Persian Gulf War, three missions were launched against the Iraqi Republican Guard by then-Captain Eric "Fish" Solomonson and 1st Lieutenant John "Karl" Marks from the 76th Tactical Fighter Squadron. The pair knocked out 23 Iraqi tanks in a single day, a record for the war.
With a subtle smile, Solomonson said, "[W]e were in and had tanks burning within five minutes." Marks added: "The Iraqis have quite a few prepared revetments on a lot of the roads that are empty most of the time just for these kind of cases … some of them into the open sand, and when they do that, they really turn up the sand and we can see the tracks quite easily."
Solomonson and Marks killed eight tanks the first sortie, eight tanks the second sortie, and seven tanks the final sortie. "I had a bad Maverick [missile] last sortie, and we ended up only getting seven," Solomonson said with a smirk. The Mavericks caused huge explosions and ripped off tank turrets that spun through the air. Not all of the tanks were wiped out with Mavericks though. Six tanks were destroyed using the famous cannon commonly referenced by mimicking its firepower: "BRRRRRRT." Marks confirmed that they damaged several more, but for the Battle Damage Assessment, they only counted the tanks they saw on fire during the seven total hours of combat flying.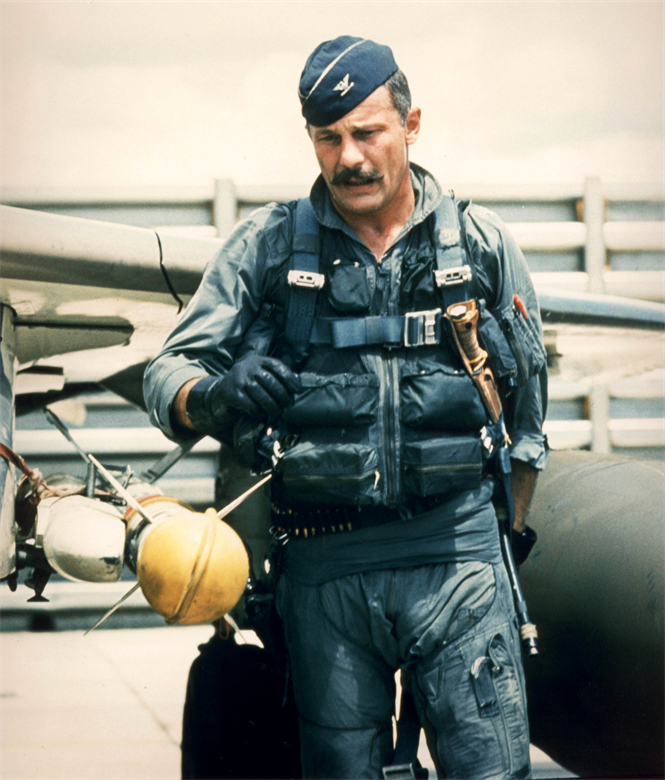 Robin Olds
Robin Olds was so badass that he single-handedly made it acceptable for Air Force fighter pilots to rock his signature handlebar mustache during the month of March. Many Vietnam-era aviators grew the iconic "bulletproof mustache" because it had lucky superstitions. Naturally, when Air Force Chief of General John P. McConnell told him to shave it off, the legend of Mustache March was born. "Generals visiting Vietnam would kind of laugh at the Mustache," Olds later commented. "I was far from home. It was a gesture of defiance. The kids on base loved it. Most everybody grew a mustache."
Olds was able to get away with his out-of-regulation grooming standards because he was a no-nonsense, two-war triple ace. To say that it was a morale booser to have Olds orbiting above dogfighting with Nazi planes across Europe and communist Mig-21s over North Vietnam would be an understatement. Historians consider Olds to be the greatest aerial tactician in U.S. military history. In World War II, piloting both a P-38 Lightning called Scat-1 and a P-51 Mustang called Scat VII, Olds destroyed 13 German planes and 11.5 aircraft on the ground, bringing his total to 24.5 kills.
In Vietnam, military leaders told Olds that if he became an "ace," he would lose his command because it would be a publicity nightmare to contain. They also specifically stressed that he could not fly more than 100 combat missions. His final tally included 152 combat missions — 105 of them over North Vietnam — and 7th Air Force historian Howard Halvorsen claims there were more that were not recorded.
The U.S. military honored Olds with every valor award short of the Medal of Honor: Air Force Cross, Distinguished Service Medal, Silver Star with three oak leaf clusters, Distinguished Flying Cross with five oak leaf clusters, Air Medal with 39 oak leaf clusters, and several more.
Years later when Olds visited the Air Force Academy, young cadets were wearing fake mustaches in his honor. Their homecoming game versus Army was the next day, "and I gave the whole group a quick one-finger salute," Olds said. "That brought down the house … Over the years, people have asked me why I did it. Hell, it just seemed like the right thing to do at the time. I was a fighter pilot; they better get used to it."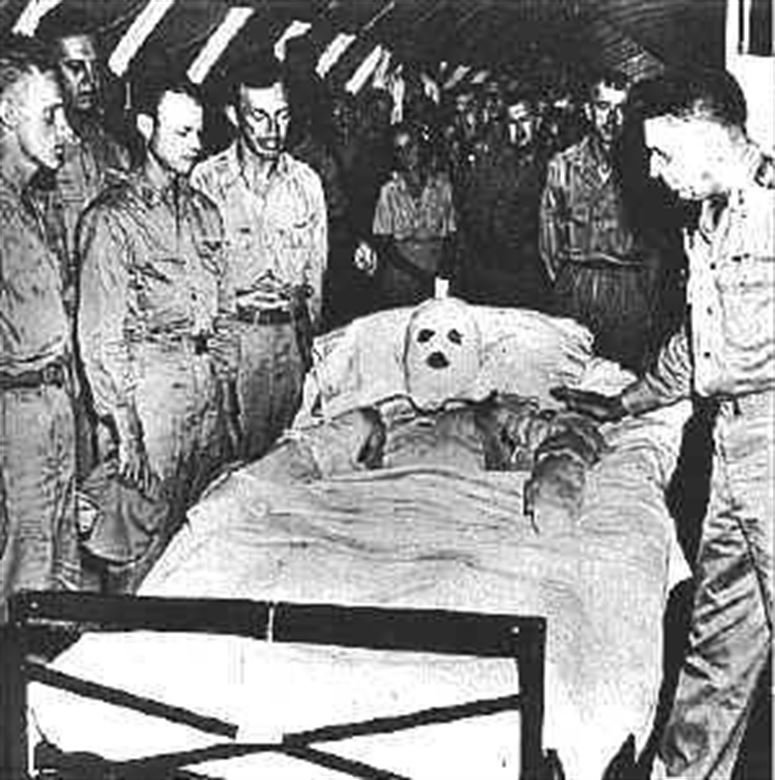 Henry E. "Red" Erwin
"A picture is worth a thousand words" may be a cliché, but when you see the photo of Staff Sergeant Henry E. Erwin being presented with the Medal of Honor while wrapped in bandages in a hospital bed in Guam, surrounded by his teammates, hours after his horrific ordeal, there's nothing else to say. Erwin's squadron mates referred to him as "Red," his family called him "Gene," and the Air Force forever hailed him as a hero. Erwin, a 24-year-old country boy from Alabama, served as a radioman and rode co-pilot aboard the City of Los Angeles, a B-29 tasked for bombing missions off the southern coast of Japan. On his 11th combat mission, they almost didn't make it back alive.
The plan was to conduct a low-pass flight over a chemical plant in Koriyama, located approximately 120 miles north of Tokyo. Erwin was tasked with dropping a white phosphorus smoke grenade through the floor of the plane to mark the target. As he pulled the pin and dropped it into the chute, the 20-pound grenade malfunctioned, ignited, and exploded in his face. The blast tore off his ear, blinded him, lit his face on fire, and filled the cabin with thick, white smoke. Despite not being able to see, Erwin had the situational awareness to identify the canister burning at 1,300 degrees as it began to melt through the B-29's metal exterior. He had seconds to make a decision — and he chose to grab it with his bare hands.
He clenched it against his body as his uniform disintegrated and the flesh on his arm dwindled to bone. Erwin made it back to the cockpit to heave the bomb out the window before collapsing between the pilots seats. During the chaos, the aviators managed to pull the plane out of a spiraling dive only 300 meters from the water — a crash that would have killed them all.
His aircrew sprayed him with fire extinguishers, the flight surgeon pumped him full of morphine, and they raced him to the nearest airbase for medical treatment. Nobody expected him to make it through the night, but after 43 reconstructive facial surgeries and losing several fingers, Erwin made a full recovery, even regaining his eyesight. In 1997, the Air Force immortalized his name by creating the Henry E. Erwin Outstanding Enlisted Aircrew Member of the Year award. Five years after the ceremony, he died as what General Hap Arnold called "a hero amongst heroes."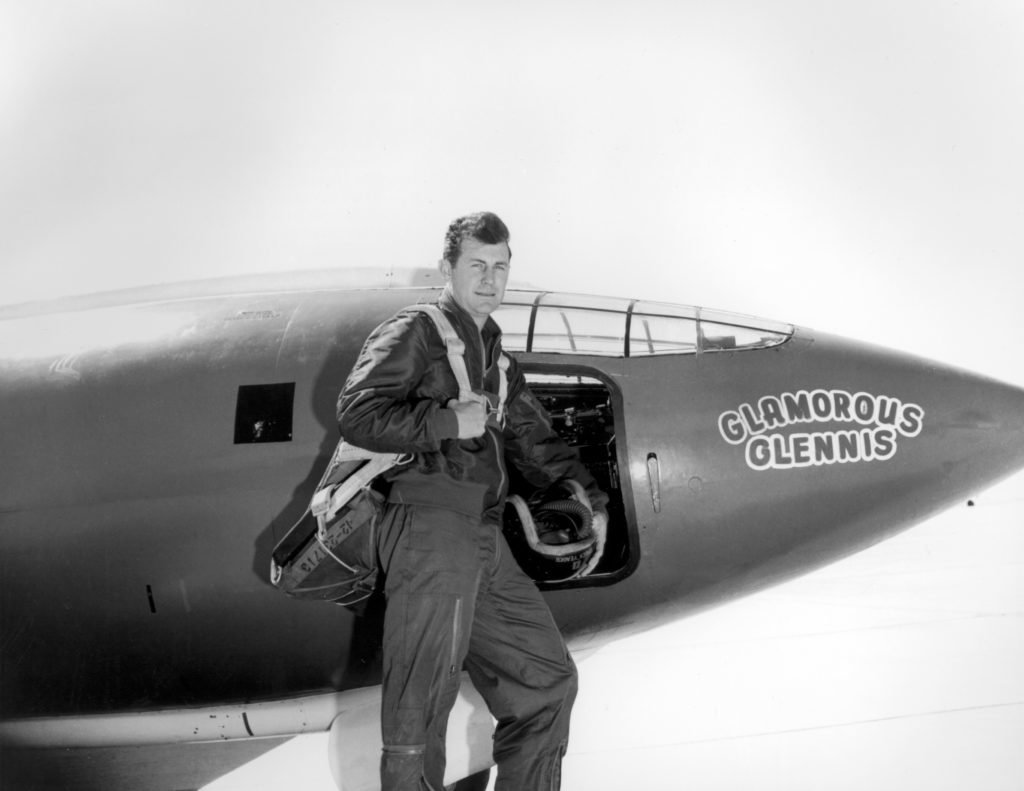 Chuck Yeager
"The fastest man alive" needs no introduction as he lived his American dream — flying planes into his 90s, giving back to his community, and even traveling to Afghanistan during his Speed of Sound Tour as recently as 2012. He enjoyed hunting and fishing from youth into adulthood, became a combat ace, and was the first person to break the sound barrier. General Charles "Chuck" Yeager grew up in a small West Virginia town with a population of 400. In September 1941, at age 18, he joined the Army Air Corps as a crew chief because at that time pilots had to be 20 years old and have two years of college. When World War II kicked off, the Flying Sergeant program was created to create more pilots.
With an eagle's eyesight, Yeager soon stood out amongst other aviators, effortlessly flying his P-51B Mustang he named "Glamorous Glen" out of respect for his loving fiancee, Glennis. Over the years, he would add to his plane family a second and a third GG. On his eighth combat mission in 1944, Yeager was shot down over France, hooked up with the Maquis, and evaded roaming patrols alongside three other downed airmen. They hiked for four days through knee-deep snow. They were almost discovered at a cabin by a German search party before they burst through a window and tumbled 1,000 feet into a river bed below. Through determination and fear of being captured, they reached Spain and turned themselves in to the authorities. Yeager's debrief to British Intelligence assisted other downed airmen as the war progressed.
Yeager then sent an appeal to Supreme Allied Commander Dwight D. Eisenhower to resume combat operations, where he earned the "ace in a day" achievement by shooting down five Me-109s without returning to fill up his gas tank. In total, he attained 13 kills in 61 combat missions and was credited as the first American pilot to shoot down a German Messerschmitt-262 jet fighter.
After test pilot Scott Crossfield broke his speed record, Yeager hopped into the cockpit of a Bell X-1A and registered a speed of Mach 2.44 (over 1,650 mph) in December 1953. He lost control at 80,000 feet and dropped 51,000 feet in 51 seconds due to a previously inexperienced phenomenon called inertia coupling. Yeager regained control at 25,000 feet and reclaimed his title as "fastest man alive."
You didn't think he was done, did you? Yeager also served in the Vietnam War, flew 127 combat missions, logged 10,000 flight hours, and personally piloted over 155 different military aircraft throughout his career. Today, Yeager is 96 years old and continues to mold the path of young aviators with guidance from his website and historical experiences on Twitter.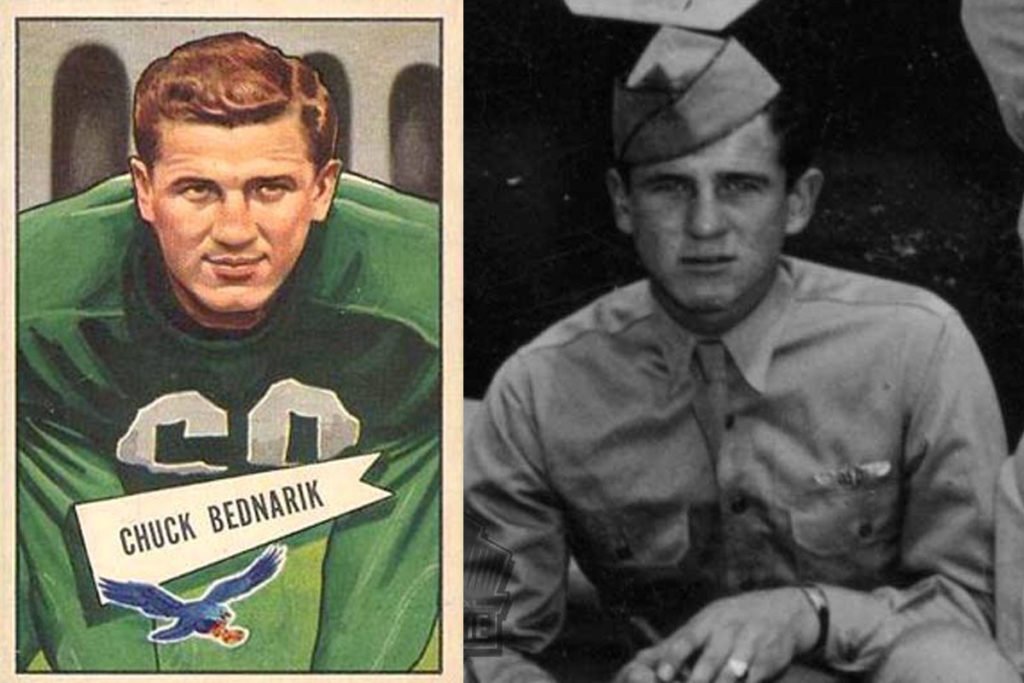 Chuck Bednarik
NFL quarterbacks are almost always the stars of the game, but this old-timey center in front, nicknamed "The Man of Concrete" or "Concrete Charlie," may be one of the most recognized two-way players in history. Chuck Bednarik was selected first overall by the Philadelphia Eagles in the 1949 NFL Draft. He played during the days when the one-platoon system — where teams were small enough that they played both sides of the ball — was slowly being fazed out. However, the Pro Football Hall of Fame said that his intelligence on the field as a linebacker could not be matched, as he could sniff out a play before it happened and crush slippery running backs before they crossed the line of scrimmage.
Though his Hall of Fame career is certainly impressive, before Bednarik was a professional football player, he served with distinction during World War II. Bednarik flew 30 combat missions in the European Theater as a waist gunner aboard a B-24. At just 18 years old, Bednarik earned an Air Medal with four oak leaf clusters and five battle stars.
"When we got back to England, I got out and kissed the plane, kissed the ground, and announced that I was never going to fly again," Bednarik said about his final mission over the city of Sweisel, having believed he would not survive the war.
Fortunately for football fans, he dropped his identity as a warrior and became a gladiator on the gridiron. Bednarik was selected as a first-ballot Hall of Fame inductee in 1965, and since 1995, the Chuck Bednarik award has been presented to the defensive player of the year during each college football season.
Jacqueline Cochran
Six days a week for 12 hours a day, 8-year-old Jacqueline "Jackie" Cochran worked in a Georgia cotton mill for 6 cents an hour. Her foster family lived in such severe poverty that she was 10 years old before she owned her own pair of shoes. Cochran developed an unbreakable resilience from a young age, and though she lacked formal education, she would go on to attain greatness.
In 1932, when Cochran enrolled in flight school, instructors expected her to complete her training in three months — but she completed the course in three weeks. Back in those days, few women were pilots, but that didn't stop her from trailblazing the industry. During the 1934 MacRobertson London-to-Australia air race, Cochran shared her opinion on the risk she and other pilots took flying the Gee Bee. "The cute nickname is a sham," she said. "They were killers. There were very few pilots who flew Gee Bees and then lived to talk about it. Jimmy Doolittle was one. I was the other."
Because she was a woman, racegoers didn't allow her to enter the Bendix Transcontinental Air Race, but after she personally approached each male aviator to get their signature to grant her permission in the race, her soft-spoken and femine charm helped change their demeanor. The exclusive club soon opened their doors to female competitors and, with assistance from Amelia Earhart, she took home the first-place prize in the women's division (third overall) in 1938.
When World War II was on the horizon, Cochran advocated for her fellow aviatrixes to join the war effort. She was a founding member of the WASPs (Women's Airforce Service Pilots), and hand-selected 25 of the best flyers she knew. The last year of the war, more than 1,000 female pilots earned their flight wings. Like her great friend Chuck Yeager, Cochran became known as the "Speed Queen" — the first woman in history to break the sound barrier and "go supersonic." Although Cochran died in 1980, she earned over 200 awards in speed, altitude, and distance, and is often considered one of the greatest pilots to ever live.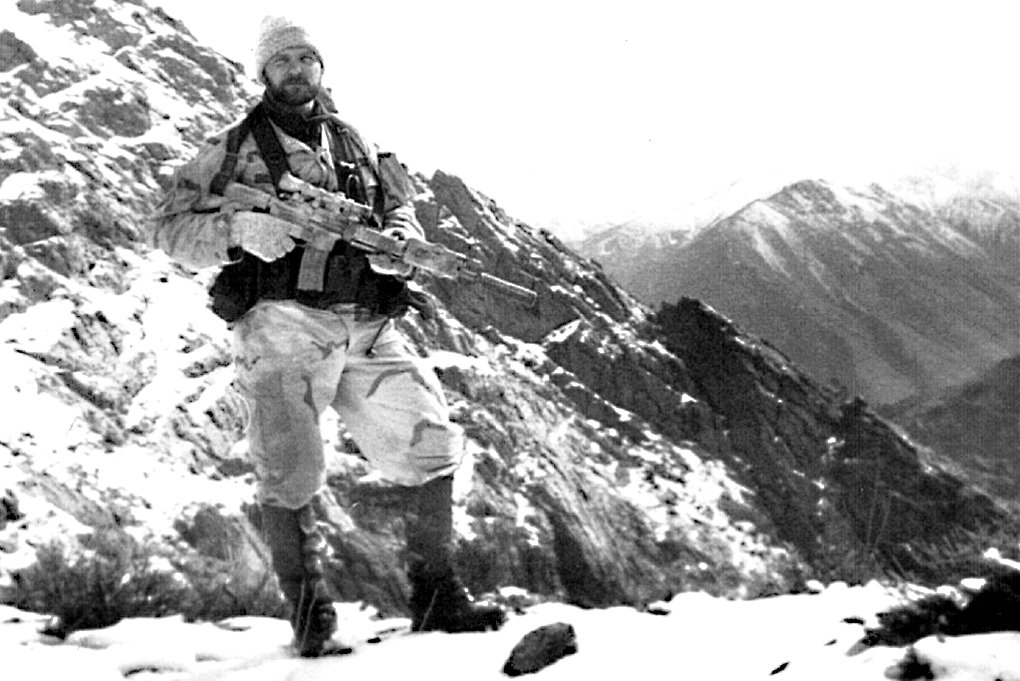 John Chapman
John Chapman was a Combat Controller assigned to the 24th Special Tactics Squadron, the U.S. Air Force's special mission branch. In March 2002, small teams conducted Advanced Force Operations (AFO) and were tasked with observing strategic locations in Afghanistan that aircraft could pinpoint and destroy. Chapman was chosen to join a squadron from U.S. Navy SEAL Team Six to infiltrate the 11,000-foot mountain of Takur Ghar during Operation Anaconda. Upon approach in MH-47 Chinook helicopters, enemy bullets ripped through the fuselage and an RPG struck the helicopter during the pre-dawn mission. Petty Officer 1st Class Neil Roberts was thrown from the helicopter onto the snowy ground 10 feet below.
Roberts was alone amongst well-entrenched enemy fighters, and the fire on the helicopter was so intense that they crash landed a few miles from the ridge. Chapman issued directions for a second helicopter to pick them up and deliver them to the mountain to conduct a rescue attempt for Roberts. The team landed and immediately maneuvered to Roberts' last known position. Chapman led the charge through knee-deep snow and engaged what became known as Bunker No. 1. His team leader followed behind but never actually caught up with him.
Chapman seized the opportunity and assaulted Bunker No. 1 alone, killing both enemy combatants inside. After the fact, he realized that Bunker No. 1 was the location of slain Navy SEAL Roberts, but the chaos on the mountain hid that fact to those on the ground. Bunker No. 2, located north and to the east of their position, contained Uzbeck and Chechan fighters equipped with hand grenades, RPGs, and a PKM light machine gun. Chapman was shot twice in the torso and knocked unconscious.
The gunfire from Al Qaeda fighters was overwhelming the SEALs on the ground and, in the confusion, they abandoned their position after two teammates suffered wounds, believing they were the only friendlies still alive on the mountain. They retreated and slid down the rockface as the team leader called for Close Air Support (CAS) from an orbiting gunship. The 105mm rounds exploded on the ridgetop near Chapman's position, unaware that he was still alive. The gunship covered the SEALs extraction. At approximately 5:20 AM, Chapman recovered and, although mortally wounded and weakened by blood loss, he engaged dozens of enemy fighters. He relayed information over his radio to a nearby Advanced Force Operations team of Delta Force operators and another Combat Controller on a nearby peak.
A CIA predator drone shows enemy fighters converging on his position; he was then wounded by further gunshot wounds and fragmentation from explosions. He engaged in hand-to-hand combat with one fighter who overran his position and neutralized him. In the distance, Chapman heard rotor blades, but continued his last stand to prevent the enemy from ambushing the Quick Reaction Force (QRF) comprised of U.S. Army Rangers, Air Force Pararescuemen, and another Combat Controller.
Chapman moved out of the bunker and fired at the enemy in multiple directions as the QRF helicopter was hit by an RPG. He single-handedly prevented the enemy from entering Bunker No. 1 to set up heavy weapons to engage the QRF, thus saving the lives of 23 fellow service members. As the battle raged on, Chapman succumbed to his wounds.
On Aug. 22, 2018, President Donald Trump upgraded the Springfield, Massachusetts-native's Air Force Cross to the Medal of Honor. The footage of his heroism is the only recorded video in history of a Medal of Honor recipient's actions. Trump read a quote from Chapman's high school yearbook that read, "Give yourself before the taking of someone else," a tribute to his beliefs until his final day.