KYIV, Ukraine — In 1935 the American air power visionary General Billy Mitchell told Congress: "I believe that in the future, whoever holds Alaska will hold the world."
Nearly a century later, U.S. military forces in Alaska remain at the vanguard of defending the American homeland in this new era of so-called great power competition. Consequently, as Russia and China increase their military presence and economic interests in the Arctic, the U.S. has countered by massing advanced military hardware in its northernmost state.
"I view the Arctic as the front line in the defense of the United States and Canada," General Terrence O'Shaughnessy, commander of the United States Northern Command, said in April 2019.
"It has become clear that defense of the homeland depends on our ability to detect and defeat threats operating both in the Arctic and passing through the Arctic," O'Shaughnessy added. "Russia's fielding of advanced, long-range cruise missiles capable of flying through the northern approaches and striking targets in the United States and Canada has emerged as the dominant military threat in the Arctic."
By 2022, Alaska is set to be one of the most heavily defended airspaces on earth, and more of America's advanced, fifth-generation fighters will be stationed there than in any other U.S. state. As part of the buildup, on June 25 three new F-35A Lightning II fighters arrived at Alaska's Eielson Air Force Base — thereby doubling its fleet of F-35A aircraft to six. According to an Air Force release, some 48 more of the advanced fighters are scheduled to be deployed to the base, which is located in Alaska's interior just south of the Arctic Circle.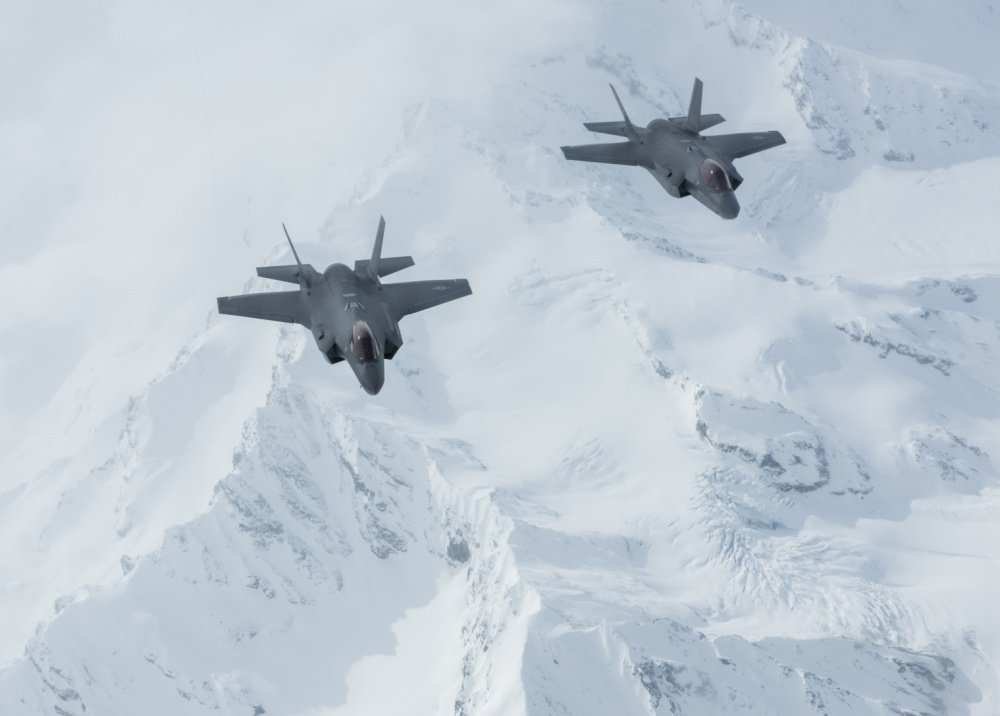 There are also about 50 F-22 Raptor fighters — as well as a fleet of support surveillance aircraft — based at Elmendorf Air Force Base. Several of those F-22s are kept on 24/7 alert, ready to launch within minutes to intercept potentially adversarial aircraft. That mission falls under the purview of North American Aerospace Defense Command, or NORAD, which monitors for air and space threats against the U.S. and Canada.
"As human activity in the Arctic increases, the Air Force has shown that it is and will continue to be a leader in operating in this challenging and austere environment," said U.S. Air Force Lieutenant General David Krumm, commander of the Alaskan NORAD Region, in a release.
Chess Moves
During the Cold War, Eielson Air Force Base hosted bombers for Strategic Air Command — the U.S. military command, which, from 1960 to 1968, maintained a fleet of B-52 bombers armed with thermonuclear weapons on continuous airborne alert, prepared for a nuclear war against the Soviet Union.
While America's Cold War-era airborne alert is long over, the stalwart B-52 made a recent appearance in Alaska, demonstrating, once again, the Air Force's ability to globally project its strategic bomber fleet from the state. In June 2020, the 96th Expeditionary Bomber Task Force, comprising B-52H bombers, deployed to Alaska's Eielson Air Force Base and, from there, flew seven missions over seven days to the Indo-Pacific region and Europe.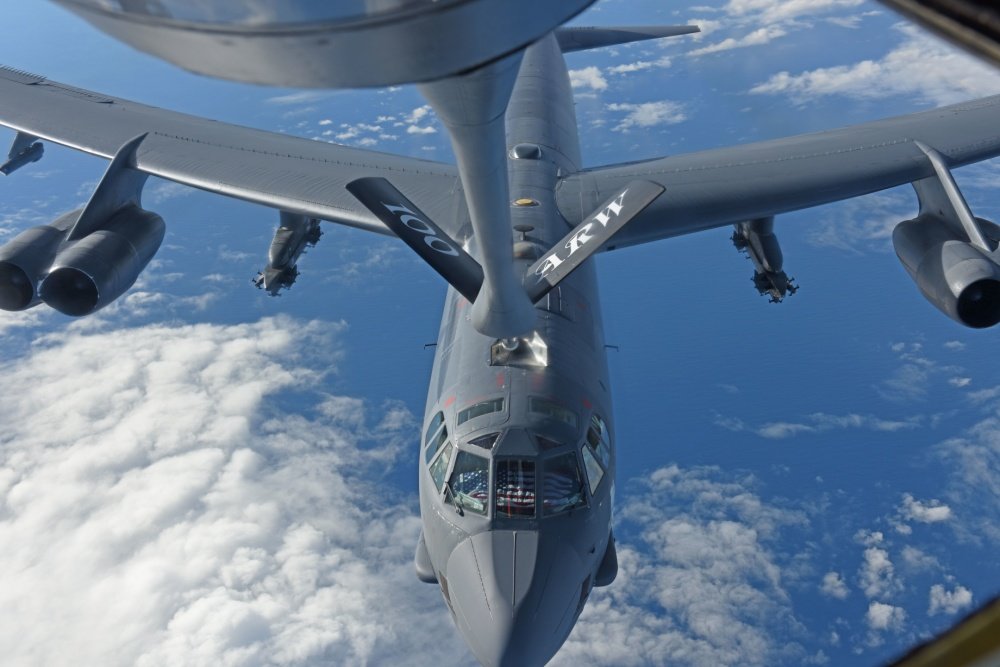 "Alaska is one of the most strategic places on earth. Having the bomber task force here in Alaska is full recognition of the power projection capability that we have in this location," said Colonel David Skalicky, 354th Operations Group commander at Eielson Air Force Base, in a release.
"We're building a combat capability with the F-35, the most advanced fifth generation fighter out there right now," Skalicky said. "Matching up the brand new F-35s with the B-52s that have been around for a long time and seeing those operate and compliment each other all from this location is a really neat thing to see."
Alaska also remains the front line of America's U.S. Ballistic Missile Defense System. Across the state, an array of some 50 early-warning radars is constantly on alert to detect sea-launched and intercontinental ballistic missiles, as well as orbiting objects above the atmosphere. In the Aleutian Islands, the COBRA DANE radar can detect missile launches from thousands of miles away and simultaneously track hundreds of discrete orbital objects in space.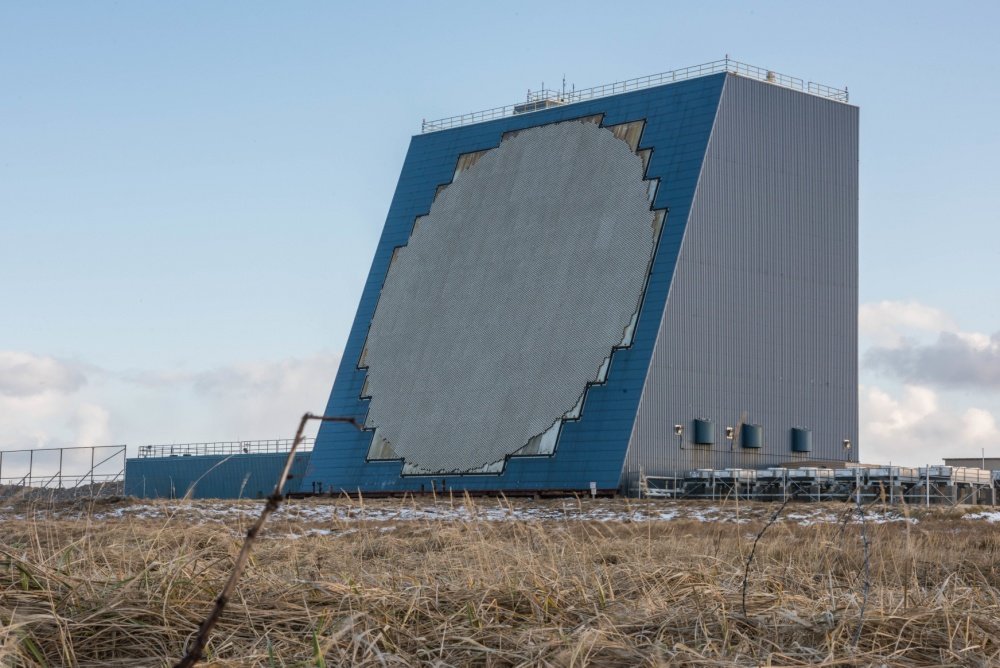 The U.S. also has plans to build a new seaport in Alaska to counter Russian and Chinese expansion in the Arctic, as well as to build a new fleet of ice-hardened vessels.
"America cannot afford to fall behind as other nations devote resources to the Arctic region to secure their national interests. America's very real interests in the Arctic will only increase in the years to come," authors Luke Coffey and Daniel Kochis wrote in a March report for The Heritage Foundation.
Mind the Gap
During the Cold War, Soviet submarines and naval vessels typically traversed a nautical chokepoint in the Atlantic Ocean called the GIUK gap — so named after Greenland, Iceland, and the United Kingdom, the coastal countries bordering the passage.
However, changing climate conditions have steadily eroded the extent of the Arctic ice cap, opening up hitherto unavailable nautical passages to the north of Greenland. New Russian icebreakers have also made these more northern passages more practical.
China, too, has set its sights on the Arctic region. In January 2018, Beijing's so-called Polar Silk Road Arctic strategy declared China to be a "near-Arctic state" — even though China's nearest territory to the Arctic is some 900 miles away.
"The Arctic is an emerging frontier for international commerce and military capabilities required to protect national interests, which creates new opportunities for the United States — and for potential adversaries," said U.S. Sen. Angus King, an Independent from Maine and co-chair of the Senate Arctic Caucus, in a December 2019 press release.
"As the impacts of climate change continue to affect this vital region, the U.S. must be forward-thinking to establish and protect our leadership role in the Arctic," King said.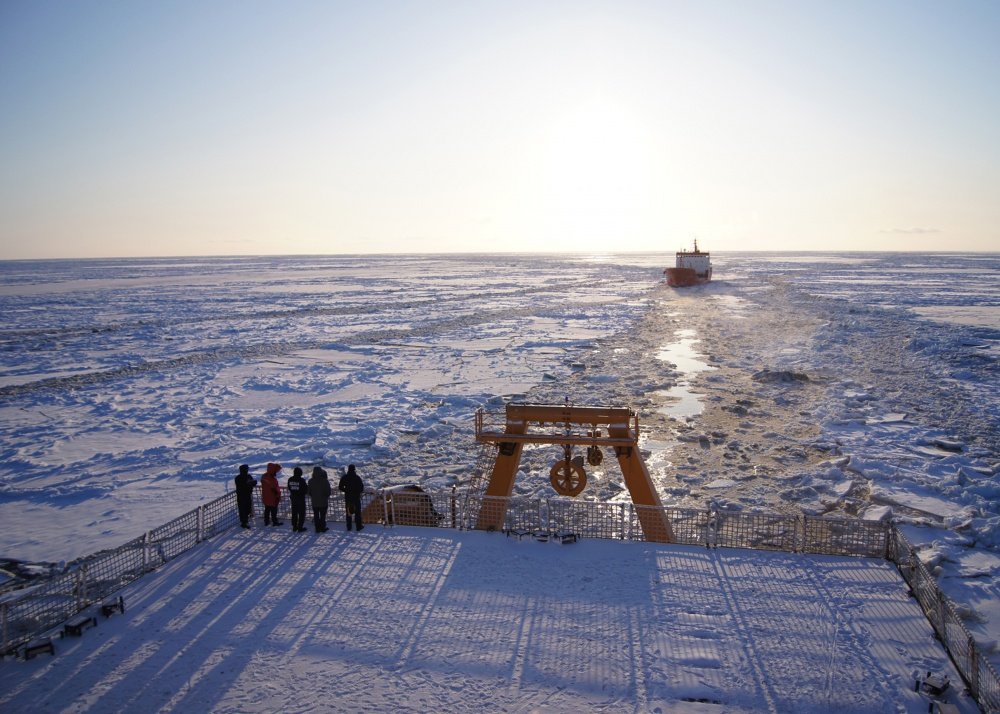 In May 2019, Secretary of State Mike Pompeo warned against China's burgeoning interests in the Arctic by asserting that the U.S. does not want "the Arctic Ocean to transform into a new South China Sea, fraught with militarization and competing territorial claims."
According to the U.S. Senate's Strategic Arctic Naval Focus Act of 2019: "The Arctic is home to 13 percent of the world's undiscovered oil, 30 percent of its undiscovered gas, an abundance of uranium, rare earth minerals, gold, diamonds, and millions of square miles of untapped resources, including abundant fisheries."
China has called the Arctic a key thoroughfare in its vaunted Belt and Road Initiative global trade route. And, to that end, Moscow and Beijing have agreed to connect the Northern Sea Route, claimed by Russia, with China's Maritime Silk Road. The countries have also teamed up to access natural gas deposits and other resources in the Arctic — and they've conducted combined military exercises in the region, too.
"China has declared that it is not content to remain a mere observer in the Arctic and has taken action to normalize its naval and commercial presence in the region in order to increase its access to lucrative resources and shipping routes," O'Shaughnessy, commander of the United States Northern Command, said in April 2019.
'No Longer a Buffer Zone'
Today, Russia has some 34 military installations in or near the Arctic, according to news reports. Russian military forces have also increased "the range and tempo of the often-aggressive nature of [their] air and sea patrols in the region," Heritage's Coffey and Kochis wrote in their March report.
"While the military threat in the Arctic remains low, U.S. policymakers cannot ignore Russia's recent activities to militarize the Arctic region. Russian infrastructure development, military structuring, and procurement have in recent years focused heavily on bolstering Russia's Arctic capabilities," Coffey and Kochis wrote.
Russia has also stood up a new Arctic Command and is building or refurbishing dozens of airfields across the Arctic. Moreover, Russia has recently modernized its ballistic submarine fleet and added new nuclear-powered icebreakers.
Since 2014, Russia has also significantly increased the pace of its warplane flybys of the airspaces of northern NATO nations, as well as U.S. airspace off Alaska. NATO jets scrambled to intercept Russian warplanes more than 200 times in 2019. With that in mind, America's Arctic focus is not limited to defending Alaska alone. Recent Air Force exercises have also highlighted America's ability to defend its NATO members with territory or airspace abutting the Arctic region.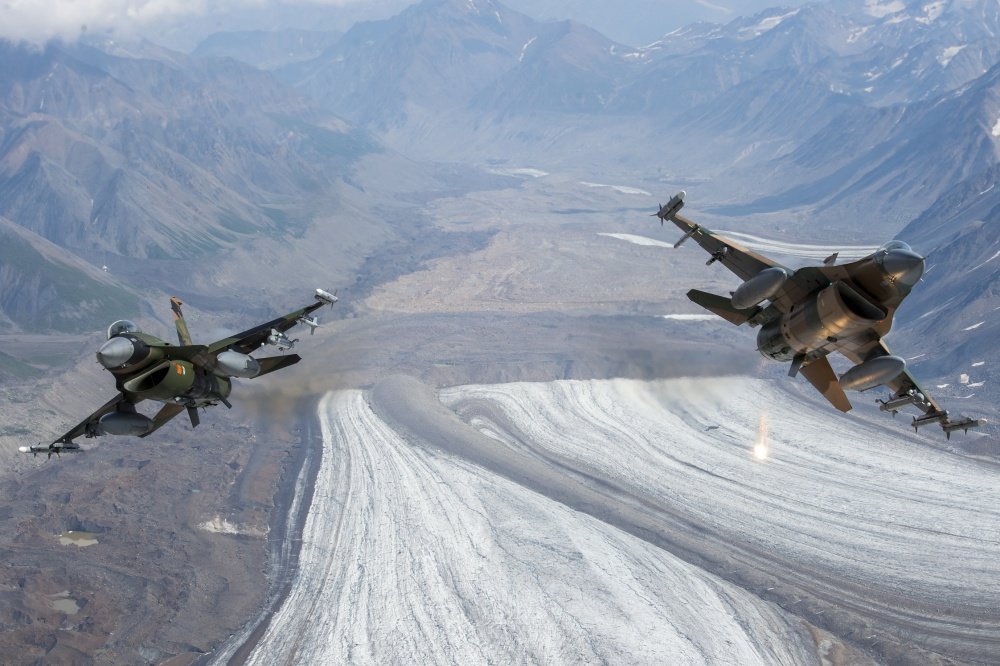 On June 3, four B-52H Stratofortress bombers launched from Minot Air Force Base in North Dakota for a round trip to Europe and the Arctic. On the flight, the American bombers linked up with Norwegian F-16 and F-35 fighter jets for training missions over the Arctic Ocean and Laptev Sea.
"The Arctic is a strategic region with growing geopolitical and global importance, and these Bomber Task Force missions demonstrate our commitment to our partners and allies and our capability to deter, assure, and defend together in an increasingly complex environment," said General Jeff Harrigian, commander of U.S. Air Forces in Europe-Air Forces Africa, according to an Air Force press release.
"The integration of our bombers across Europe and the Arctic is key to enhancing regional security," Harrigian said.
The Marines, too, have been in on the action, rotating forces through Norway for training in cold weather warfare.
"The Arctic is an area that we really need to focus on and really look at investing," Air Force General John Hyten, then commander of the United States Strategic Command, said in February 2019.
"[The Arctic] is no longer a buffer zone," Hyten continued. "We need to be able to operate there. We need to be able to communicate there. We need to have a presence there that we have not invested in in the same way that our adversaries have. And they see that as a vulnerability from us, whereas it is becoming a strength for them and it is a weakness for us, we need to flip that equation."