Amid rising tensions between the US and China, a US ambassador visited Taiwan for the first time in 42 years. On Sunday, the US ambassador to Palau, John Hennessey-Niland, arrived on the self-governed island with a delegation from Palau. Although the ambassador was present as part of an official visit by the Palau government, it is significant — marking the first visit by such an official since Washington severed diplomatic ties with Taipei during the Carter administration in 1979.
Palau is one of only 15 nations that officially recognize Taiwan as a country. China views the self-ruled democratic island as its own territory and has spoken for decades about one day "reunifying" Taipei with the government in Beijing.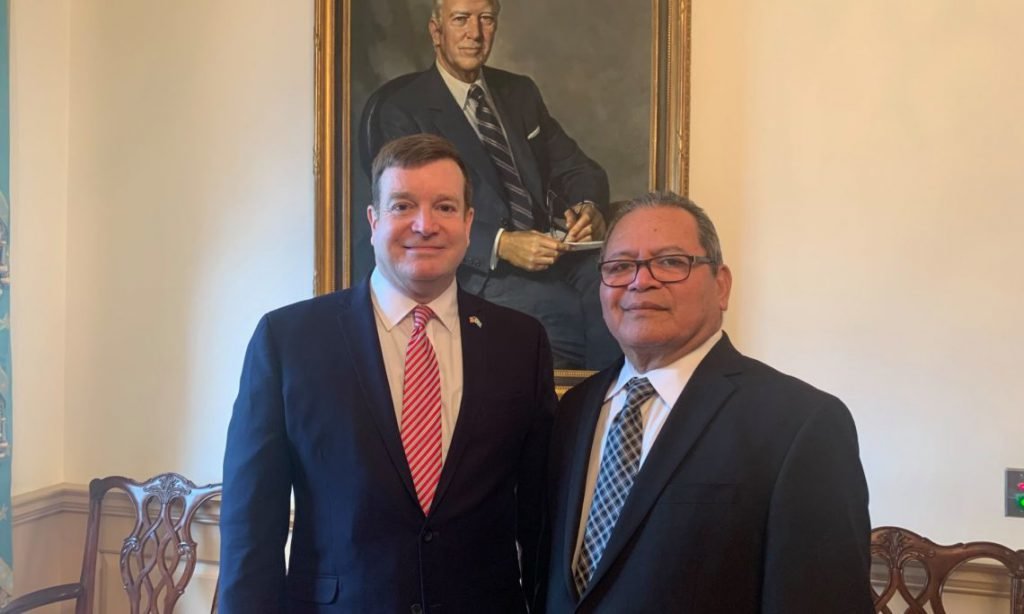 Beijing spoke out against the visit, with the foreign ministry saying on Monday it opposed Hennessey-Niland's trip.
Speaking to reporters in Taipei on Tuesday, Hennessey-Niland took the unusual step of referring to Taiwan as a country, reported Agence France-Press.
"I know that here in Taiwan people describe the relationship between the United States and Taiwan as real friends, real progress and I believe that description applies to the three countries — the United States, Taiwan and Palau," he said.
While Washington has not formally recognized Taipei as a sovereign government, it has arguably been Taiwan's most important unofficial ally and its leading arms supplier since 1979.
Additionally, Hennessey-Niland spoke strongly about China's involvement in the region. Hennessey-Niland said American ambassadors have the responsibility to express their dissatisfaction with China for its economic and political threats against Taiwan's allies. He also called on Washington to penalize Beijing for its "malicious behavior."
Hennessey-Niland stated that the TAIPEI Act — which was signed into law by then President Donald Trump on March 26, 2020 — would make an important contribution to supporting diplomatic allies of Taiwan, such as Palau, noting that Taiwan is an important partner of the US, and together the US and Taiwan can do more to assist other Pacific island nations.
The significance of the visit is being acknowledged by the Taiwanese. Lin Ting-hui, deputy secretary-general of the Taiwanese Society of International Law, told reporters that the visit is "not trivial."
Lin said it shows the US is "not shying away" from sending an ambassador to Taiwan. He said this demonstrates that American policy on Taiwan has changed to "a more positive orientation." Lin suggested that the US is no longer limiting itself to the parameters of the Taiwan Relations Act.
"It no longer hides it as it did in the past," Lin said. "Instead, it chooses to make it public."
Read Next: