At some point in time, all of us wondered about what we wanted to be when we grew up.
Some of us dreamt of becoming President or the next superstar quarterback of the National Football League. Others had more reasonable goals such as becoming a doctor, teacher, or policeman. For brothers Dan and Tim Cord, founders of the band American Hitmen, they knew from a very early age that they were born to rock.
Children at the apex of the MTV era, the two were heavily influenced by the headlining artists of their day. They found inspiration from bands like Black Sabbath and Aerosmith, whose bold and ferocious guitar riffs helped cultivate a love for music that would become a formative and integral part of their youth. Throughout high school and thereafter, the Cord brothers would play alongside friends and form several bands.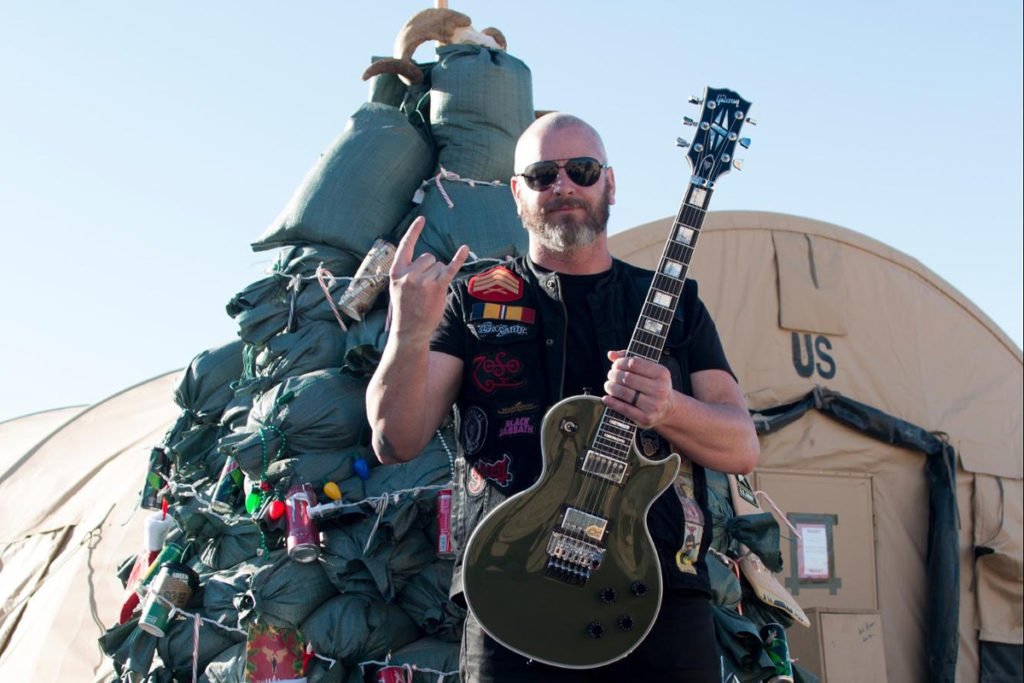 They quickly became well-known locally for their covers of classic rock songs at bars, talent shows, and other gigs. Alas, though Dan and Tim were all-in on pursuing the arduous and uncertain trek of music as a legitimate career, it was hard for them to find a lineup who were as serious as they were about achieving that.
But a series of global events would spark a change in the immediate path the Cord brothers were about to embark on. After 9/11 and the start of the second Iraq War, Dan and Tim decided to put their musical aspirations on hold in favor of enlisting in the U.S. Marine Corps.
"When the war in Iraq kicked off in 2003, I was struggling daily about putting music on hold to go serve in the Marine Corps," Dan said. "There was never a question which branch to join as my grandfather served in the Corps in World War II."
"Tim and I did everything together, so I told him I was considering enlisting and he said he would also," Dan continued. "We enlisted together and both went to boot camp on Oct. 20, 2003. He became a radio operator with 1st Medical Battalion, and I became a combat engineer with 7th Engineer Support Battalion."
"At first we weren't sure how being in the military would impact our music goals, but it actually boosted our ability to reach people through music."
It wasn't an easy decision to put their childhood dream of becoming rock stars on hold, but a greater sense of purpose and desire to serve took precedent. Little did they know that their experiences in the Marines would become the proverbial launching board to make those dreams come true. Quite simply, it would become the inspiration and basis for one of the most impressive musical treks they could have ever fathomed.
During their four years of active service and multiple deployments to Iraq, the Cord brothers continued to harness their passion for music. Whether it was at Camp Pendleton or in the midst of a war zone in Fallujah, Iraq, the Cords had their instruments on base. It wasn't just a therapeutic endeavor for them personally, it also helped boost the morale of their fellow brothers in arms.
"At first we weren't sure how being in the military would impact our music goals, but it actually boosted our ability to reach people through music. There is so much camaraderie when you are deployed," Dan said. "When it's a pitch-black night and you are hanging around the smoke pit, people would say, 'Could you learn and play "Simple Man" for me? That's my dad's favorite song?' Or they'd ask, 'Could you learn some Johnny Cash? I really love "Folsom Prison Blues."'
"In turn, my brother and I learned hundreds of songs that we never knew before because it brought joy to those around us," he continued. "The community and feeling music gave us was incredible. It allowed us to have some peace and made it feel like we were somewhere back home around a bonfire."
A few years into their service career, the Cords' rock-'n'-roll path started to become clearer. In 2005 at Camp Pendleton, they formed their first band called Scarecrow. However, that name was short-lived as they received a cease-and-desist letter due to a copyright issue with a 1980s hair-metal band who had already used it. So they changed it to American Hitmen.
During their time in the United States, the band regularly played shows across Southern California, especially when payday hit. The band would rally their fellow Marines to show up and began to amass a quality following. However, one major obstacle proved to be a significant challenge for the band: the pay-to-play music industry prevalent in the area.
"The problem is the music industry is a nightmare in Southern California. Damn near every venue you have to pay to play there. So we would sometimes fork out $1,000 for a 35-minute spot and hope we would sell that many tickets to make a dollar," Dan said. "All while making sure we were packed up and headed back to base with a little time to shower and shave before morning PT. It was an ass-kicking schedule to say the least."
"To have the opportunity to play 90 minutes or two hours of rock music and give them a break in their routine — it really meant a lot to us, especially when those units were mobilized in response to Iran's actions in Iraq while we were overseas."
In 2007, after spending four years in the Marine Corps, the Cords decided it was time to move on from the military. Inspired by their service experiences, they were as determined as ever in pursuit of their rock-'n'-roll dreams.
But the aforementioned struggles from the SoCal music scene left them completely tapped out and exhausted on funds. This prompted a move back home to Salt Lake City. Shortly after, they fell into a musical groove alongside drummer Phil Snyder and bassist David Briggs. With harmony and brotherhood in full swing, the foundations of American Hitmen were stronger than ever, and the future was just as bright.
The band released its first album, a self-titled effort, in 2009. That same year they became the first American band to play in Vietnam in over three decades, rocking crowds at the Hard Rock Cafe in Ho Chi Minh City and other venues six nights a week for seven weeks straight. In turn, American Hitmen's fanbase and musical prowess grew exponentially. The band's sophomore album, "Soundtrack of Violence," was released in 2011. But they wanted more. In 2013, American Hitmen auditioned for Season 8 of "America's Got Talent."
The band was a hit for fans and listeners, but they were eliminated by a slim voting margin in the quarterfinal round of the competition. Despite not winning it all, American Hitmen's time on "America's Got Talent" proved to be valuable, career-changing exposure.
"Being on the show taught us to take every chance you can," Dan said. "We had no idea that the decision to go to that audition would give us the publicity to tour over 30 countries as a band and also do this full-time across the United States. We took a leap of faith because we all figured the worst thing that could happen is they say 'no,' which is nothing new to a rock band."
Their success from show took their career to new heights, allowing them to play alongside world-renowned artists such as the Foo Fighters, Journey, 3 Doors Down, Staind, and Sheryl Crow. In 2015, the band's third release, "Give 'Em What They Want," received accolades and critical acclaim.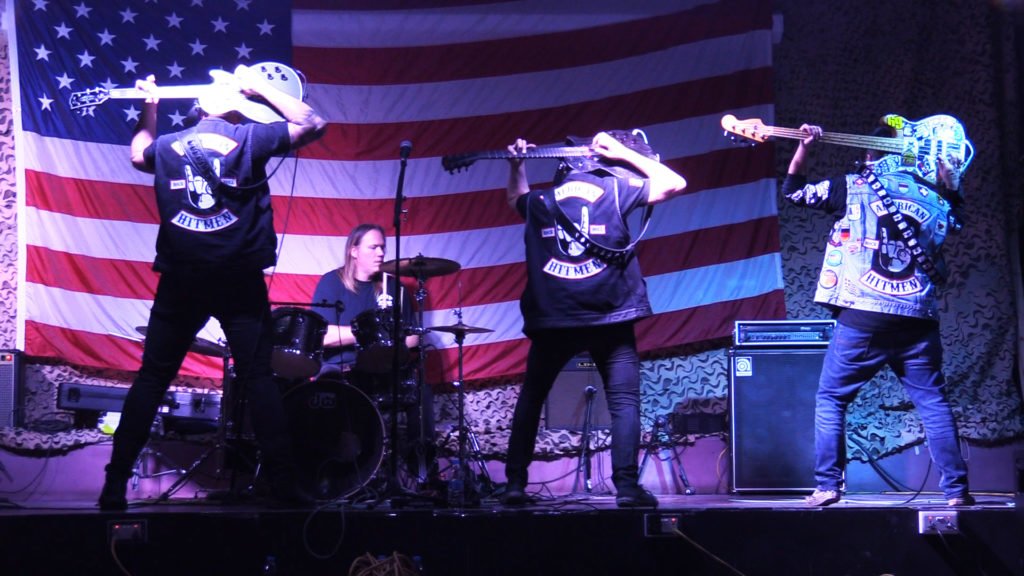 "To share a stage in front of tens of thousands of people is such a high," Dan said. "You give everything you have got for those few minutes on stage to connect with that crowd, and it's a feeling that's hard to beat when you get them going."
Over the years, some of the lineup for American Hitmen has changed, most notably the departure of Dan's brother, Tim, several years ago. Nevertheless, the band has continued to persevere and establish themselves as a key voice and support mechanism for the veteran community. With lead vocalist and guitarist Jake Isaacson in the fold, the band put together their fourth album in 2019, "Death Will Have Its Day."
Over the past holiday season and new year, American Hitmen took part in an Armed Forces Entertainment tour alongside fellow former Marine Jack Mandaville. The 16-day tour featured eight shows: four in Kuwait, two in Bahrain, and two in Jordan.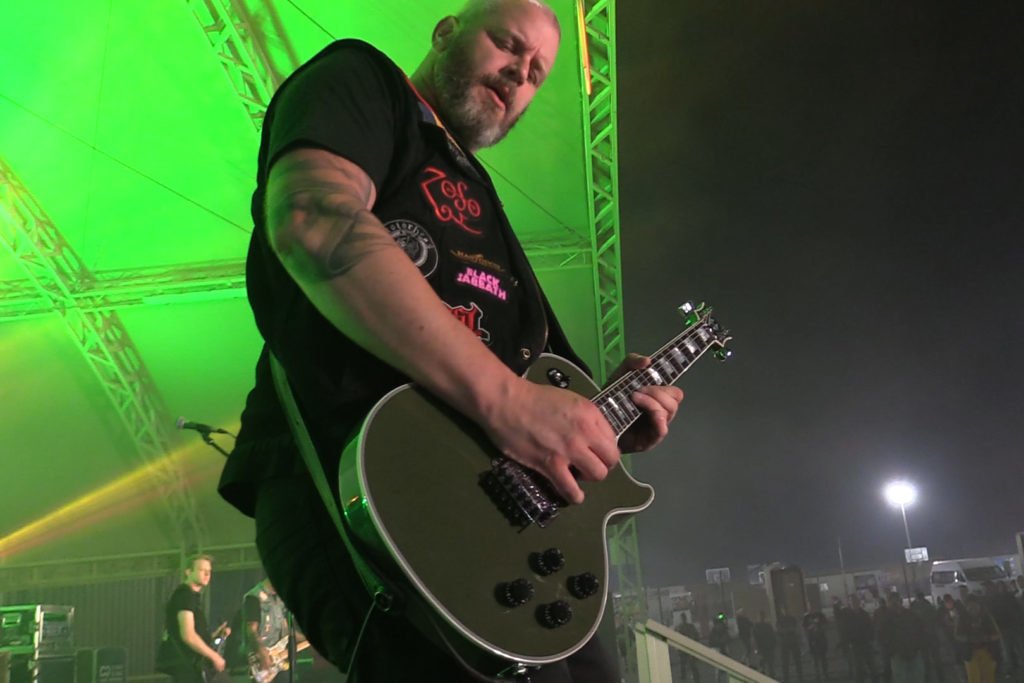 "It was absolutely humbling to be back over there and play for those guys," Dan said. "A lot of the troops we were playing for were transitioning back from Afghanistan or different deployments. It's always amazing to go out there as a veteran to be able to entertain those guys. It's a very full-circle experience, especially since most have spent time at bases me and my bandmates had been at when we served.
"As a band, we all remember the isolation of being overseas on deployment," he continued. "What is cool about tours like the one we did with Jack [Mandaville] is not just playing for those guys, but our ability and freedom to talk and get to know hundreds of different units and personnel at all the bases. We were really excited to talk to them. It's a special connection because we were in their shoes before. To have the opportunity to play 90 minutes or two hours of rock music and give them a break in their routine — it really meant a lot to us, especially when those units were mobilized in response to Iran's actions in Iraq while we were overseas."
In addition to rocking out for service men and women overseas, American Hitmen were advocates for Guitars 4 Vets, a nonprofit organization focused on helping veterans who are struggling with PTSD and the aftermath of war. Guitars 4 Vets supplied Cord with a custom Gibson Les Paul — the Rolls Royce of guitars — to help raise awareness for the organization's goals and mission. Only 14 of those custom guitars were made.
Since their inception, Guitars 4 Vets has donated more than 4,000 guitars and 40,000 lessons to military veterans who are struggling from post-traumatic stress disorder and readjustment.
"If there are veterans out there who are struggling, they are there to help. Music can help you find a purpose," Dan said. "It's exactly what I did, and it helped me. It can help you put all those feelings you have into a creative outlet. If you don't have the financial means to do it on your own, they will help you get started. I encourage veterans to be a part of what they are doing."
American Hitmen's dedication to music and their support of the veteran community is remarkable. It also serves as a reminder that with the right attitude and effort, achieving the unthinkable is possible.
"You have to love music and truly believe in your music in order to stay positive," Dan said. "That being said, no matter what you go through as a band and all the insane shit this industry throws at you, there is nothing like connecting with a crowd through your music — no matter the size of the audience or language they speak."