The American Legion Department of Ohio suspended the charter of a post and demanded the resignation of its post officer following an incident during a Memorial Day ceremony in which organizers silenced a speaker's microphone during part of a speech that highlighted Black people's role in creating the holiday.
"The American Legion Department of Ohio does not hold space for members, veterans, or families of veterans who believe that censoring black history is acceptable behavior," the state organization said in a press release Friday.
Retired Army Lt. Col. Barnard Kemter was speaking during a ceremony in Hudson, Ohio, and began to share a story about newly freed slaves being among the first to commemorate Memorial Day in 1865 by giving Union soldiers at a Confederate prisoner-of-war camp a proper burial, decorating their graves with flowers, and organizing a parade to honor them. The microphone was then turned down for about two minutes, the Akron Beacon Journal reported.
Cindy Suchan, chair of the Memorial Day parade committee, said she asked the event's audio engineer to turn off Kemter's microphone, but the engineer refused to do it himself, only pointing to the knob that controlled the volume, the Journal reported. The audio engineer said Jim Garrison, adjutant of Post 464, turned down the microphone.
[vimeo id="557283139″ /]
"That was very improper," the engineer said, according to the Journal. "I would've never done something like that."
Ohio Legion officials said they discovered the censoring was "premeditated," with organizers having obtained a copy of the speech and planning "exactly when to turn the volume down and when to turn it back up."
Suchan later said the silenced portions were "not relevant" to the program and that the "theme of the day was honoring Hudson veterans," the Journal reported.
"I find it interesting that [the American Legion] … would take it upon themselves to censor my speech and deny me my First Amendment right to [freedom of] speech," Kemter told the Journal. "This is not the same country I fought for."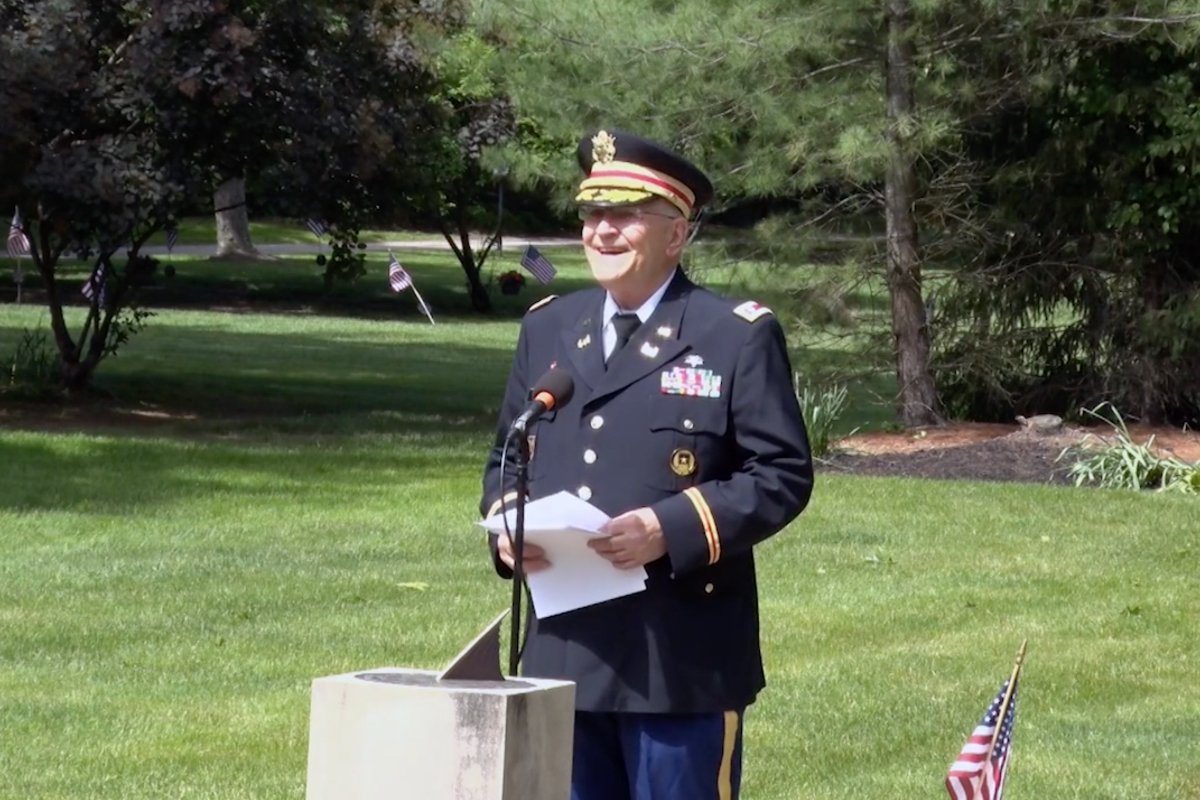 Garrison resigned as post officer, and the American Legion Department of Ohio has asked him to resign his membership altogether. The state organization is also seeking permanent closure of Post 464.
The Hudson City Council and mayor released a statement condemning the censorship and posted Kemter's full speech on its website.
Read Next: 'Go for Broke' Postage Stamp Honors Japanese American WWII Soldiers