"What do we do if we run into the PMF?" asked Sergeant Corbin Mason during a briefing for a mission outside of Q-West Airbase in Iraq. The soldiers being briefed are members of the U.S. Army's 1-25 "Arctic Wolves" out of Fort Wainwright, Alaska. Their platoon was getting ready for what would be its first mission in the area surrounding the base — though the soldiers had already been on a surprise mission to Syria supporting their comrades during the sudden American withdrawal in October.
The PMF, or Popular Mobilization Forces, are a collection of mostly Shia militias that operate in the country under the umbrella of Iraq's Ministry of Defense. Technically, the Americans and the PMF are on the same side — against ISIS — but some factions of the PMF are known to have close ties to Iran.
The mission was a straightforward meet-and-greet at a local village and a sit down with the sheikh — simple in theory. But on November 8, just a little over a week before this mission, rockets had struck Q-West, an Iraqi base that hosts a sizable contingent of coalition troops. Iraqi troops that responded found the truck that had launched the rockets. ISIS doesn't have the resources or territory to have pulled off a rocket launch on the scale the soldiers had seen, so a Shia militia group was the more likely culprit.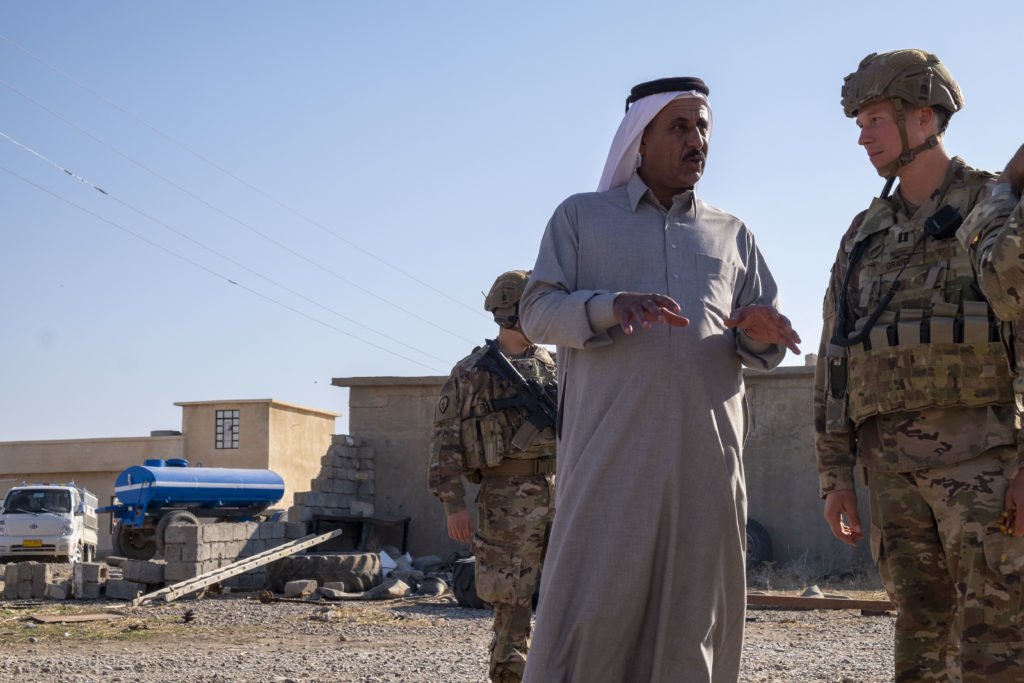 Sergeant First Class Eric Cole, the platoon sergeant, responded to the questioning soldier by saying that the PMF aren't their enemy, and that if they did encounter them, they would act professionally and follow the standard rules of engagement. He told the soldier that if for some reason the situation became hostile, the Americans would work to de-escalate and break contact. Though he added that if the militiamen opened fire on the Americans, they'd defend themselves. "You know what to do," he said.
Captain Colin Grant, the soldiers' company commander, warned them that Iranian-linked elements might try to antagonize the Americans to bait them into shooting first to score a propaganda victory. "We're not looking for a fight," he reiterated.
Attacks against Iraqi and coalition forces take place in an increasingly complicated political environment. Anti-government protests have raged across the country since October, leading to the resignation of Iraqi Prime Minister Adel Abdul-Mahdi and his cabinet. The protests are driven by a deep frustration with corruption, economic stagnation, and increasing anger at Iranian interference in Iraqi affairs. Violent crackdowns against the protesters have by some estimates now killed more than 600 People.
Now American troops and commanders, caught in the middle, are trying to delicately navigate this new reality while continuing their mission against ISIS and trying to avoid getting sucked into new conflicts.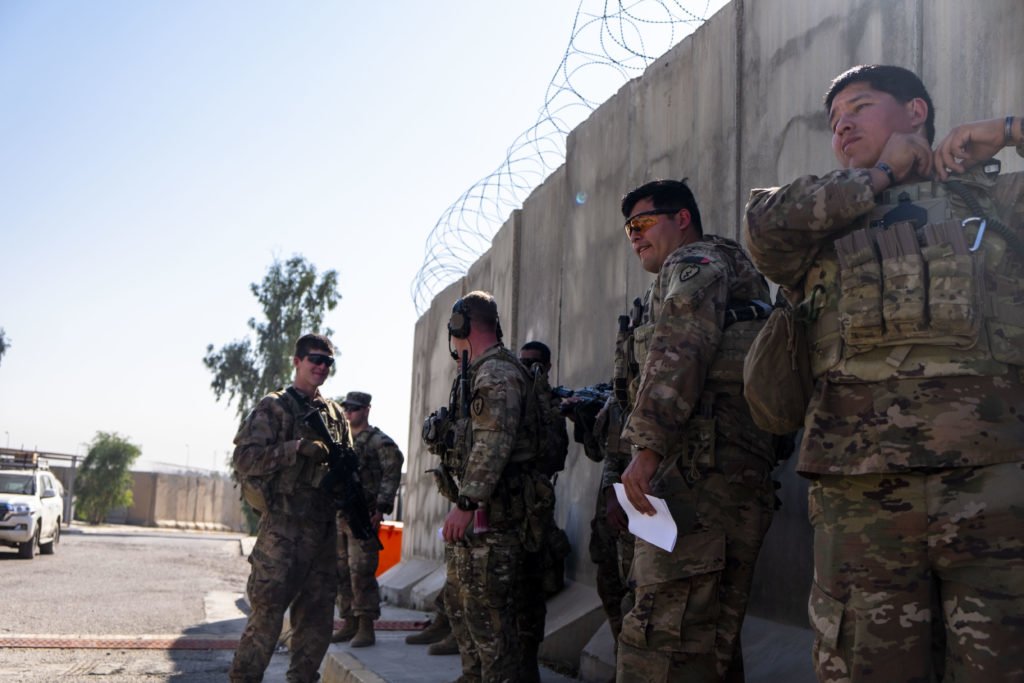 The November 8 strike on Q-West was neither the first nor the last rocket attack on Iraqi and coalition forces this year. On December 3 at 6:52 PM, seven 122mm rockets impacted inside the perimeter of the Iraqi air base in Al Asad, Iraq, near coalition forces. Two days later, rockets hit Balad.
"After the Al Asad attack, the Iraqi army responded to the point of origin and found a rocket-rigged truck with seven empty rocket tubes and eight additional unfired rockets," said a U.S. official with knowledge of the attack. "Multiple credible sources indicate the attack was likely conducted by Iran-aligned Shia Militia group Kata'ib Hezbollah."
"There are several particularly troubling aspects of these attacks," said the official. "The December 3 attack included 122mm rockets. Previous attacks were of the 107mm variant, which has a shorter range and carries less explosive power than the 122mm variant. The 122mm rockets from the Al Asad attack are more dangerous and can be fired from a greater range. These rockets are launched from sophisticated improvised rail systems … there were clear indications linking several of these attacks and the 122mm attack, especially to Iranian-backed militia groups."
On December 9, Iraqi militias with ties to Iran launched a rocket attack against an Iraqi Army facility at Baghdad International Airport that wounded five Iraqi soldiers, and they launched another attack on December 11. "[We] remind Iran's leaders that any attacks by them, or their proxies of any identity, that harm Americans, our allies, or our interests will be answered with a decisive U.S. response," said U.S. Secretary of State Mike Pompeo in a press release.
On December 27, another rocket strike hit an American compound on an Iraqi base near Kirkuk, killing one American contractor and wounding several U.S. and Iraqi troops. These are the first American casualties since the campaign of rocket attacks began. More than 30 rockets hit the base during the attack.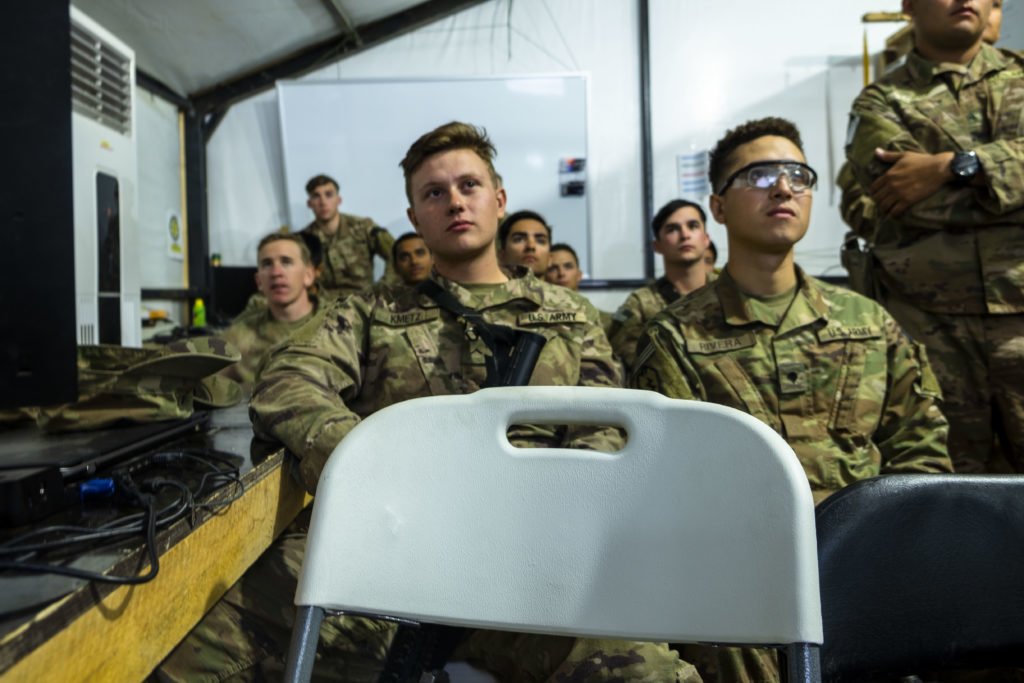 Kata'ib Hezbollah, the group believed to be behind many of the rocket attacks this year, is a Shia militia group with close Iranian ties that has been active in Iraq since the American invasion. Today it officially operates as the 45th Brigade of the PMF.
In many ways, the increased attacks shouldn't come as a surprise. Kata'ib Hezbollah announced in August that it intended to strike U.S. positions with rockets in retaliation for a series of Israeli drone strikes against several PMF facilities that killed several fighters over the summer. Members of the group asserted that Americans had allowed the attacks, and some Iraqi militiamen even alleged that American aircraft had also participated.
American officials previously confirmed that Israel was behind the strikes but insisted that U.S. forces weren't involved and didn't approve the strikes — and stressed that the Iraqi Air Force ultimately controls Iraqi airspace. "Whenever the Israelis do something, we ultimately end up taking the blame. That's just the nature of things," one American officer in Baghdad told Coffee or Die.
The PMF came into existence in 2014 after the Iraqi Army's defenses in Mosul fell apart and ISIS militants took control of the city. In response, several militia groups formed to fight ISIS and began marching north. Many of them were hardline Shia militias that had been active during the Iraq War that merely reconstituted themselves; others were new groups. While some Sunni, Christian, Yazidi, and mixed PMF units exist, the vast majority of the militias are Shia dominated.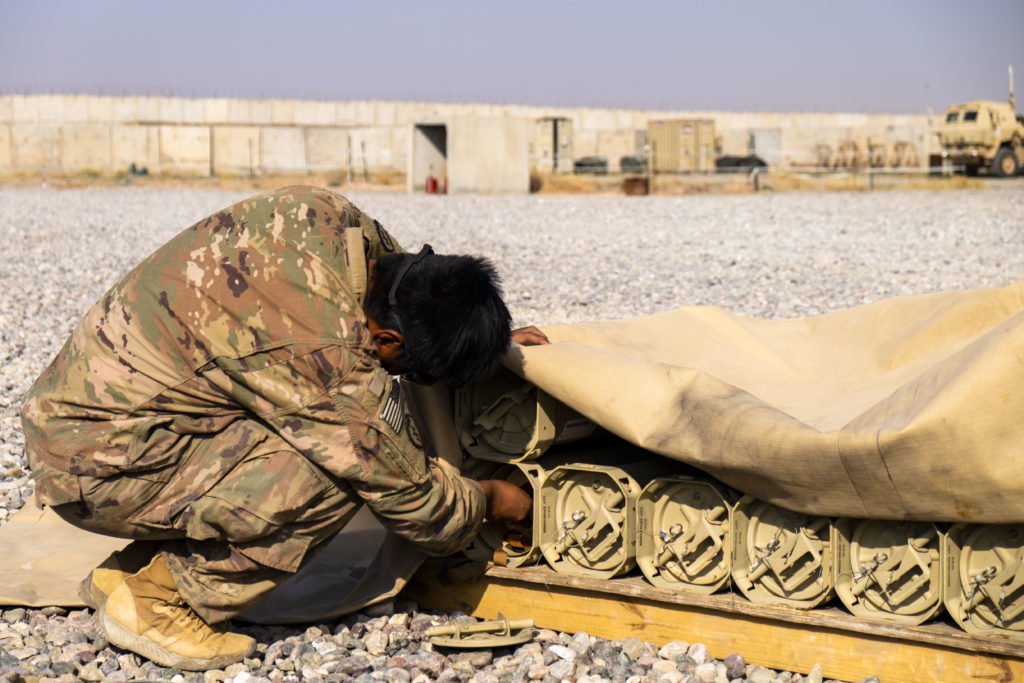 Kata'ib Hezbollah originally formed in 2003 and became infamous during the coalition's surge of forces in 2007 when it began attacking American and coalition forces using Iranian-supplied explosively formed penetrators (EFPs), an especially deadly form of improvised explosive device (IED) that pierces through armor. It's the only faction of the PMF designated by the U.S. government as a foreign terrorist group.
The group's commander, Abu Mahdi al-Muhandis, has close ties to Iran and many of Iraq's political elites. He was born in the southern city of Basra to an Iraqi father and Iranian mother. He fled Iraq in 1979, after Saddam Hussein banned the Shia Dawa party. He became an Iranian citizen and married an Iranian woman. He returned to Iraq after the American invasion and served a stint in parliament in 2005 as a representative for the Dawa party.
Muhandis has particularly close ties to Iranian Quds Force's General Qassem Soleimani and is widely considered the general's most reliable man in Iraq. His ties to Iran's Quds Force allegedly go back decades, including his suspected involvement in a 1983 bombing of the U.S. and French embassies in Kuwait that killed six and injured many others. At Soleimani's request, Muhandis sent Kata'ib Hezbollah fighters into Syria to aid the regime of Bashar Al Assad in its fight against Syrian Rebels.
The factions of the PMF vary wildly in professionalism, effectiveness, and conduct. Rights groups accused several factions of extrajudicial killings, torture, looting, and ethnic cleansing. However, they also proved vital in protecting embattled communities and confronting ISIS as the Iraqi Army struggled to regain its footing.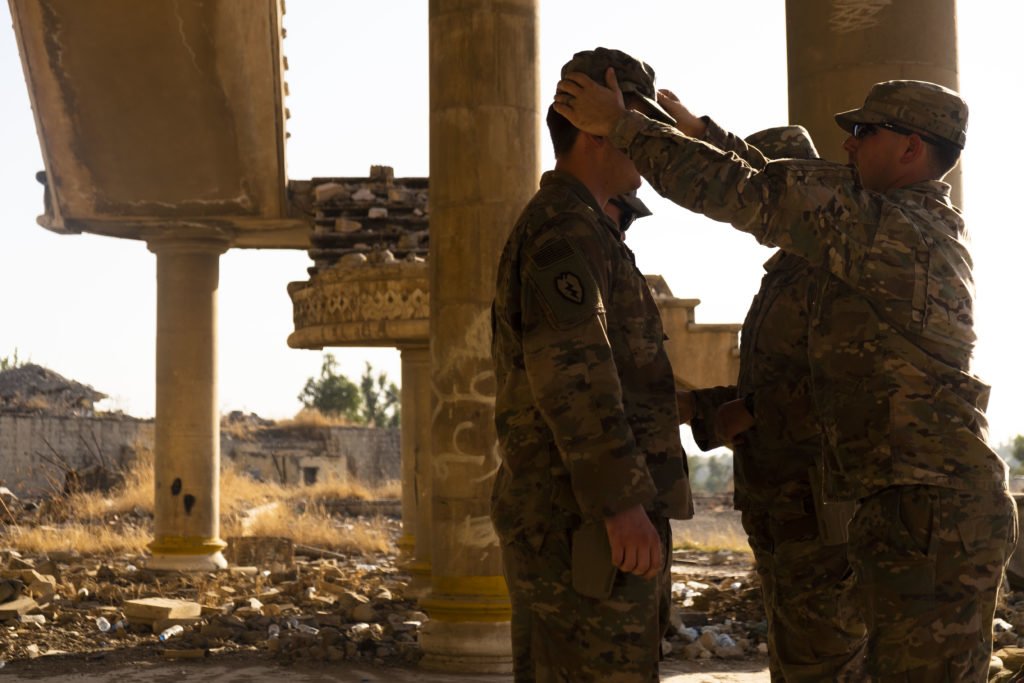 When ISIS forces began moving in on the ethnic Turkmen town of Amerli, many humanitarian groups feared an inevitable genocide against the mostly Shia residents similar to the militant's attack on Yazidis in Sinjar. However, the PMF was able to reach the town quickly and defend it against ISIS, saving the town's residents. The Battle for Amerli proved to be a unique moment — American warplanes provided air support while Iranian advisers directed fighters on the frontlines.
Kata'ib Hezbollah was among the groups with fighters on the ground. Soleimani himself even visited the town during the battle as American air power supported the militiamen below. But the battle had a dark epilogue as militiamen began looting homes that had belonged to Sunni residents and telling others to leave. After the battle, one frustrated Kurdish Peshmerga commander told Reuters that the militias were the "Shia Islamic State."
Elsewhere, other PMF factions fought to protect minorities and ensured they were able to return to their homes. Some Sunnis even began joining Shia-led militias to fight alongside their fighters after their towns were liberated. "The United States doesn't really have a full understanding of who all is in the PMF," said one American officer. "Honestly, I don't think the Ministry of Defense really knows who all these guys are either."
Today, American troops occasionally cross paths with members of the PMF as they conduct operations across the country. "They sometimes flip us off when we're moving through checkpoints," said an American infantryman stationed in Mosul. "It's a weird relationship, but they're not the enemy."
"The United States doesn't really have a full understanding of who all is in the PMF. Honestly, I don't think the Ministry of Defense really knows who all these guys are either."
Another infantryman in Mosul described a tense encounter with Iraqi militiamen outside the city that required the use of a contracted linguist to diffuse the situation so the Americans could return to their base.
The PMF is now technically under the command of the Iraqi Ministry of Defense. On July 1, Abdul-Mahdi signed an order declaring that the Popular Mobilization Forces must integrate into the Iraqi Military by July 31. On paper, the decree was meant to rein in the militias by outlawing the movement of forces and stockpiling of weapons without the defense ministry's knowledge or permission.
While some praised the move as a step toward bringing them under control, other Iraqis warned that the move legitimized bad actors. When leadership became centralized, Muhandis used his connections to become deputy commander of the PMF in addition to leading Kata'ib Hezbollah.
Efforts to bring the PMF under the government's control have had mixed results, and several factions have continued to act on their own.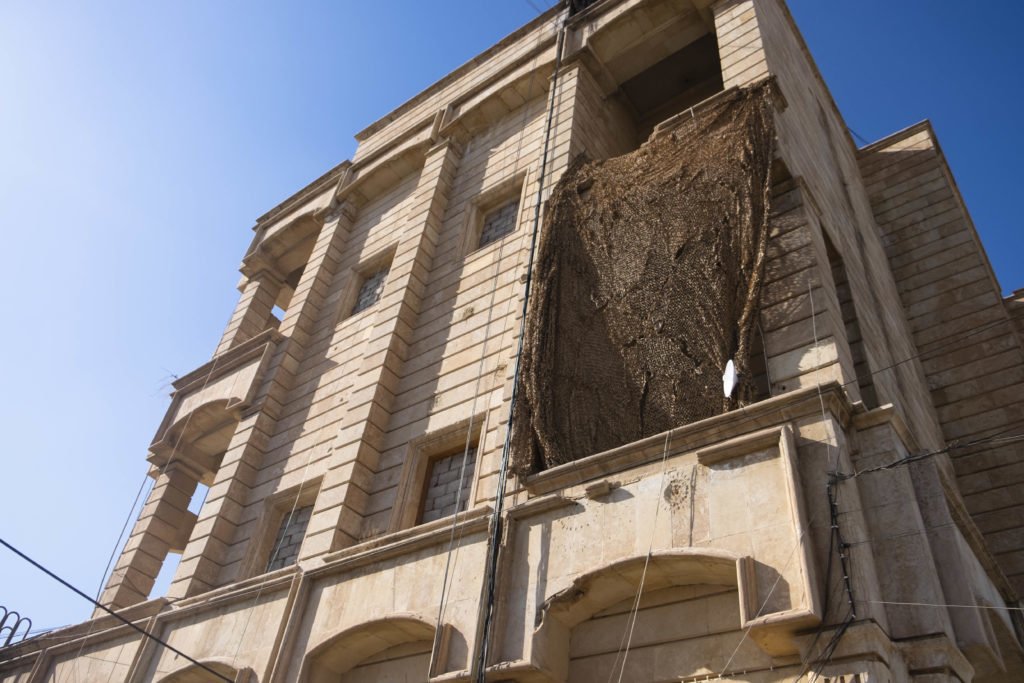 During the summer, internal rifts between PMF factions boiled into a series of fights east of Mosul between the 30th Brigade (Liwa Al-Shabak) and the 50th Brigade (Kata'ib Babiliyun). The groups clashed with each other, with the Iraqi Army, and with local Iraqis. Mosul residents have complained that some PMF members regularly engage in extortion, robbing local people, and intimidating local leaders — often along religious and sectarian lines.
The wide mix of armed men manning scattered checkpoints means it's very difficult to figure out who is in charge in some parts of the country. Arguments over authority are commonplace.
American troops don't conduct operations "outside the wire" in Iraq without the approval of Iraqi officials and must travel with either Iraqi Army or police when they do. Even U.S. special operations troops usually conduct their operations alongside their Iraqi special operations counterparts. That sometimes means waiting for approval from Iraqi officials that isn't guaranteed. Even simple meet-and-greets with local leaders and commanders regularly get postponed or outright cancelled.
"The biggest adjustment is asking for permission," said Sgt. 1st Class Ruben Sepulveda, an infantryman in Mosul who has deployed to Iraq several times, including to Ramadi during The Surge. However, he said he also considers it a welcome change as he thinks it shows that the Iraqis are running things, and that's the way it should be in their country.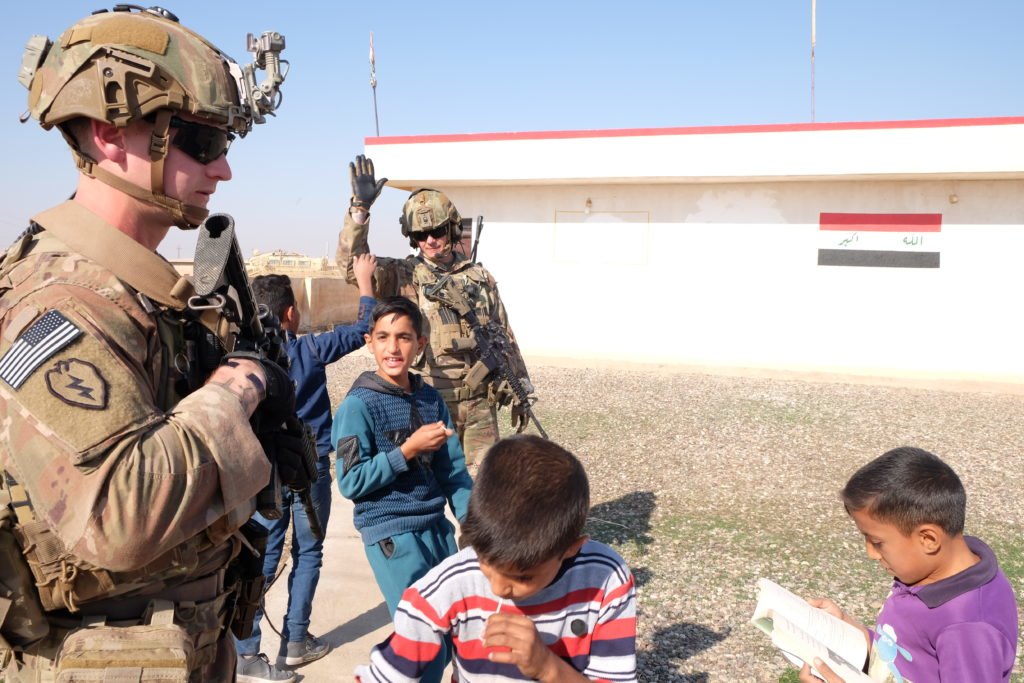 However, Iran has regularly used its political influence to shape Iraqi operations. In late September, Abdul-Mahdi demoted Lieutenant General Abdul-Wahab al-Saadi — a popular army officer — from his post as the commander of the country's elite counterterrorism forces. Saadi had played a central role in the fight to liberate Mosul and was one of a handful of officials to enjoy both widespread public approval among Iraqis and have a good working relationship with the Americans. His replacement was an officer known to have close ties to Iran, leading to outrage in many corners of the country.
Protests broke out soon after. While Saadi's demotion may have played a role in sparking protests, the activists' grievances ran much deeper. After protests erupted, Soleimani took a late night flight into Baghdad from Iran and took a helicopter to the heavily fortified Green Zone where he chaired a meeting of top Iraqi security officials in place of the prime minister. "We in Iran know how to deal with protests," Soleimani reportedly told the surprised Iraqis. "This happened in Iran, and we got it under control."
Soon after, both protesters and members of the security forces reported taking fire from snipers on rooftops in Baghdad, resulting in several deaths. Some Iraqi security officials told Reuters that Iranian-backed militias had deployed the snipers. In response, several protesters seized high rooftops to prevent snipers from using them. Since then, mysterious masked men have fired on and kidnapped activists. Many of the forces attacking protesters have used Iranian munitions, some of which Iraqi officials say was never imported into the country through official channels and have no government records associated with them.
The protests have divided members of Iraq's security forces, many of which share the protester's grievances and have friends and family taking part in the protests. Further complicating the situation, members of the Iraqi security forces have at various points both attacked and joined the protesters.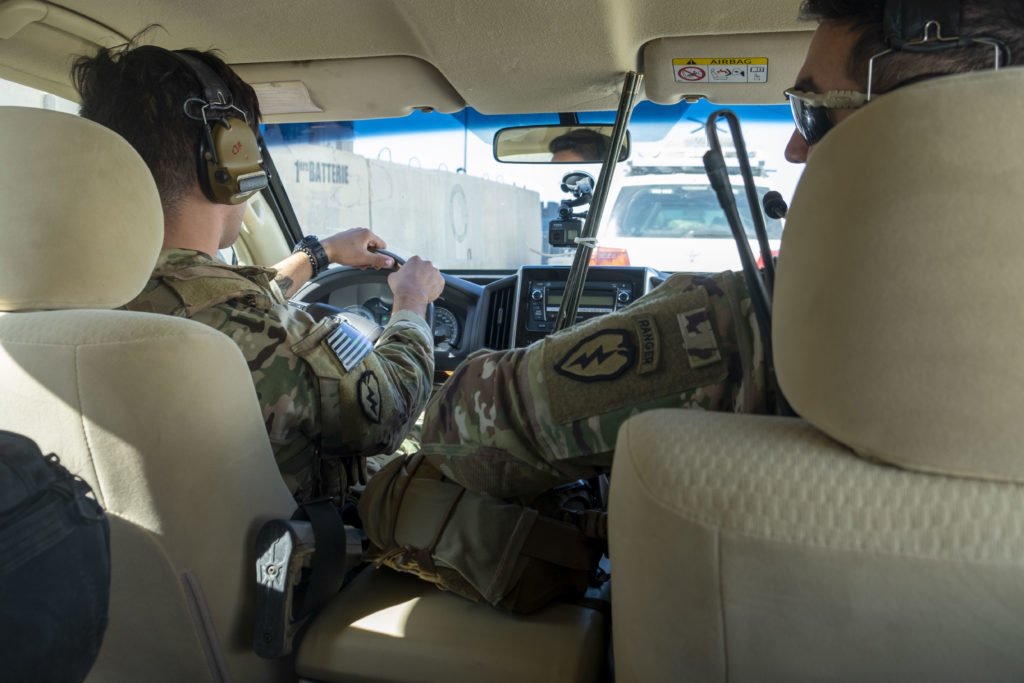 As protests intensified, Muhandis made a statement denouncing them, proclaiming, "We are aware that a temptation is being driven by foreign agendas in order to destabilize Iraq through the protests." He added that "the PMF will interfere at the right time." However, a group of Iraqi fighters posted a video response online condemning Muhandis and supporting the protesters. "We will say no al-Muhandis … we are familiar with winning, not standing against our own people," a fighter said in the video. The fighters also warned Muhandis against taking orders from "devils."
It's not clear which faction of the PMF the fighters belonged to, but the video went viral in Iraq. The PMF media office released a statement insisting that the fighters in the video are "not representative" of the paramilitary group. "The PMF is fully supporting the peaceful protests in Iraq and their legitimate demands," the statement continued, appearing to distance the PMF from both the fighters in the video and from Muhandis' apparent threats against protesters.
"The PMF, in general, are heroes. They're heroes of this country and to the local population. They've done a lot of good and they are absolutely not our enemy," said Lieutenant Colonel Stephen Thibodeau. "I would say the piece of this that doesn't get enough attention is that these individuals out there love their country, they are absolutely committed to their country, they filled a need that the security forces had at a certain time against a common enemy that was tearing at the fabric of the country."
He admits that the PMF is a complicated factor in Iraq but insists that most of the militiamen are eager to join the Iraqi security forces and officially wear their country's uniform.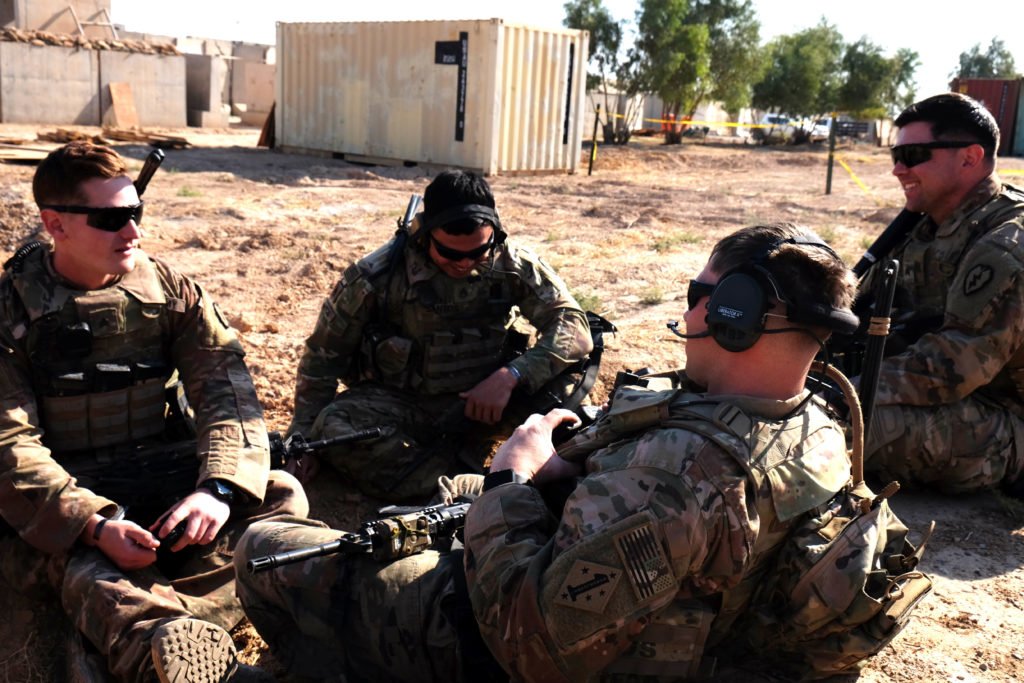 Thibodeau is the commander of the 2-8 Artillery Battalion currently operating out of Q-West Air Base. After rockets struck their base on November 8, Iraqi troops quickly responded and seized the truck that launched the rockets, while Thibodeau's artillerymen launched counterfire. In the days after the strike on Q-West, troops on the base increased their training shoots, firing live rounds into the desert.
"[It's to say], you know, 'don't fuck with us, this is what we have,'" one artilleryman told Coffee or Die a week after the attack. "Our battalion commander wants us to fire all six guns and say, 'This is what we got, don't do it again.'"
However, Thibodeau's troops are mostly focused on hitting ISIS targets in support of Iraqi forces — including members of the PMF. Even as protests rage in the south and mysterious rockets fly, Iraqi troops are continuing to conduct clearing operations and raids against the insurgents while supporting coalition forces in northern and western Iraq. "I'm not here to give you what you don't want," Thibodeau said of his relationship with Iraqi security forces. "You need to tell me what you want in this role."
The coalition also continues to put a major emphasis on training Iraqi troops and police to fight ISIS — as well as conducting day-to-day operations. Q-West regularly hosts training for Iraqi police forces, and the most recent iteration of training has emphasized crowd control tactics — especially non-lethal tactics. "We are emphasizing more of it because of the protests," said Vinny, an Iraqi refugee turned American linguist who works with coalition advisers at Q-West.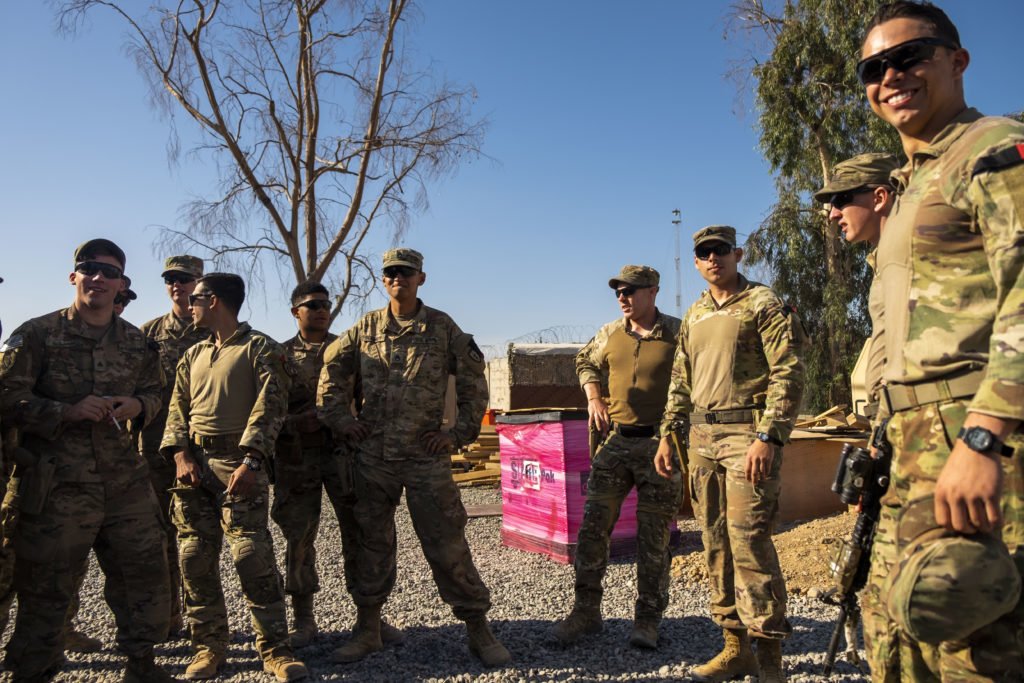 "What we see in Baghdad is something out of control. And they see it on TV, and they talk about it, and they're not happy with it," Vinny said of the Iraqi police officers. "They're afraid of the negative impact and what it means with their reputation and relationship with their people."
The protests are continuing across the country. Protesters have attacked Iranian diplomatic posts and have defiantly continued to camp out in streets of Iraqi cities demanding change. Several American troops silently expressed their respect for the protesters. "It's good to see them standing up to their government," said one infantryman. "I can't think of anything more American than that."
But American troops and commanders nearly unanimously stressed that they had no desire to get involved in Iraq's internal disputes. In particular, veterans of Operation Iraqi Freedom wanted to focus on fighting ISIS rather than getting sucked into other conflicts. They said their hope is to defeat the terror group and let the Iraqis be. However, as the State Department and Pentagon's statements on Iranian groups become more aggressive, it's a reminder of how quickly the mission can morph and change. Though Pompeo and other Trump administration officials have talked up their intention to curb Iranian influence in Iraq, Pompeo recently submitted plans to congress that lay out significant permanent cuts to America's diplomatic presence in the country."
Since then, ongoing rocket attacks have killed an American contractor and wounded several U.S. and Iraqi troops. After the administration's tough talk on the rocket attacks, Iran's proxies in Iraq are waiting for the Americans' next move. They didn't have to wait long.
On December 29, Coalition forces struck three Kata'ib Hezbollah targets in Iraq and two in Syria, killing at least 12 fighters. "In response to repeated Kata'ib Hezbollah attacks on Iraqi bases that host Operation Inherent Resolve (OIR) coalition forces, U.S. forces have conducted precision defensive strikes … that will degrade KH's ability to conduct future attacks against OIR coalition forces" chief Pentagon spokesman Jonathan Hoffman said in a statement.
Vinny, who was born and raised in southern Iraq, said that whether Americans want to hear it or not, America may never truly be able to leave Iraq in its rearview mirror. "You have to be involved in this part of the world, if you are the United States you are. You can't run away from reality," he said. "It's going to go back to haunt America again and again … You came and took a dictator off and replaced it with a government, but you didn't finish the job and just said 'I'm done with you.' You left it fragile, and it broke right away. [Now] you can't run away."
This article is part of a series following the 1-25 Arctic Wolves' deployment to Iraq and Syria. The next installment will take a closer look at life for soldiers on the ground in Mosul.