Seven officers leap from a pickup truck and charge together toward a dark BMW.
Five body cameras recorded the attempted arrest and subsequent shooting of Andrew Brown Jr. on April 21 by Pasquotank County sheriff's deputies in Elizabeth City, North Carolina. But the videos reveal not much more than a muddled rush of motion, guns, and yelling during a deadly confrontation that ends in 17 seconds as the BMW speeds away, with Brown mortally wounded inside.
But from those shaky images and evidence gathered at the scene, a local prosecutor announced an emphatic decision Tuesday: The three officers who fired at and killed Brown were "justified" and will face no charges.
In an hourlong and sometimes combative press briefing, District Attorney Andrew Womble said, and repeated several times, that sheriff's deputies attempting to arrest Brown faced a "real and perceived" threat as Brown used his car as a "deadly weapon."
Their actions, he said, met the legal burden of "reasonable" judgment, and their shots were all justified.
"If the first shot is justified, the last shot is justified," Womble said. He said he decided that the officers were justified under both North Carolina law and a unanimous 2014 Supreme Court decision, Plumhoff v. Rickard, that held that police officers are allowed to shoot at a fleeing vehicle as a matter of public safety, and need not limit their fire until they believe the threat is over.
Womble's decision and his analysis of the shooting are at odds with that of Brown's family, who, after viewing the same videos, said the deputies had "ambushed" and "executed" the 42-year-old Black man in his car.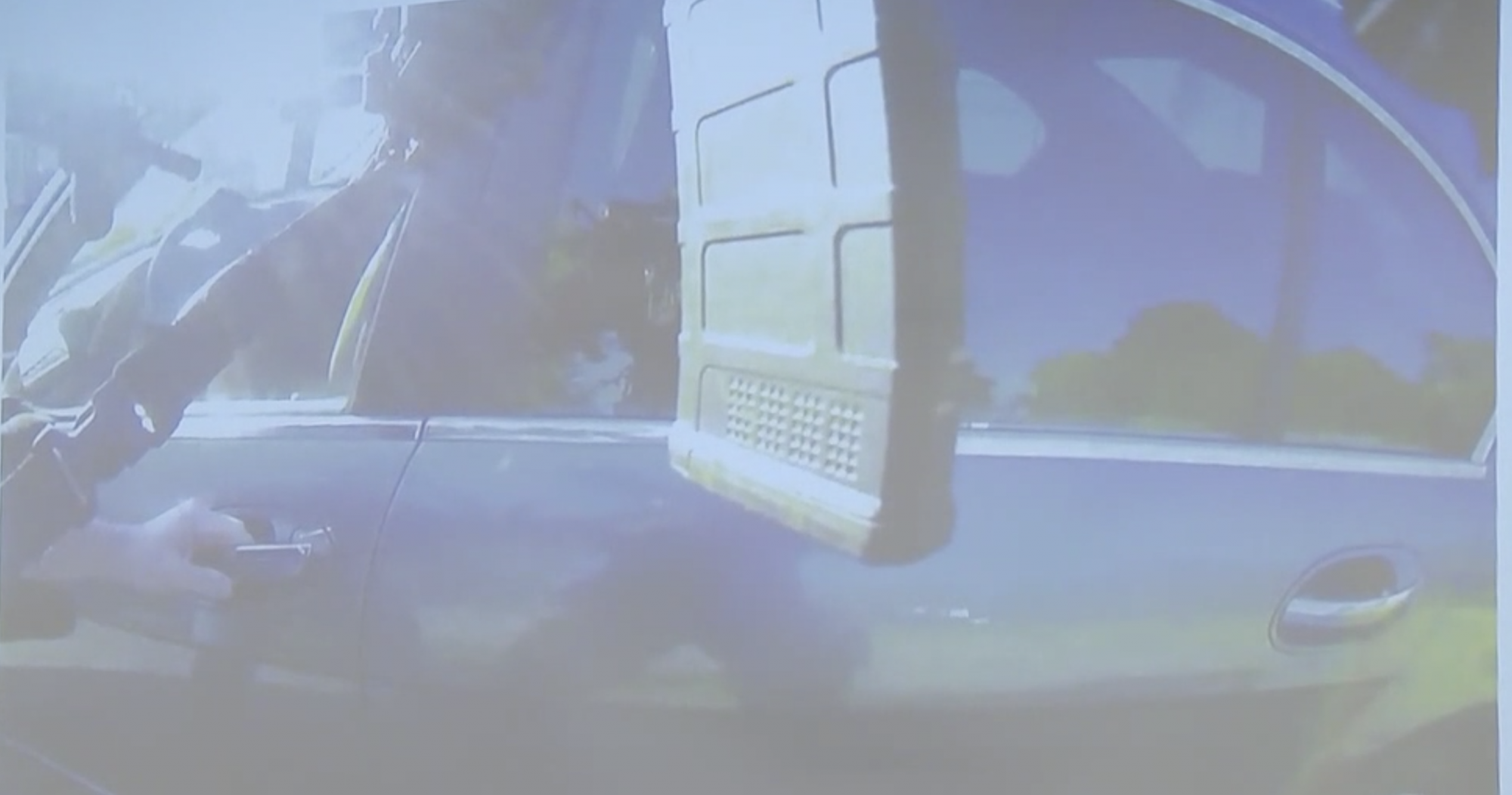 Other activists in North Carolina reacted with frustration and anger. "It's very frustrating," Gerald Givens Jr., president of the Raleigh/Apex NAACP, told WRAL. "Public trust in law enforcement is essential to effective policing and safe communities. With trust between, they can work together in enforcing law and protecting freedom."
Givens was one of many activists and media organizations who have sought release of the body-cam videos. Womble opposed their release in court by memorably saying, "You can't swing a skunk in front of a group of people and tell them not to smell it."
Womble said he meant the remark to mean that release of the tapes could taint public opinion and his ongoing investigation, but activist and Brown's family said they found the comment in poor taste and possibly racist.
Referencing the controversy Tuesday, Givens said, "Today we smell a skunk. What I saw was a Black man trying to save his life. I'm a veteran and I can imagine what he thought as he heard gunshots. He was trying to save his life."
Givens said Womble's job "is not to create a narrative. His job is to find justice. And today he provided a narrative."
During the press conference, Womble confirmed that Brown had no weapon in the vehicle on the morning of April 21, but he said a "silver dollar"-sized bag of methamphetamines was found in his mouth. Brown had, Womble said, a history of resisting arrest and had barricaded himself in one case.
Womble laid out his analysis of the events of the morning, showing the incident through several videos. The incident moved with lightning speed:



Officers arrive in a pickup truck at a home, leap from its bed, and run perhaps 10 yards to Brown's car. All the deputies are armed, most with M4-style rifles, and in tactical armor. They immediately surround the front of the car and begin to yell rapid, curt orders including "stop" and "hands." At least one deputy attempts to open the car door, which is locked.




Brown immediately puts the car in reverse and briefly backs up.




The officers then fan out in a semicircle around the car with several feet between them.




Brown begins to drive forward, turning left toward a gap in the officers, toward an open grass field.




One officer sidesteps the front of the car and pushes off the hood with his left hand. In his briefing, Womble said this officer "had to spin" out of the way, though he plainly only sidesteps in the video.




Officers then begin firing, though audio of this portion of the clips is muted. Womble said the first shot at Brown was through the windshield, while the remainder were from the side and rear of the car.




The car pulls away into the open field, while officers are seen firing at the car.




One of these final shots hits Brown in the back of the head, killing him. He had one other bullet wound, in an arm.




The car crashes in a nearby yard and stops and is quickly surrounded by police.



The entire event, from the moment deputies arrive to the time they reach the crashed car with a dying Brown inside, lasts 44 seconds. The confrontation and shots last 17 seconds.
During the briefing, members of the audience grilled Womble on whether Brown represented a threat to officers as he drove between them.
In several tense exchanges, Womble insisted that any "aggressive" use of a car during an arrest — which would include nearly any action inside it besides obvious surrender — represented use of a "deadly weapon." Once Brown was clearly trying to flee, Womble said, officers had no obligation to determine the severity of the threat, only that the threat was "perceived."
Read Next: