A gathering of soldiers waited for the bus on a cloudy and chilly late-August morning at Fort Wainwright, Alaska. As members of the U.S. Army's 25th Infantry Division's 1st Stryker Brigade Combat Team — the Arctic Wolves — they are trained to fight in the tundra and endure harsh Arctic winters in the frigid north.
But the bus they were waiting on would be the first step in a journey to someplace considerably warmer: Iraq.
"We keep checking the weather everyday and being like, 'Oh, it's only 108 today,'" joked 2nd Lieutenant Morgan French. Like most of the soldiers waiting that day, French was deploying with the Brigade's Field Artillery Battalion, the 2-8, to Operation Inherent Resolve to fight ISIS militants in Iraq and Syria.
For some, it's a return to familiar territory. Sergeant First Class Matthew Dawson's first deployment was in support of Operation Iraqi Freedom in 2008. Though an artilleryman, he spent his tour on dismounted patrols and guarding facilities alongside Iraqi troops. He recalled the Iraqi soldiers as rough around the edges but ultimately doing their best with what they had. "I'm interested to see where they're at now," he said of the local troops he and his soldiers will be working with this time around.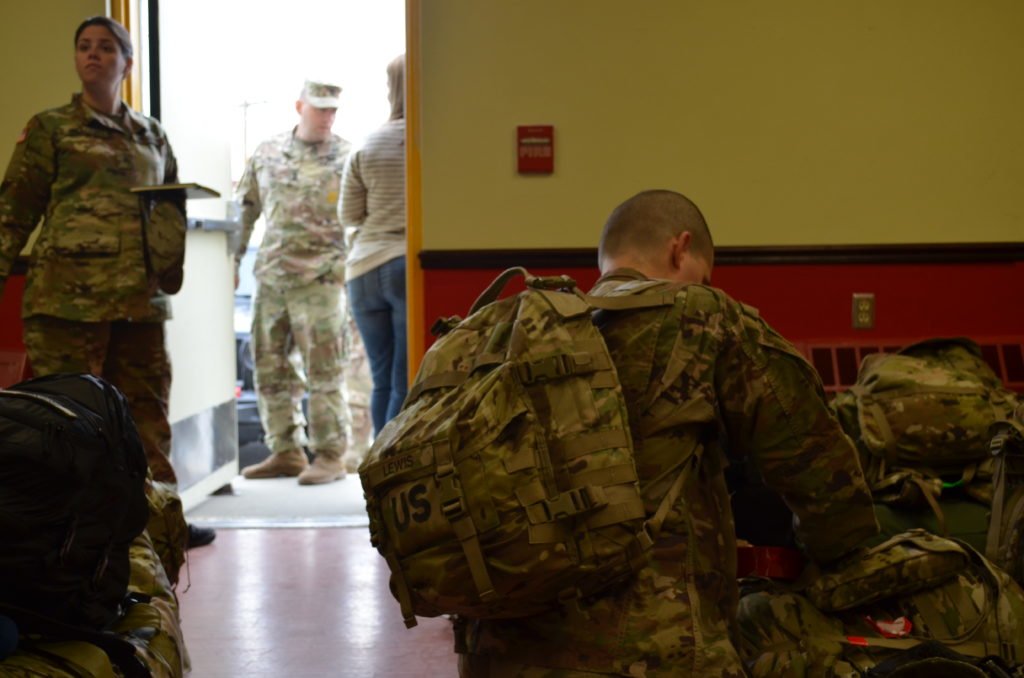 In 2008, Dawson arrived in Iraq after the "surge," the most violent period for Iraqi troops during Operation Iraqi Freedom. By the time he arrived, Al Qaeda in Iraq had suffered major defeats at the hands of U.S. and Iraq forces as well as Sunni tribal militias that had taken up arms against them. Dawson said that as a result, the deployment was relatively uneventful — though he noted his deployment to Afghanistan was much more violent.
Last year marks the first year that Americans born after 9/11 began joining the U.S. military. Dawson now represents an old guard of sorts that will be leading troops in a series of sprawling, increasingly challenging operations that America has taken on since 2001.
"It's kind of weird to be the old guy now," Dawson said, adding that he feels a huge sense of responsibility knowing that younger soldiers look up to him.
The Arctic Wolves' Brigade Commander, Colonel Matthew Brown, admitted that he was similarly struck by the shadow history cast over this deployment. Over the summer, he made a trip to Iraq to meet with Iraqi forces and the American unit his troops would be replacing. Touring Mosul, Brown saw neighborhoods and buildings that he had fought in and lived in back in 2003, during his first overseas tour as an infantry company commander with the 101st Airborne Division. Many have since been heavily damaged or destroyed by years of battle. This will be Brown's third Iraq deployment.
Among those deploying for the first time was First Lieutenant Gabrielle Webb, a 26-year-old platoon leader in 2-8's Charlie Battery that will oversee three howitzers.
"Hopefully we're gonna shoot some stuff," she said. Though women have seen regular combat on the front lines during the Global War on Terrorism, they've only recently been allowed to officially serve in combat arms roles. Webb is among the first generation of female officers to lead combat arms units.
"To some people it is rather new, but they handle it really well," she said. "I think once people kinda get past the fact that I'm a female and get to know me — who I am — and see me as a leader, it all just comes together and I don't have any issue whatsoever."
Webb, a stay-at-home mom who wanted a change, joined the Army after college. She admitted that she was unsure of pursuing a combat position when she first joined. But then she started to really get into the training.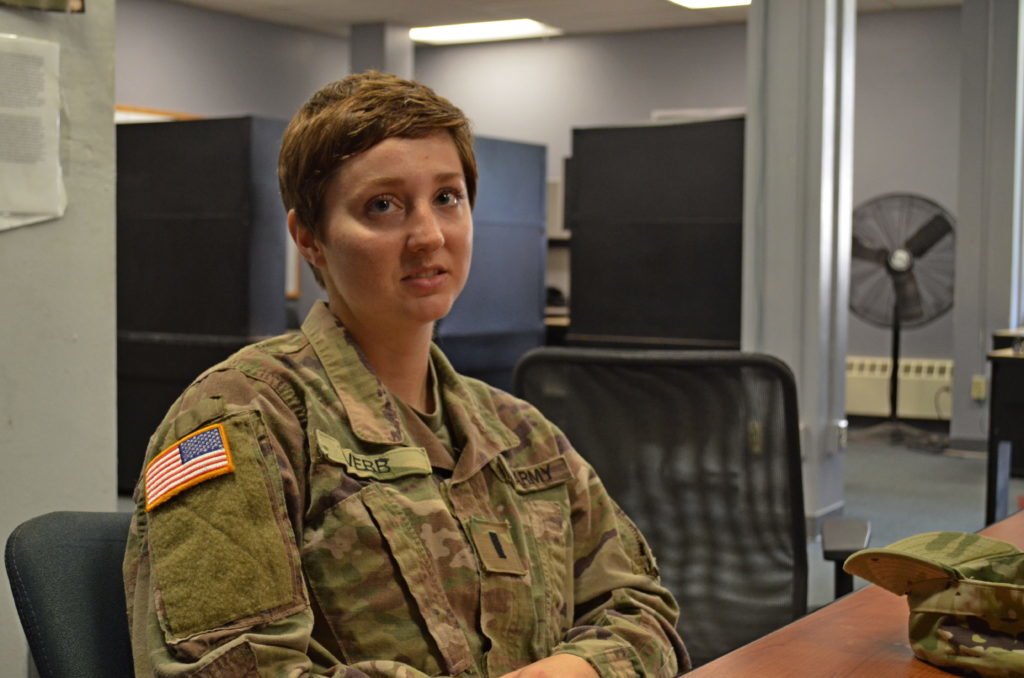 "Once I joined, I loved it, and I decided I wanted to do something really awesome," she said.
"We got a lot of young guys, so it'll be a learning curve for them," said Sergeant Corbin Mason, a 22-year-old infantrymen who will be providing force protection for the artillery troops. It's his first deployment, too. "A lot of us haven't deployed either as NCOs (non-commissioned officers), so it'll be a learning curve for us, too. But we're all going to learn together."
A significant number of these troops will be going to Qayyarah Airfield West — formerly known as Saddam Airbase and commonly referred to as "Q-West" by coalition troops. When ISIS swept into Northern Iraq and seized Mosul in 2014, it also seized the base and used it to support its own operations.
But when Iraqi forces took back the facility in 2016, it became a major staging point for the campaign to retake Mosul and a prime location from which to launch artillery. Coalition forces set up shop there.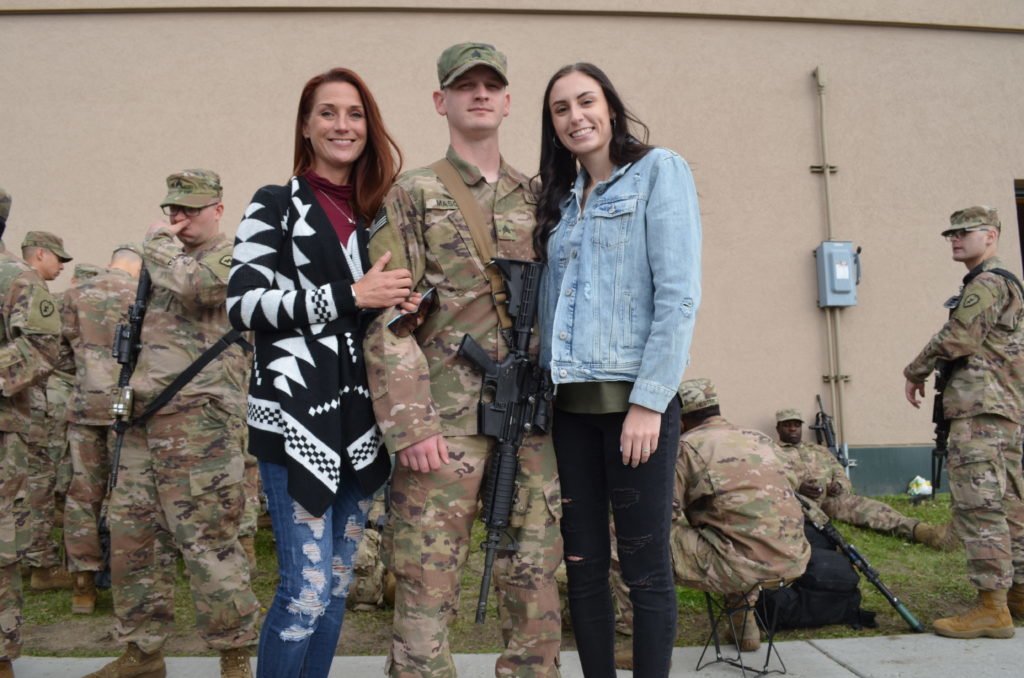 While elite operators like U.S. Navy SEALs and Army Green Berets have captured the American public's imagination and have been the focus of countless books, TV shows, and recent big-budget Hollywood films, conventional troops continue to play a central but more quiet role in the fight against ISIS as they conduct operations ranging from force protection to clearing roads of explosives. Perhaps ironically, the "average joes" who make up most of the military are now almost living in the shadows of the covert shadow warriors.
In the fight against ISIS, artillery units have played a key role though. As American leaders seek to keep local forces in the lead, they often need to call on fire support. In fact, U.S. Marine artilleryman Staff Sgt. Louis Cardin was killed in action in 2017 during an ISIS rocket attack on an American firebase that killed him and wounded eight other troops as they were supporting Iraqi soldiers in the push toward Mosul. He was the second servicemember to die in combat during Operation Inherent Resolve.
During the fighting for Raqqa in Syria, artillerymen "burned out" two howitzer barrels during the intense shelling of ISIS positions in support of Syrian Democratic Forces (SDF) fighters as they launched their offensive into the city. In five months on the ground around Raqqa, U.S. troops fired more artillery rounds than any Marine or Army battalion since the Vietnam War.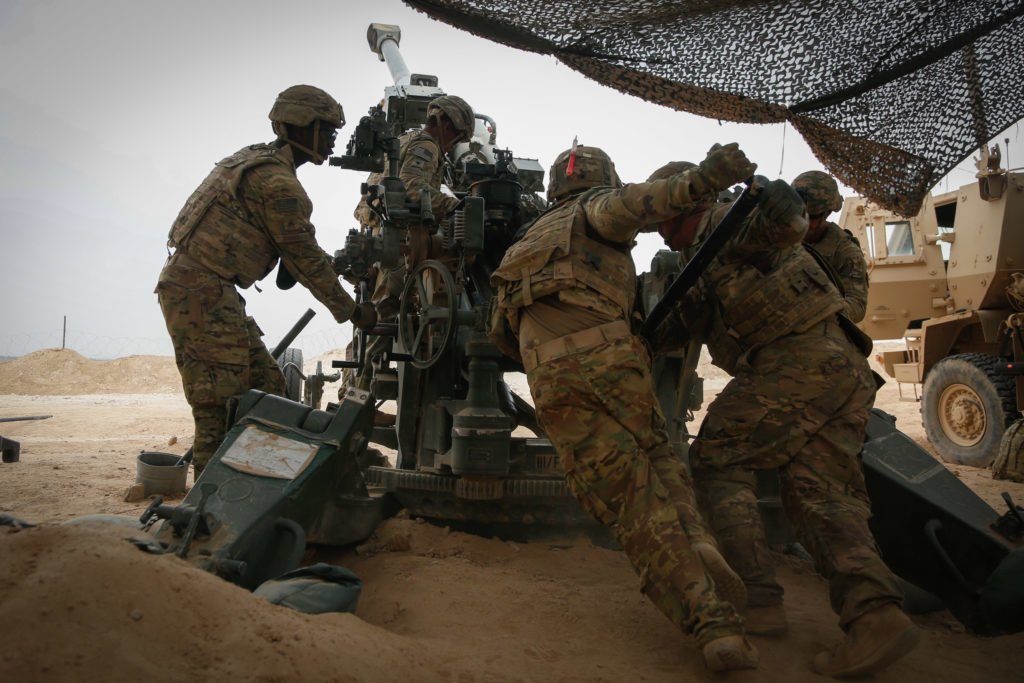 Coalition artillery units have continued to back local allied forces in Iraq and Syria. American and French firebases lob ordnance at ISIS cells conducting operations while actively regrouping in disputed territories along borders, in the mountains, and in the countryside of Iraq and Syria. The Arctic Wolves will be continuing to target those enemy forces.
As the soldiers waited for the buses to pick them up, a handful of family and friends lingered. Shari Rhoades, the wife of the 2-8's sergeant major, was stocking the battalion HQ with coffee, lemonade, and snacks while they waited. Her husband, as well as many other elements of the battalion, was already at Q-West. But she was working on the homefront, looking out for those still stateside. She talked to the wives and children of the soldiers, earnestly telling each of them, "If you need anything, call me."
"They're my own family. The Army family is my family," Rhoades told Coffee or Die. "It's not written in any contract or anything of the sort." She said she feels a sense of duty to look out for the spouses of younger soldiers.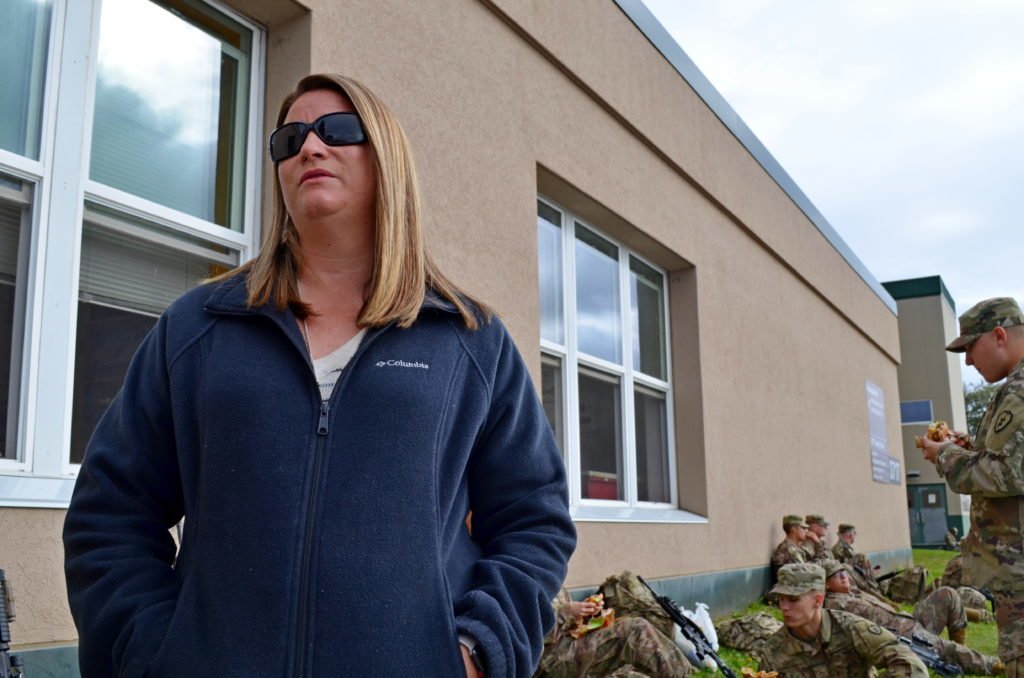 Fairbanks, Alaska — the city just outside of Fort Wainwright — is a small community with a population of just over 31,600 people. It's similar to many communities cloistered outside of American military bases, with divey bars and an economy heavily centered around the military installation when Alaska's tourist season dries up.
Currently, post-9/11 veterans make up less than 1 percent of the U.S. population. The transition to an all-volunteer force after the Vietnam War, coupled with the isolated nature of many bases like Wainwright, has meant fewer and fewer Americans ever see — let alone interact with — service members or their families in a meaningful way. Today, less than half of American civilians report knowingly interacting with an active duty service member or military spouse in their lifetime. Simultaneously, veterans and their families increasingly turn to military-centric communities, and some have expressed difficulty relating to the civilians that represent the majority of the society they serve.
In December 2015, the Harvard Institute of Politics released the results of a survey of Americans aged 18 to 29. The researchers found that 60 percent of the people interviewed supported committing U.S. combat troops to fight ISIS in Iraq and Syria. But an almost equal number — 62 percent — said they would "definitely not" consider joining the military, and an additional 23 percent said they would "probably not" sign up to serve. So while the majority backed sending troops to fight, that left only 15 percent of young Americans that would actually consider going into harm's way themselves to support such a mission.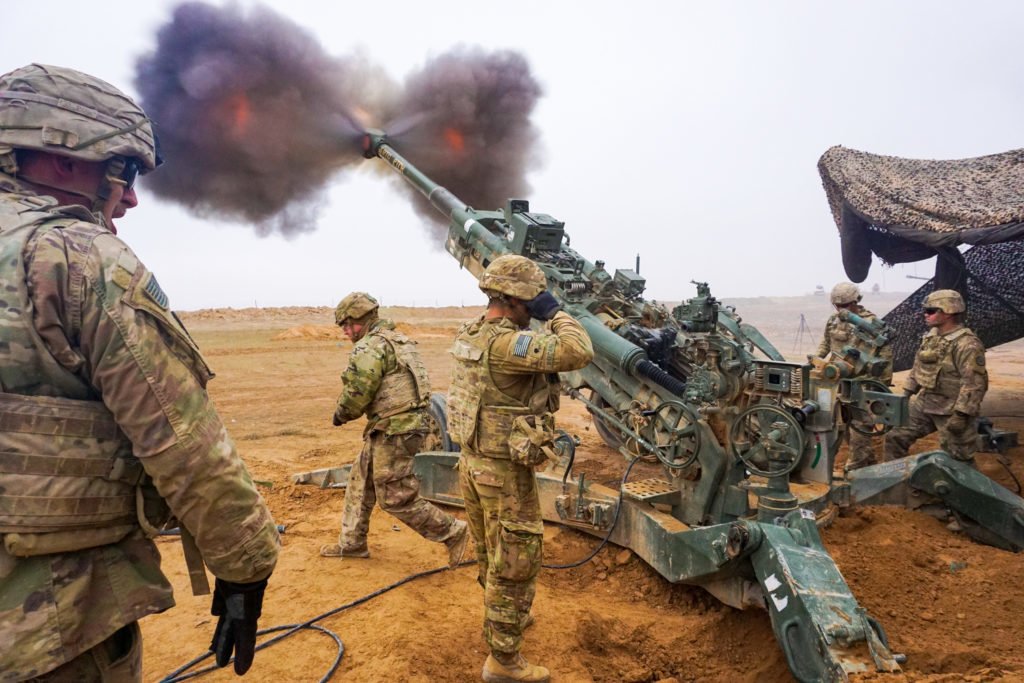 In 2010, then-Secretary of Defense Robert Gates warned about this phenomenon in a speech at Duke University. "We should not ignore the broader, long-term consequences of waging these protracted military campaigns employing — and re-employing — such a small portion of our society in the effort," Gates said. "For most Americans, the wars remain an abstraction. A distant and unpleasant series of news items that does not affect them personally. Even after 9/11, in the absence of a draft, for a growing number of Americans, service in the military, no matter how laudable, has become something for other people to do. In fact, with each passing decade, fewer and fewer Americans know someone with military experience in their family or social circle."
Not coincidentally, many of the soldiers deploying come from multi-generational military families. "My grandfather is retired infantry, my dad is retired infantry, my brothers are all infantry, so I figured I'd follow the line and keep going," said SSG Daniel Santos, a one-time Guam National Guardsmen who made the leap to active duty after deploying to Afghanistan. He cited "getting out of Alaska" for somewhere warmer as the thing that most excited him about the deployment.
Mason felt a similar pull toward military service. "I wanted to use my leadership skills somewhere else; I didn't use them very well in the civilian world," he said, having worked a series of odd jobs ranging from retail to reptile removal before enlisting like other members of his family. "I'm looking forward to travel, seeing different cultures and stuff — it's going to be fun. I'm actually going to put my skills into action somewhere where it matters."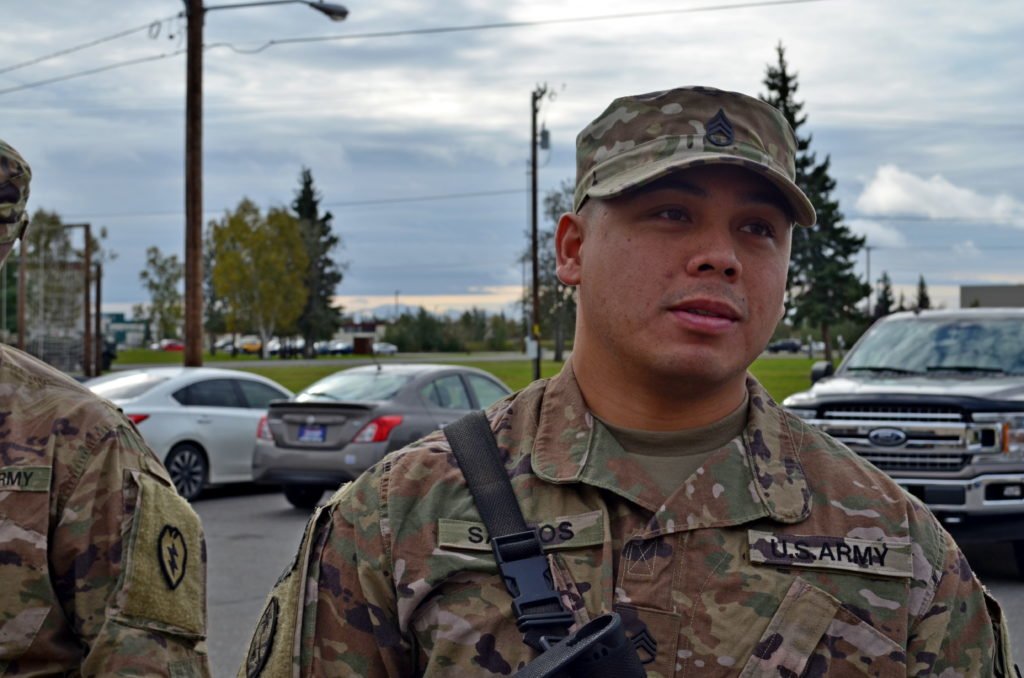 His mother, Misti Visser, said that her father, brother, cousins, and grandfather all served before her son. "I've honestly known he was going to do this since he was 9," she said. "And I'm proud. What can you say? I know that they're properly trained, I know that he's ready and he's looking forward to it. I just have a little worries from past experience from family who have served but didn't come home. But I think he's good."
Repeated deployments to Iraq and Afghanistan have been a major test for troops, but they're also hard on families. For Mason's wife, Samantha, this is the first real deployment.
"He was supposed to deploy a bunch of times back at [Fort] Campbell (Kentucky) but never went," she said, adding that while training frequently keeps military families apart for sometimes months at a time, this nine-month deployment will be a much different challenge. "[In a military family], you have to be very independent because you're away from your family a lot."
"I'm not worried about her," Mason said of his wife. "She's got a stable job and friends and stuff, she'll be alright. I'll miss my dog though."
"It's tough, but it's part of the lifestyle," SSG Mike Blye said. "We all understand what's going to happen, we all know I have to leave." It's his second deployment, and his wife, Makala, said that she's not excited for it, but she's ready. "We've had a long time to prepare for this, so I'm doing alright," she said. During her husband's last deployment to Afghanistan in 2011, she and her newborn son moved back in with her parents. "This time I've got two kiddos, and I'm staying up here," she said. "[Now I'm] just [focused on] how the kids are going to handle it. Being there for them is my biggest concern."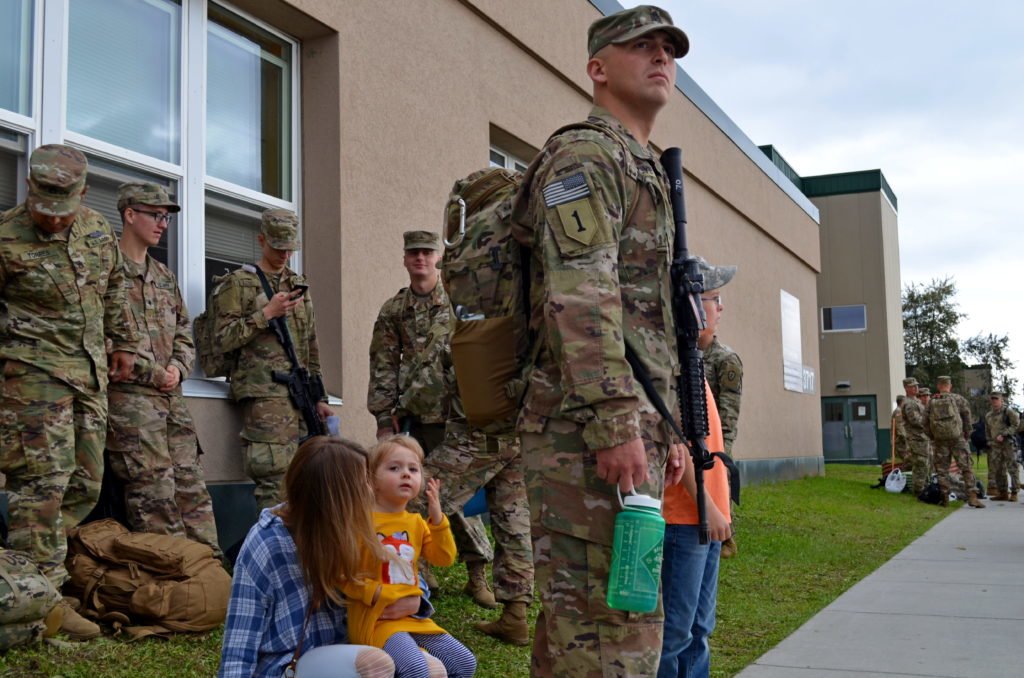 Webb has one child, a 3-year-old son, and this will be the longest she's been away from him.
"I feel pretty good about it," she said. "My husband has really kind of taken on the stay-at-home-dad role since I joined, so we've kind of flip-flopped roles. He does really well with it, so I think we'll be okay. Thank goodness for FaceTime so I'll be able to see them — and hopefully my son won't grow up too much while I'm gone."
When the Arctic Wolves begin operations in Iraq, they'll be entering a years-long conflict. The ISIS Caliphate has killed countless civilians during its rule over Northeast Syria and in Iraq's Nineveh Plains — including its genocidal campaign against the Yazidi religious minority — and have destroyed ancient cultural sites. The fighting to drive them out was brutal. Many more civilians who got caught in the crossfire were killed as local Iraqi and Syrian forces pushed into their strongholds while coalition special operations troops, artillery, and aircraft supported their advance.
The fighting reduced many towns and communities to rubble, and the dead are still being counted. It will take decades to truly assess the human cost of the ongoing conflict.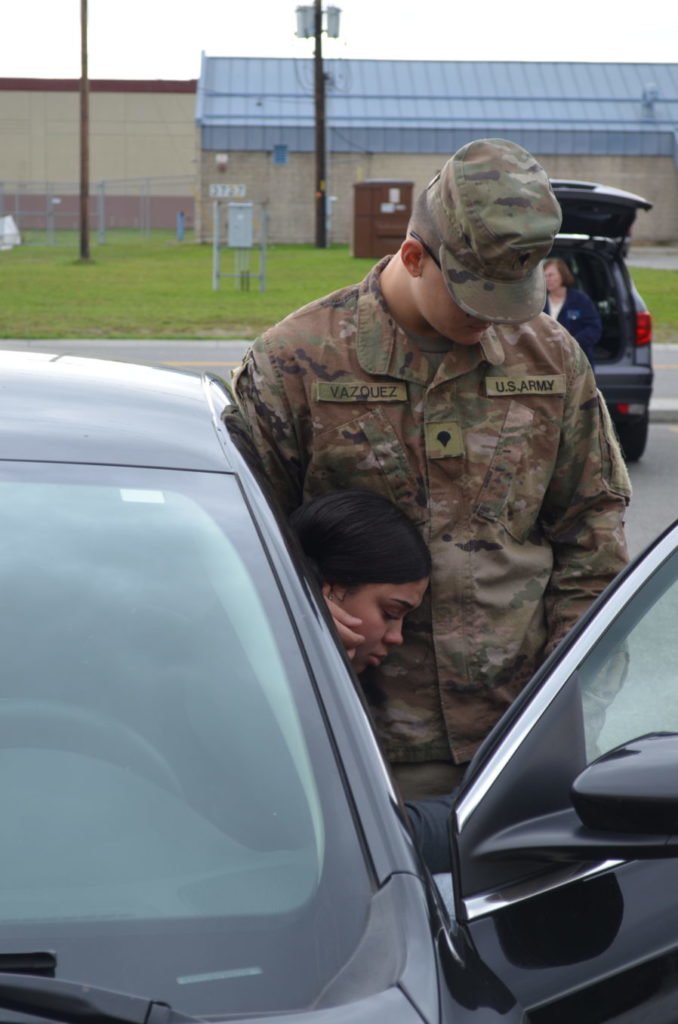 Today, the situation remains as complex and volatile as ever. ISIS has lost most of its physical strongholds but remains dangerous — a Pentagon Inspector General report released last month found that ISIS was already resurgent in parts of Syria and continues to regroup in Iraq. In July, the Israeli military apparently bombed facilities under the control of the Popular Mobilization Forces (PMF, or Hashd al-Shaabi), a group of militias in Iraq. The PMF militias fight against ISIS but often have ties to Iran, and lately the Iraqi government has made efforts to exercise more control over them. Some PMF leaders accused the Americans of allowing the attacks and have threatened attacks on U.S. troops in response.
Last month, U.S. officials had to convince Turkish leaders to halt a threatened invasion in parts of Northeast Syria controlled by the Syrian Democratic Forces, which would have likely included towns such as Manbij, where U.S. troops are present and working closely with the SDF to hunt ISIS cells. American, Turkish, and Syrian Kurdish leaders are currently negotiating on the creation of a "safe zone" along the border between Turkey and Northeast Syria.
All this continues to unfold as local Iraqis and Syrians attempt to rebuild towns and cities destroyed in the conflict and displaced people return to their homes — for those lucky enough to have homes to return to. Others are looking to start lives abroad as refugees.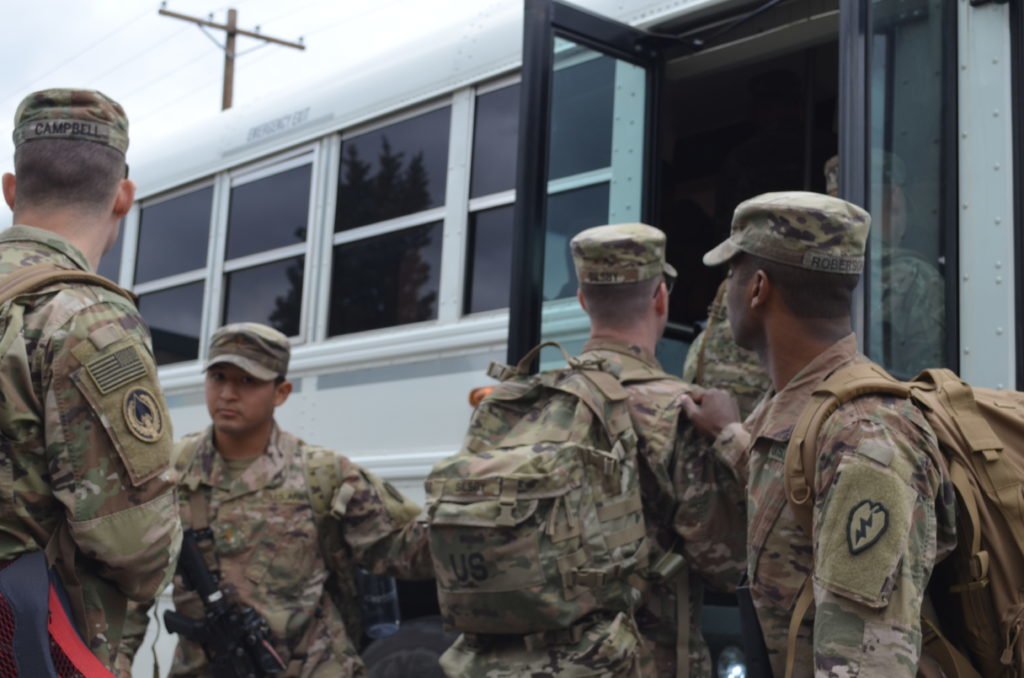 "[These wars] are still going on," said SFC Dawson when asked if there was anything he thought Americans should know about the ongoing deployments of U.S. troops to the Middle East. "It sort of seems like a lot of people just don't realize or have stopped paying attention. I don't see people talking or thinking much about it."
But despite the increasingly volatile situation, many of the soldiers say they're ready to get on the ground as quickly as possible. "Right now my mind is really just focused on getting over there," said Webb, who was slated to ship out a week later. "I'm ready at this point — I'm ready to get on that plane and get over there. This is what we look forward to. We look forward to getting over there and doing our job and doing it for real. The training is fine, but actually getting to do what we all want to do is rather exciting."
Eventually the bus arrived to pick up the soldiers. "I hate those buses. Even just the sight of them," Rhoades muttered. "This is the worst part."
Blye's children clutched his legs and began to cry as he got ready to leave. He picked up his daughter and hugged her tightly as other troops began filing aboard the bus. Other soldiers said goodbye to tearful spouses and friends.
"[Americans] don't know what [soldiers] give up until they come and watch these families say goodbye to their soldier and these kids say goodbye to their daddies and watching these kids and their heart-wrenching sobs — they have no idea," Rhoades said.
But the day wasn't over yet — there was still a long slog for the deploying troops as they waited at the holding area. After the bus ride to the airport, they'd wait some more. There's a saying in the military that encapsulates the experience: "hurry up and wait." As they boarded the plane, many look relieved to finally be on their way.
For their families and friends left behind, though, the upcoming Alaskan winter would be a long one.
"I would never say I have any advice for the other spouses except to love each other. Just love each other," Rhoades said. "Because that's all we've got through this cold winter coming up — each other's all we got."
---
Coffee or Die's coverage of the Arctic Wolves' deployment will continue this fall when we join them in Iraq. Stay tuned for more stories about Americans at war.