The horror started almost before the day did, and for 36 awful hours in Tempe, Arizona, last weekend, it kept getting worse.
Just past 7:30 a.m. on Saturday, a woman flagged down Tempe police officers and told them she was hearing voices telling her to harm children. When officers went to her apartment, they found her children, 9 and 7, dead from grievous violence, even partially dismembered.
Then at 5 p.m. — the same shift for many — first responders from around the city rushed to a pool party at an apartment complex for reports of a drowning infant. Police officers performed CPR on a 1-year-old until fire crews arrived and rushed the child to a hospital. But within minutes, word trickled out: The child had died.
Sunday passed, but as night fell, another: A 4-year-old girl had found a loaded gun in her home and accidentally killed herself.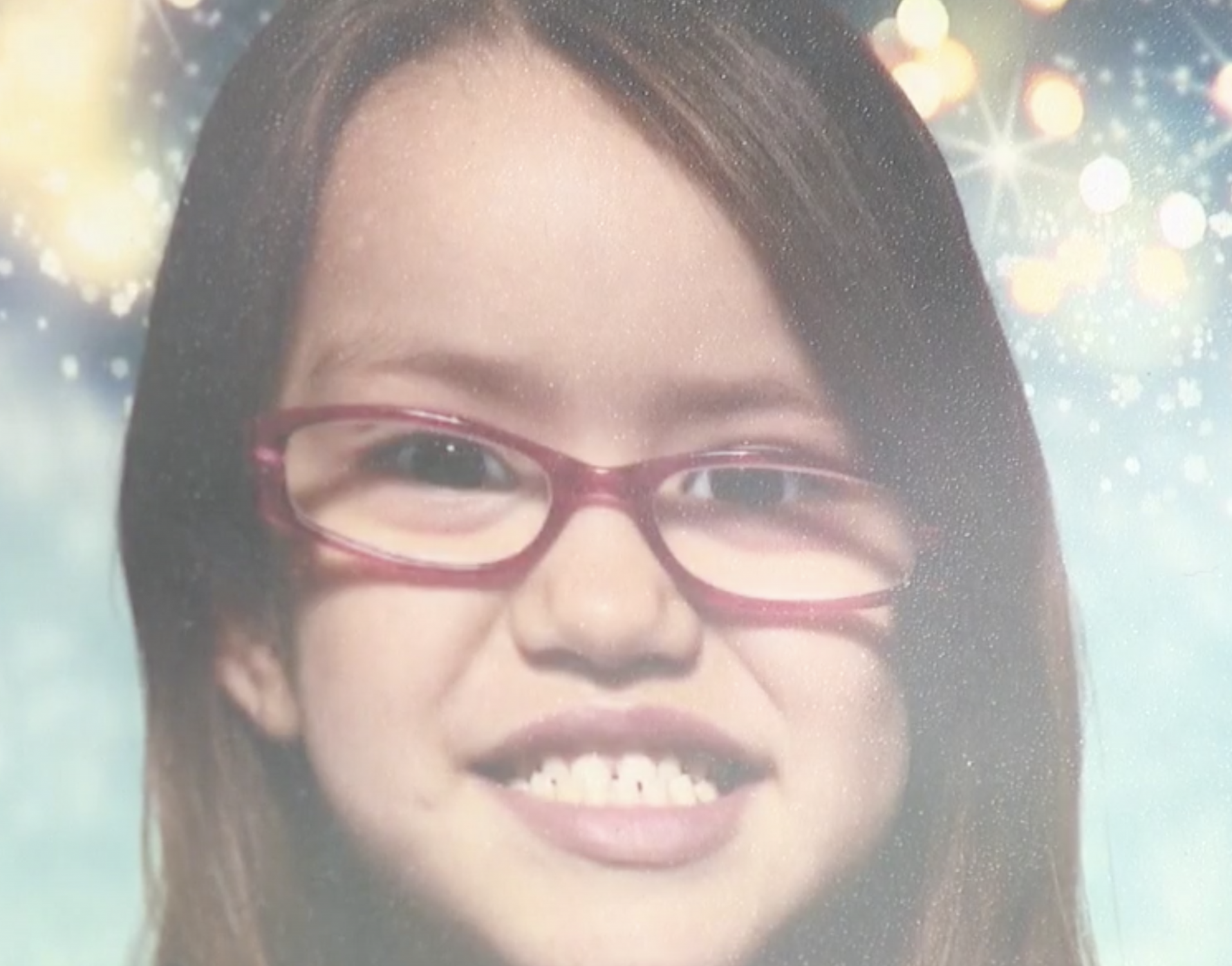 "I have nearly 24 years here in Tempe as a police officer," said Sgt. Steve Carbajal, a Tempe police spokesperson on Monday. "What we saw over the weekend in about 36 hours was almost a career's worth of tragedy."
"You don't go to the next call and shake it off," he said.
Andrea Glass, the assistant fire chief of Tempe Fire Rescue, said her department was determined to be ready for the next call. Some firefighters and police went from one call to the next, seeing multiple traumatic calls within their shift.
"What people don't realize is once we're done with the call, we have to regroup, share with each other, reset, and respond to the next emergency," Glass said.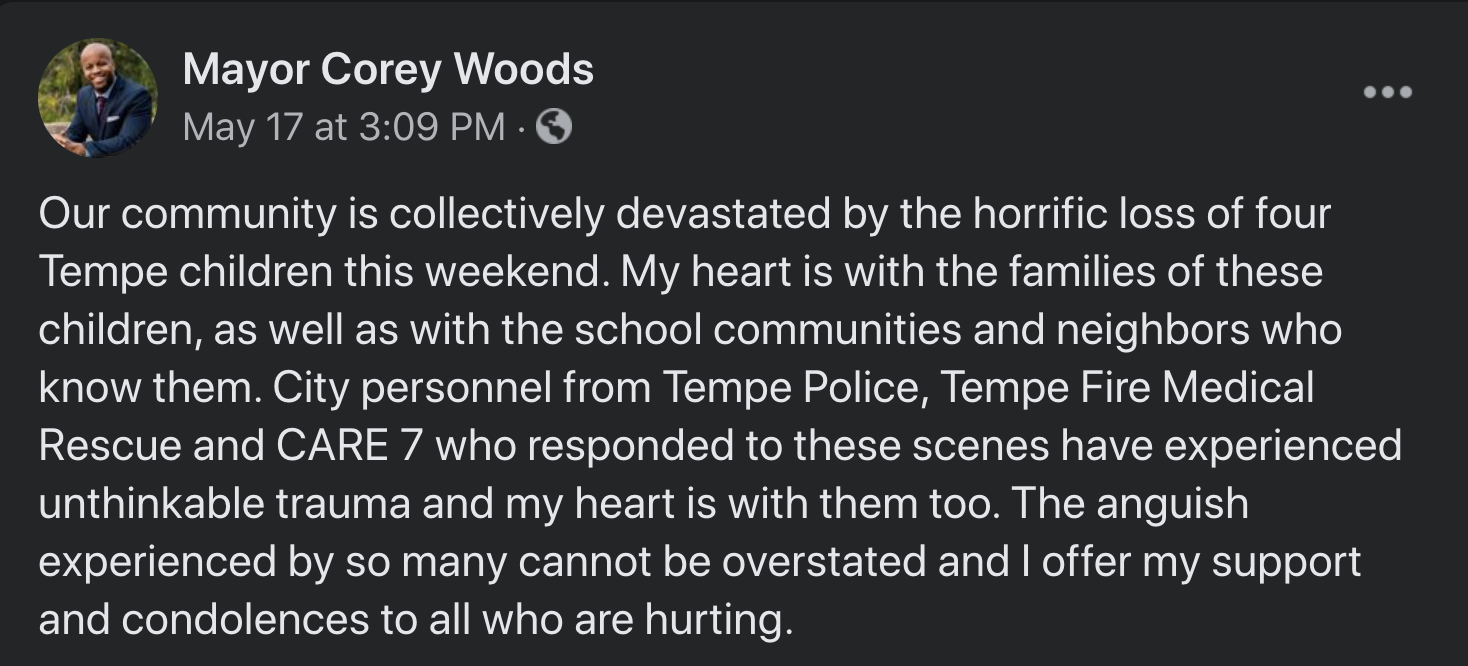 The Tempe Police Association tweeted Monday that these types of calls are brutal on the emergency personnel responding to them and asked for the community to pray for them and the families affected by these tragic circumstances.
"These are the toughest calls we face and the trauma can last for years," the TPA said.
Both Carbajal and Glass explained that police and firefighters are checked on to ensure they are able to continue their shifts. One firefighter was sent home to recuperate after seeing the horrible incidents.
Carbajal said many of the first responders were especially impacted by the trauma they'd witnessed because of having children of their own, some the same age as the kids who died over the weekend.
"They will live with these images for the rest of their lives," Tempe Police Sgt. Robert Ferraro, the president of the Tempe Officers Association, told AZFamily.com.
Details were mostly scarce on the four deaths. Police say 4-year-old Karyn Maria Gonzalez found a sibling's gun in a couch before shooting herself. In the apparent double murder, Yui Inoue, 40, is facing two charges of first-degree murder in the deaths of her 9-year-old daughter, Mia, and her 7-year-old son, Kai.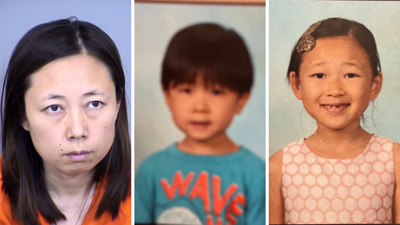 An Arizona-based grief expert said that first responders are the most vulnerable to emotional trauma but often the most able to respond.
"It is what we call a 'wounded healer,'" said Kelli Montgomery, the executive director of the Miss Foundation, a nonprofit that specializes in grief counseling around child deaths. The foundation trains health care providers and first responders to help parents and themselves deal with the death of children. "First responders are on top of our list with how they deal with these things and these are extremely traumatic situations. Anytime it's the death of a child, it's going to be magnified. The first responders go into this because they care about people and they want to help."
Though first responders deal with death and heartbreak often, Montgomery said, the death of child can bring on "traumatic grief."
"Anything that's out of the natural order of things, and they come into contact all the time, but just, it's just a different level when a child's death is involved," she said.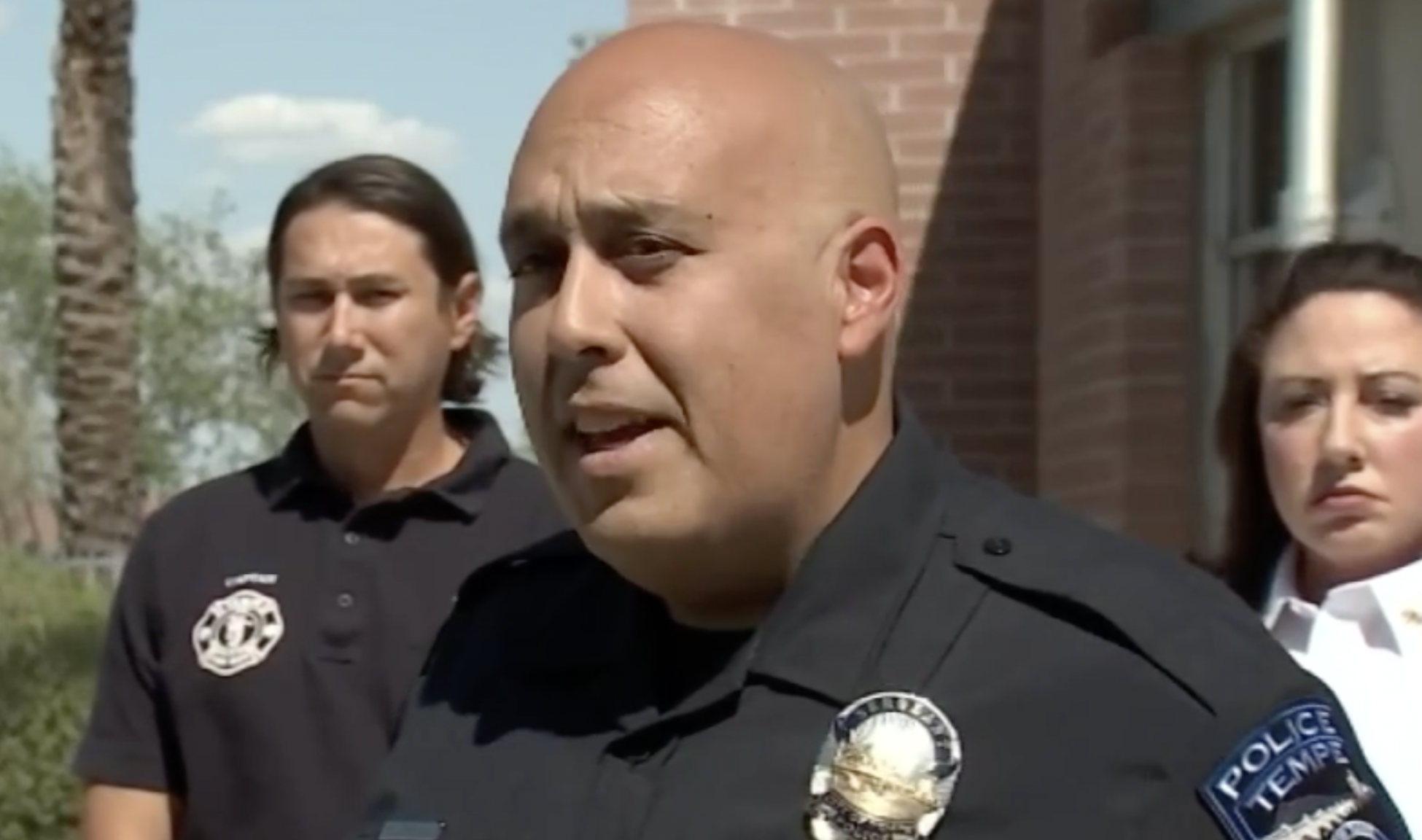 Dealing with traumatic grief, she said, usually requires actions that seem unnatural. A first step, she said, is to communicate stress and grief directly with peers, which she said is often difficult for those in first responder roles. Beyond that, Montgomery said, many first responders find healing for both themselves and families by reaching out to bereaved parents.
"It's so meaningful for families," she said. "And for first responders, it's a way to actually remember somebody's child. It's an extreme act of kindness. Instead of avoiding what could be uncomfortable, they make it much better for themselves and the family."
She says first responders can consider reaching out to parents on anniversaries of their child's death, or they may attend the funeral.
"Just take it on to actually remember someone's loved one and treat their child with dignity," she said. "We do the same thing in our community with bereaved families. We say, find an act of kindness."
Insights for Crisis Responders When a Child Dies
(From the Miss Foundation website, edited for length. See the webpage for the full article.)
Rational behavior doesn't come easy. Be patient and kind while remembering this person just lost the most important thing in their life, so extreme reactions can occur. Let them talk, don't interrupt, maintain eye contact, and answer their questions honestly. Be a good listener.
Letting go is tremendously painful. Let them be the parent, regardless of if their child is dead, unless circumstances dictate otherwise. The best thing you can do is let that parent hold their child, say their piece, and let them have their last moments.
Understanding the impact of surprise. Explain to the parents that what they will see may not look exactly like what they might expect. Death causes changes within the body that can make the child's appearance seemingly different. Explain to the parents what they are seeing and avoid medical jargon — be gentle with explanations but be honest.
Maintaining good communication. Utilize effective and clear communication while answering questions truthfully. Common concerns that parents have is if their child suffered or experienced fear or pain. Though you may not know, try to answer their concerns with honesty, but do not "sugarcoat" details that may cause confusion or misportray the truth.
The element of commitment. Once you are on the scene and engaged with the family, you are committed. Once death is confirmed and you've spoken with the family, stick around if at all possible and try to help them in any way you can.
Beyond the call of duty. Go to the child's visitation or funeral — be a pillar of support for that family because they will remember you from the scene and will appreciate the gesture of support and thoughtfulness. Offer to take pictures or videotape the service, answer any questions they may have, and offer resources they may not know about.
Do not rationalize a child's death. No matter what the physical condition of the child or how much of a "burden" the child would have been, most parents would still prefer to have their child with them under any circumstances.
Lean on me. Remember that it is a crucial time for you as a professional to show your humanness. If you feel the need to express your own emotions, cry with them. Most parents, even years after their child's death, recall with great fondness a paramedic or physician who shared a moment and cried with them.
The gift of choice. Most parents appreciate being asked about organ donation. Some parents who were never asked reported they felt left out or even insulted that their child may not have been "worthy."
Don't suggest "busy work" as grief therapy. Rather, encourage support group participation and give them names and numbers.
Read Next: