"Can you get him with a grenade?"
"Yes!" The frantic answer comes from somewhere offscreen, then a sudden explosion.
"Now we neutralize them!" Several camouflaged soldiers emerge from the tree line and send a volley of rifle fire into the canal at their feet. Moments later, more shots ring out.
"Easy! Easy!"
"They have to fucking die!"
"He's already on his way … good job."
This dramatic exchange is captured in the 2010 documentary Armadillo as Danish soldiers kill Taliban fighters at point-blank range. The Danes were fighting their way out of a complex ambush and unknowingly trapped several of their attackers in a canal just several feet in front of them. Upon realizing they were virtually on top of the enemy, the soldiers toss a grenade, then move in to shoot the dead and wounded Taliban. One of the soldiers later voiced concerns about the firefight, and questions soon arose as to whether the incident violated international humanitarian law, or was merely an unavoidable part of combat.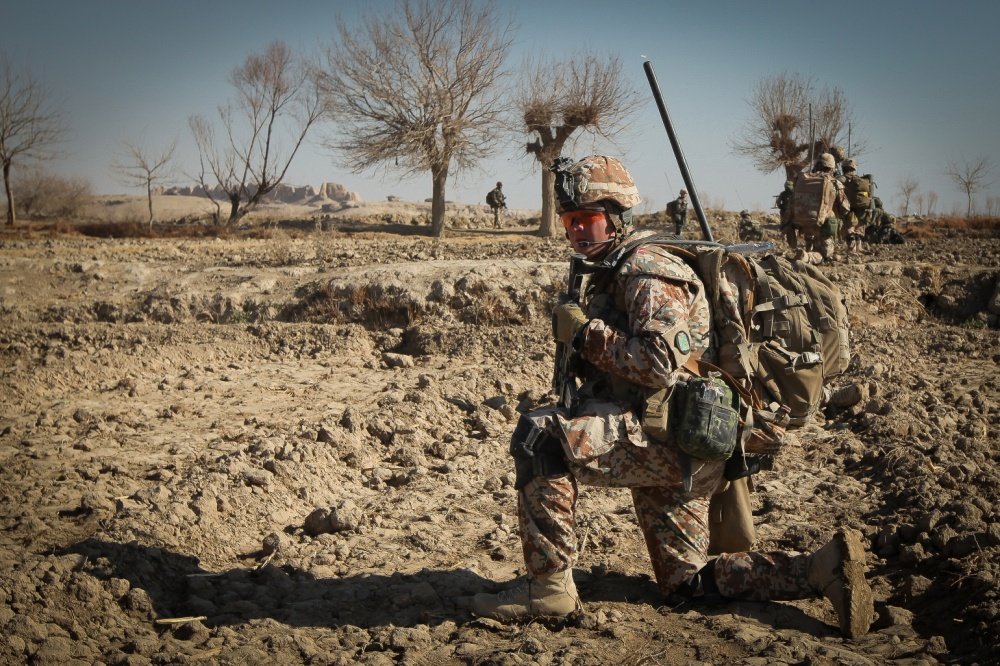 Between 2006 and 2014, Danish troops slugged it out with the Taliban in Helmand province. Helmand — the southernmost province in Afghanistan — was responsible for the majority of coalition casualties during the 20-year war. Before the United States assumed control of the effort in the region, the Danes and Brits were left to break the Taliban stronghold alone. During Denmark's 12-year campaign, they suffered 43 troops killed in action, the highest number of casualties per capita of any NATO country.
Armadillo follows a platoon of infantrymen from Denmark on their deployment to Afghanistan. Between an emotional send-off and some of the most intense firefights ever caught on camera, Armadillo is a forgotten gem when it comes to war documentaries. The film — which won the grand prize at the 2010 Cannes film festival — mixes close-quarters battle with valiant attempts to stave off boredom — an unavoidable part of soldiering too often neglected in depictions of war.
The combat sequences are chaotic and unclear, making it murky at best if any war crimes were actually committed. Witnessing the intensity of the grenade scene may cause convictions about ethics in combat to waver. Seeing it in real time reveals how black-and-white ideals surrounding morality turn to gray when bullets start to fly and bodies drop.
After two decades of war, it's easy to forget that America wasn't alone in Afghanistan. Armadillo serves as a reminder that America's allies tiptoed through the IEDs, closed with the enemy, and sacrificed their countrymen in the same fields and mountains where so many US service members were lost. The amazing footage is edited with a color gradient reminiscent of Band of Brothers — creating an almost fictional feel — though the candid depictions of combat quickly eliminate any doubt of the film's authenticity. Armadillo is currently available through Amazon Prime.
Read Next: Violence Flares in Afghanistan Following Eid Cease-Fire