After the YouTuber known as Angry Cops published a video detailing allegations of toxic leadership at a US Army infantry battalion, the unit commander's wife called the social-media creator and asked him to take down the video. After he refused, she complained to the police.
Richard Hy, the New York Army National Guard drill instructor and Buffalo Police Department (BPD) officer behind the popular YouTube channel, published a video on March 4 that laid out soldiers' allegations of toxic leadership at 2nd Battalion, 30th Infantry Regiment, at Fort Polk, Louisiana.
Hy's video reported soldiers' claims that Command Sgt. Maj. Albert Buchinski announced during a January field exercise that anyone going to an aid station for "unnecessary reasons" would receive nonjudicial punishment.
"My whole Platoon was fucked up beyond belief by the cold," an infantry officer wrote in a message sent to Hy, which he read in the video. "Sub 40 [degrees] while being soaking wet. My Company was ordered to halt on an arbitrary phase line for 2 hours laying in puddles and mud, which directly resulted in 5 hypothermia casualties [redacted] before myself, the other PLs, and the CO said 'fuck this shit.'"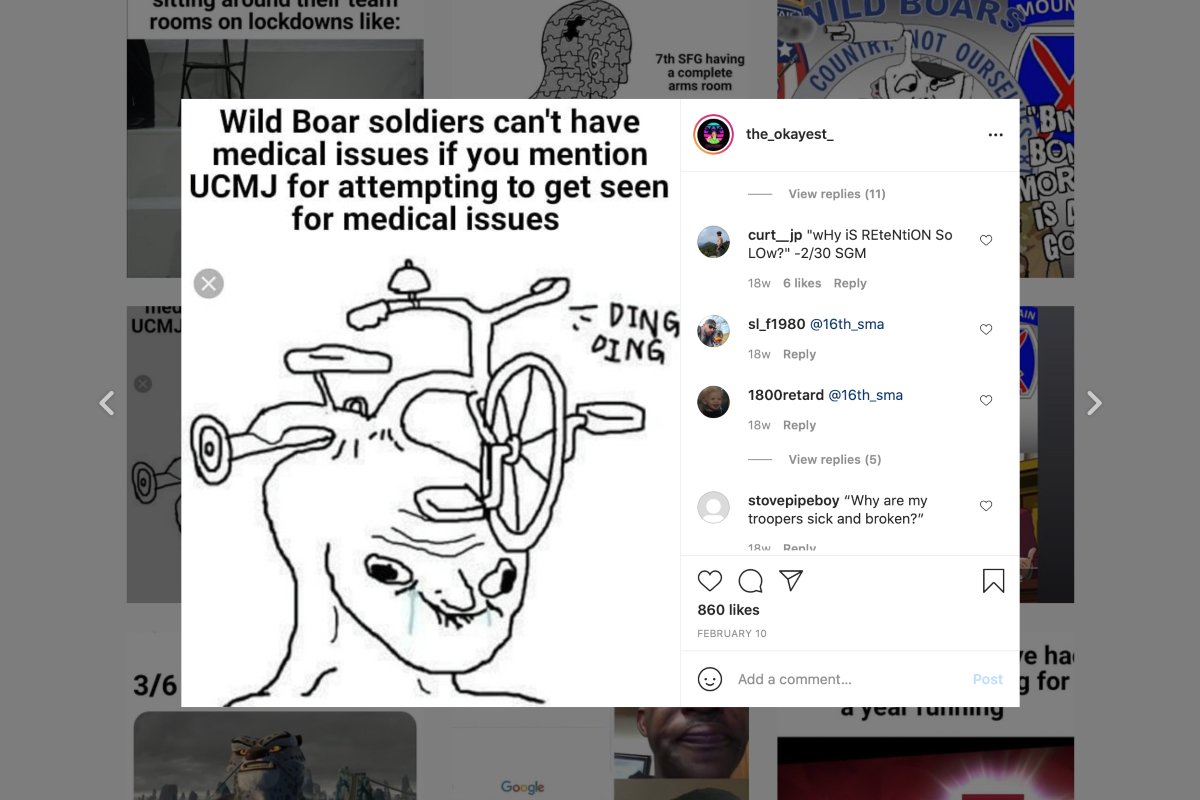 A medic from the battalion who asked not to be identified for fear of retaliation told Coffee or Die Magazine that Buchinski's threat didn't stop dozens of soldiers from suffering hypothermia and trench foot during the winter exercise.
"We had people lying on the floor inside the aid station," the medic said. "It was packed. And then outside, we had like 20-plus people with trench foot. … There were only like three people whose feet weren't destroyed."
The medic claimed that while he was treating the cold-weather injuries, Buchinski visited the aid station and criticized the soldiers for receiving treatment, asking why their socks and wet weather gear hadn't kept them dry.
"We're sitting in foxholes for hours on end. It doesn't matter if we're wearing wet-weather gear or not," the medic told Coffee or Die Magazine. "It's cold."
Several soldiers from the battalion shared their stories on the condition of anonymity. All of them said that while Buchinski threatened soldiers with nonjudicial punishment, none of the penalties were administered. An Army spokesman would neither confirm nor deny those claims.
"As a drill sergeant, I know there are turds out there who malinger, but this is not the way to go about preventing malingering in the ranks," Hy told Coffee or Die Magazine. "A sergeant major punishing soldiers for being injured is just horrible leadership."
Hy's video racked up more than 500,000 views on YouTube. He said 2-30's commanding officer, Lt. Col. Benjamin Jackman, called him the day the video went live, told Hy he had "bad information," and insisted Buchinski was a "good guy." Hy promised Jackman he would double-check his facts and look into the issue more.
The following day, Jackman's wife, Amy, called Hy and asked him to take down the video. Hy politely declined, explaining that additional research had validated his initial reporting.
After speaking with Hy, Amy Jackman lodged a formal complaint against him with the Buffalo Police Department, accusing Hy of violating the department's social media policy. According to BPD records obtained by Coffee or Die Magazine, Jackman told BPD that Hy "severely harassed and defamed" her husband and Buchinski in his YouTube video.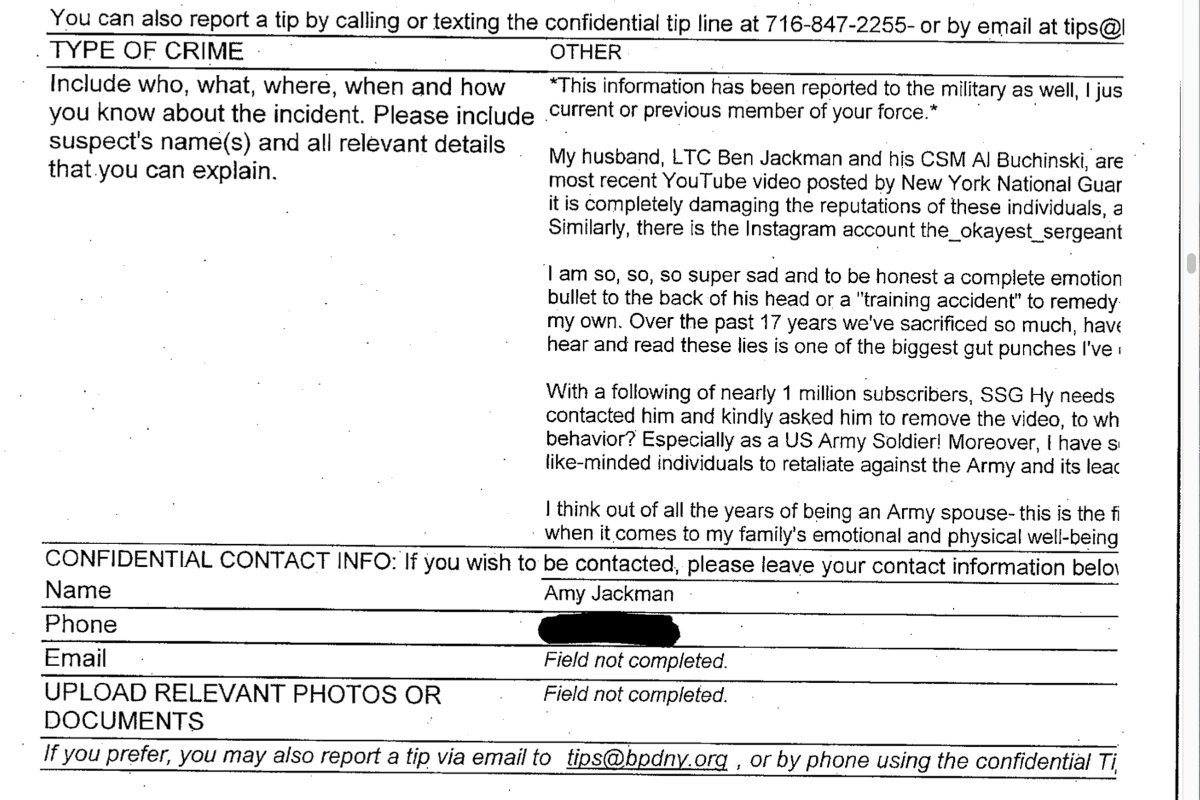 "I was absolutely livid," Hy said, recalling the moment he learned what the complaint was about. "It blew my mind."
BPD exonerated Hy, writing in an April 14 letter to Amy Jackman that "the officer did not violate the department's policy and/or procedures." However, a recently passed New York law requires police agencies to refer complaints to a new Law Enforcement Misconduct Investigative Office if an employee receives "at least five complaints from different individuals on five or more separate incidents within two years."
"Because of her frivolous complaint, which is obviously an attempt to harass me, I now have only four complaints left for the next two years," Hy said.
As that investigation was unfolding, Hy posted a 25-minute follow-up video. Instead of dressing up and yelling like a drill sergeant, he sat at a table and outlined the events in a measured tone, covering everything from the allegations themselves to the follow-up he said he received from Jackman and his wife. That video has been viewed more than 700,000 times on YouTube.
Hy is now the subject of an investigation initiated by the New York Army National Guard to determine whether his actions violated any military regulations. Publicly, Army officials have barely addressed the allegations of toxic leadership at 2nd Battalion, 30th Infantry Regiment.
On March 7, in response to critical Facebook comments on the 2-30 page, administrators shared a screenshot of a post by Col. Matthew Hardman, commander of the 3rd Infantry Brigade Combat Team, 10th Mountain Division, in which he wrote: "I am aware of the anonymous allegation concerning the 2-30 IN BN Command Team denying adequate medical treatment and the threat of nonjudicial punishment. I initiated a Commander's Inquiry on 18 February 2021 into these allegations. The inquiry is still ongoing. We take allegations of this nature seriously. We are dedicated to ensuring our Soldiers are always a top priority."
That post — along with dozens of comments related to the allegations — appears to have since been deleted from the battalion's Facebook page.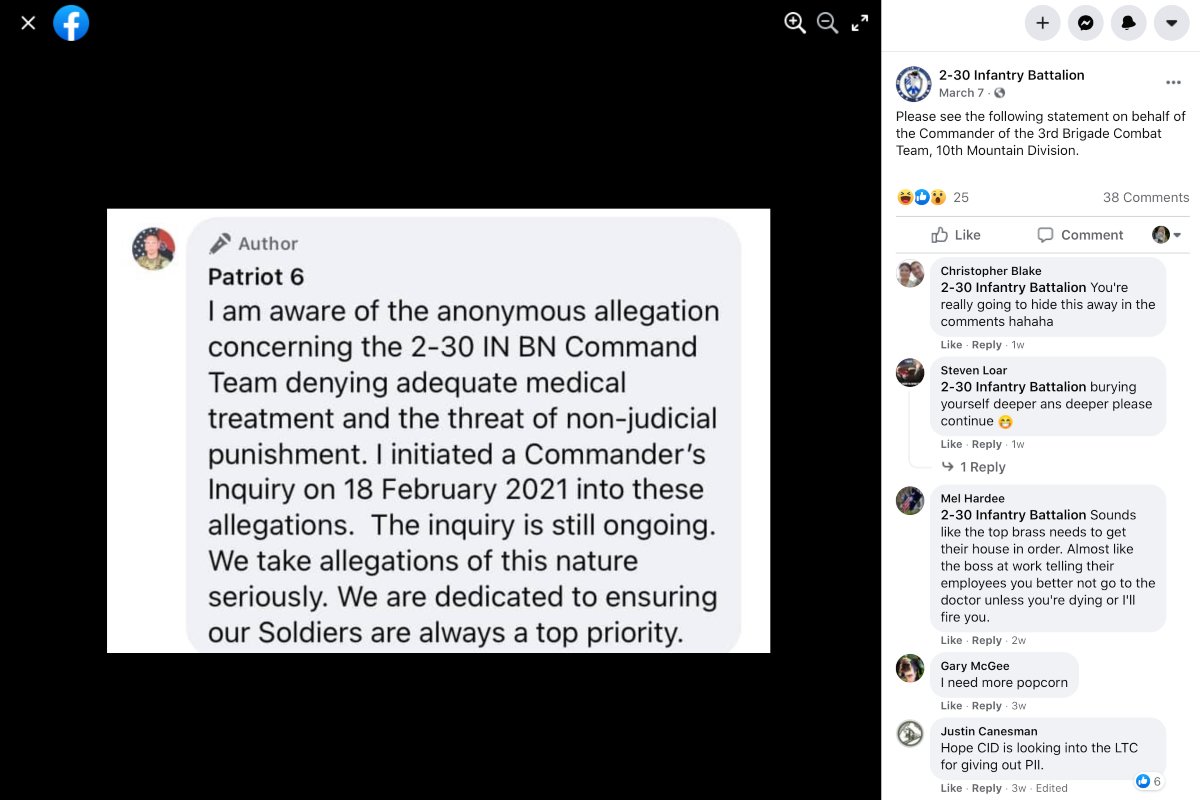 In response to multiple queries about the status and details of the investigation and allegations, the Army would only say the probe is "still ongoing."
Multiple soldiers from 2-30 told Coffee or Die Magazine the battalion "hasn't seen morale since 2019" — before Jackman and Buchinski arrived.
"Meme pages and a random drill sergeant on the internet speak up for soldiers when no one else will, and it's sad that it has to come to that," one soldier said.
Despite the complaints and ongoing investigation, Hy said he wouldn't do anything differently if given the chance. At the end of his last video addressing the 2-30 allegations, Hy became emotional as he expressed his love for the Army, being a drill sergeant, and taking care of soldiers.
"I can't solve all the problems that you want to send me," he said. "I can't solve each individual VA case. I can't look into why you were counseled for some bullshit. But whenever something like this erupts and you've got nowhere to go, Big Drill gonna take care of you."
Read Next: Are The NFL's Social Justice Ads Smearing a Good Cop?