Eight army bases that are named after Confederate generals may soon be renamed for a diverse group of soldiers, while North Carolina's Fort Bragg may become Fort Liberty.
The list released by the federal Naming Commission Monday of suggested name changes was:


Fort Benning, Georgia, to Fort Moore, after Lt. Gen. Hal and Julia Moore, a married couple. Hal Moore commanded troops in combat in Vietnam while Julia Moore helped launch the Pentagon's casualty notification teams. As the wife of a combat commander, Julia Moore witnessed the Army policy of notifying families of soldiers killed in combat by telegram, often delivered by cab drivers. She began riding along to notify spouses and families. Her complaints on the system led to the Pentagon's establishment of casualty notification teams.


Fort Bragg, North Carolina, to Fort Liberty, after the value of liberty.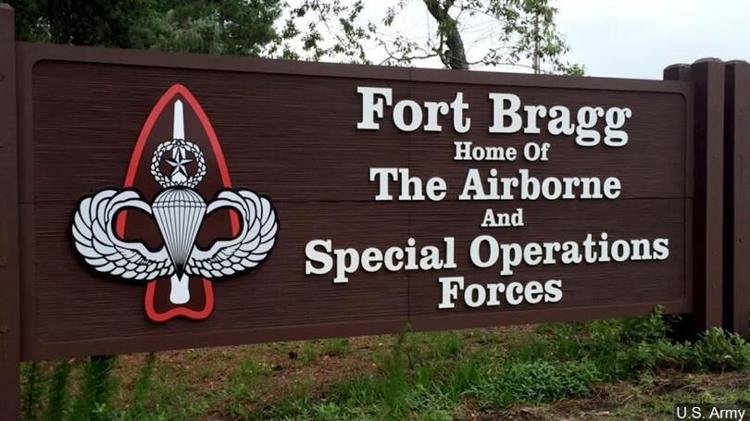 Fort Gordon, Georgia, to Fort Eisenhower after World War II General of the Army and US President Dwight Eisenhower.


Fort A.P. Hill, Virginia, to Fort Walker after Dr. Mary Walker, a battlefield surgeon in the Civil War and the only woman to receive the Medal of Honor.


Fort Hood, Texas, to Fort Cavazos after Gen. Richard Cavazos, who earned two Distinguished Service Crosses, one each in Korea and Vietnam. He later became the Army's first four-star general of Hispanic heritage.


Fort Lee, Virginia, to Fort Gregg-Adams after Lt. Gen. Arthur Gregg and Lt. Col. Charity Adams. Adams commanded a postal clerk unit of all Black women, the first all Black female unit to serve in World War II. Gregg was a Black officer soon after the Army was desegregated and rose to be the logistics director for the Joint Chiefs of Staff, retiring as a four-star general.


Fort Pickett, Virginia, to Fort Barfoot after Tech. Sgt. Van T. Barfoot, who was awarded the Medal of Honor for battlefield heroics in May 1944 in Italy. With family ties to the Choctaw nation, Barfoot is one of five Medal of Honor recipients of Native American heritage.


Fort Polk, Louisiana, to Fort Johnson after Sgt. William Henry Johnson, a Black soldier awarded the Medal of Honor for repelling a trench raid in World War I.


Fort Rucker, Alabama, the home to Army aviation, to Fort Novosel after Chief Warrant Officer 4 Michael J. Novosel Sr. Novosel flew B-29s in World War II, served in Korea, and — resigning his officer commission to become an Army warrant officer — flew dustoff helicopter mission in Vietnam. He received the Medal of Honor for a particularly harrowing rescue in 1969 in which he pulled 29 men out of a firefight. He also later rescued his own son, who was also an Army helicopter pilot.


The 2021 National Defense Authorization Act mandated the creation of the eight-person Naming Commission to lead efforts to remove Confederate names, monuments, or other symbols from Defense Department property, including the nine bases. The commission released an inventory in March of 750 specific instances of Confederate-related names attached to military property, mostly streets and other signs on the bases under review. Officials said all of the items in the inventory would be addressed in the commission's final report, due in October.
After that, the Secretary of Defense will review the recommendations and decide on base names. Though the Secretary is believed to have the legal power to rename bases, it is likely that Congress — which can dictate policy in the military via its budgeting power — will have a say in the final decision for renaming.
Though the genesis of the naming commission was to remove Confederate names, many who observed the process had expected the names to be mostly that of non-white male Soldiers. But in the final recommendations just two of the base were named for Black soldiers, one for an Hispanic soldier and one for a soldier of Native American heritage. There are no Army bases currently named for a Black person or Native American, and, according to a commission member, just one military post is named for an Hispanic person, the Puerto Rican National Guards's Camp Santiago, named for Medal of Honor recipient Hector Santiago-Colon.
Three of the recommendations would put the name of a woman on a base, though in two of those cases it would be a combined name that also honors a man.
The Naming Commission received more than 34,000 total submissions, which included 3,670 unique names. Commissioners announced Thursday, March 17, that they had narrowed that list down to 87 names.
"Liberty" was not among those names.
Among the nine changes, Camp Liberty replacing Fort Bragg seems to be getting the most significant reaction on social media.
"Money well spent," said one commenter on a Facebook post about the changes. "The confederacy is a part of our history, a dark part. A museum is where it belongs not on the name of one of our countries biggest fort. Good riddance to the name."
But another echoed many veterans, saying: "It will and forever be Fort Bragg."
Read Next: