Sgt. Maj. of the Army Michael Grinston announced changes to the US Army's grooming and uniform standards that fall under Army Regulation 670-1, Wear and Appearance of Army Uniforms and Insignia, during a sit-down briefing to the public that was held virtually Tuesday afternoon. The changes to AR670-1 are meant to show the Army's commitment to "diversity, inclusion, health, wellness, functionality, good order, and discipline."
"Our soldiers are smarter, stronger, and faster than we've ever had. And I am extremely proud of everybody in the Army right now," Grinston tweeted following the Tuesday announcement. "Our changes make us a better Army and more inclusive. And THAT's what makes us the greatest Army the world has ever seen."
During the briefing, Sgt. Maj. Brian Sanders, G-1 Uniform Policy Branch, said he initially thought the updates would be an impossible task, but after building a panel of diverse people with various work and cultural backgrounds, he was able to provide accurate recommendations from the fighting force to the SMA. Grinston said he trusted what was presented to him and readily signed off on the updates, but without the panel's input, he never would have agreed to many of them. Sgt. Maj. Mark Clark noted that the panel members were in plainclothes to prevent anyone from feeling defensive, guarded, or fearful of repercussions for giving their honest recommendations.
A US Army press release said the changes include guidance for the Army Green Service Uniform and many other details to revise its "grooming standards to support its People First priority and diversity and inclusion efforts." The updates to AR670-1 will go into effect on Feb. 24, to give soldiers, both lower enlisted and upper command, time to read the updates and prepare for the changes, said Clark.
Among changes to the grooming standards for females in the military, women are now allowed to wear earrings and lipstick and to paint their nails with certain colors. Earrings will not be allowed during field/tactical training or combat deployments and in locations where normal hygiene cannot be completed. In addition, commanders will have the opportunity to decide if earrings are a safety risk while in garrison. Clark confirmed during the brief that the changes in regard to earrings are explicitly for females.
Female hairstyles have been expanded to include things like braiding, locs, twists, etc., and there is no longer a minimum length requirement. Women may now tie their hair in a short ponytail if they aren't able to secure it in a bun or long ponytail for various reasons such as texture or lack of length. In addition, they will be able to cut a part in their hair if they don't naturally have one.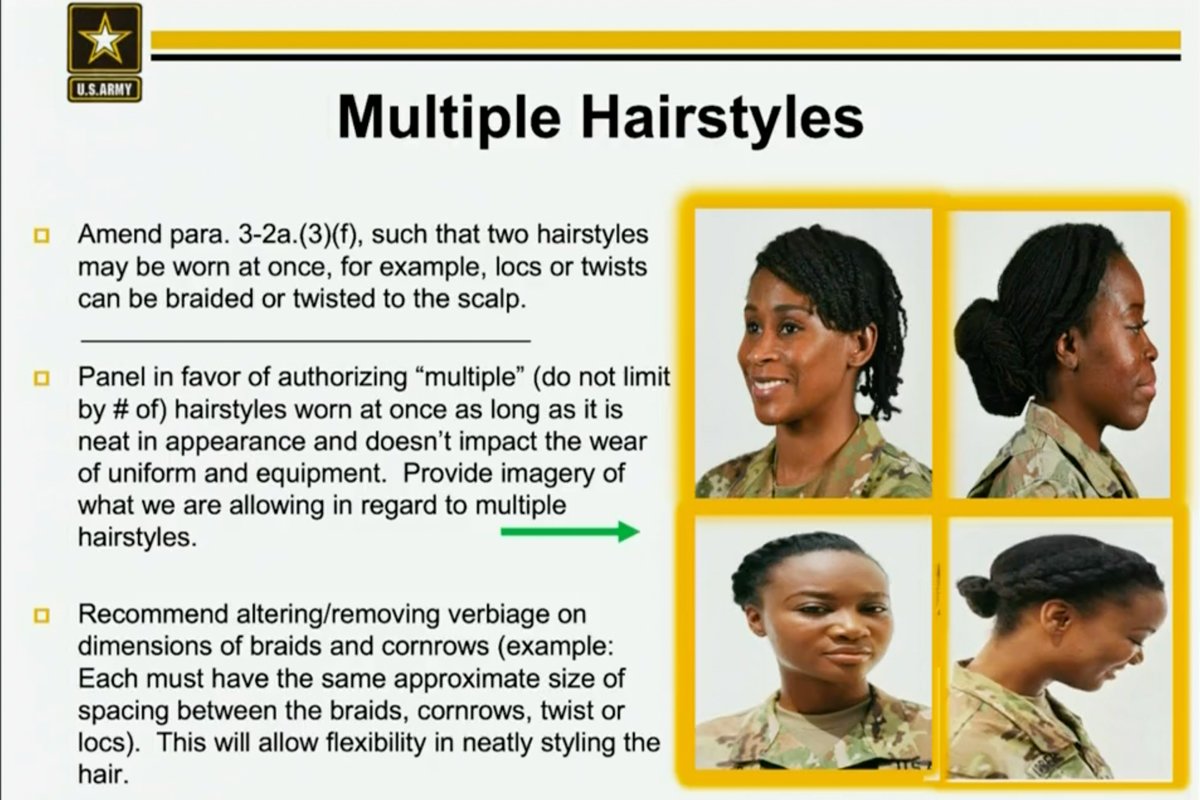 Female soldiers will be allowed to wear long ponytails if they are unable to tie their hair in a bun during physical training, while wearing the Army Combat Uniform, or while wearing equipment such as combat helmets. They will be required to secure long hair inside their ACU tops. They will also be able to dye their hair and add highlights as long as it appears natural. Certain colors like solid black, white, purple, blue, pink, green, orange, bright red, fluorescents, or neons are prohibited; similar restrictions apply to nail polish.
Men will now be allowed to use clear nail polish for fingernail health and professional appearance, especially for those who work with harsh chemicals regularly.
The guidelines for the Army Green Service Uniform include a change to the shoulder sleeve insignia from "former wartime service" to "military operations in hostile conditions" to be more inclusive for soldiers who were in combat without being in a declared war zone. Females will now be allowed to wear undershirts that facilitate breastfeeding and pumping. The Improved Hot Weather Combat Uniform is now approved. The major differences between the IHWCU and the ACU are that the new coat doesn't have breast pockets and features sleeves that are more fitted and less bulky than the former version.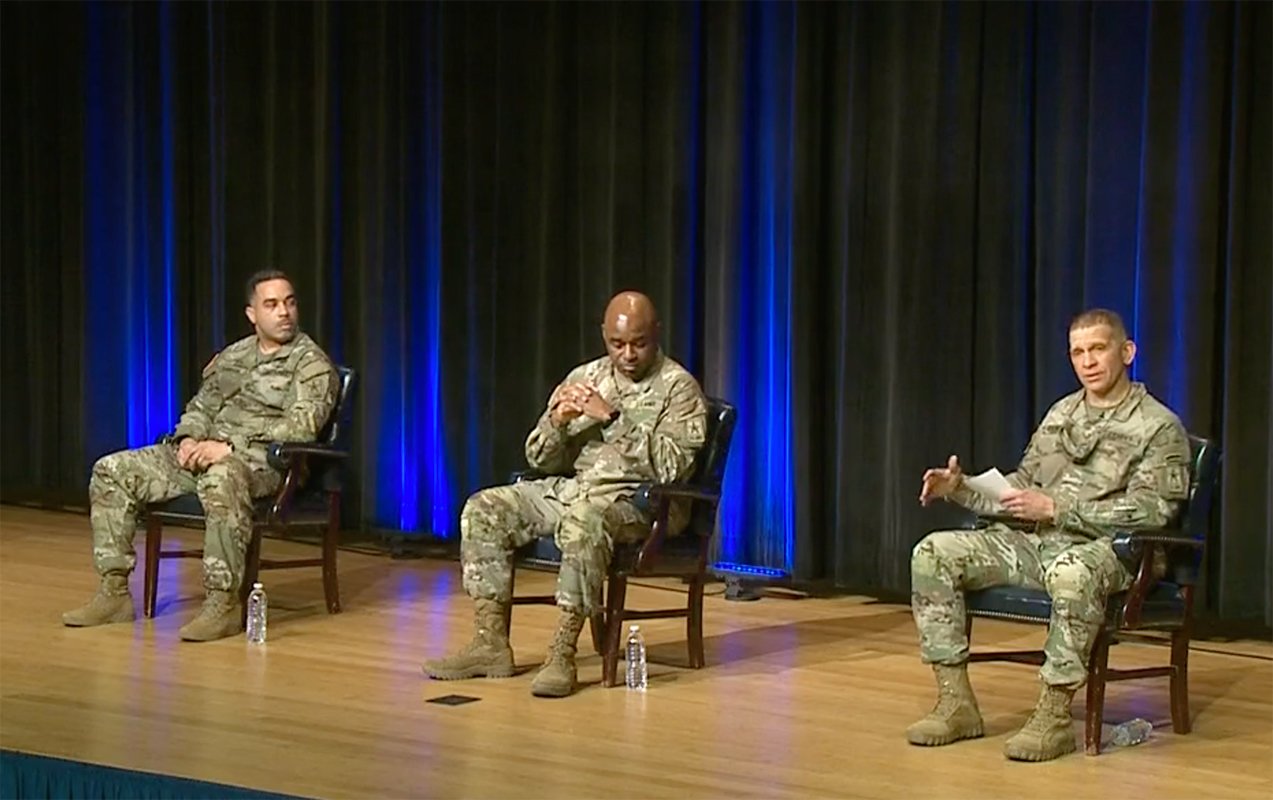 Additionally, the updates approved the Expert Soldier badge, Master Gunner ID badge, and Military Horseman ID badge.
The Army removed offensive words from the regulations, including "dreadlocks," "Fu Manchu," and "mohawk." In addition, imagery within AR670-1 has been updated to be more relevant and provide specific examples to go along with the updates. The updates also removed references to the Universal Combat Uniform and replaced them with Operational Camouflage Pattern.
"We are continuously assessing our policies to identify areas for improvement, then implementing policies that demonstrate our commitment to ensuring all Soldiers feel as though they are valued members of the Army team," Lt. Gen. Gary Brito, deputy chief of staff for personnel, said. "We know that actions speak louder than words when it comes to inclusivity and equity within our ranks, and we believe that the changes we announced today are one example of policies that put our people first."