This article was originally published on Dec. 12, 2019, by the U.S. Army News Service.
FORT MEADE, Md. — Since his fellow cadets stormed Baltimore's M&T Bank Stadium three years ago after Army ended Navy's 14-game winning streak, Ryan Velez had waited for his chance to play in the storied Army-Navy game.
Velez, now a senior safety from Fountain Hills, Arizona, finally saw action on special teams during last year's 17-10 Army triumph in Philadelphia.
On Saturday, Velez can help the 5-7 Black Knights defeat Navy for the fourth straight time, and cement the 2020 senior class as one of the greatest in West Point's history. Army takes on the No. 23 Midshipmen (9-2) at the Philadelphia Eagles' Lincoln Financial Field at 3 p.m. EST.
"This is like a season of its own," Velez said of the Army-Navy Game. "That's unlike any other games in college football … the opportunity to win a trophy and go to the White House. That's something special. It's surreal and something I'll be able to take with me for the rest of my life.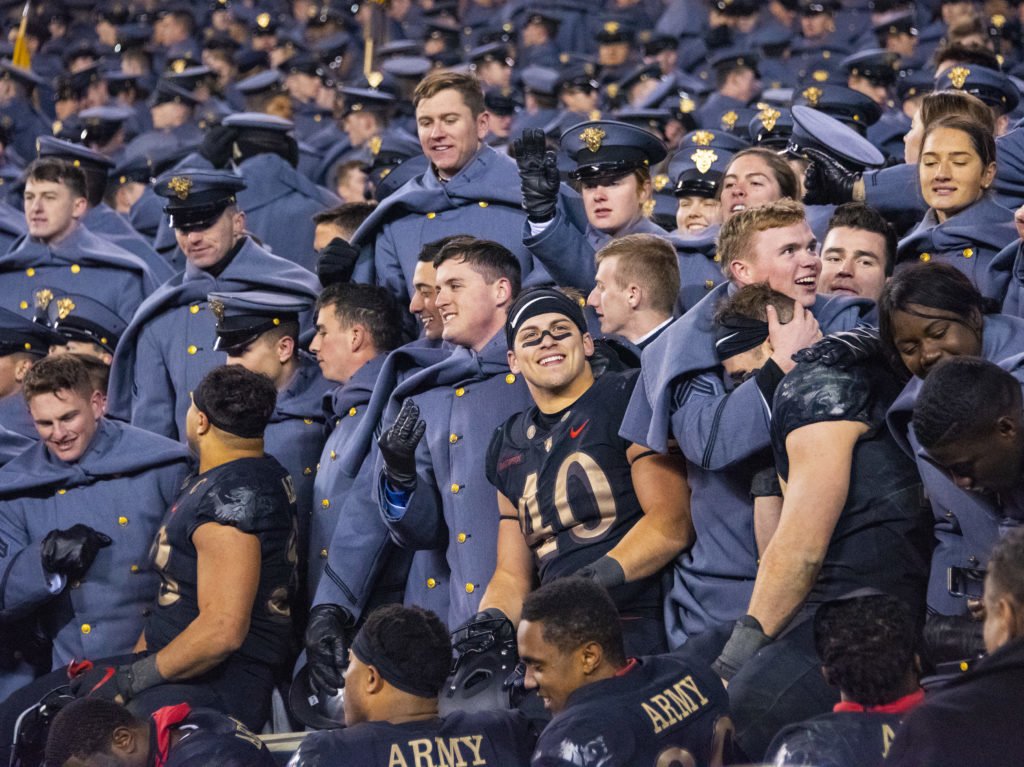 A high school tailback, Velez moved to defense at West Point and played mostly on the scout team his freshman year. After switching to safety his sophomore year, he still couldn't get on the field, but finally contributed to Army's 11-2 campaign as a junior, seeing action in 11 of 13 games.
Velez worked harder in practice and studied diligently to learn the intricacies of both strong and free safety, earning the trust of his coaches.
This fall, Velez has become a leader on defense, recording 40 solo tackles, two interceptions, one forced fumble and a sack in 12 games. Not bad for a player who spent most of his first two seasons on the bench.
"During that time it was hard," he said. "Obviously taking a backseat, having a secondary role, that was one of those challenges I've had to overcome — fight through and I'm glad I did. It's been a ride; it's been a journey. I'm just very appreciative to be where I'm at right now."
BRUTAL SCHEDULE
A 5-7 mark could seem disappointing for the Army football team after cruising to an 11-2 record last fall and the program's best finish since 1958.
Records can be deceiving.
Army has proven it can still compete with the nation's best. Despite the final scores, the results on the field have shown competitiveness.
In each of those seven losses, the Black Knights remained within striking distance, including a near-upset of No. 17 Michigan in Ann Arbor. Army forced overtime against the Wolverines before falling 24-21.
The Black Knights narrowly lost to service rival Air Force 17-13 in Colorado Springs Nov. 2, when the No. 25 Falcons stopped Army at the goal line with less than a minute in regulation.
"All that stuff that happened in the past, that's gut-wrenching. We can't focus on that right now. We just got to focus on Navy, finishing out the season strong."
During a 52-31 offensive shootout at Hawaii Nov. 30, Army trailed only 38-31 with seven minutes remaining in the game. The Black Knights' drive stalled after driving to the Hawaii 35-yard line and the Warriors scored the final two touchdowns.
"We played a really tough schedule, some really great competition," Velez said. "All that stuff that happened in the past, that's gut-wrenching. We can't focus on that right now. We just got to focus on Navy, finishing out the season strong."
Army's senior class, which has not lost in the annual rivalry game, hopes to complete a four-year sweep. Senior quarterback Kelvin Hopkins (706 rushing yards, seven TDs) and senior running back Connor Slompka (637 yards, eight TDs) lead Army's No. 2 rushing attack. Hopkins has also thrown for 570 yards and four touchdowns, but his time on the field has been limited by injuries.
Since head coach Jeff Monken took over, Army bounced back from a 2-10 mark in 2015, to go 21-5 in the 2017 and 2018 seasons.
That run includes a 70-14 trouncing of Houston in the Armed Forces Bowl and finishing at No. 19 in the college football rankings during the 2018 season.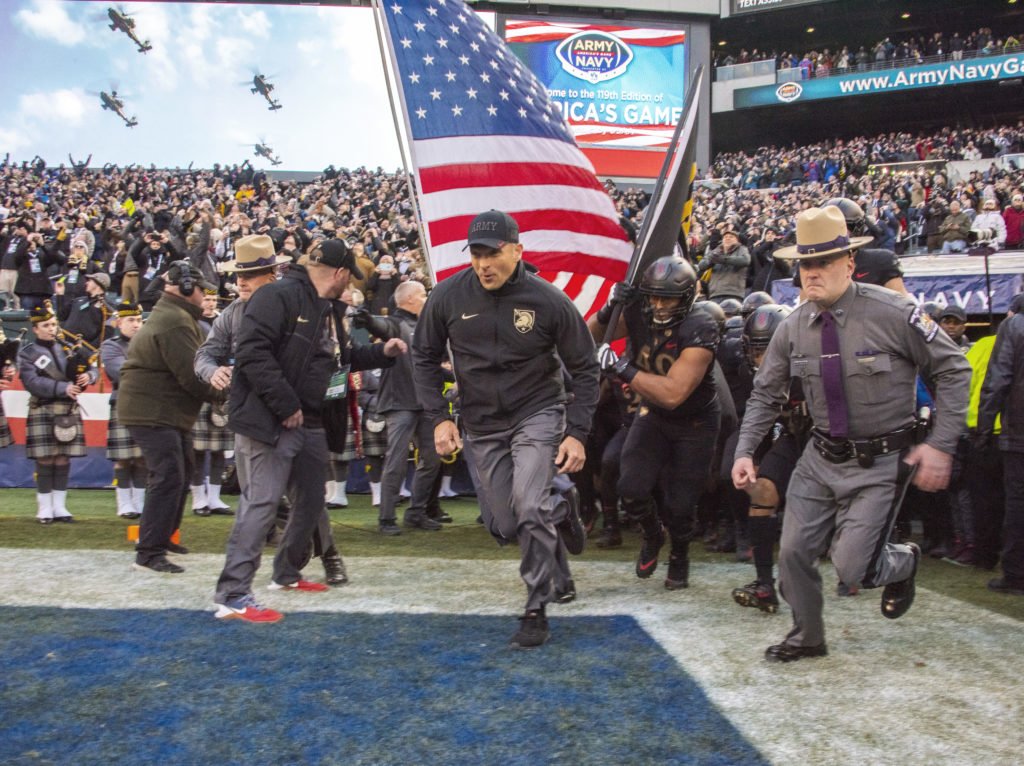 "We had a great senior class my freshman year," Velez said. "We were able to end the streak. That was something that the whole Army itself was looking forward to, just ending that streak, being able to say we finally beat Navy. That senior class kind of gave us the ground rules for continuing that streak the past couple of years, giving us the formula to beat Navy so they set the example and … we hope to continue that this coming Saturday."
The contest holds special significance for Velez, as his younger brother Ross, a freshman at the Naval Academy, will be pulling for the Midshipmen from the stands. Velez, whose great uncles served as enlisted troops in the Korean War and World War II, will become the first officer in his family when he graduates from West Point next spring. He said his parents, Roger and Evangeline Velez, will have torn allegiances when they attend this year's game.
FORTUNES REVERSED
Army faces a No. 23-ranked Navy squad that handed Air Force one of its only two losses this season. Last season Army's football team won a defensive struggle in frigid winter conditions. In 2018, Army carried a No. 22 ranking and 9-2 record heading into the game while Navy had weathered its worst season since 2002 at 2-9.
This fall, Navy enters the game as the favorite as Army failed to qualify for a bowl game for the first time since 2015.
Navy bounced back from its worst campaign to finish second in the American Athletic Conference and earn a bid to play in the AutoZone Liberty Bowl vs. Kansas State Dec. 31.
This season's Army-Navy game features a matchup of the nation's top two rushing offenses. The Midshipmen's high-powered offense ranks No. 9 in the nation.
While standing only 5-9, the elusive Perry has quickly become one of the nation's most potent offensive weapons …
Senior QB Malcolm Perry leads Navy's top-ranked rushing attack, as he has rushed for 1,500 yards and 19 touchdowns and thrown for another 1,027 yards and six touchdowns.
While standing only 5-9, the elusive Perry has quickly become one of the nation's most potent offensive weapons and will test the Black Knights' No. 30-ranked defense, which has struggled with consistency. Perry ranks No. 6 in the nation in rushing yards.
Sophomore fullback Jamale Carothers has made big play after big play for the Midshipmen, rushing for 637 yards on only 76 carries (8.4 yards per carry) and has 741 yards from scrimmage and 14 total touchdowns. Carothers scored five of those touchdowns in a 56-41 triumph over Houston Nov. 30, one shy of the conference record.
Velez said the Army defense carries a swagger, built from three consecutive victories and weathering a brutal schedule.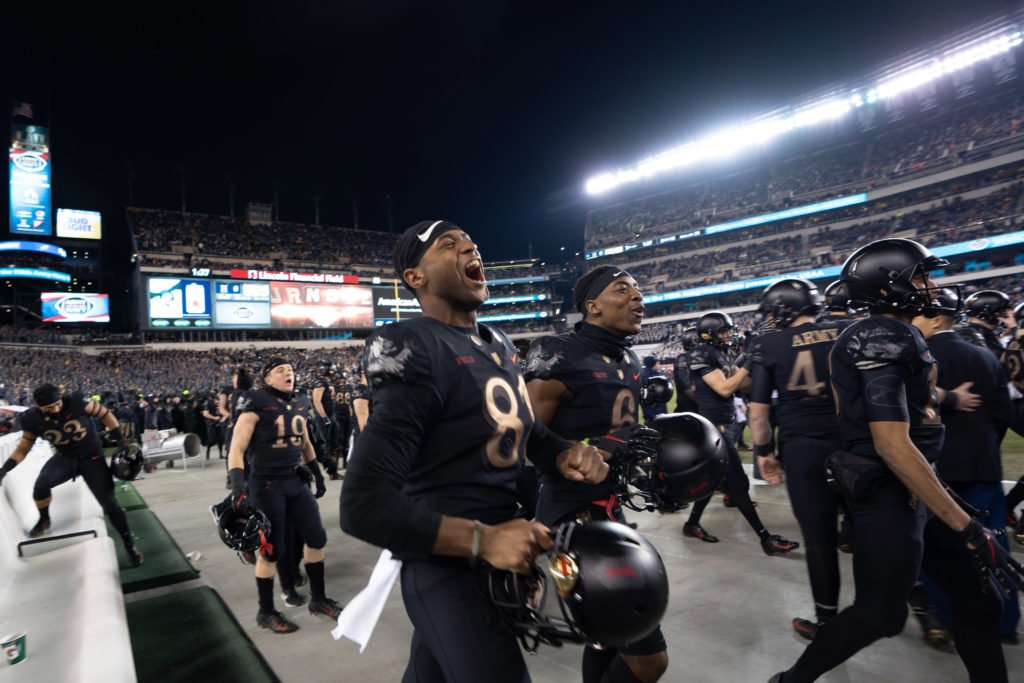 "We just have a calmness going into it, we know how to win," Velez said. "It's just a blood bath when we go out there. I think going in we have some confidence, we have some swagger. We know what it takes to win. At the end of the day, we just got to line up, be a tougher team and out-physical them."
Navy still holds a 60-52-7 all-time lead in the contest, though Army has won the last three matchups.
DEFENSIVE STRUGGLES
While Army's defense had been a stalwart force the previous two seasons, it has struggled at times this season. In 2018, the Black Knights boasted the nation's 10th best defense, allowing only 17.7 points a game and 295.3 yards of total offense per contest.
This fall those numbers jumped to 337.8 yards allowed and the Black Knights fell to No. 30 in total yards allowed, and No. 33 in points allowed.
Senior cornerback Elijah Riley leads Army in interceptions (three), forced fumbles (three), sacks (four) and ranks second on the squad with 73 tackles.
HONORING THE PAST
Army will pay tribute to the 1st Cavalry Division, the first full unit of its kind to deploy to Vietnam. The division pioneered a new battle concept which used helicopters to mobilize large masses of Soldiers.
The Black Knights will don green helmets that display the golden sabers to honor the 1st Squadron, 9th Cavalry regiment.
The Midshipmen will wear a throwback classic 1960s-era uniform with gold shoulder stripes and a special paint design that resembles football helmets of the past.