A website launched this week to honor a famous Army Special Forces mission ahead of the Army-Navy football game Dec. 11. Co-branded under the US Military Academy and Nike, which outfits West Point's sports teams, the website highlights special "Task Force Dagger" uniforms, which Army players will wear during the game in tribute to the Special Forces "Horse Soldiers" who toppled the Taliban in 2001. The website sells a line of Nike apparel based on the uniforms and features original photos from the 2001 operation.
But whether on purpose or on accident, the site has a lot of pictures of Air Force dudes.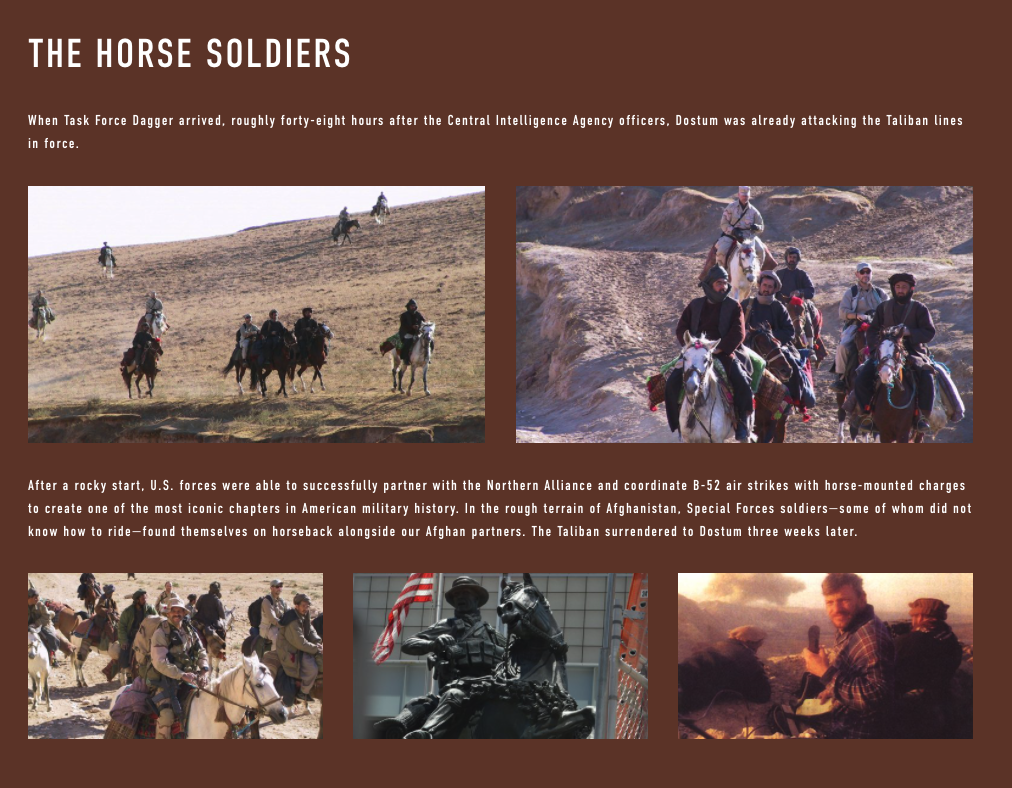 Retired Air Force Master Sgt. Tim Stamey, who was attached to Task Force Dagger as a Tactical Air Control Party operator, confirmed to Coffee Or Die Magazine that a photo used in the campaign features him holding a radio hand mic as an explosion from an airstrike he called in can be seen in the background. Stamey earned a Silver Star for the combat action depicted in the snapshot.
Stamey said the Army-uniform campaign is not the first time photos of him with Task Force Dagger have painted him as in the Army.
"That's me," he said. "That one and one other picture of me has been used to showcase 5th Special Forces Group for years."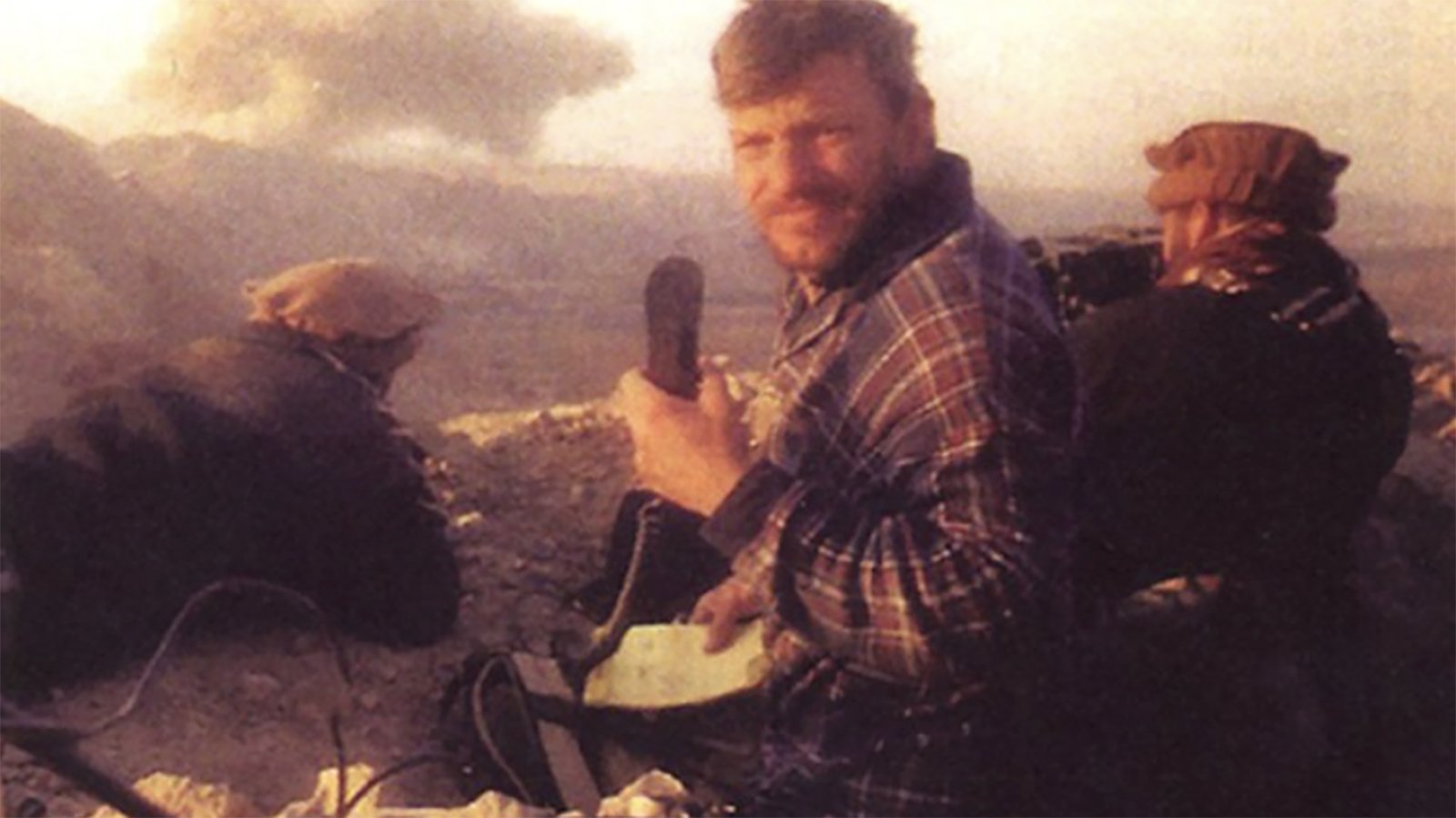 The picture of Stamey and at least two others featuring Air Force members are featured on the tribute site under a section labeled "The Horse Soldiers." That they are actually Air Force operators is not mentioned in the accompanying text.
The soldiers and airmen of Task Force Dagger were among the first US troops to enter Afghanistan after the 9/11 attacks in 2001. Four Special Forces teams connected with forces of the Northern Alliance and in a matter of weeks expelled the Taliban from power. Some of the teams rode on horseback with their Afghan counterparts, leading to their "Horse Soldiers" nickname. The Air Force operators who embedded with those teams were TACP airmen and combat controllers who called in airstrikes on Taliban positions. Their work was a tactical advantage that far offset the Taliban's superior numbers in the early fighting.
Next to Stamey's picture is a snapshot of then Staff Sgt. Bart Decker, a combat controller with the 23rd Special Tactics Squadron. In one well-documented engagement, Decker and his Special Forces team rode to the top of a mountain outside Mazar-i-Sharif, where Decker called in airstrikes on a fleeing convoy of Taliban below.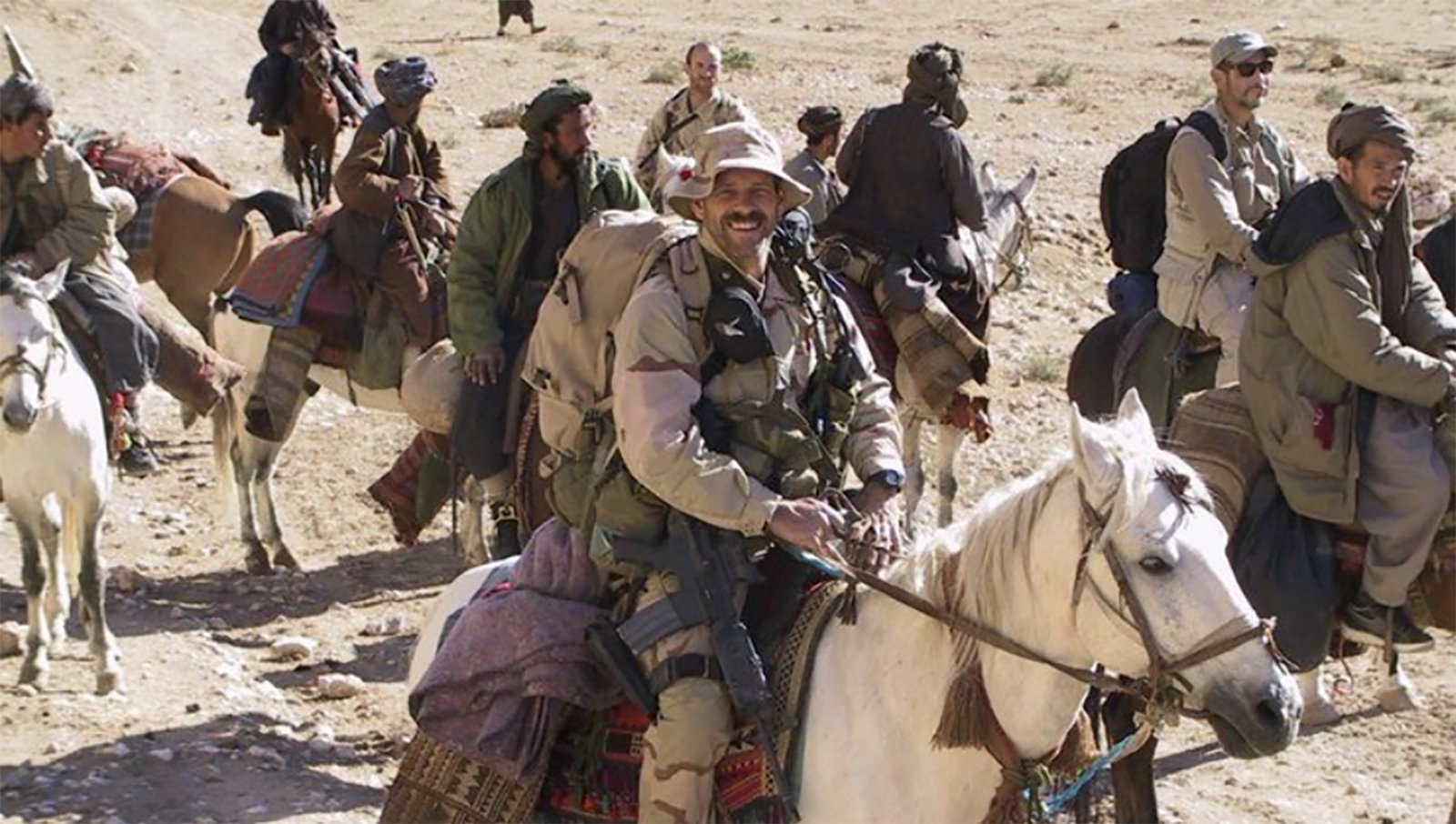 Decker is also in a second picture on the page, which is perhaps now the most iconic of the early Afghanistan campaign: 10 soldiers on horseback, five Afghan, five American, galloping across a hillside. Decker is at the rear of the formation, with several Army teammates around him.
Several other pictures on the page do capture Army soldiers from TF Dagger, including one of then Capt. Mark Nutsch.
The site also links to a "hype" video for the campaign that features a player wearing the Task Force Dagger-themed uniform while wandering through an urban-combat training range and New York City and jumping from the rear of a parked Army CH-47. In a clip recounting Task Force Dagger's mission, a service member equipped with radio and targeting gear common to Air Force operators calls in an air strike.
Creating a tribute to the Army football team with pictures of Air Force operators was not the only military history slip-up on the website.
Twitter user @forbesmm, an Army reserve officer who served for 15 years on active duty, caught another mistake — corrected after a Washington Post reporter also noted it. The site originally misrepresented the name of US ally and Northern Alliance General Atta Muhammad Nur, referring instead to "Mohammad Atta," the Arabic spelling of Mohamed Atta, the Egyptian hijacker and so-called "mastermind" of the 9/11 attacks.
Special historical tribute themes have become an annual tradition for Army-Navy football uniforms. While Nike outfits West Point's sports teams, the Naval Academy has an apparel contract with Under Armour. For Saturday's game, Under Armour will outfit the Navy team in a uniform meant to pay tribute to naval aviation.
The uniform is based around the US roundel, the star-and-wings emblem that is displayed on all US military aircraft, regardless of branch. Nike also outfitted the Air Force Academy team with a roundel helmet for its September 11 game against Navy.
Read Next: