The U.S. Army has just revamped the promotion system for noncommissioned officers (NCOs). The days of waiting for your time to be selected for promotion are over. The Army has scrapped sequence numbers, which display how long an NCO has been serving and ranks them versus their peers.
The Army will now be promoting in a "pure" system, based on the talent of the soldier. This board will be for the rank of staff sergeant through sergeant major within their military occupational specialty (MOS). The new order of merit list (OML) will be quantified by the soldier's holding of key development positions accompanied by NCO evaluation reports (NCOERs). Here's what 10 Army NCOs think about it.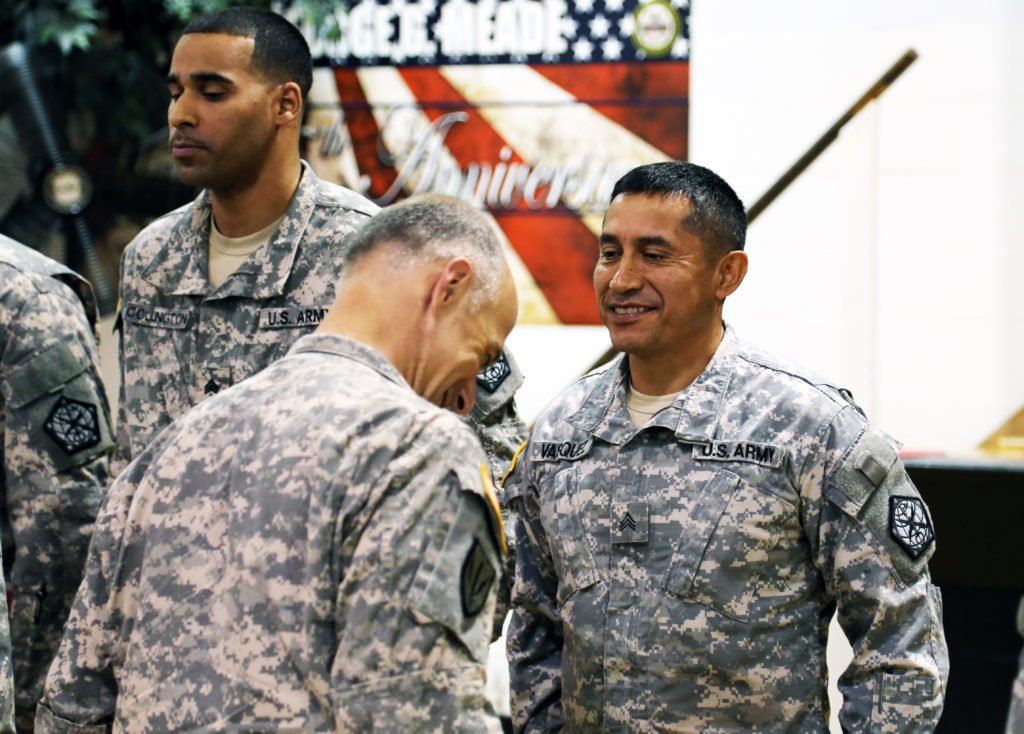 Brandon Higgins
Former infantry staff sergeant
"I've never seen anyone promoted based simply or solely on seniority!"
Sergeant First Class Benjamin Lamb
Active duty Cavalry Scout
"The Army is and has been one step behind the promotion process since the days of the surge and stop-loss. I'm not saying qualified people weren't promoted after that. However, when a large organization loses a few solid pieces of its [backbone], everything takes a hit. There is no quick solution to this problem; we need to stop the hip-fire approach to fixing it. Good ol' fashioned leadership and experience."
Sergeant First Class Patrick Kuster
Active duty joint fire observer
"I believe our promotion system has needed a facelift for a long time. Looking at the other military branches that implement tests of common knowledge and then job knowledge, the Army just left it to judgment and time."
Rodney Followill
Former infantry staff sergeant, medically retired
"Throughout my military career, I encountered NCOs who would hide in the schoolhouse and never serve as a platoon sergeant or had little time as a squad leader. When they returned to the [line unit], the level of incompetence as a platoon sergeant showed in leadership ability and tactical knowledge. I believe allowing an NCO to grow with leadership positions, military and civilian education will help make a better, well-rounded NCO."
Staff Sergeant Darryl Russaw Jr.
Active duty combat medic
"With the new promotion system leaning toward acknowledging pure talent, potential, and true experience, it opens doors for young leaders who have been constrained to time in service and allows [them] to thrive because of raw leadership abilities."
Staff Sergeant Pamela Dupar
Drill Sergeant, active duty operating room specialist
"Promoting on merit is good until you get that high-speed NCO or officer who has never been anywhere or done anything. They did what was needed to look good on paper. That can pose an issue when leading soldiers into war or adapting to different types of soldiers. Time in service gives them an opportunity to gain more knowledge and experience — if they are the type to take initiative to better not only their career but also those that surround them."
Sergeant First Class Kris Horn
Active duty M1 [tank] armor crewman, master gunner
"The major positive about the new system is you now get to see where you rank against your counterparts."
Kyle Kalman
Former infantryman sergeant, medically retired
"As the Army modernizes its force, it is good to see that it is taking a new approach on evaluating leadership."
Staff Sergeant Damarily Drummond
Active duty combat medic
"I feel like [based] on the Army 'merit' can go either way. Some people can be great NCOs but haven't done much to be competitive for promotion, so merit-based promotions would benefit them. Then there could also be NCOs who don't earn any merit based on command bias but are otherwise fully competitive for promotion, so that might hinder their career."
Michael Gately
Retired infantry first sergeant
"I feel that this system will be very heavily weighted toward units like the 75th Ranger Regiment. It's not hard to look at most of the current senior division leaders and realize that a lot of them spent time in the 75th."