After revising its grooming standards in February to allow female soldiers to wear ponytails in some instances, the Army has amended its grooming standards again, allowing ponytails and braids in all authorized uniforms.
A panel including 15 female and two male soldiers voted on the previous modifications after a Department of Defense-mandated review of Army policies, but the panel originally decided not to allow ponytails in all uniforms. Sgt. Maj. of the Army Michael Grinston tweeted that the panel "asked if they could reconsider their decision" after hearing from other soldiers.
"This new modification is more practical for our female Soldiers. It allows them flexibility in a tactical environment while maintaining a professional appearance in garrison," said Sgt. Maj. Brian C. Sanders of the Army G-1 Uniform Policy Branch in a press release Thursday.
Previous modifications to the grooming standards allowed soldiers to wear ponytails if their hair length or texture prevented them from twisting it into a tight bun, but only as long as they tucked the end of their hair into their Army Combat Uniform (ACU) top.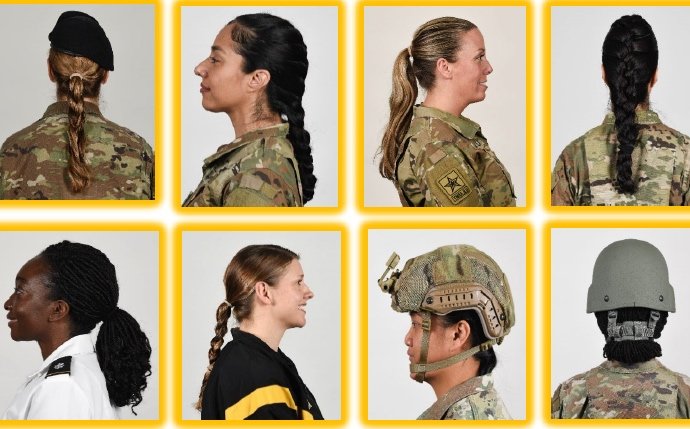 Now, braids and ponytails may be worn down the center of the back in all uniforms, but the length may not extend past the bottom of the shoulder blades while at the position of attention. Multiple locks, braids, twists, or cornrows may come together in one or two braids, or a single ponytail, according to the Army.
The only exception to the new guidance is while conducting physical or tactical training, at which point commanders will determine if the hair hinders a soldier's performance or presents a safety risk.
The changes are a win for women who felt the previously required bun was uncomfortable or made it difficult to wear helmets. Dermatologists say wearing a ponytail could lower a person's risk of hair loss, reduce scarring, and decrease the likelihood of migraines caused by repeatedly pulling hair into a tight bun, according to a January press release from the Army in which officials laid out additional changes, such as allowing hair highlights, some nail polish and lipstick colors, and certain earrings.
The panel's decision also aimed to improve diversity and inclusion in the service, according to the release.
Read Next: Fighting Escalates on Ukraine's Eastern Front: An Exclusive Report From the War Zone