Soldiers who refuse the COVID-19 vaccine will not be allowed to reenlist, retire, collect a bonus, put on a higher rank, accept awards, or have college classes paid for under a memo issued by Secretary of the Army Christine Wormuth on Tuesday, Nov. 18.
The memo presents the clearest guidelines yet for soldiers who refuse a COVID-19 vaccination without an approved exemption. The punishments will kick in Dec. 15, the Army's active-duty vaccine mandate deadline, and will apply to Army Reserve and Army National Guard troops after their deadline in June 2022.
According to numbers released Wednesday and analyzed by Coffee or Die Magazine, the Army badly trails all other services in vaccinations. The Army has just a 77% vaccination rate (which includes partially vaccinated troops), while the Navy sits at 97%, the Marines at 92%, and the Air Force and Space Force at 96%. All those figures, including the Army's, include Guard and Reserve components, which face different deadlines than active duty.
Wormuth's memo is aimed at soldiers who either have not pursued an exemption or have exhausted all appeals to a denied exemption. It will not apply to those awaiting a decision on a medical or administrative exemption.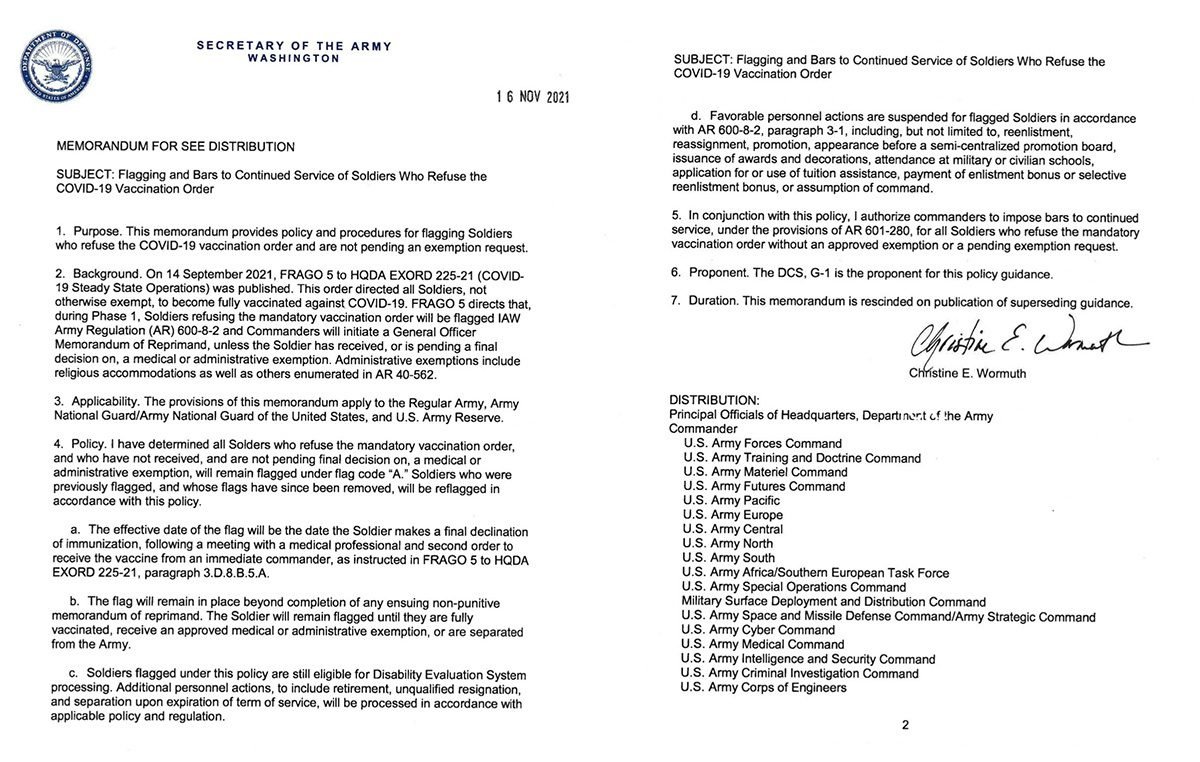 The memo instructs commanders to classify soldiers who refuse the vaccine as "Flag code A" under Army Regulation 600-8-2. Flag code A denotes a violation of the Uniform Code of Military Justice and bars soldiers from "favorable personnel actions" including reenlistment, retirement, promotion, and the use of other common benefits.
The policy is clearly aimed to be the "end of the line" for soldiers refusing the vaccine. The punishments laid out by Wormuth will kick in only after a soldier both meets with a medical professional to discuss the vaccine one-on-one and receives a second direct order from their chain of command to vaccinate.
But crucially, once issued, the action flag will remain on the soldier regardless of punishment meted out by their commanders.
"The flag will remain in place beyond completion of any ensuing non-punitive memorandum of reprimand," said Wormuth in the order. "The Soldier will remain flagged until they are fully vaccinated, receive an approved medical or administrative exemption, or are separated from the Army."
"The Secretary of the Army signed clarifying guidance authorizing commanders to take additional administrative actions for Soldiers who refuse lawful vaccination orders and do not have an approved or pending exemption," said Army spokesman Lt. Col. Terence M. Kelley. "The Army's updated guidance extends the flagging action until the Soldier is fully vaccinated, receives an approved medical or administrative exemption, or is separated from the Army."
Wormuth put it starkly: "In conjunction with this policy, I authorize commanders to impose bars to continued service […] for all Soldiers who refuse the mandatory vaccination order without an approved exemption or a pending exemption request."
The Army has yet to release numbers on exemptions. The Air Force, which was the first service to reach its vaccination deadline, had approved 1,634 medical and 232 administrative exemptions, but no religious exemptions, when the deadline hit.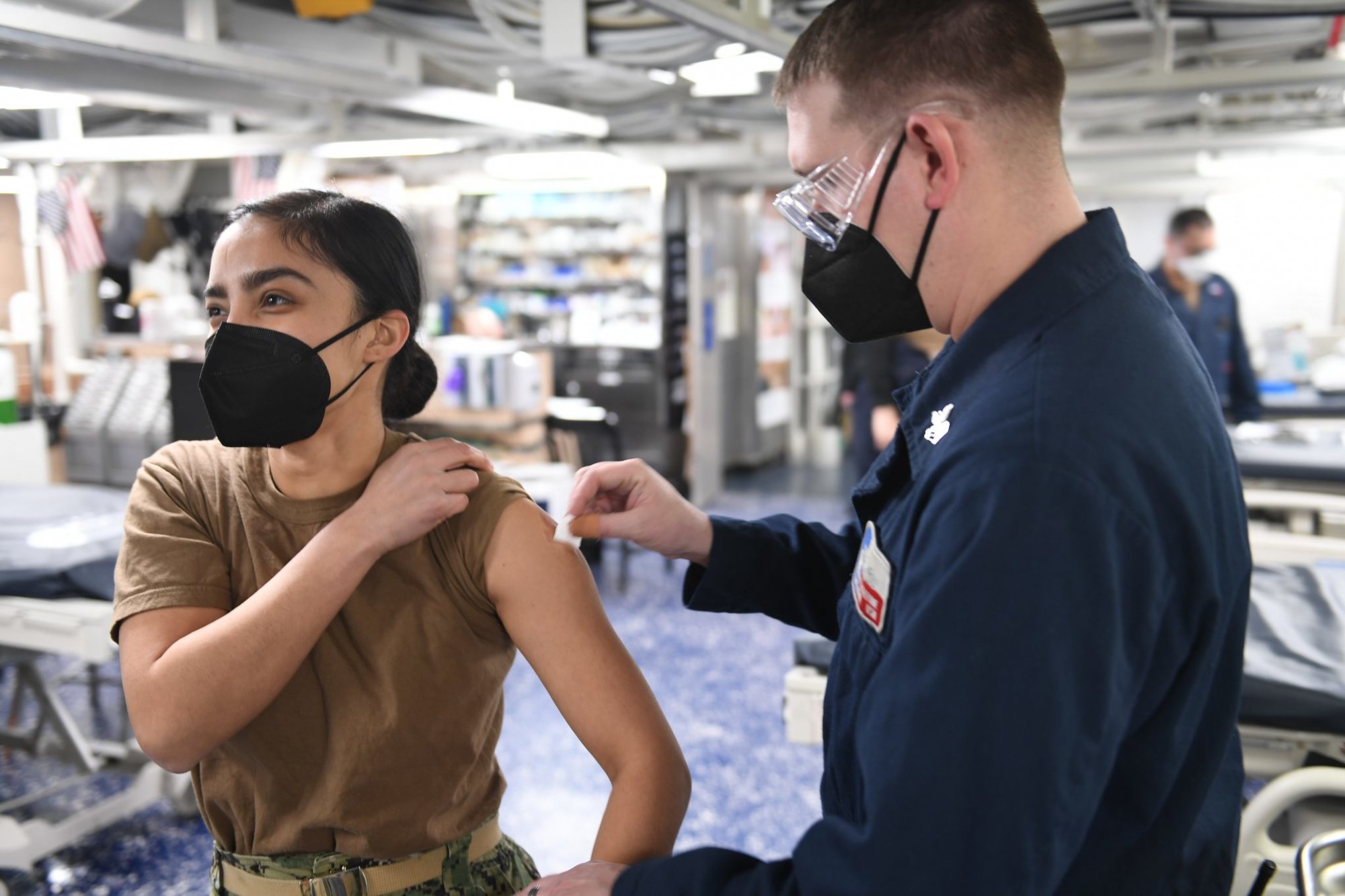 Wormuth's hard-line memo comes in the wake of a move by the Oklahoma National Guard's Adjutant General Thomas Mancino to declare the state's guard exempt from the vaccine mandate. Mancino issued the order hours after being appointed to the position by Oklahoma Gov. Kevin Stitt, who has been publicly against vaccine mandates.
In audio obtained by The Washington Post of a recent town hall meeting Mancino held with soldiers, he said Stitt's authority overrides that of the secretary of defense when National Guard troops are stationed within Oklahoma.
"I did not initiate a civilian-military crisis just because I thought it was cool, right?" Mancino said. "I refer to my sworn oath and the law, which is Title 32, [United States Code]. This says the governor of the state of Oklahoma is my boss. Failure to do that might result in a negative outcome for me personally.
"Before making my decision, I said, 'Oh my God, I might be getting in trouble,'" Mancino continued. "That does not mean that I disrespect the secretary of defense, who I served with in Afghanistan combat. […] He's a very big individual who could crush me like a bug."
So far, Secretary of Defense Lloyd Austin has made no statements regarding how he plans to deal with the disconnect between Wormuth's memorandum and the situation in Oklahoma, or whether he is concerned that other states might follow Oklahoma's lead. Carly Atchison, a spokeswoman for Stitt's office, told The Washington Post that multiple Republican governors have contacted Stitt about potentially duplicating his policy.
Department of Defense press secretary John Kirby made clear again on Wednesday that the DOD disagrees with the Oklahoma governor's interpretation of the National Guard's responsibilities under Title 32, saying state authorities "may not relieve individual members of the Guard from their obligation to comply with this valid medical readiness requirement."
Read Next: Showdown at the COVID Corral Continues for Oklahoma Guard