Unlike last weekend's football game, Army just beat Navy — in the percentage of troops vaccinated against COVID-19 at the branch's vaccine deadline.
The Army announced Thursday, Dec. 16, that 98% of its active-duty force has received at least one dose of the COVID-19 vaccine, making it the branch with the highest compliance percentage in the entire military. Across the whole military, 96% of troops are now fully vaccinated.
The service also said it had fired two battalion commanders for refusing to be vaccinated.
The Dec. 15 deadline set by the Army was the last of all the service branches. The Air Force hit its deadline on Nov. 2, with 96.9% of active-duty airmen at least partially vaccinated at that time. The Navy and Marine Corps both had a deadline of Nov. 28, at which point 95% of Marines were at least partially vaccinated. The Navy had conflicting numbers, saying on Nov. 24 that 99.8% were partially vaccinated but revising that total after the deadline to 97.2%.
Earlier this week, the Air Force announced it had removed 27 airmen from the force for failing to get vaccinated. A Thursday press release announced the separation of 103 Marines with the vaccine refusal discharge code.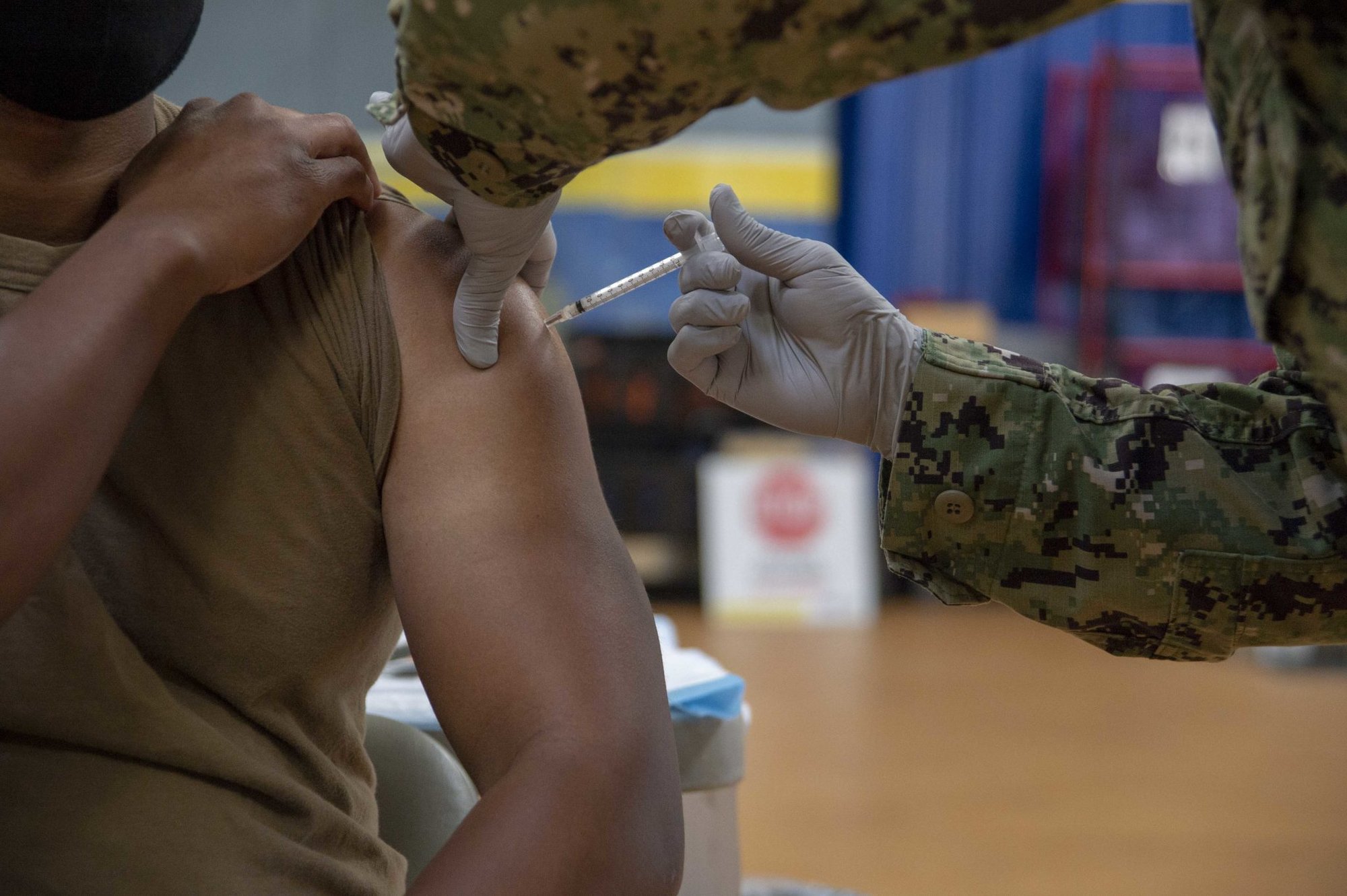 Similar to other service branches, the Army said it has so far granted no religious exemptions to the vaccine mandate, and the numbers released at the deadline do not indicate how many requests for religious accommodation remain to be processed. However, 6,263 active-duty soldiers have temporary medical or administrative exemptions, which includes pending medical and religious exemption applications. Four permanent medical exemptions have been granted out of 621 requests, while 516 have been turned down.
"Vaccinating our Soldiers against COVID-19 is first and foremost about Army readiness," said Secretary of the Army Christine Wormuth. "To those who continue to refuse the vaccine and are not pending a final decision on a medical or administrative exemption, I strongly encourage you to get the vaccine. If not, we will begin involuntary separation proceedings."
Thursday's press release noted that Army commanders have relieved six active-duty leaders, including two battalion commanders, and issued 2,767 general officer written reprimands to those who have actively refused the vaccine.
The Army National Guard still has until June 2022 to receive the vaccine.
On Wednesday, five governors followed the lead of Oklahoma's governor Kevin Stitt and formally objected to the vaccine policy in a letter to Defense Secretary Lloyd Austin. The governors of Alaska, Iowa, Mississippi, Nebraska, and Wyoming told Austin that requiring the vaccine when national guard troops are in state-controlled status is "beyond your constitutional and statutory authority."
Oklahoma has taken its protest against the vaccine mandate the furthest, suing President Biden and multiple employees of the Department of Defense, claiming in court documents that "Presidents are not potentates with limitless power and a divine mandate to act according to their own will by being accountable only to Heaven."
Gov. Greg Abbott of Texas also sent a letter to the secretary of defense on Thursday, saying that his state's adjutant general would not punish any national guardsmen who choose not to get the vaccine. "If unvaccinated guardsmen suffer any adverse consequences within the State of Texas, they will have only President Biden and his Administration to blame," Abbott wrote. "If the federal government keeps threatening to defund the Texas National Guard, I will deploy every legal tool available to me as Governor in defense of these American heroes."
Read Next: 26 SEALs, Other Special Warfare Troops Sue for Vaccine Exemptions