A disabled US Army veteran who orchestrated potentially lethal Molotov cocktail and baseball bat attacks on cops during the Portland protests in 2020 has been sentenced to 10 years behind bars.
During a Tuesday, June 21 hearing in Portland, US District Judge Marco A. Hernández also ordered 25-year-old Malik Fard Muhammad to spend three years on supervised release when he exits a federal penitentiary.
The Indiana man is currently serving a 10-year sentence in the Oregon State Penitentiary following his guilty plea in Multnomah County for attempted murder, riot, criminal mischief, and assault.
In an agreement he inked with federal prosecutors on March 17, Muhammad pleaded guilty to two counts of possessing unregistered destructive devices.
"In the summer of 2020, a historic protest movement in Portland was marred by violent rioters taking advantage of the momentum built by thousands of peaceful demonstrators," said US Attorney Scott Erik Asphaug in a prepared statement released in the wake of Muhammad's sentencing. "Sadly, this violence drastically changed the narrative around these protests and what they accomplished. In the lead up to and during protests, federal law enforcement is focused on doing everything we can to support the First Amendment rights of individuals while keeping all demonstrators, other community members, and law enforcement officers safe. Holding accountable those individuals whose sole focus is violence and destruction, like Mr. Muhammad, is central to our ongoing effort to support the rights of all Oregonians."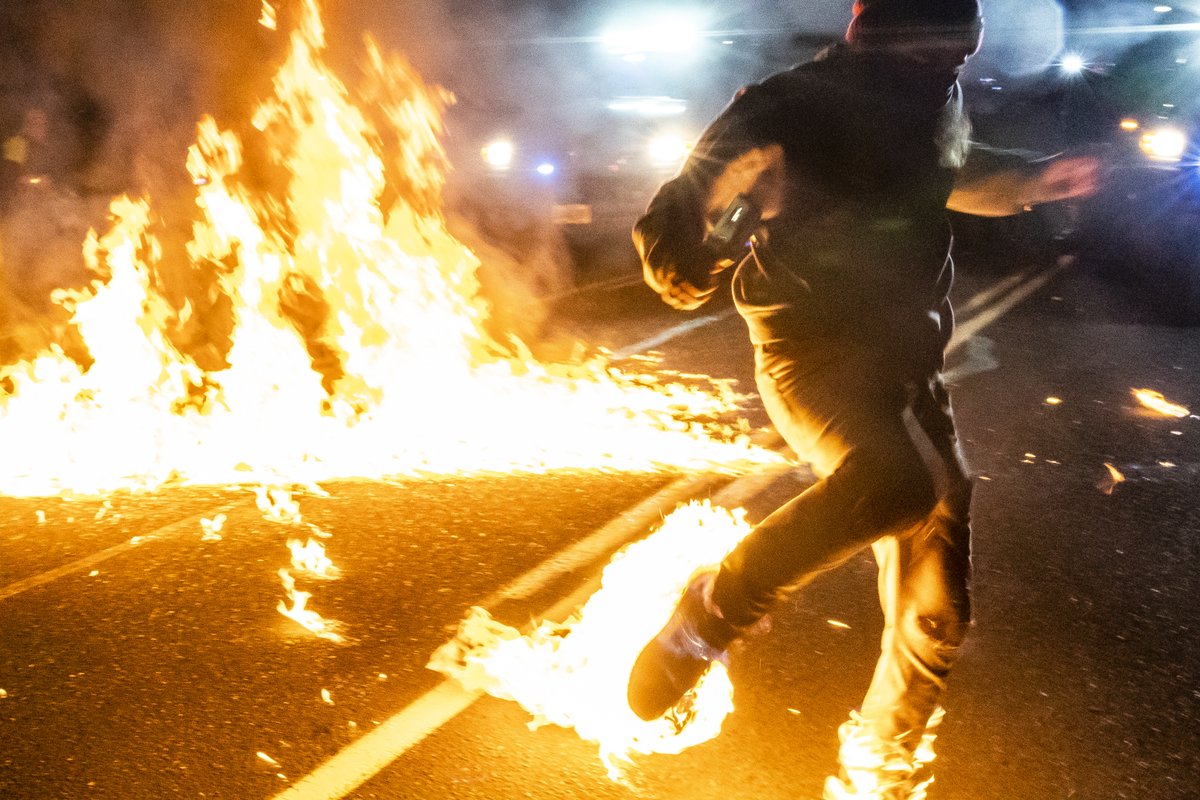 Muhammad's federal defense attorney did not respond to Coffee or Die Magazine messages seeking comment. Honorably discharged from the Army in 2018, Muhammad has admitted in federal court filings to a history of drug, alcohol, and psychiatric problems.
Muhammad's crimes in Portland from Sept. 21-23, 2020, marked him as a domestic terrorist and brought the full weight of the FBI's Portland Oregon Division of the Joint Terrorism Task Force down on him.
Although protests in Portland decrying then-Minneapolis Police Officer Derek Chauvin's murder of George Floyd on May 25, 2020, in Minnesota began peacefully, they began to degenerate into a series of pitched street battles between increasingly violent demonstrators and law enforcement.
Investigators first took notice of Muhammad on Sept. 5, 2020, during a large demonstration in the eastern section of Portland. The mob tossed commercial-grade fireworks, Molotov cocktails, and other objects at police. One incendiary device thrown at a cop hit a demonstrator, causing serious burns.
Authorities also suspected Muhammad had distributed baseball bats to the crowd to use on officers.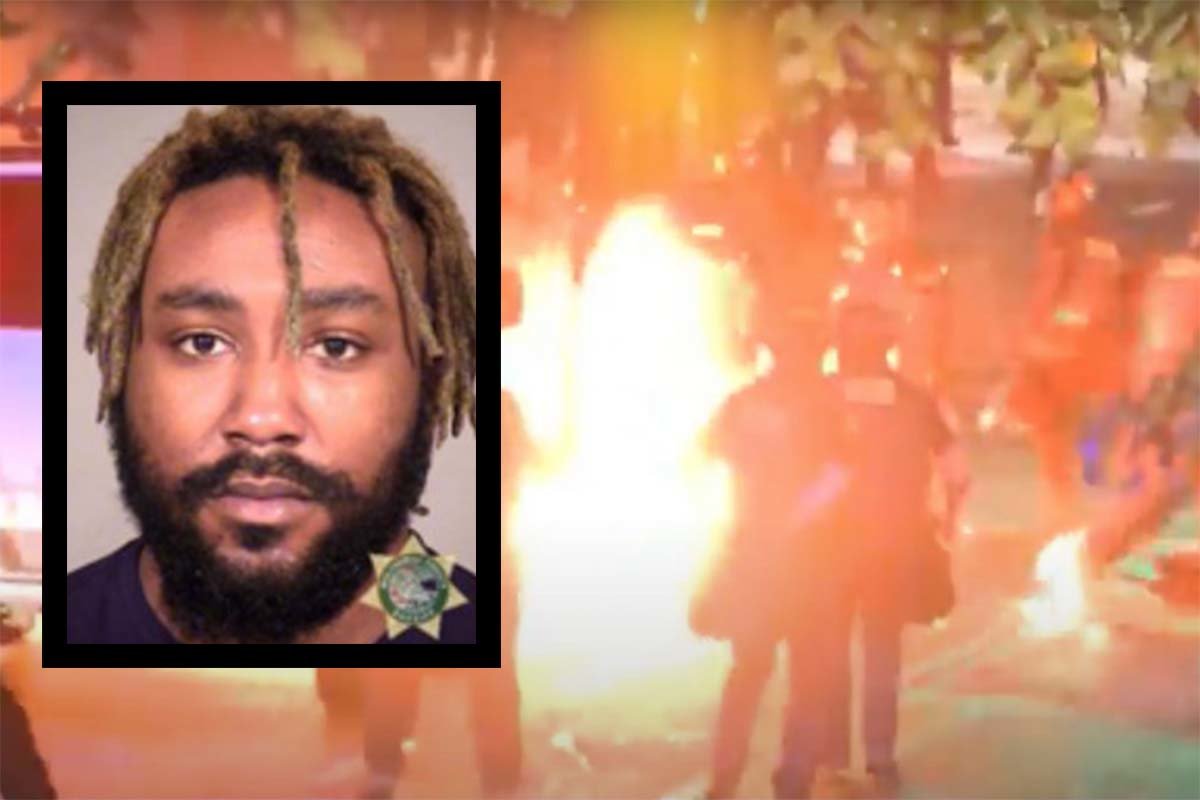 On Sept. 21, 2020, roughly 100 protestors descended on Portland's Penumbra Kelly Building. A Portland Police Bureau crew used a Long Range Acoustic Device to tell the crowd they were trespassers. A Molotov cocktail flew from the mob and fell 15 feet away from the cops but didn't ignite.
Investigators combing surveillance footage suspected Muhammad tossed the firebomb. The device was a yellow glass growler with a "Goodwill" sales sticker on the bottom, a cloth wick stopping up the incendiary liquid.
Two days later, a crowd estimated to have been twice as large formed near the Portland Police Bureau station house at 1111 Southwest 2nd Ave., blocking the streets. Cops used the LRAD again to order the mob to disperse, but they were met with marbles, rocks, and other debris. Arsonists lit fires. And someone threw another Molotov cocktail at the officers.
This one shattered. A fireball leapt up a Portland cop's uniform. Another officer used a fire extinguisher to kill the flames. Fragments of the bomb showed it was similar to the yellow growler used two days earlier.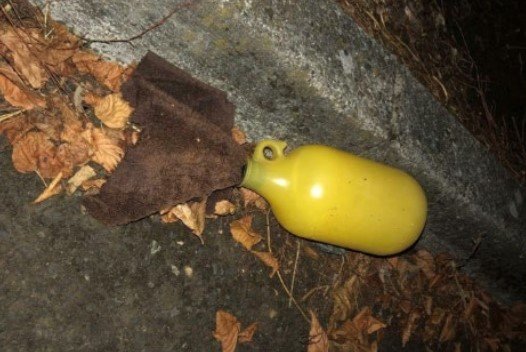 When investigators scanned social media photos of the incident, they traced the Molotov cocktail back to a tan canvas bag. The thrower also wore a pink gas mask.
Authorities turned to the Facebook pages of both Muhammad and his girlfriend, who had traveled to Portland from Indianapolis in late July of 2020. They also examined social media accounts from other activist groups and began to formulate a theory about Muhammad's radicalization over the summer of 2020 to violence.
Muhammad appeared to have traveled to meet with five other anti-police activists in Louisville from Aug. 14-16, 2020, where they trained with two other groups on how to wield firearms.
In the wake of the police shooting of Jacob Blake in Kenosha, Wisconsin, on Aug. 28, 2020, Muhammad took to his social media to urge readers to "Kill cops. Shoot back. We say no justice no peace we mean NO PEACE."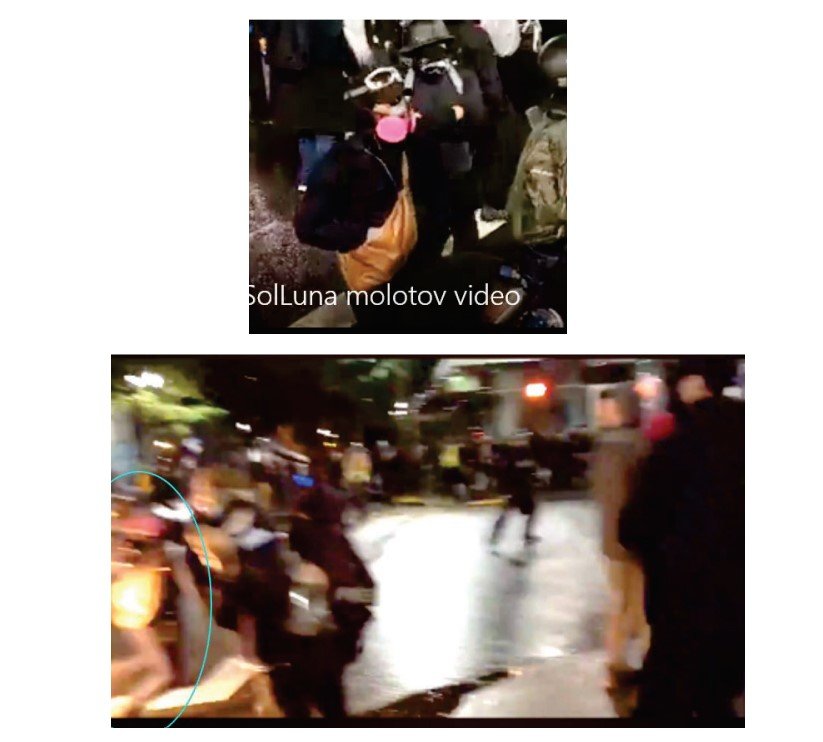 Three days later, Muhammad was back in Portland, telling his Facebook readers to "shoot back." On Sept. 2, 2020, he played up a news story about Chicago street gangs forming a pact to kill cops, typing, "shoot, every opportunity you have."
He began posing in photos — which were put online — carrying a rifle and the tan canvas bag investigators suspected he used to carry Molotov cocktails.
On Oct. 11, 2020, a group of demonstrators began a rampage across downtown Portland, tearing down statues of Abraham Lincoln and Teddy Roosevelt and smashing windows at the Oregon Historical Society, Portland State University, Bank of America, and other businesses.
Investigators later estimated the group caused more than $40,000 in property damage.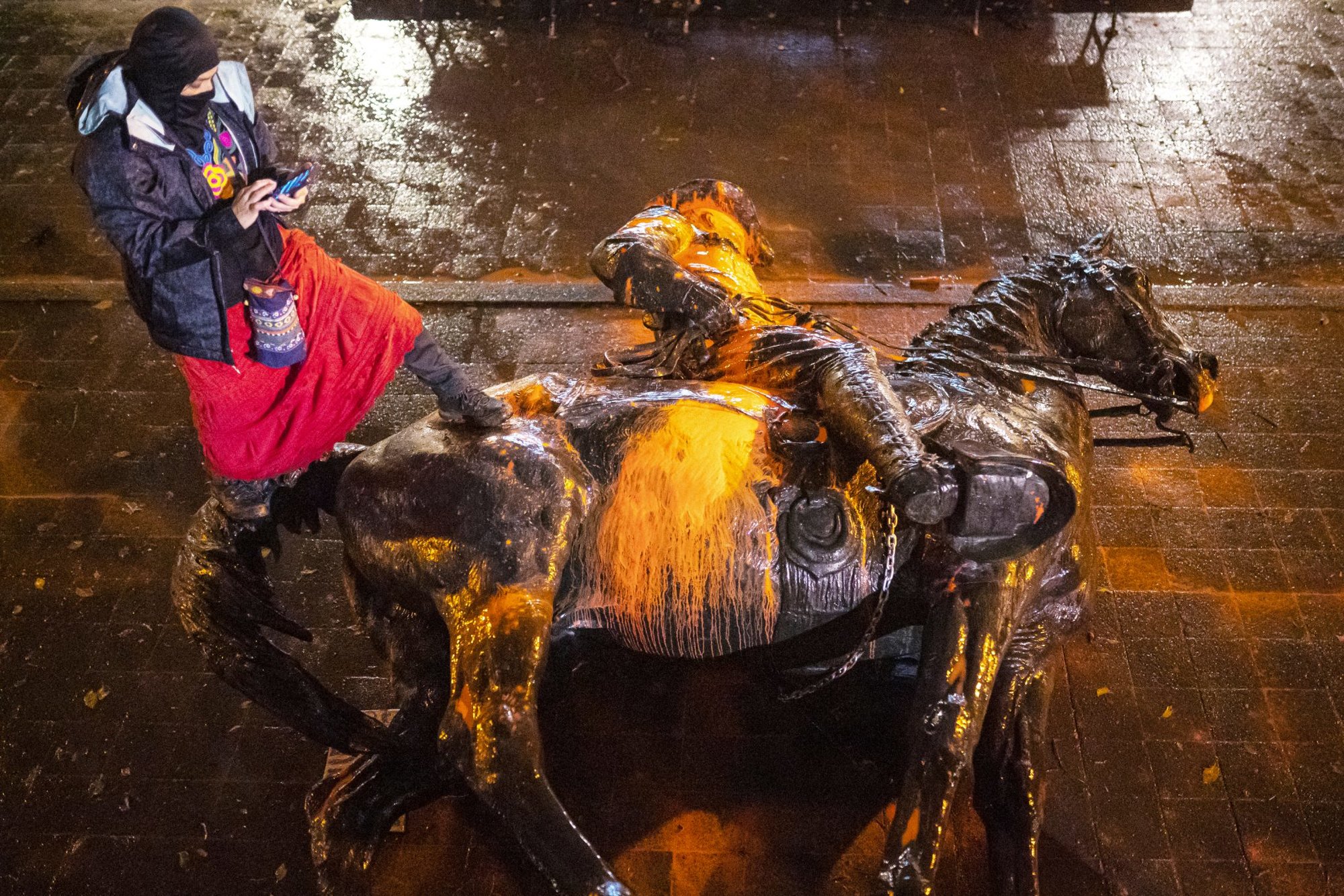 Undercover officers spotted Muhammad in the fray, carrying a shield emblazoned with the slogan, "abolish police." They reported he was using a metal baton to shatter windows. Law enforcement moved in to nab Muhammad, but he bolted and hid behind some barrels. When the cops caught up to him, he had a loaded pistol magazine in his pocket. Behind the barrels, officers found a loaded 9 mm pistol.
Muhammad was arrested. Armed with search warrants, Portland Police officers seized his backpack and blue Ford F-250 pickup truck. They also raided the RV trailer where he'd been staying during the Portland protests.
In the RV, they found multiple firearms, including shotguns and a rifle styled like an AR-15. Agents contacted the owner of the rifle and learned that Muhammad was a "communist revolutionary" who was plotting the "armed forceful takeover of a radio or television station," according to court records.
In the truck, cops found a Sept. 4, 2020, receipt from a McMinnville, Oregon, Goodwill, for glass "growlers." Store video footage captured Muhammad and his girlfriend buying the bottles and baseball bats there on Sept. 4, 2020.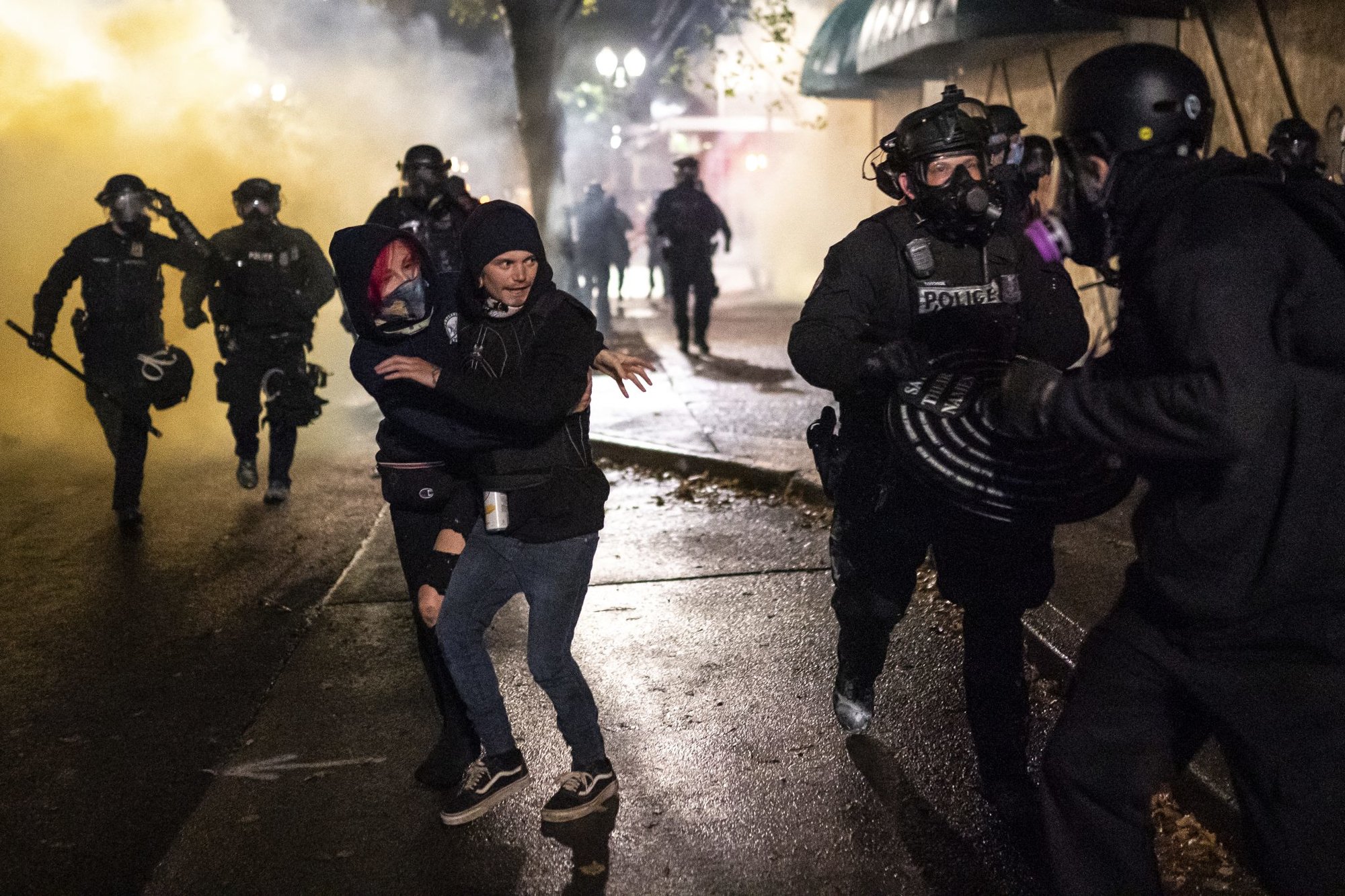 Authorities also recovered fuel containers filled with gasoline, ethanol, heavy petroleum distillates, and fatty acid methyl esters, which are ingredients for Molotov cocktails. On Muhammad's cell phone, cops found a recipe for mixing the explosives and a message bragging about how he supplied the mob with baseball bats.
Muhammad's DNA covered the unburned wicks.
When shown photos of the demonstrations, Muhammad's girlfriend identified him as the man wearing the pink gas mask, according to court records.
Arraigned in state court on May 26, 2021, Muhammad left the courthouse on a $212,000 bond posted by a nonprofit. He was arrested the next day on federal charges and has remained in custody ever since.
"The right to protest peacefully is absolute," said US Bureau of Alcohol, Tobacco, Firearms and Explosives Seattle Field Division Special Agent in Charge Jonathan T. McPherson in a prepared statement. "But it is clear Mr. Muhammad didn't come to exercise his rights. He came from out-of-state to bring violence to our community. This sentence should send a clear message to those who want to engage in violence that it will not be tolerated, and ATF will investigate these acts whenever they occur."
Read Next: Tennessee Convict Who Pointed Pistol at Cop Hit With Max Federal Sentence