In Atlanta, Georgia, during the early 1990's, a seven-year-old John Eric Demery, Jr. sat in his family home and started to draw. It was a creative escape that he began just a year earlier. The sketch captured the attention of Demery's mother.
"I drew an eagle at age seven and my mother has kept it ever since," said Demery. "I am almost 40 years old now."
As it turned out, drawing an eagle was fitting for Demery. After joining the Navy in June 2008, he eventually found himself assigned as a personnel specialist aboard the aircraft carrier USS Carl Vinson (CVN 70), nicknamed "The Gold Eagle."
Currently stationed in Bremerton, Washington, the distance between "The Gold Eagle" and Demery's hometown of Atlanta is immense: 2,681.5 miles, to be exact. Despite the distance, the spirit of Atlanta never left him. Demery's time in the Navy gave him determination and discipline, which renewed his motivation to tell stories through his art.
Demery believes that comic books represent the highest level of art, and his art has become a conduit of self-expression. Three of his biggest influences are his city, his upbringing and his love for Atlanta's rap scene. Mixed in with Marvel's Spider-Man comics, those three subjects have informed Demery's distinctive artistic style.
"You must really know how to create the world around you," said Demery.
In high school, Demery began a mission to use his drawing skills to bring a story to life. His drawings reflected his world, and the backgrounds of his earlier stories infused with urban influences and a style that truly represented Atlanta. The written word soon followed, and the characters he created spoke the way Demery spoke: with a distinctive, urban, Southern drawl synonymous with Atlanta and its residents. Through his characters, Demery captured the dialect and the spirit of the city.
Years later, Demery graduated from high school. With his diploma in hand and the skyline of Atlanta in the background, Demery already had a lifetime of experiences behind him. He grew up in what he described as a rough neighborhood, with poverty, crime and racism being commonplace.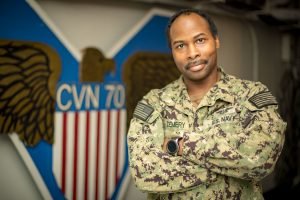 Around the same time, rap music was igniting an artistic renaissance in Atlanta. To Demery, one group in particular stood out from the crowd: the unapologetic, chart-topping rap duo Outkast. The local group had risen to popularity in the mid-90s and distinguished themselves by breaking free from the sound of popular East Coast and West Coast rap of the time. Instead, they stayed true to their roots and created a sound of their own, a sound that represented the South. At the end of the song 'Chonkyfire,' Outkast famously stated, "The South has something to say." Headphones on and pen in hand, Demery agreed. He decided to create a graphic novel that fused elements of his own background, the music of Outkast, and the superhero stories which he loved. The story of Demery's superhero would paint a picture of the city that was honest and realistic, uncompromising and raw.
"I wanted to tell the experiences of where I lived and mix it with superhero themes," said Demery.
A hero had to save the city. Who would that hero be, and what would he stand for? Demery wanted his hero to be a local, he had to blend in with Atlanta's neighborhoods. He wouldn't be some outside influence, but instead he would rise from the streets to become the influence. For the name, Demery decided on a moniker he used while rapping: Chronicle the Outboi. The name was inspired by Demery's admiration for the producer and rapper Big Boi, who, along with Andre 3000, was a member of Outkast. In true superhero fashion, the hero's name was more than a clever musical influence.
"Outboi stands for One Used to Battle Our Ignorance," explained Demery.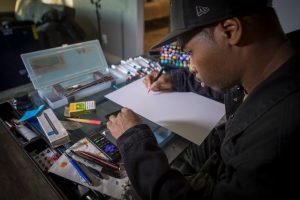 One element that is central to the graphic novel "Chronicle the Outboi," and is part of what makes it unique among comic books, is the thematic and stylistic influence of "the trap,". A common theme in rap and drug-dealing culture, a trap is a physical space where illegal drugs are bought and sold. Not only is the trap a source of revenue, it is also a place to kick back, relax and listen to music. Demery was exposed to this environment, but had since distanced himself from the trap life and only used the culture as an artistic influence.
"No one has ever done it before, mixing what they call 'the trap' with comics," said Demery.
When Demery started college, the "Chronicle the Outboi" graphic novel took shape as he began writing, drawing and organizing the project. However, in Demery's words, art is, "a 'circle of life' type thing."
His years in college came to an abrupt end around the economic collapse of 2008. To ensure a safe future for himself and his community, Demery enlisted in the Navy shortly after. This new, more financially stable life allowed Demery to continue his work. While in the Navy, he produced 104 pages of what he would describe as his mission, and he firmly believed the comic's popularity would explode once the public had a chance to read it.
The graphic novel found a captive audience among Demery's fellow Sailors. Culinary Specialist 2nd Class Derrick Barbee, also assigned to Vinson, is an Atlanta native. After learning they shared a hometown, Demery approached Barbee with a published version of his comic. From the imagery of the hero on the cover alone, Barbee felt this comic would be different. He was in disbelief that a fellow Sailor could create an entire comic on his own.
"It's crazy what people do outside of the Navy, how creative they can be," said Barbee.
Many people stay true to their roots, but Demery had truly captured his hometown. Also, it was clear to his shipmates that Outboi was more than just a character in Demery's comic. Demery and Outboi were connected. In their own ways, both Demery and Outboi wanted to ensure the safety of their community. One Demery defended the neighborhoods of Atlanta wearing a mask. The other wore a uniform defending his home's interest abroad. Outboi was designed to combat the adversities Demery saw every day growing up. Demery wanted to bring light to the problems of his old neighborhood. Outboi used his powers to stop drug use and crime in the community and give back to the poor.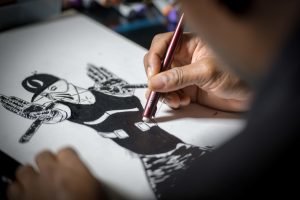 "The comic, it rang true from the slang to the scenery," stated Barbee. "The whole thing gave me Outkast vibes and old hip-hop Atlanta vibes."
Barbee said he plans to show the graphic novel to his friends on his next visit home. After so many years of turning concepts into characters, dialogue and illustrations, he finally turned his city and his upbringing into art. Years of work, preparation and experiences had come together and Demery's hard work paid off.
Demery credited his time in the Navy for giving him the discipline to see it through. Navy life gave Demery the focus and drive to work towards the goal he had since high school. Now a petty officer 2nd class, Demery could add author to his list of accomplishments.
"I see this as a mission, and the Navy is always on a mission," said Demery. Now, Demery sells his comic online and around the greater Seattle and Tacoma areas. In the meantime, he is always looking ahead and continues to pursue his passion by telling other stories.
"I have plans to put my Navy experiences into word and art," said Demery.
The future for John Eric Demery, Jr. is that of a Sailor and an artist. He will continue his mission to engage audiences with vivid stories that speak to real-life issues. His mother might have been the first to notice his talents, but in a world where a new superhero movie is released almost every week, the next big crime fighter may emerge from the city streets of Atlanta.