When I frequented my Marine Corps recruiting office from 1999 until I enlisted in 2003, Staff Sgt. Molina used to welcome me with a familiar, "Ey devil," and Staff Sgt. Ciccarreli would echo with "Eyyyyyyy." Vintage recruiting posters were sprinkled among more modern propaganda. The message they consistently reinforced was that the Corps' values—especially service above self—are timeless.
In one of the old posters, a strong, black Marine standing tall in his dress blue uniform with gold jump wings stared back at me. I couldn't tell whether he was grinning or scowling—welcoming a potential recruit or warning me. Scrawled in bold typeface across the bottom third of the poster were the words "Ask a Marine." My reaction was visceral. Where do I sign?
The man in the poster was James Capers Jr., a now retired major whose 23-year career was defined by breaking barriers and blazing a path of excellence in the Marine Corps special operations community. Capers memoir, "Faith Through the Storm: Memoirs of James Capers, Jr.," is a powerful portrait of an extraordinary life.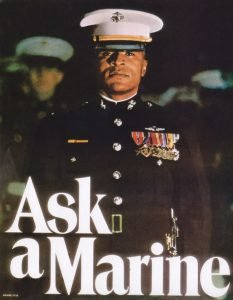 As the son of a sharecropper in South Carolina, Capers had to flee the Jim Crow South for Baltimore after his father committed some petty offense, which he feared might get him lynched. Capers describes his flight in the back of an old pickup driven by a white person as a sort of "Underground Railroad." His trip to Baltimore is reminiscent of Frederick Douglass' escape north because not much had changed for black people in the South since 1830.
We get a vivid picture of Capers' early years and family life in Baltimore before he joins the Marine Corps. In the Marines, Capers finds an organization where men are judged by their actions, and he excels. He polishes his boots, cleans his weapons and learns what he can from the old salts, who mostly respect his effort. Early on, Capers commits himself to a standard of excellence that distinguishes him above his peers. That struggle is a consistent theme throughout his career.
When applying for special operations swim qualification, an instructor cites pseudo-science to explain that black people can't swim. Capers has to beg to be let into the class. When a white student fails the test required to graduate, Capers pleads with the cadre to allow the student to swim it again. Then he swims with the Marine, motivating him to muster up the fortitude and faith in himself to pass.
At one point, Capers can't find an apartment in Baltimore even though the Civil Rights Act of 1964 had recently passed and was promoted to end housing discrimination based on race. While assigned the temporary lowly duty of a barracks NCO, a white Marine flicks a cigarette butt at Capers—already trained as an elite Force Reconnaissance Marine—and tells him to pick it up. The slight weighs heavily on Capers until he tracks the Marine down and does something about it.
As Vietnam approaches, Capers is eager to get in the fight. A seasoned veteran of more than 10 years, he volunteers to return to special operations, and in the spring of 1966, he deploys with 3rd Force Reconnaissance Company.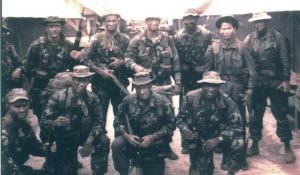 The section about Capers' Vietnam tour is harrowing and crushing. He survives and thrives as a warrior and leader through several months of brutal combat in the jungle. Eventually, he receives a battlefield commission to 2nd Lieutenant and becomes the first black officer in Marine special operations. By the heart-pounding final mission in Vietnam, I couldn't help but feel like the book is a 400-page summary of action for a Medal of Honor.
Heart is the book's central theme. Its most moving parts focus on overcoming adversity and heartbreak. In one chapter, Capers leads his men through two minefields to avoid the enemy. His inspiring leadership carries them through alive against all odds.
Characters frequently appear only briefly enough to become attached to before they die. Capers recalls fondly an old black first sergeant who had fought on Iwo Jima in World War II and saved Capers from some trouble. He dies in Vietnam.
In another scene, a Marine hollers a cadence on a medevac transport out of Vietnam to raise the spirits of wounded Marines who join the sing-song before the Marine dies somewhere along the way.
These wrenching memories reminded me of returning to the recruiting office after my first combat deployment and asking Staff Sgt. Alvarado whatever happened to Staff Sgt. Molina, whose son had fallen under my supervision when I was an assistant karate instructor before I enlisted. Alvarado's eyes looked to the ground, "You didn't hear?" I'd seen enough death on my deployment to suddenly know without having to be told, and a mental image of his cherub-faced child still tugs my heart because that kid had an especially wonderful dad.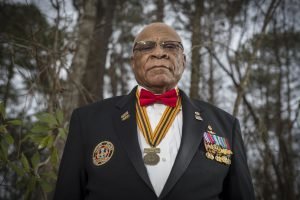 The death surrounding Capers takes its toll on him, and though he is a hard charger and maybe the best Marine in Vietnam, he is not a machine. His pain is complicated. The book's strength is in Capers' brutal honesty about his emotional state, which deteriorates as the death toll mounts and the misuse of his recon team by new out-of-touch officers costs more than he can bear.
This memoir may not break into the mainstream like a Matterhorn or Jarhead because it's steeped in Marine culture that may not translate to readers outside of those bounds. It deserves a mini-series due to its dramatic story arc and relevance regarding the unique historical experience of a black U.S. Marine who is able to achieve in the Marine Corps what most likely would not have been accessible to him in the society of his time.
"Faith Through the Storm" should be required reading for Marine infantry officers. It's the perfect book for The Commandant's Professional Reading List. This book ultimately adds another dimension to one of the Corps' most famous recruiting posters.
This article was originally published on We Are The Mighty. Follow @WeAreTheMighty on Twitter.