Apollo 11 Command Module pilot Michael Collins died Wednesday. He was one of 24 American astronauts who flew to the moon between 1968 and 1972. Collins was occasionally referred to as "the loneliest man in history" because while Neil Armstrong and Edwin "Buzz" Aldrin descended to the lunar surface, he stayed in orbit around the moon in the Apollo command module, more isolated and alone in those few hours than any person on earth had ever been in history.
Though 24 American astronauts have orbited the moon — and three have made two trips there — only 12 have walked on its surface. Of that dozen, four remain alive today.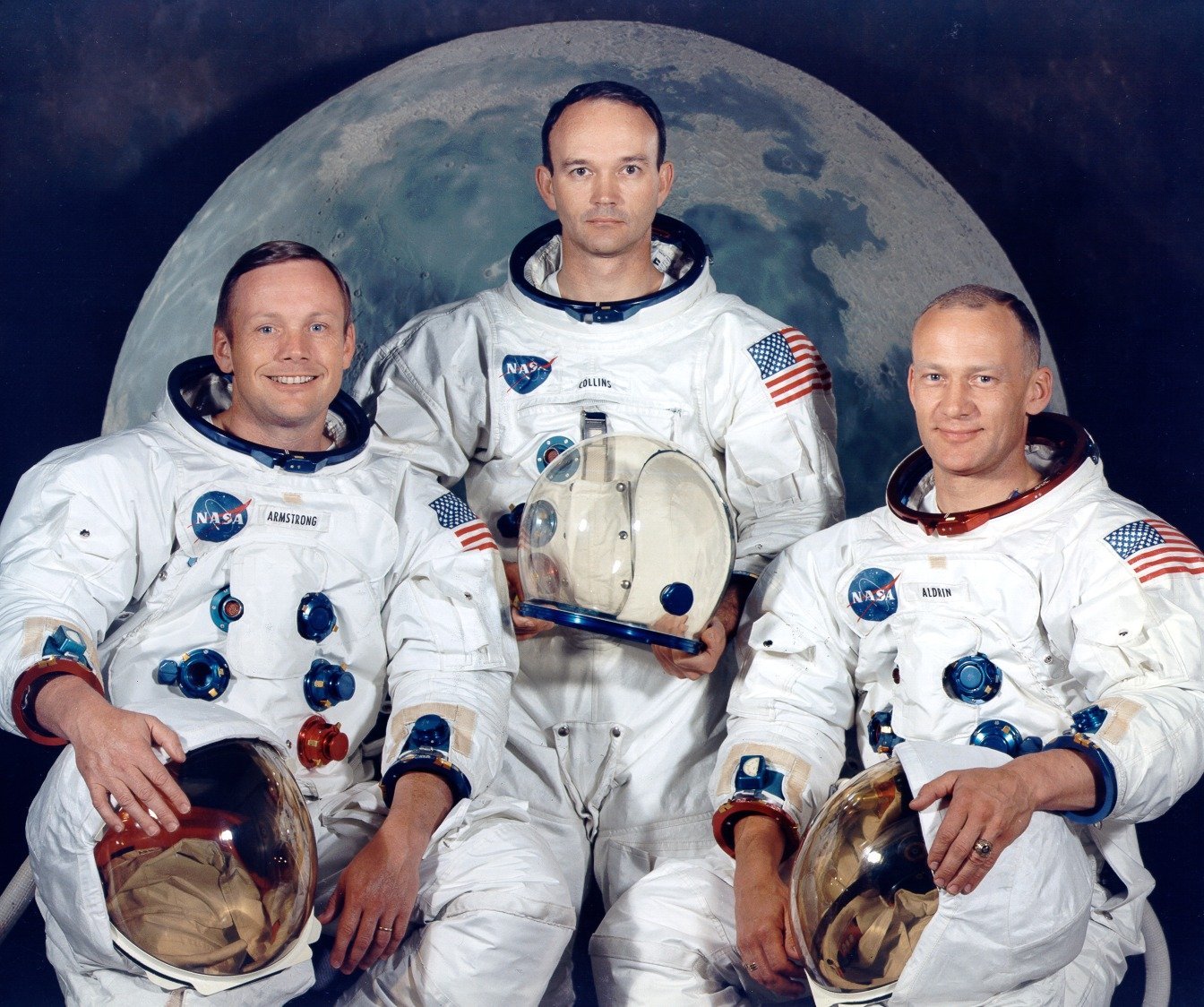 Neil Armstrong
Neil Armstrong became the first human being to walk on the moon July 20, 1969. "That's one small step for man, one giant leap for mankind," he famously said upon stepping down onto the moon's surface. But before his 17-year career as an astronaut with NASA, Armstrong served as a combat naval aviator, flying 78 missions in the Korean War. He even had to bail out of his F-9F Panther jet after it became disabled on a low bombing run in August 1951. Fortunately, he was rescued. He flew 200 different models of aircraft, including jets, rockets, helicopters, and gliders, throughout his career. Armstrong died Aug. 25, 2012, at age 82.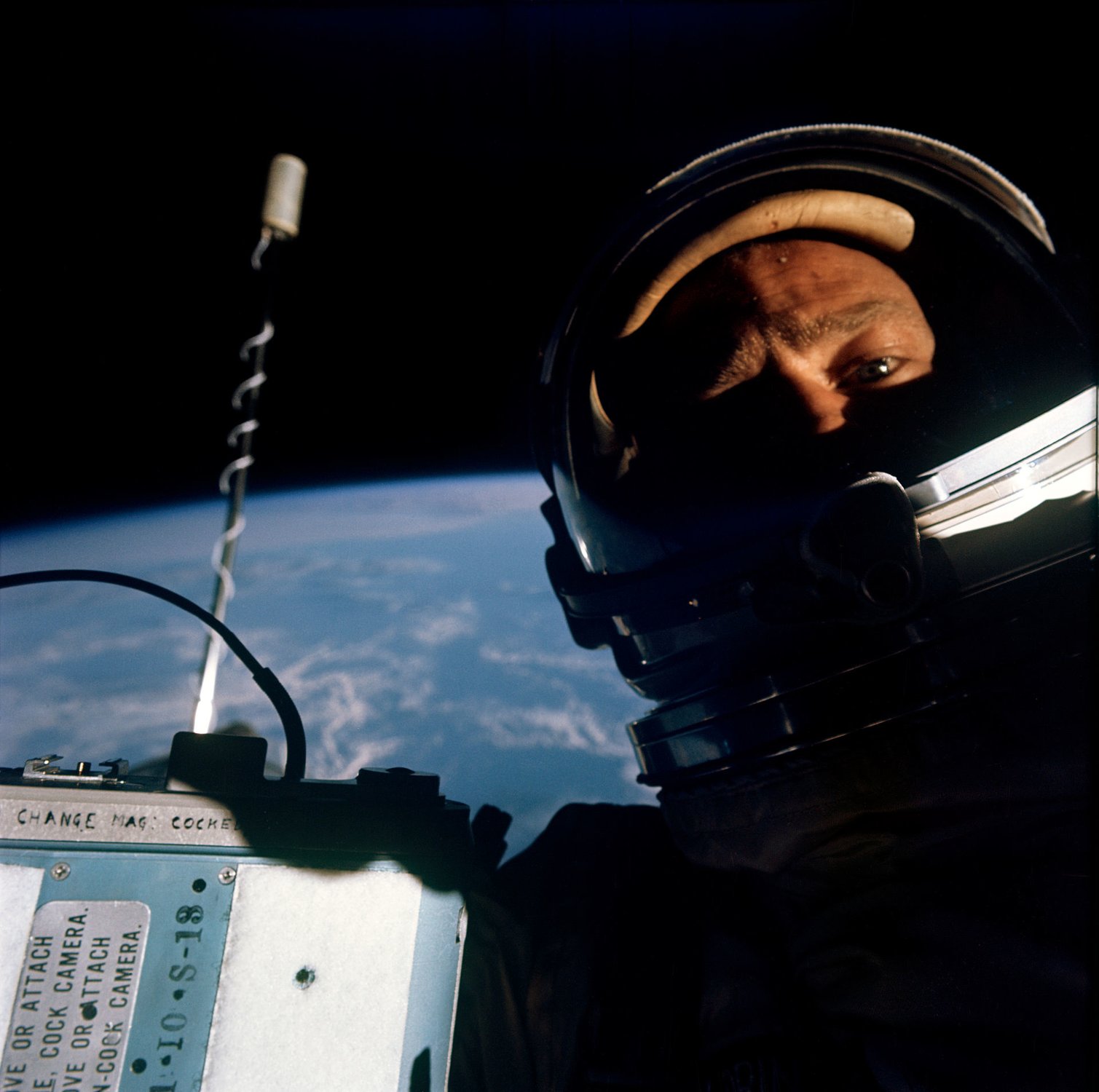 Edwin "Buzz" Aldrin
Born in the same year as fellow-moonwalker Armstrong, Edwin "Buzz" Aldrin became the second person to walk on the moon while on the Apollo 11 mission. The pair spent 21 hours on the moon and collected 46 pounds of moon rocks. Like Armstrong, Aldrin flew combat missions in the Korean War with the Air Force. He flew 66 combat missions in his F-86 Sabre, shot down two MiG-15s, and was awarded the Distinguished Flying Cross. Three years before walking on the moon, Aldrin made history by performing the world's first successful spacewalk, or extravehicular activity (EVA), and took the first "space selfie." In recent years, Aldrin has been known not to put up with moon landing conspiracies. When a denier confronted Aldrin in 2002, Aldrin punched the man in the face.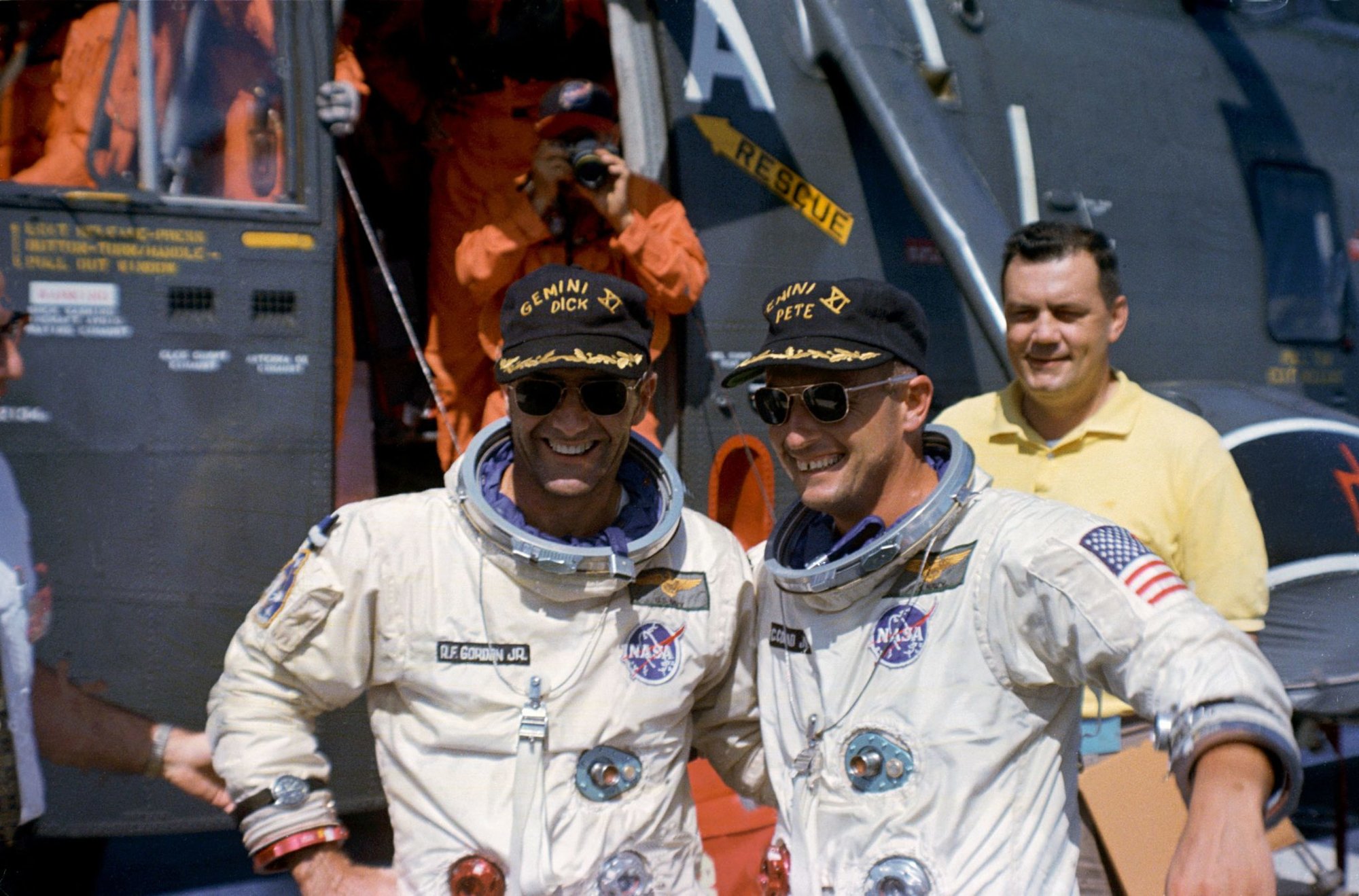 Charles "Pete" Conrad Jr.
Conrad retired from the US Navy as a captain in 1973 after 20 years of service, 11 of which were with NASA's space program. The young officer became a naval aviator in 1953 following his graduation from Princeton University and was a flight instructor at the Test Pilot School, among other locations. As an astronaut, he set the space endurance record and put the US in the lead for man-hours in space following his flight with Gemini 5 in August 1965. He also helped set a world altitude record and served as commander on Apollo 12, which completed the second lunar landing Nov. 19, 1969. He flew his final mission with the Skylab II, the first US Space Station.
Conrad died July 8, 1999, at age 69 from injuries sustained in a motorcycle accident.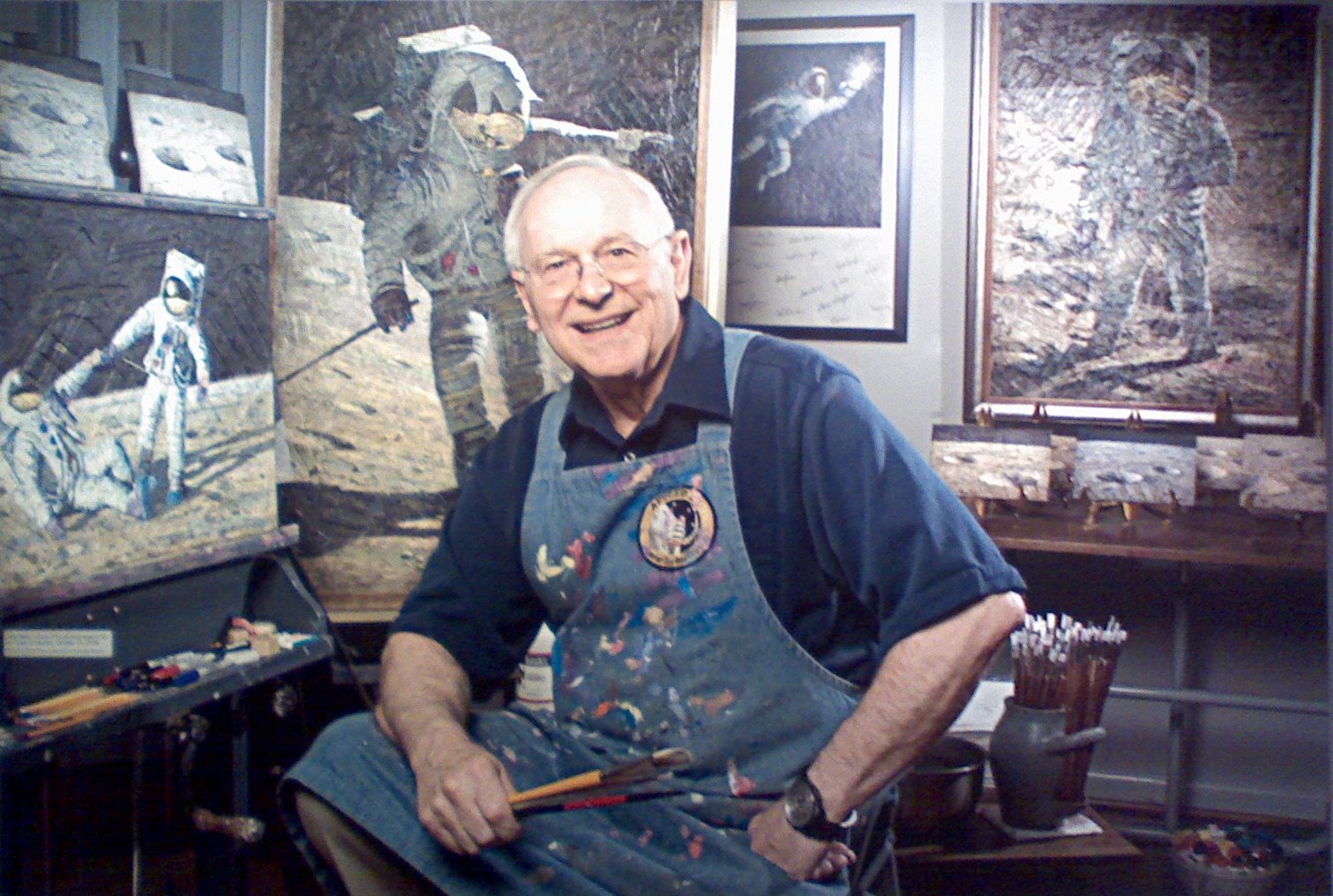 Alan Bean
Bean had three accomplished careers: He was a naval aviator, an astronaut, and an artist. On Nov. 19, 1969, Bean and Charles Conrad completed the second lunar landing, and Bean became the fourth human to walk on the moon. During his two moonwalks, he helped conduct several surface experiments and installed the first nuclear-powered generation station to put a power source on the moon. The pair used a robotic Surveyor spacecraft and collected 75 pounds of moon rocks and soil to study back on Earth. Bean later served aboard Skylab II, the first US Space Station, where he said, "Going outside a spaceship in earth orbit is scarier than walking on the moon."
"I was fortunate to be the first artist with the opportunity to be in the center of the action to capture what I saw and felt, and bring it back to earth to share with generations to come," Bean later said regarding his post-astronaut life as an artist. "It is my dream that on the wings of my paintbrush many people will see what I saw and feel what I felt, walking on another world some 240,000 miles from my studio here on planet earth."
Artwork from Bean's private collection has sold for as much as $288,600. Bean died May 26, 2018. He was 86.
Alan B. Shepard Jr.
Alan Shepard is every golfer's favorite astronaut. The first American in space and the oldest astronaut to walk on the moon at age 47, Shepard also became the first human to hit a golf ball on the moon. It was during the Apollo 14 mission, the third manned lunar landing, when Shepard and Edgar Mitchell landed Feb. 5, 1971, and completed two moonwalks.
The astronaut, who started his career aboard a ship during World War II and later became a test pilot, hit three golf balls in four shots on the moon. In his spacesuit and with one hand, Shepard got "more dirt than ball" on his first shot, sliced the second, retrieved it for a third shot, and then sent the final golf ball "miles and miles and miles" on his fourth shot. That statement isn't entirely hyperbole — because of the moon's low gravity and lack of atmosphere, the ball could have traveled up to a mile, more than four times the average professional drive. Shepard died July 21, 1998, at age 74.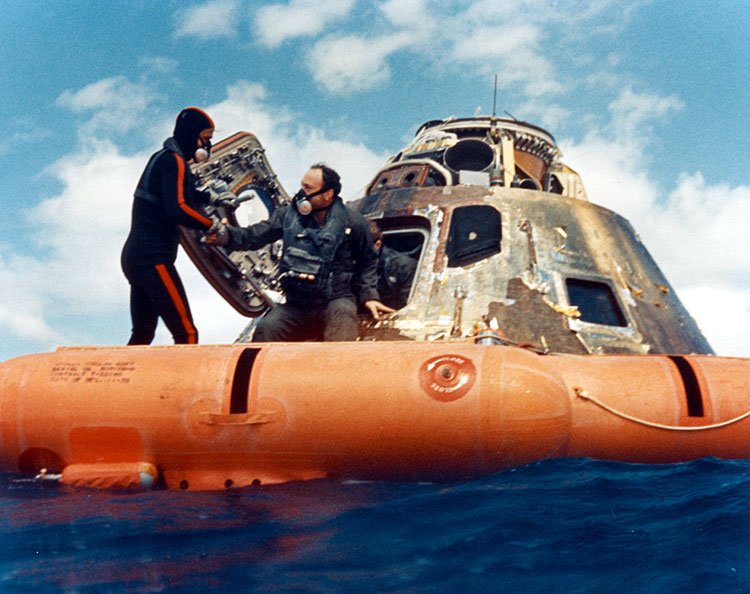 Edgar D. Mitchell
While Shepard is remembered for his golf skills on the moon, Edgar D. Mitchell is remembered for his quick thinking that saved Apollo 14 from disaster. When the lunar module encountered two failures, he had to manually punch 80 lines of code into a computer so they wouldn't have a hard landing on the moon. The former naval aviator was the sixth human being to walk on the moon. He and Shepard set mission records at the time for the longest distance traveled on the moon, largest payload returned from the lunar surface, and longest stay (33 hours). They were also the first to transmit color TV from the moon. In his later years, Mitchell voiced his unusual opinions about extraterrestrial life and UFOs. He died on Feb. 4, 2016, at age 85.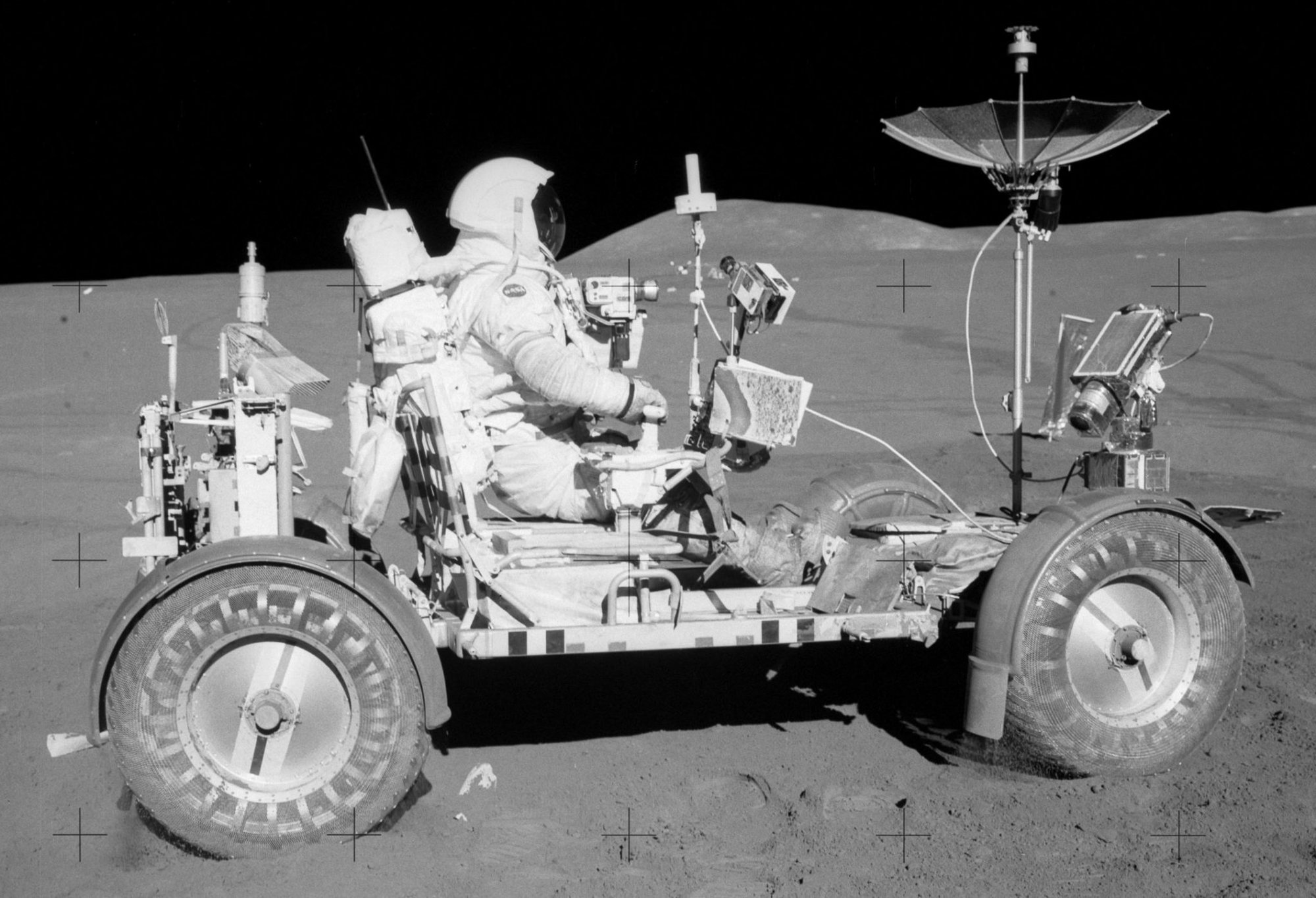 David R. Scott
Of the 12 men who walked on the moon, David R. Scott is one of the four still living. He flew in space three times, piloted the command module on Apollo 9 for the first docking of the command module and lunar module, and made history during the Apollo 15 mission by driving the lunar rover on the moon for the first time. He also survived a terrifying spin aboard Gemini 8 with Neil Armstrong in March 1966. They were attempting to dock the Atlas Agena target vehicle to complete the world's first linkup between two spacecraft in orbit when they started to tumble.
"We have serious problems here," Scott said. "We're tumbling end over end. We're disengaged from the Agena." They were spinning so fast their vision blurred when the craft reached one revolution per second. Armstrong used almost 75% of the reentry maneuvering propellant to stop the spin and was ordered to return to Earth.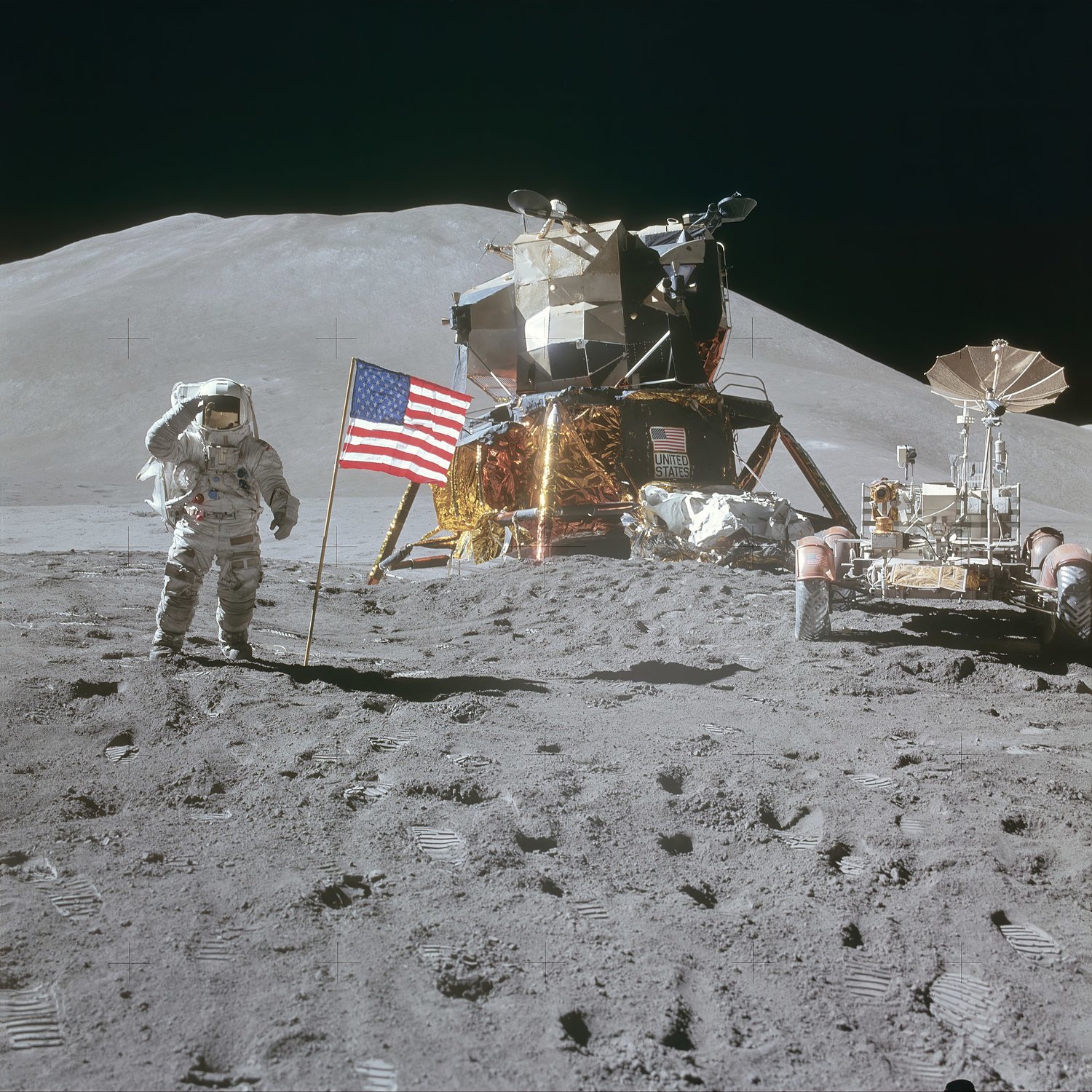 James B. Irwin
James B. Irwin retired a year after exploring the moon on the Apollo 15 mission in July 1971 and founded an evangelical religious organization called the High Flight Foundation. He said his experience on the moon inspired him to devote the rest of his life to "spreading the good news of Jesus Christ." He even quoted a Psalms passage to Mission Control in Houston: "I'll look unto the hills from whence cometh my help," Irwin said, according to The New York Times, "but, of course, we get quite a bit from Houston, too."
The Air Force colonel and David Scott became the eighth and seventh American astronauts to walk on the moon, respectively. Irwin's moonwalk was his only space mission. Irwin died from a heart attack Aug. 8, 1991, at age 61.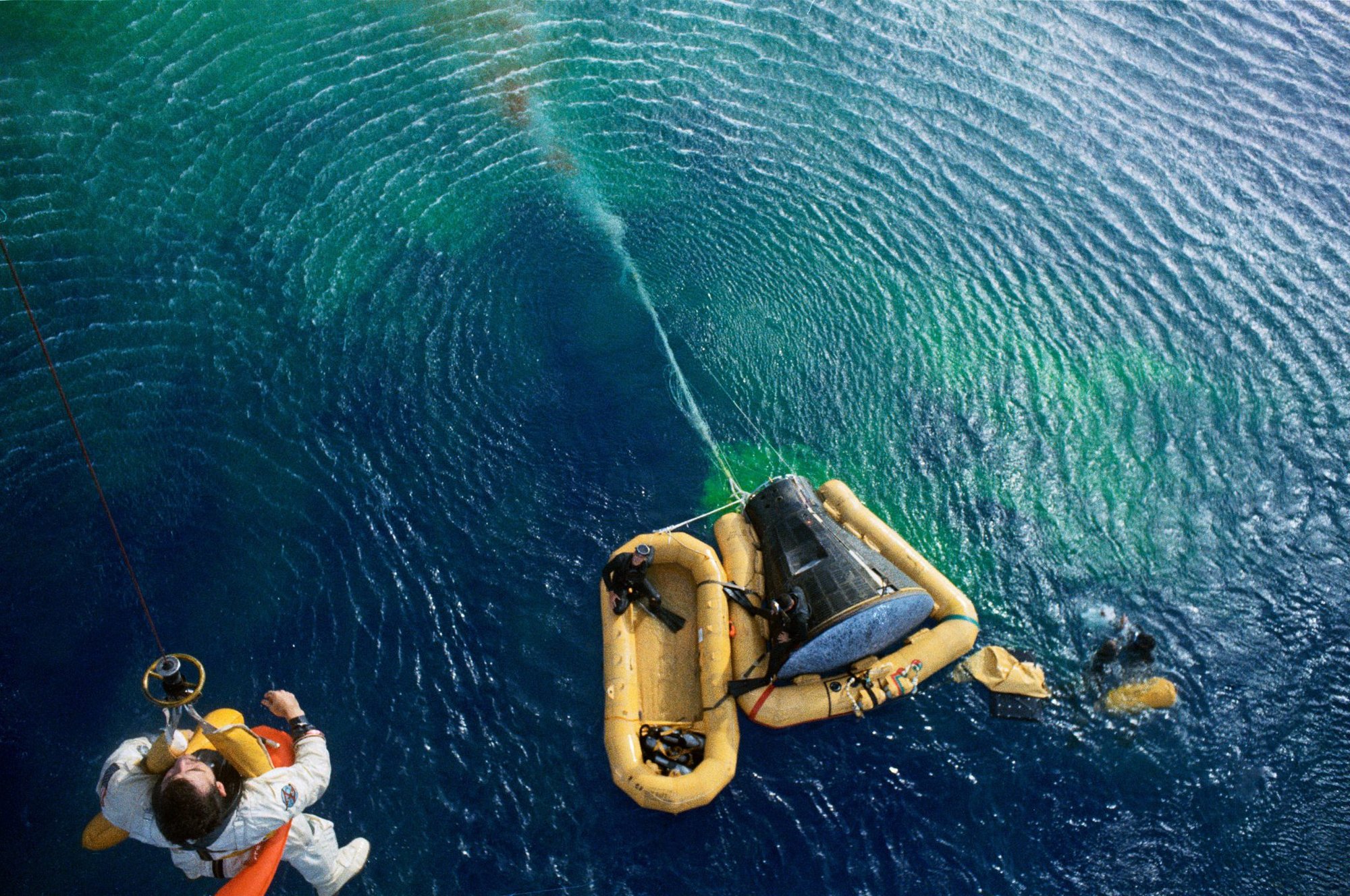 John W. Young
"It would be hard to overstate the impact that John Young had on human space flight," Johnson Space Center Director Ellen Ochoa, also a former astronaut, said. "Beyond his well-known and groundbreaking six missions through three programs, he worked tirelessly for decades to understand and mitigate the risks that NASA astronauts face. He had our backs."
Young landed on the moon with the Apollo 16 mission and is the only person to have gone into space as part of the Gemini, Apollo, and space shuttle programs. After serving in the US Navy as a fighter pilot, he joined NASA in 1962. He drove 16 miles in a lunar rover through the moon's highlands and spent three nights on the lunar surface. He retired in 2004 after 42 years with NASA and had acquired more than 80 major honors and awards, including an induction into the National Aviation Hall of Fame in 1988. On Jan. 5, 2018, Young died at 87 after suffering complications from pneumonia.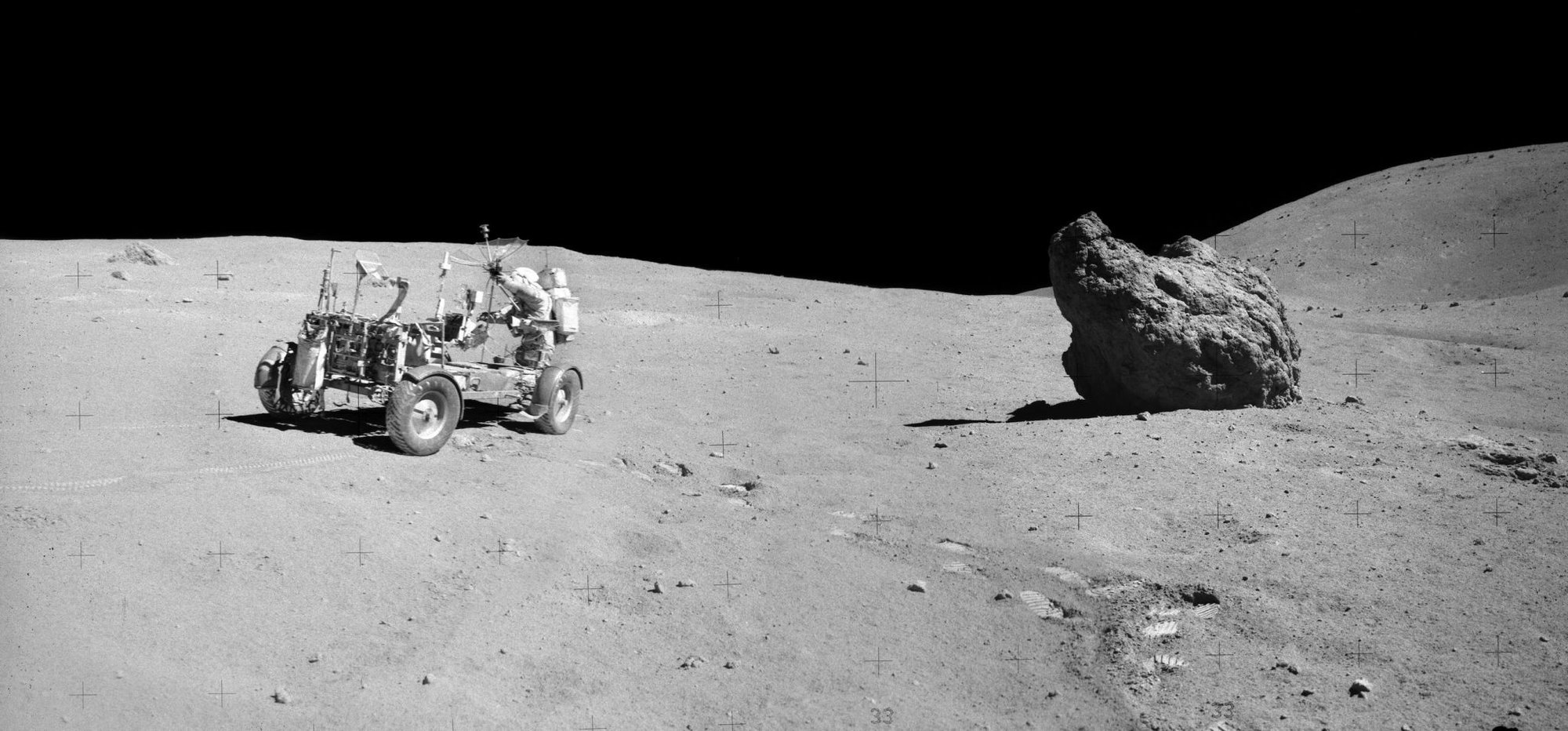 Charles M. Duke Jr.
"As an American, it was my honor to serve my country by going aboard Apollo 16 and becoming the 10th man to walk on the lunar surface," Charles Duke said. Gen. Duke received his commission to the US Air Force and earned his pilot's wings in 1958. He served both as a fighter-interceptor pilot and as a test pilot during his time in the US military before being selected by NASA in 1966 to join the astronaut program. Duke served in five different Apollo missions to the moon, and since his retirement in 1975, he has toured worldwide, giving keynote and motivational speeches.
Eugene Cernan
Eugene Cernan was a captain in the Navy, serving for 20 years (13 of which were with NASA) and flying three historic missions as a pilot of Gemini 9, the lunar module pilot of Apollo 10, and the commander of Apollo 17. Cernan flew to the moon twice and held the distinction of being the second American to walk in space and the last man to leave his footprints on the lunar surface.
"I keep telling Neil Armstrong that we painted that white line in the sky all the way to the Moon down to 47,000 feet so he wouldn't get lost, and all he had to do was land," Cernan famously joked in an interview with NASA in 2007. "Made it sort of easy for him."
Cernan, sometimes referred to as "the last man on the moon," died Jan. 16, 2017, at age 82.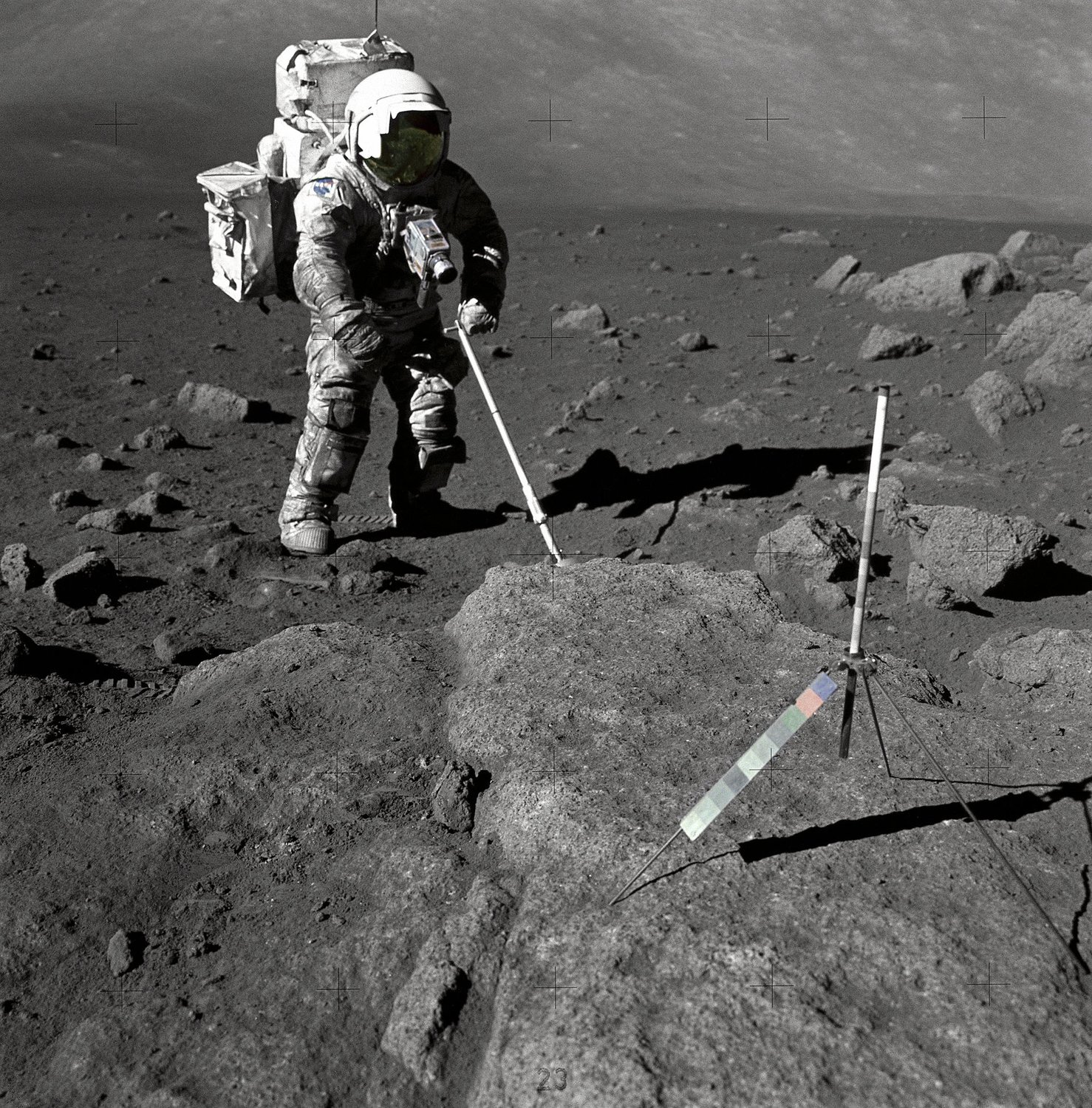 Harrison H. Schmitt
Harrison Schmitt joined the US Geological Survey's Astrogeology Branch in 1964, leading the development of early lunar field geological methods for NASA. A year later, he was selected to become a scientist-astronaut and earned his T-38 jet pilot wings with the Air Force in 1966 and his H-13 helicopter wings with the Navy in 1967. Schmitt became the last of 12 men to have stepped on the moon while he was on the Apollo 17 mission, NASA's final moon-landing mission. He is the only scientist to have walked on the moon.
Read Next: How Realistic Is the Famous 'Hitler Rant' Meme?