By the time Atlanta Police Department officers Willie Adams and Marcus Todd arrived at the crash, flames were lapping at tree limbs and the driver appeared to be knocked out.
It was Sunday, Nov. 14, and their body-worn cameras captured the horror of a man whose leg was stuck under the steering wheel of a blazing crossover SUV.
"He's still in there!" bystanders yelled as the Zone 5 cops rushed from their cruisers and started prying open the driver's side door. But it was too crumpled to budge.
So they turned to bashing in a window, if only to get oxygen to the driver. The fire was growing, but the driver also seemed to start grunting and moaning, indicating he might've regained consciousness after inhaling fresh air.
Before a fireball consumed the SUV, the cops gave a door a final tug, and it opened. They pulled the driver out shortly before firefighters showed up to quench the flames.
Adams sustained minor burns on his hands during the rescue, but both officers were back to work for their next shifts, authorities said.
On Thursday, Atlanta officials used a press conference to shine the limelight on the pair of young officers who officials said exemplified the mental and physical courage needed to make quick decisions that save lives, even if theirs are put in danger.
While a lot of bad cops make headlines, Hotlanta wanted America to meet a couple of heroes.
"At the end of the day, like I tell people all the time, we're not all the same, and you have good apples, and you have bad apples, and we are definitely two of the good ones," Todd told reporters. "Anytime you call, we're coming — no matter what."
An initial probe into the accident suggests the driver lost consciousness because of some medical problem. The SUV struck a curb and then continued into a nearby woodline before becoming airborne and crashing through two houses. A tree stopped the vehicle's momentum.
Police haven't identified the driver or listed his medical condition.
Atlanta officials released a second video Thursday involving a very different kind of interaction with police.
Captured Wednesday by a camera mounted on the police department's Phoenix helicopter, the video appears to show a wanted fugitive crashing a stolen Dodge Charger after it outran pursuing police cruisers.
Authorities later identified the driver as Jaheim Arnold of Atlanta. He was wanted for a probation violation tied to a drug-dealing conviction, according to the police.
He was driving the Charger because someone had left the keys inside it. The footage shows him driving on the shoulder of a road and even turning into traffic to evade arrest. He appeared to crash into several other motorists before the car couldn't run anymore.
He then took off on foot, with the Phoenix aircraft monitoring him from above.
Arnold allegedly tossed a firearm over the side of a bridge and kept jogging before he was surrounded by police in a wooded area. He surrendered without incident.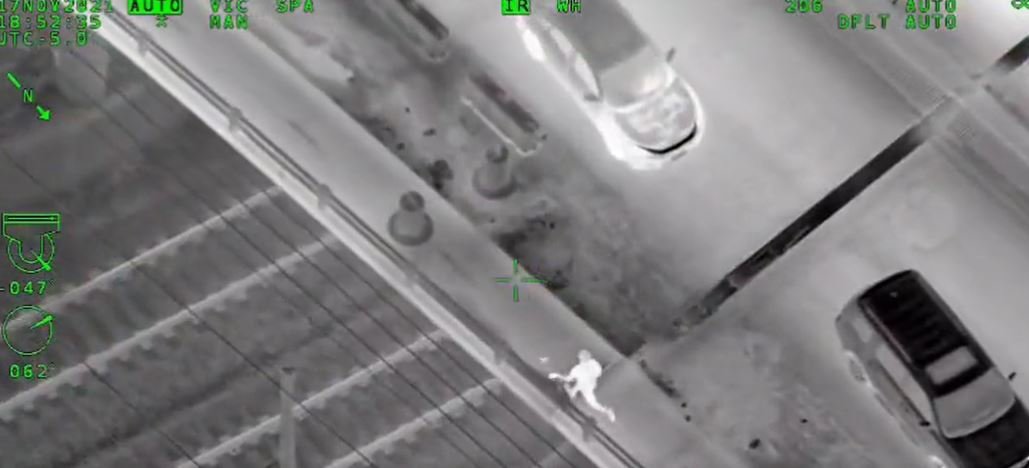 In his first court appearance by video feed from the Fulton County Jail, Arnold was charged with theft by taking; entering a vehicle for theft; hit and run; fleeing police; reckless driving; possession of a firearm during the commission of a crime; possession of a firearm by a convicted felon; carrying a concealed weapon; second-degree criminal damage to property; and probation violations related to a 2020 marijuana-distribution case.
Arnold remains behind bars without bail. Jail records list him as a 5-foot-8-inch man who weighs 135 pounds, but there's no indication of his age.
The criminal defense attorney listed on his court paperwork didn't reply to messages from Coffee or Die Magazine.
Since Jan. 1, 2,657 vehicles have been stolen in Atlanta; 1,741 of them had been left running or were left with the keys or their fobs inside, according to the police.
"We need the public to do better," officials said in a prepared statement posted on the department's social media sites. "We remind car owners to never leave keys in their car, and to turn their cars off and lock their doors when exiting vehicles. We will continue to do all we can to hold violators of the law accountable and keep the City of Atlanta safe, but it can work so much better if the community does their part too."
Read Next: