A California man accused of attacking police officers during the Jan. 6 assault on Capitol Hill has fled to Belarus and applied for political asylum, according to Belarusian state-controlled media in Minsk.
The Eastern European nation doesn't have an extradition treaty with the US, and it remains unclear whether federal agents will be able to return Evan Neumann, 49, for trial. He's been charged with assaulting police officers, obstruction of law enforcement during civil disorder, entering restricted areas without lawful authority, disorderly conduct, engaging in physical violence, and violent entry on Capitol grounds.
Neumann's arrival in Belarus was announced Sunday on state-controlled TV, which claimed he fled the US in March for Italy before traveling to Switzerland, Germany, Poland, and then Ukraine. He spent four months in Ukraine before slipping into Belarus, allegedly because authorities in Kyiv had him under surveillance, according to the report.
Strongly allied with Russian strongman Vladimir Putin, President Alexander Lukashenko has helmed Belarus since 1994, when he won the first independent election since Belarus broke away from the Soviet Union.
International investigators accuse Lukashenko's Belarus of widespread human rights abuses, including massive police violence against pro-democracy demonstrators as well as torturing, disappearing, and intimidating regime critics.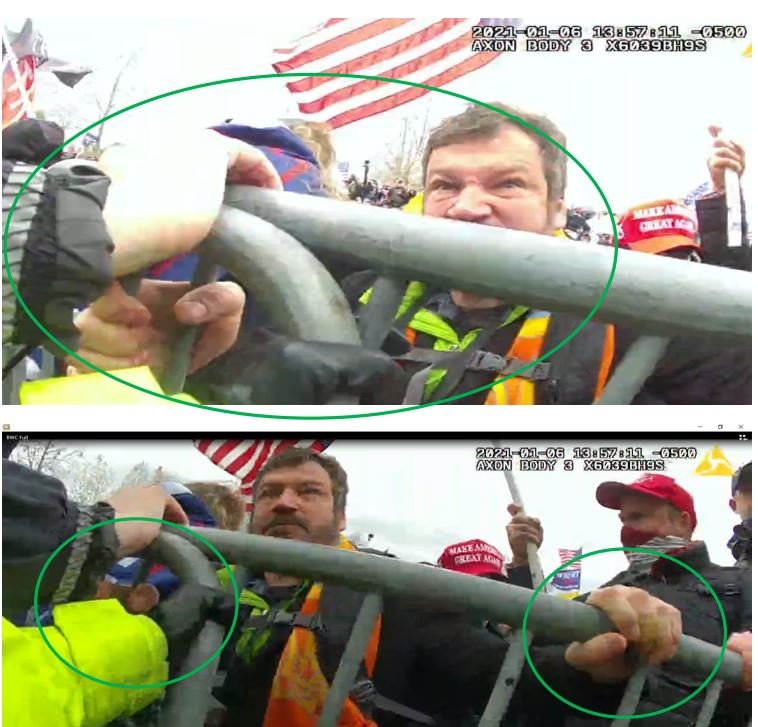 In the state media report, Neumann claimed he was innocent of all federal charges. He's quoted as blaming the US government for attempting to frame pro-Donald Trump protestors on Capitol Hill as terrorists, something he accuses federal authorities of doing to demonstrators since the 1990s.
The probable-cause affidavit filed by the FBI on March 23 paints a very different picture of Neumann's visit to Capitol Hill.
Body-worn camera footage from a Metropolitan Police Department officer titled "JM" in the indictment puts Neumann on Capitol Hill at 1:37 p.m. on Jan. 6. Wearing a red "Make America Great Again" hat, orange scarf, and gas mask, Neumann allegedly stood near "JM" at a barricade outside the Capitol while a mob gathered.
Eight minutes later, Neumann allegedly told officers that they were "defending the people" who would kill, rape, and imprison their children. When an officer told him to move away from the barricade, Neumann allegedly said, "No, you can't tell me what to do, you piece of shit."
Later, Neumann allegedly accused officers of kneeling "to Antifa because they're little bitches" and warned the crowd would "overrun" the police, adding, "I'm willing to die. Are you?"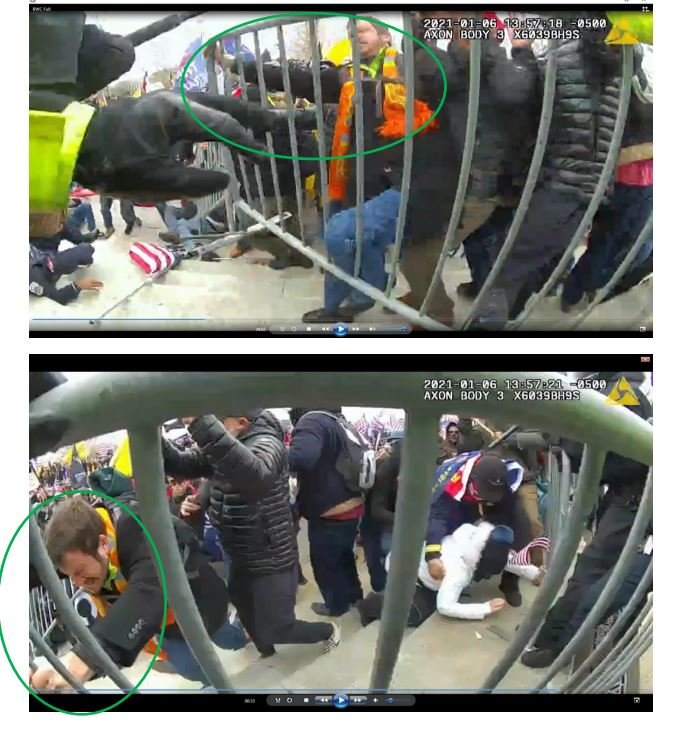 Within 20 minutes of appearing in view of the body-worn camera, Neumann reportedly grabbed the barricades and began jousting with the police for control of the barriers, eventually joining the mob in using the steel grating like battering rams to slam the officers.
He allegedly punched "JM" with his fist before joining a stream of demonstrators moving over the broken police line and toward the Capitol building, according to the indictment.
Tracking Neumann's cell phone number, FBI agents reportedly placed him inside the Capitol building, where demonstrators attempted to stop the counting of electoral college votes making Joe Biden the next president, court records reveal.
Another image seems to show Neumann on Capitol grounds at 5:08 p.m. after federal officers tried clearing throngs of protestors from the area. When repeatedly told to leave the Capitol steps, Neumann allegedly refused, using strong language to berate the police.
In the wake of the Jan. 6 protests, authorities circulated a be-on-the-lookout warning seeking Neumann's identity. According to court filings, he was turned in by an anonymous tipster who claimed to be a family friend. The tipster told authorities they could find Neumann at his home in Mill Valley, California.
Marin County deed records appear to show that a Mill Valley home that Neumann once owned was sold on April 29 for $1.3 million.
Neumann is no stranger to Eastern Europe. According to the FBI, he bragged about attending the Orange Revolution protests in Ukraine in 2004 and 2005. An orange scarf he wore in Ukraine appeared similar to one he sported at the Capitol Hill protests.
Neumann never entered a plea on his federal charges, and prosecutors haven't added to them, according to the Washington, DC, court filings.
US Department of Justice officials didn't return messages seeking comment about Neumann.
A cell phone number linked to Neumann's name appeared to be disconnected on Monday, and he didn't immediately respond to a Coffee or Die Magazine email sent to his AOL account.
No criminal defense attorney is listed on his court documents.
Read Next: The Race To Save a Pirate Puppy From Alaska's Killer Bears