Protesters tried to tear down a statue of former President Andrew Jackson and establish a "Black House Autonomous Zone" (BHAZ) a block from the White House in Lafayette Park Monday night.
The crowd smashed wooden wheels of replica cannons surrounding the monument before clashing with law enforcement and Secret Service agents, who prevented protesters from destroying the statue completely.
On Tuesday, President Donald Trump tweeted, "There will never be an 'Autonomous Zone' in Washington, D.C., as long as I'm your President. If they try they will be met with serious force!"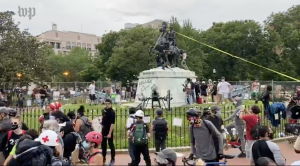 Trump was heavily criticized for his administration's use of force to clear protesters in Lafayette Park June 1 so that he could be photographed holding a Bible in front of St. John's Episcopal Church.
Protesters on Monday tagged the columns outside St. John's Episcopal Church with "B.H.A.Z." and set up makeshift barricades to cordon a section of the street at 16th Street NW and H Street.
The Washington Post reported that "U.S. Park Police officers in riot gear […] clashed with the protesters, swinging batons and releasing pepper spray as they moved the protesters back."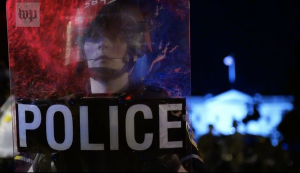 Washington Mayor Muriel Bowser, who established the Black Lives Matter Plaza corridor for peaceful protests, ordered police to prevent access to the plaza after the incident, according to a tweet from BLM DC.
Interior Secretary David Bernhardt, whose agency oversees the Park Police, tweeted, "Let me be clear: we will not bow to anarchists."
Since protesters in Seattle established a so-called autonomous zone in the city's Capitol Hill neighborhood, protesters have attempted to replicate the strategy in other U.S. cities, including Asheville, North Carolina, and Portland, Oregon.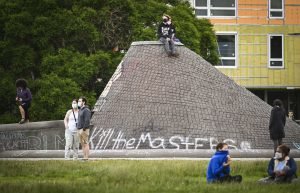 The same day protesters failed to establish a BHAZ in Washington, D.C., Seattle Mayor Jenny Durkan announced that her office would be working to get protesters to clear the so-called "Capitol Hill Occupied Protest" area peacefully, saying "it's time for people to go home."
On Wednesday, community leaders in Seattle declared the CHOP "is over." Andre Taylor, who Durkan tasked with convincing people to leave peacefully, told CNN the original motivation for CHOP was lost after two recent shootings inside the zone.
"It is over because of the violence," Taylor said. "I've told people here don't be focused on the location. CHOP is not a location, it is an idea."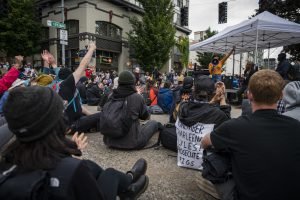 Hip-hop artist and de facto CHOP leader Raz Simone told CNN, "The protesters […] have targets on their backs, and that is an issue. A lot of peaceful protesters are being harmed, so it's sad that's where we're at in America."
Simone added that "a lot of people are going to leave. A lot of people already left."
A Twitter account titled Capitol Hill Occupied Protest (Official Account) published a lengthy statement declaring, "The CHOP projects is now concluded."
"Over the last two weeks, we achieved what no one thought possible," the statement begins. "We successfully built a self-governing community and convinced city leaders to enact meaningful police reform including substantial budget cuts to the SPD."
On June 12, protestors in Asheville attempted to establish an autonomous zone in the city, but police quickly shut down the effort.
Similarly in Portland, police tore down makeshift barricades and disbursed protestors after they attempted to establish an autonomous zone in the city's Pearl District, where Mayor Ted Wheeler's home is located.
Wheeler said later, "I want to state unequivocally — I absolutely do not support that, and I do believe it's a distraction from the larger movement, which is to support and uplift black voices in our community."
---
Editor's note: On June 9, 2021, The Office of Inspector General released a report stating that they reviewed the actions of the US Park Police at Lafayette Park in Washington, DC, on June 1, 2020.
---